Sunshine in a glass! Your homemade mango liqueur will brighten any spot in the day. This easy little DIY project is perfect for when you need a little something to do. And the cocktails you can make!
Sunshine in a Glass
I have fun exploring the world of homemade liquors and liqueurs, transforming fruit or nuts into the true essence of themselves. I start with Karen Page and Andrew Dornenburg's essential cook's resource, "The Flavor Bible," to explore magical flavor matches. When I saw star anise on their mango affinity list, I decided that it would be my main flavor pairing. And star anise takes well to toasting, so I recommend that quick step.
Alcohol Medium
An interesting note: the difference between liquor and liqueurs is that liqueur is a sweetened and flavored spirit (also a liquor), while liquor serves as a simpler base note. There are two ways to go here, depending on the role you want the alcohol to play. If you don't want any flavor added, you can use vodka, and that is certainly an option here. I decided to go with a golden rum to add some flavor to the liqueur. Because rum was highlighted in "The Flavor Bible" for being an especially good match with mangoes.
Steeping Time
According to a thorough post on Serious Eats called DIY vs. Buy, the author, Marcia Simmons, believes that many recipes for fruit liqueurs recommend steeping the fruit far too long. Simmons suggests that stone fruit, berries, and melons, should infuse in a dark place for just 3 to 6 days. She recommends that you start tasting the liqueur on day 3, then allow it to continue to steep if the flavor is not intense enough.
Mango Liqueur
You can certainly drink mango liqueur as it is, either on the rocks or straight up. However, I am looking forward to working on some fun cocktail recipes using this infusion. But in the meantime, you might play around with replacing the liquor in your favorite margarita, mojito, or daiquiri with your homemade mango liqueur. And let me know what you come up with.
Happy cooking!
~ Alonna
P.S. If you would like to tempting twist on a margarita, try my roasted strawberry margarita.
See the Notes below before you cook.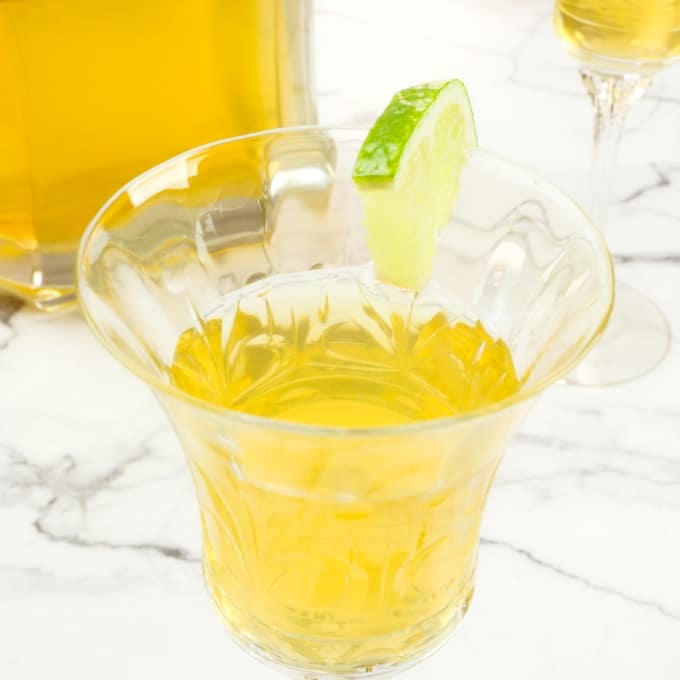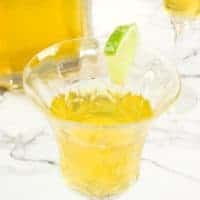 Easy Homemade Mango Liqueur
Sunshine in a glass! Your homemade mango liqueur will brighten any spot in the day. This easy little DIY project is perfect for when you need a little something to do. And the cocktails you can make!
Print
Pin
Comment
<!–– I removed icon="star-empty"from above and change Rate to Comment ––>
Ingredients
2 to 3

mangoes–ripe

~ About 3 cups of chunks; see Notes below

1

lime

~ For 4 lime peels, preferrably organic

2

whole star anise

~ Please see Notes below

1

bottle

rum–golden

~ Havana Club, Appleton white rum, Flor de Caña or your favorite white or light rum
Instructions
Mix Ingredients Together
Peel the mangoes and cut into large chunks. Add to the jar.

To prep your lime peels, if your citrus is not organic, boil the limes in hot water for 3 minutes. Then wash them with mild soap and wipe dry to remove any remaining preservatives from the surface. If using organic limes you can skip the boiling step. You only need strips of lime peel, about one-half of a lime. Peel off the very top skin leaving the pith behind. If you need to, using a sharp knife, safely and gently remove as much of the white peel, or pith, as you can. Add the peel to the mango pulp in the jar. 

In a small pan over medium-high heat, toast the star anise (see Notes below about brands of star anise) for a minute or two until fragrant. Add the star anise to the jar, then pour the rum to cover all the ingredients by 1/2 an inch. If you have fermenting or pickle weights, they would be perfect here to keep the fruit submerged. A tiny dish would also work. Giving the jar a good shake daily will also help distribute the mangoes.
Infusing
Allow the mixture to infuse in a dark place at room temperature for 2 days. Taste and see if the mango and star anise flavors are strong enough, keeping in mind that it has not been sweetened yet! If the star anise flavor is strong enough but not the mango, with a very clean spoon, fish out the star anise and allow the infusion to rest another day. Taste daily until you think liqueur is ready.

Strain the liquor through cheesecloth into a decanter or covered jar.
Sweeten
There are various proportions and sugars that you can use to make a simple syrup. For this project, I suggest a 1:1 sugar to water solution using white (granulated)sugar. In a small pan over high heat, mix together 1/4 cup sugar and 1/4 cup water. Stir to dissolve the sugar; remove from the heat, and allow it to cool. Simple syrup can be made with superfine sugar without heat, stirring continuously until the sugar is dissolved.

Serve! Store at room temperature for up to six months.
Notes
Types of mangos: I was able to find Mexican-grown Ataulfo mangoes that were fragrant and delicious. I have also seen them simply labeled yellow mangoes. Use the mangoes that you like and that you can find.
Brands of star anise: My first batches of this liqueur were made with Penzeys Spices star anise and I found the spice added lovely warm floral notes. In a subsequent batch, the star anise from Swagat that did not work in this liqueur. This star anise has a very different taste profile that works well in a masala, but not to flavor mango liqueur. I will continue to taste different brands of star anise. But in the meantime, you may want to add just one or two star anise at the most. Or a couple of cloves, or even 1/2 a cinnamon stick instead. Or skip a spice altogether; you liqueur will delicious without additional flavoring.  I would love to hear about your experiments.
If you are experimenting or afraid to make a commitment to almost a whole bottle of rum, make your mango liqueur in a small batch. For example, take 1/2 cup of fruit to 1 cup of alcohol and see how that goes with flavorings you have picked. This is true for this recipe as well and any experiments that you conduct on your own.
Nutrition
Serving:
4
oz
|
Calories:
65
kcal
|
Carbohydrates:
3
g
|
Protein:
1
g
|
Fat:
1
g
|
Saturated Fat:
1
g
|
Sodium:
1
mg
|
Potassium:
42
mg
|
Fiber:
1
g
|
Sugar:
1
g
|
Vitamin C:
7
mg
|
Calcium:
16
mg
|
Iron:
1
mg