Red beef curry is fragrant with warming spices, piquant from a bit of vinegar, rich and oh, so flavorful. Instructions for Instant Pot, slower cooker, and stove included!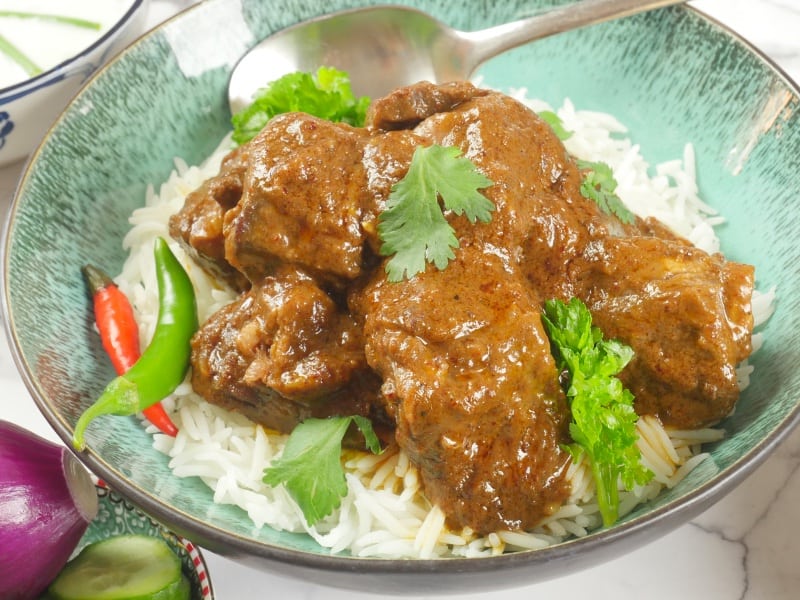 Beef curry
While eating beef in India is not very common, there are a few areas that do. Goan Muslims and Christians account for roughly one-third of Goa's population, and they love their beef. This recipe is a simple beef masala, and if you like the flavors of Goa, I encourage you to make my version of the Goan garam masala. If you have this masala on hand, the ingredient list for this curry is short.
I've styled this red beef curry after the Goan beef baffad (buffad, or bafado). It is rich and flavorful with the fragrance of cinnamon, cloves, and cardamom, a bit of tang from tamarind and vinegar, and finished with a good hit of spice from black pepper and Kashmiri chilies. Since Kashmiri chiles are not very hot, feel free to pop over to see some suggestions on Gourmet Sleuth's chili scale. I am thinking an Amarillo or guajillo chili might do the trick, or increase the ground black pepper.
Cook three ways
I have made this beef curry three ways and give you instructions for all three. So you can choose, depending on the time you have and how you like to cook. If you go the pressure cooker route, you can make red beef curry in about an hour and a half start to finish. And more than half of that time is unattended. My preference is to cook in a slow cooker if I am organized. All that is required is the initial 25-minute prep, pop everything in the slow cooker and cook on high for 4 to 6 hours, or on low for 8 to 10 hours.
How long it takes for your meat to get tender depends on cube size and the slow cooker you use. The prep and cooking times listed below are for the Instant Pot cooking method. The stove and slow cooker methods will take longer, so factor that in when planning your cook.
You have options
Many red beef curry recipes call for beef stock, but I like use a combination of stock and coconut milk. This is entirely optional, but I like the richness coconut milk brings to the sauce. I have also made this recipe pot roast style in the slow cooker. Slits in the roast allows the spices to penetrate, and the result is a welcome change from the usual pot roast on rotation. And, if you are not a beef eater, bone-in, skinless chicken thighs, pork, or even lamb works beautifully with this delicious masala. However, you will need to adjust your cook times.
Potatoes are a traditional addition and not just a great way to stretch your dollars, but a comforting twist to meat and potatoes. You can certainly buy stew meat, but I prefer to cut the beef myself. I like the control, allowing me to have larger chunks of meat and knowing the cut of beef used. A 2.5-pound chuck roast will give you roughly 2 pounds of cubes after you have cut away most of the fat.
Enjoy this rich and flavorful beef stew with the flavors of Goa.
Happy cooking!
~ Alonna
See the Notes below before you cook.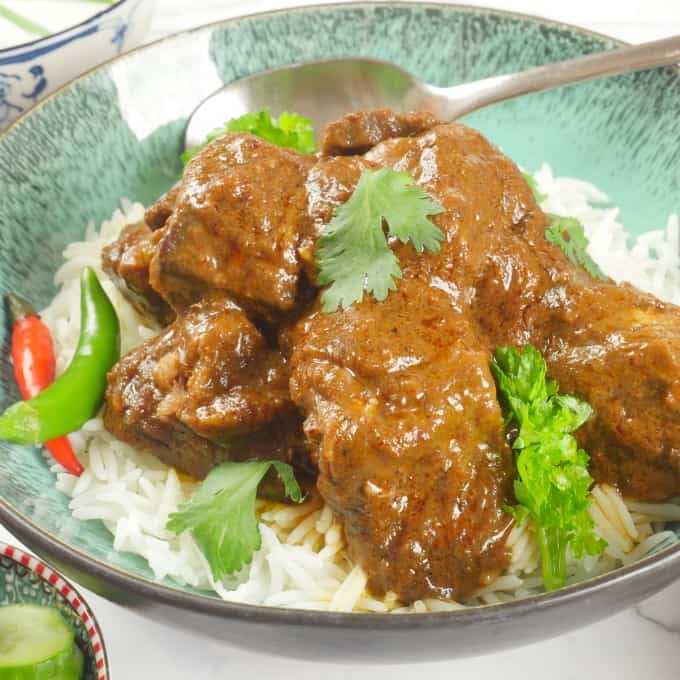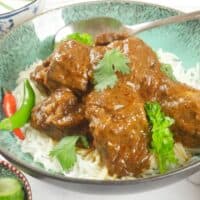 Red Beef Curry (Goan)
Red beef curry is fragrant with warming spices, piquant from a bit of vinegar, rich and oh, so flavorful. Instructions for Instant Pot, slower cooker, and stove included!
Print
Pin
Comment
Ingredients
Instructions
Cook the Onions
Spices
While the onions are cooking, toast the first six ingredients over medium heat until fragrant; about 3 to 4 minutes. Allow to cool for 5 minutes and grind in a spice grinder. Or substitute 2 tablespoons Goan garam masala.
Sauce
When the onions are caramelized add the green chilies and ginger garlic paste. Cook for several minutes then add the ground spices and 2 tablespoons of water. Cook for 3 to 4 minutes until the spices are cooked through. Add more water if your mixture sticks to the bottom of the pan.
Instant Pot Cooking Instructions
Cook the beef curry on High Pressure for 40 minutes, then on Natural Pressure Release for 10 minutes. If the sauce is too thin for your liking, remove the beef and turn the Instant Pot to sauté for 5 minutes, or until the sauce thickens the way you want it.
Stove Cooking Instructions
Bake in a preheated oven on 325°F (160°C) for 1 1/2 to 2 hours, or until the beef is tender. If you prefer to use your cooktop instead of the oven, cook over low heat in a heavy dutch oven.
Slow Cooking Instructions
Cook the curry on High for 4 to 6 hours, or Low for 8 to 10 hours until the beef is tender.
Notes
Beef: You could use lamb in this dish as well. Rather than buy stew meat, which I find to be too small and irregular, I buy 2 1/2 pounds of chuck roast. This accounts for the fat that I remove, and allows me to cut roughly 2-inch cubes of meat. Keep in mind the larger the cubes the longer it will take to cook.
Chilies: I use whole dried red Kashmiri chilies which are used for flavor and color, but are quite mild. Use a hotter chili like an Amarillo or guajillo chili, if you want a hot red beef curry.
Goan garam masala: If you are using my Goan garam masala, it can replace all the spices except all the whole red chilies this recipe calls for. Remove the seeds and toast 2 to 3 whole dried red Kashmiri chilies. Grind into a powder and add them to the cooked onions with the garam masala.
Nutrition
Calories:
566
kcal
|
Carbohydrates:
9
g
|
Protein:
33
g
|
Fat:
43
g
|
Saturated Fat:
18
g
|
Cholesterol:
144
mg
|
Sodium:
1156
mg
|
Potassium:
697
mg
|
Fiber:
2
g
|
Sugar:
5
g
|
Vitamin C:
4
mg
|
Calcium:
63
mg
|
Iron:
4
mg