Silky, warming, and oh so comforting, curried cauliflower soup is just the thing you need to make for dinner. Did I say healthy too? It is vegan, vegetarian, dairy-free, and even keto.
Soul-satisfying
It is that time of year when I begin craving warming soups. There has been buzz about a 3-ingredient cauliflower soup for several years now—people raving about how surprisingly rich and silky a soup can be without any dairy. I've listened with half an ear but never attempted this supposed miracle until now. No, I am not presenting you with another 3-ingredient soup, but I can report that a soup based on cauliflower, with a few supporting flavors, can be soul-satisfyingly good. And it ticks off almost every dietary box there is with an easy tweak or two: vegan, vegetarian, dairy-free, keto, you get the idea!
Thick or thin?
When it comes to soup, my preference leans to the thick and hearty. If you want a dish along those lines, it is easy to do. When roasting the cauliflower, add in a diced potato or two. If you like texture and heft, you can also leave some of the cauliflower aside while blending and stir them back in at the end. Same with chunks of potato.
Garnish away!
Easy curried cauliflower soup is irresistible as it is, but it can also be a canvas for a final splash of tadka, spices, and aromatics sizzled in butter. Or you can prepare some simple but spectacular company-worthy garnishes. The easiest would be to save some of your prettiest roasted cauliflower pieces for floating on top of the soup just before serving. If you want to show off, take your favorite ground red chili (I suggest Kashmiri or Deggi mirch) and combine 1/2 teaspoon with two tablespoons of oil. Let is sit for 10 minutes and then use it as a bright red drizzle.
Soup inspiration
My inspiration for this curried cauliflower soup was one published on the blog Cookie and Kate. Since my go-to method for cooking vegetables is to roast them, Kate's method for her famous roasted cauliflower soup is precisely the way to go. The caramelization of the cauliflower takes this recipe from very good to excellent. Potato soup was a standard Mom move when I was growing up, so I have a special place in my heart for that home cook standard. This curried cauliflower soup is so good you won't miss the potatoes.
Options
I've made this dish with various liquids, and my favorite is a cup of coconut milk as a part of the 3 1/2 cups required. Chicken stock is my choice for the 2 1/2 cup balance of liquid, but vegetable stock works well if you are keeping it vegan. I would encourage you to enrich your soup with a nice dollop of cream, coconut cream, or thick vegan plain yogurt at the end. A bit of butter won't go amiss either.
~ Alonna
See the Notes below before you cook.
Recipe Card 📖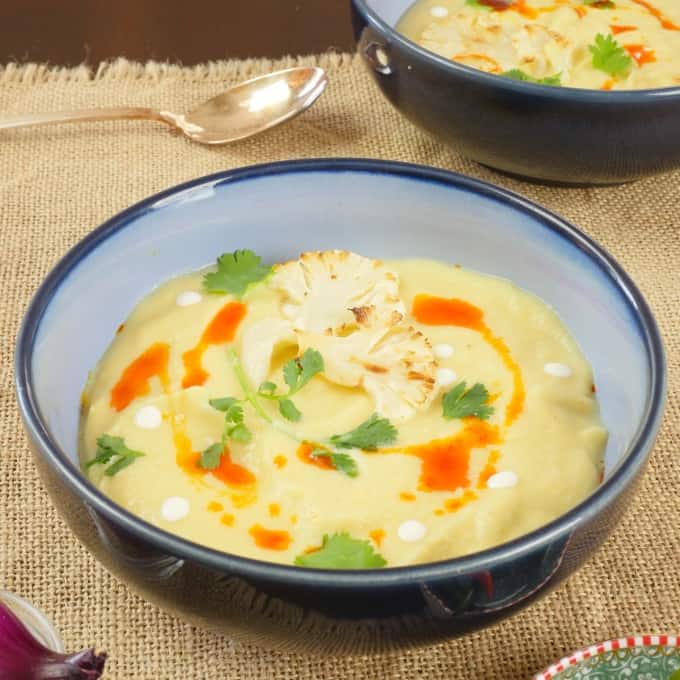 Easy Curried Cauliflower Soup
Silky, warming, and oh so comforting, curried cauliflower soup is just the thing you need to make for dinner. Did I say healthy too? It is vegan, vegetarian, dairy-free, and even keto.
Print
Pin
Comment
<!–– I removed icon="star-empty"from above and change Rate to Comment ––>
Ingrediants
Soup
1

large head of cauliflower

~ About 2 pounds cut into florets

2

tablespoons

extra-virgin olive oil

~ Or oil of your choice

1

tablespoon

ghee

~ Or oil

1

cup

onion

~ chopped

1

teaspoon

sea or table salt

~ Divided, or 2 teaspoons Diamond Crystal kosher salt, about

1

small Indian green chilies

~ Minced = 1/2 teaspoon or to taste, see Notes below

1

tablespoon

ginger garlic paste

~ Make or 2 teaspoons each ginger and garlic purée

1/4

teaspoon

turmeric

2

teaspoons

ground coriander

~ Make sure it is fresh, ground coriander losses its flavor fairly quickly

3/4

teaspoon

ground cumin

1/2

teaspoon

ground fennel

~ Optional

1/2

teaspoon

Kashmiri ground red chili

~ Or 1/4 teaspoon deggi mirch or cayenne, to taste

3 1/2

to 4 cups

liquid

~ Start with 3 cups and add more as needed. See Notes below.

2

teaspoons

lemon juice

~ Or lime juice, more to taste

1

tablespoon

heavy cream

~ Or more; or butter, coconut cream, yogurt
Optional Garnishes
1

tablespoon

chili oil

~ Quick oil, see Notes

9

roasted cauliflower florets

~ Saved from the blender

2

tablespoons

yogurt

~ Or heavy cream for swirling

2

tablespoons

cilantro

~ Chopped or scallion greens, mint, etc.

2

tablespoons

dessicated coconut

~ Or large shards, toasted

2

tablespoons

onions

~ Or shallots ~ Buy or make birista

2

tablespoons

sliced almonds

~ Toasted
Instructions
Make the Soup
Gather your ingredients. Preheat your oven to 450°F (230°C) and line a baking sheet with parchment paper if you want an easier cleanup.

On the baking sheet, mix together 2 tablespoons oil, cauliflower, and 3/4 teaspoon salt. Spread into an even layer and roast for about 25 minutes or until golden brown. Turn the pieces over at the 15-minute mark and start checking for doneness in 10 more minutes.

While the cauliflower is cooking, in a dutch-oven or heavy saucepan over medium heat, add the ghee or oil. When the fat is hot, add the onions and 1/4 teaspoon of salt. Stirring occasionally cook the onions until translucent; about 5 to 7 minutes.

Stir in the ginger garlic paste and cook, stirring constantly, until fragrant, about 30 seconds to a minute. Stir in the turmeric, coriander, cumin, fennel, and chili powder. Stir continuously to cook the spices for 2 minutes. If they are sticking to the bottom of the pan, add a tablespoon or two of water. Then add 3 1/2 cups of the liquid you are using.

Reserving the prettiest cauliflower florets for garnishing, if you wish, add in the roasted cauliflower. Increase the heat to medium-high and bring the soup to a boil. Reduce the heat to medium-low or to a low simmer, stir occasionally for 15 minutes to allow the flavors to come together. Add in the cream and lemon juice to taste.

Remove the soup from the heat and allow to cool for 5 minutes. Using an immersion blender or a regular blender, process until the soup is smooth. Adjust the consistency now by adding more liquid. Taste for salt, acid, heat, and the need for some richness.
Notes
Chilies: I use small Indian chilies. When seeded and chopped they measure 1/2 teaspoon each. If you want the flavor of chilies without any of the heat, make a 1-inch slit down either side of the chili and use whole. Looking for more heat? Deseed and mince the chilies. Even more heat? Leave the seeds, use hotter chilies and, of course, add more!
Liquid choices: I like 1 cup coconut milk and 2 1/2 cups chicken broth but use the liquid of your choice
To thicken the soup: 1/2 heavy cream, coconut cream, or Greek-style yogurt
Chili oil: Mix 1 tablespoon oil and 1 teaspoon Kashmiri chili powder, or chili powder of your choice. Use a prepared chili oil or make my Sichuan chili oil.
For a heartier soup: Roast or boil a potato or two and either add in before puréeing or stir in afterward for some nice texture.
Chili sauce: Besides the green chilies and ground red chili you could add Tabasco, Siracha, Maggi's Hot and Sweet Tomato Chili Sauce, or gochujang, etc.
Add-ins: Sautéed cubes of paneer, firm tofu, shredded or crumbled cheese. Mushrooms are hard to overcook and I like throwing them in with the cauliflower. They add lovely umami to this curried cauliflower soup!
Nutrition
Calories:
161
kcal
|
Carbohydrates:
14
g
|
Protein:
3
g
|
Fat:
11
g
|
Saturated Fat:
3
g
|
Cholesterol:
10
mg
|
Sodium:
666
mg
|
Potassium:
501
mg
|
Fiber:
4
g
|
Sugar:
6
g
|
Vitamin C:
76
mg
|
Calcium:
54
mg
|
Iron:
1
mg
Your Private Notes