One of the most popular Indian dishes, chicken mulligatawny soup, is full of flavor, healthy, and easy to put together. Perfect as a make-ahead or freezer meal too!
Anglo-Indian mashup
Mulligatawny soup is one of those magical marriages of Indian flavors and British foodways that happened during the era of the East Indian company. The story goes that South Indian cooks made rasam for their English masters, which they found too thin and peppery for their liking. Some chicken was added for heft, and meat broth was added for a more recognizable meaty flavor. I am sure the ground black pepper used was mellowed out as well. Here is what the award-winning cookbook author and teacher Julie Sahni says of mulligatawny soup In her great cookbook "Classic Indian Cooking:"
"Because of its unorthodox origin, Indian cooks have had a field day exercising their creative genius with it. As a result, there are innumerable interesting variations of this soup around the world today."
My husband and I had our fair share of satisfying meals on what is fondly called "Indian row" or "curry row" on New York City's sixth street. The joke was that the Indian restaurants situated side by side, mostly owned by Bangladeshis, shared the same kitchen. This wasn't true, of course, but my husband Eric still has fond memories of the mulligatawny soup he fell in love with, and which seemed to be the same, no matter which restaurant he went to on that block.
Delicious can be good for you!
I patterned my mulligatawny soup from Romain of Glebeskitchen who loosely based his soup on one from the great Madhur Jaffrey. By the way, if you haven't visited his blog, you must. He has published many good dishes and has perfected Indian restaurant-style recipes that can be made at home. Of mulligatawny soup, he says, "Healthy. Good for the planet. Sometimes delicious can be good for you." And I agree with him. My tweaks to his recipe were to reduce the spicing a bit and add carrot for color and sweetness. Speaking of spice levels, one teaspoon of ground pepper seemed like a lot to me, but this soup can handle it, so I suggest you go for it.
Make mulligatawny soup your own
As with chefs around the world, I suggest that you take the following recipe and make it your own after giving my template a try first. Add in some garam masala or your favorite curry powder. Throw in some other vegetables to make chicken mulligatawny soup even more nutritious, and go vegetarian or vegan if that is how you roll. This soup makes a meal with some flatbread or, as I did one night, cornbread. A fresh salad wouldn't go amiss either. Make this soup as the main dish of a meal or as a starter or side. When you've settled on your favorite formula, make a big batch and freeze some for that crazy day when you need a healthy, delicious comfort food meal.
This recipe is one of the 10 dishes I make over and over!
Recipe Card 📖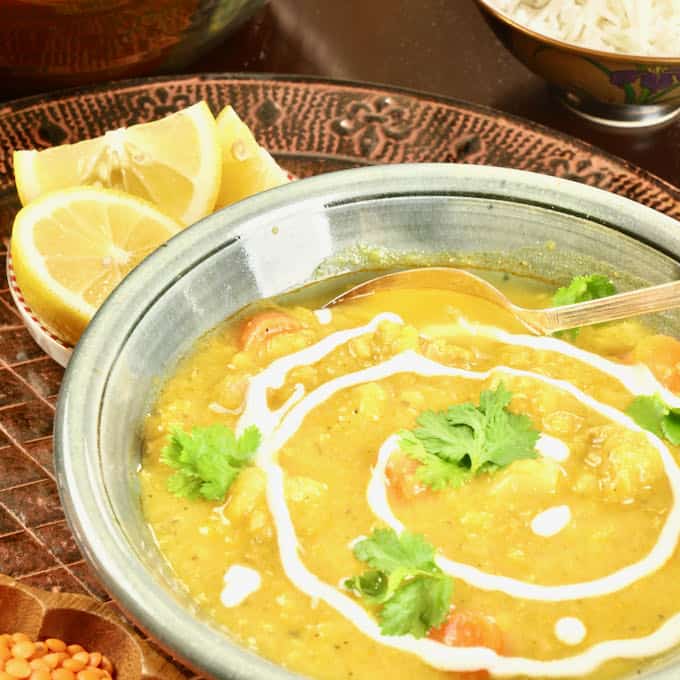 Glorious Chicken Mulligatawny Soup
One of the most popular Indian dishes, chicken mulligatawny soup, is full of flavor, healthy, and easy to put together. Perfect as a make-ahead or freezer meal too!
Print
Pin
Comment
Ingrediants
Soup
2

cups

red lentils

~ Also called masoor dal

7

cups

low-sodium chicken stock

~ More for thinning if needed

1/2

teaspoon

turmeric

8

ounces

potatoes

~ Peeled and cubes into a 1/2-inch cubes (1 cup)

1

cup

carrots

~ Optional, cut into 1/2-inch cubes

3

tablespoons

olive oil

~ Or oil of your choice

3

tablespoons

ginger garlic paste

~ Make; or 4 1/2 teaspoons each ginger and garlic grated

1

pound

skinless boneless chicken thighs

~ If you must use chicken breasts, be sure not to overcook

1

teaspoon

sea or table salt

~ Or two teaspoons Diamond Crystal kosher salt

4

teaspoon

lemon juice

~ More to your taste
Spice Mix
2

teaspoons

ground coriander

1

teaspoon

ground cumin

1/2

teaspoon

ground fennel

~ Optional, but recommended

1

teaspoon

Kashmiri ground red chili

~ Or 1/4 teaspoon cayenne

1

teaspoon

ground black pepper

~ Or white pepper
Instructions
Thoroughly rinse your lentils and add to a 6-quart pot add the lentils, stock, and turmeric. You need a fairly large pot to prevent the lentils from boiling over. Bring the lentils to a boil, cover, and reduce the heat to low, or to the point where you get a gentle simmer. Cook for 10 minutes stirring occasionally.

Stir in the potato and carrots (if using), cover and cook for another 15 to 20 minutes until the vegetables are cooked through. This soup is often served smooth and creamy. I prefer texture and heft, but if you want a more elegant dish, allow the soup to cool a bit. Then puree in batches, being careful not to burn yourself.

While the lentils are cooking, prepare the spice mix and chicken. Trim and cut the chicken into small bite-sized pieces, about 1/3 to 1/2-inch cubes, and mix the spices together. In a frying pan over medium heat add the oil. When the oil is hot add the garlic ginger paste and stir continuously for a minute or 2 until it no longer smells raw.

Reduce the heat to medium-low and stir in the spice mix. Continue to stir constantly to toast your spices for 30 to 60 seconds until they are fragrant, making sure you don't burn them.

Add the chicken and turn to heat back to medium. Stirring frequently, cook the chicken until it is almost cooked through. This will take about 3 to 5 five minutes depending on your stove.

When the lentils and vegetables have finished cooking and you've pureed them (or not) stir the chicken mixture and salt into the lentils and allow the soup to simmer for 3 minutes. Add the lemon juice starting with 1 tablespoon. I typically use another teaspoon but taste as you go. Simmer for another couple of minutes.

Taste for seasonings; for salt, black pepper, and lemon juice. If your soup is too thick, add some stock. And if you would like to mellow out your soup, and/or add some richness, spoon in some cream, coconut milk, or yogurt to your taste. Garnish with some yogurt, cilantro, or heavy cream if you wish. Keeping: Mulligatawny soup is a perfect make-ahead dish and it also freezes quite well.
Notes
Ginger garlic paste: Contrary to previous mentions of ginger garlic paste on this website, I have come to the conclusion that jarred paste is just not a great choice. I haven't found one that is truly good enough. Having said that, if you use this convenience ingredient, I hope you have found one that works for you.
Shortcuts: Use rotisserie chicken, adding chopped chicken to the cooked spices and stirring together for several minutes to flavor the cooked chicken.
Spicing: Instead of the cumin and coriander, or in addition to, use 1/2 teaspoon to 1 teaspoon of your favorite garam masala or curry powder. Experiment with your favorite spice mixture and amount.
Vegetable ideas: Stir in baby spinach, shreds of kale, or any other veggie you want to increase the nutritional quotient of your chicken mulligatawny soup.
Vegan or vegetarian: Use vegetable broth and leave out the chicken for a delicious vegan or vegetarian meal. You could add firm tofu crumbles if that would make you happy.
Nutrition
Calories:
341
kcal
|
Carbohydrates:
36
g
|
Protein:
28
g
|
Fat:
10
g
|
Saturated Fat:
2
g
|
Cholesterol:
54
mg
|
Sodium:
425
mg
|
Potassium:
937
mg
|
Fiber:
15
g
|
Sugar:
2
g
|
Vitamin A:
2704
IU
|
Vitamin C:
7
mg
|
Calcium:
54
mg
|
Iron:
5
mg
Your Private Notes