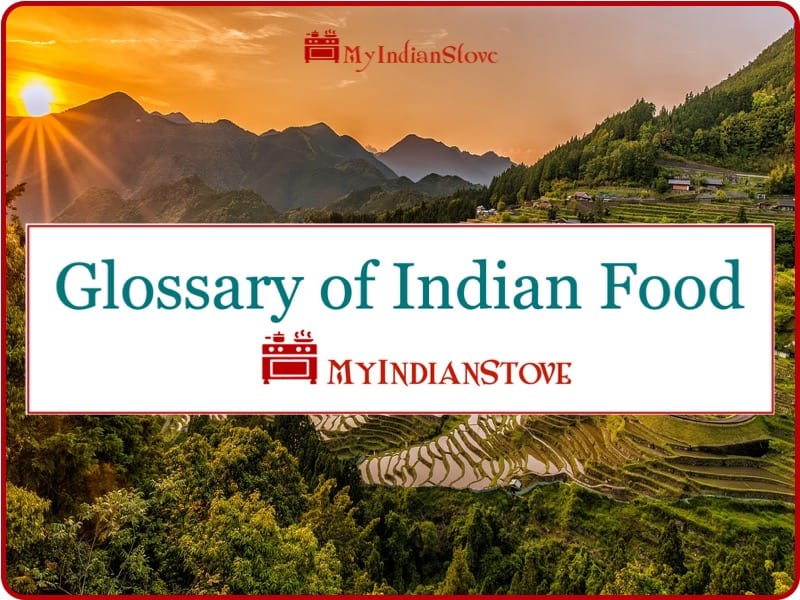 Indian Food Names A to Z in Hindi to English
According to Wikipedia, there are 122 major languages in India (and over 1500 minor languages!). Hindi is the "official" language, along with English, and it is spoken by roughly 420 million people. So you will find Indian food names in Hindi translated to English in this glossary.
The Indian (Hindi) word for food is khaana or khaanaa. The spelling of Hindi words varies around the country, so I add the various spellings as I find them. This Indian food glossary is updated frequently so bookmark this page and visit often. ~ Alonna
Jump to:
Indian Cooking Terms (also see Dairy)
Here is a list of Indian cooking terms that includes cooking pots, utensils, methods, and various cooking styles.
Balti: Bucket
Bawarchis: Chef
Belan: Rolling pin
Bharta: To mash
Bharwa: Stuffed
Bhuna/bhunao: Cooking over high heat with spices and little or no water; caramelizing.
Bonda/urundai: Ball shape
Chatpata/chutpata: Piquant; hot and sour
Chilke: Peel
Danedar: Coarse or granulated
Dhungar: To infuse smoke into a dish using charcoal
Degh/deg/degch/deghchi/degii: Large round, deep pot traditionaly used over a wood fire
Dum style: Steam
Gosht: Usually referring to lamb or goat
Gota moshlar mangsho: Bengali meat curry with whole spices
Haandi/handi: Earthenware cooking pot
Haddi: Bone
Kachcha: Raw/uncooked
Kaddu kas: Grater
Kadhai/karhai/kadai/karahi: Wok, a bowl-shaped frying pan
Kala: Black
Kappi kachal: The cooking of a bit of appam batter to help with fermentation
Khatta/khatti: Sour
Kinvit/kinema: Fermented plant-based food
Kinvan/vikshobh: Fermenting
Kohzi: Chicken (A Kerala chicken curry: Nadan Kohzi)
Kosha Mangsho: Bengali meat or chicken curry, slow-cooked and highly spiced
Kurkuri: Crispy
Laccha: Coiled, as in laccha paratha
Lagan: Aluminum or copper round pan used to make biryani, etc.
Makhani: Cooked with butter and cream
Mahha/maha: Mashed, macerated, or muddled
Masala dani/masala dabba: Spice box
Masaledar/masaaledaar: Spicy
Mathani: A wooden tool to cream (make butter) or mash lentils
Matka: Earthen pot
"Maza haath mein hota hai:" "the taste comes from the hand"
Milai/milani: To mix
Mirchi: Spicy
Mithai: Sweet
Moyan: The oil/ghee mixed into flour to make food crisp and flaky
Murgh: Chicken
Muth: To hand-crush
Nadan: Cooking pot
Nalli: Bone marrow used to enrich a stew (as in nalli nihari)
Nihari: Slow-cooked mutton curry
Pakka: Ripe or raw
Pateelaa: A large pot
Patti: Strip, roll, or sheet
Pre-soaking: Lentils, grains and other pulses are frequently soaked prior to cooking
Reshmi: Silky
Sabji/bhaaji: Any vegetable dish
Sada: Dish that is plain or white
Salna: A thin gravy usually made with meat stock
Shil Nora: Traditional grinding stone (similar to a mortar and pestle)
Tarka/tadka/chaunk/bagar/vagar/vaghar: Frying spices in oil to add flavor to a dish
Urundai/bonda: Ball shaped
Varuval: Fried, frying
Vikshobh/kinvan: To ferment
​
Chutneys and Pickles
Achar/aachar: Pickle or relish
Chutney: Flavorful sauce made from vegetables, herbs, spices, and sugar
​
Dairy
Angoori: Small balls of chenna/chhena
Chenna/chhena: Crumbles of fresh cheese
Cream (fresh): Amul is an often used brand
Dahi: Yogurt/curd
Doodh: Milk
Ghee: Clarified butter made from cow or buffalo milk
Ghee, desi: Clarified butter; made from cow's milk
Khoya/mawa: Dried whole milk/condensed milk
Makhan/makkhan: Butter
Malai: Cream/skin that forms on top of boiled milk
Mattha/chhaach/chach/chaas/chas: Buttermilk
Mishti Doi: Bengali sweetened, caramelized yogurt
Naariyal ka doodh: Coconut milk
Paneer: Fresh cheese pressed into a block
Rabri: Long-cooked milk until it is condensed
Unda/baida: Eggs
Indian Food Terms

& Dishes

Here is a comprehensive list of dishes in Hindi to English food names. This will help you when you read the menu at your favorite Indian restaurants.
Achari: Pickle flavor
Adai: A South Indian flatbread made from rice and lentils, similar to dosas.
Adrakr murgh: Ginger chicken; North Indian
Akki: South Indian rice bread
Alugadde/Aloogadde palya: Potato dish (South Indian)
Anda: Eggs
Appam: Thin pancake from rice and lentils
Avial: South Indian vegetable yogurt curry
Bakarkhani: North Indian flatbread or cracker
Balchao: Goan sweet and sour dish; meat or vegetable
Barfi/burfi: Indian fudge
Bhang/bhaan: Fresh cannabis leaves used in dishes and drinks
Bhel puri: Street snack of yogurt, chutney, lentils
Bharta: Spicy mashed vegetable dish such as baingan bharta ~ TOP 20 Dish!
Bharwas/Bharwan: Mushrooms filled with various mixtures, an appetizer
Bheja: Brains fry
Bhelpuri: Indian street food made from puffed rice, onions, chutney
Bhoger: A food offering
Bhuja moshla: Bengali roasted and ground spice blend
Beej: Seeds
Biryani/biryiyani/biriaini: Layered rice and meat or vegetables ~ TOP 20 Dish!
Bondas/vadas: Round, crispy, deep-fried snack made of lentils and vegetables, served with chutney
Boti kabab/kebab: Marinated cubes of meat cooked in a tandoor
Chaat/chatpata: Sweet and sour snack made from fruit, vegetables, crisp lentil crackers ~ TOP 20 Dish!
Chapati/roti/phulka: Unleavened flatbread made with whole wheat flour
Cheela/chilla/chila: A healthy flatbread made from chickpea flour/besan/Bengal gram, or moong dal
Curry: Dish of meat or vegetables cooked in a sauce flavored with an infinite combination of spices. It is ALSO a mix of dry spices, which varies from region to region. The word curry comes from the Tamil 'kari,' meaning sauce. ~ TOP 20 Dishes: Shrimp Curry, Potato Curry, Chickpea Curry, Fish Curry!
Dangar: A South Indian crispy fritter made with a rice and lentil batter, with vegetables and spices
Dal/daal: Soup made from lentils and spices
Dal chawal: Dal over a bowl of rice
Degi: A North Indian curry cooked in a degh (see above in Cooking Terms)
Dhaba: Casual roadside restaurant in Punjab, serving local cuisine.
Do pyaza: Mild creamy sauce made with meat and a large amount of onions
Dosa: Thin, crispy pancake often filled with a dry masala
Dry (shookhi): Dry

curry (meat or vegetable dish) that has very little sauce or gravy
Firni/Phirni: Rice pudding made with coarsely ground rice
Gatte: Chickpea (besan) flour dumplings
Ghonto: "Mish-mash," or a mixture of vegetables. A Bengali vegetable dish.
Gulab Jamun: Deep-fried sweet similar to doughnuts, served in a sweet syrup
Gulkand: Rose petal jam.
Halva/halwa: Sweet made from milk, vegetables, and spices
Hara/hari: Green
Hara bhara kebab/kabab: A North Indian green vegetable appetizer or snack
Idli: Steamed rice cakes made from fermented rice and lentil batter
Jalebi: Orange sweet crisp round swirls, made from wheat flour and deep-fried
Kachumber: Indian mixed vegetable salad
Kababs/kebabs: Marinated cubed or ground meat, skewered and grilled ~ TOP 20 Dish!
Kadhi: Yogurt gravy thickened with besan
Kalvan: Curry in the Marathi language, spoken in the west Indian state of Maharashtra
Karanji: Pastries made from whole wheat flour, filled with grated coconut and sugar
Kati/kathi: Stick or skewer, or rolled snack (kathi roll)
Kathi roll: A snack of a rolled and filled flatbread
Khara bath/masala bath: South Indian "spicy pudding" eaten for breakfast
Khatta/khatti: Sour
Kheer/payasam: Rice pudding
Khichadi/khichdi: Mildly spiced rice and lentil dish
Keema/kheema/Qeema: Ground meat
Khatkhatem: A Goan mixed vegetable, coconut, and lentil stew
Khofta/kofta/kola: Ground meat with spices formed into balls or logs, often simmered in a sauce thickened with nuts/poppy seeds.
Kootu/mulakootal: A South Indian vegetable, lentil, and coconut stew
Korma: Meat or vegetables in a mild yogurt or cream sauce with spices ~ TOP 20 Dish!
Kosambari: South Indian salad with coconut, lentil, and a vegetable
Kulambu: South Indian dal with vegetables in masala
Kulcha: Flatbread often stuffed with onion or potatoes
Kulfi: Indian frozen dessert
Kuska biryani: A biryani without meat or vegetables (South Indian)
Kuzhambu: A South Indian tamarind-based vegetable and coconut curry
Labra: A Bengali mixed vegetable dish
Laccha: Coiled, as in laccha paratha
Lagan dal: Gujarati wedding dal
Lassi: Sweet or savory yogurt drink flavored with fruit and spices
Maa ki dal: Dal made with whole black gram/urad dal
Makhani: Rich, creamy dish with butter or ghee
Mangsho: A spicy, hot Bengali mutton curry
Masala: Blend of spices, dry or in a paste; same as the second definition of a curry described above
Masaledar/masaaledaar: Spicy
Meethi/meetha/meethe: Sweet as an adjective or dessert
Methi curry: A dish with fenugreek, either fresh or dried leaves, seeds
Mishti doi: Fermented, sweetened yogurt
Modak: Cone shaped dumplings with sweetened coconut
Mulakootal/kootu: A South Indian vegetable, lentil, and coconut stew
Murgh: Chicken
Murgh Angara: A hot, spicy, smoky chicken curry (Mughlai, North India)
Murgh makhani: Butter chicken ~ TOP 20 Dishes!
Murgh masalam: Mughal, North Indian whole chicken stuffed with eggs and cooked with onions and spices
Muttai kalakki: Tamil Nadu spiced scrambled eggs
Mutter paneer: Peas and paneer in a sauce
Mutton: Goat meat; lamb makes a good substitute
Mysore pak: Fudge made from ghee and besan
Naan: Leavened flatbread similar to pita.
Nadan curry: A peppery coconut milk-based chicken or beef curry.
Nihari: North Indian meat or poultry slow-cooked stew
Niramish: A vegetarian dish prepared with mixed vegetables.
Olan: A lightly spiced vegetable dish cooked in coconut milk from Kerala.
Paan: Betel leaf stuffed with betel nuts, lime, fennel seeds, and other spices. Often eaten after a meal.
Pachadi: Raita in Tamil
Pahadi: Northeastern Indian cuisine "of the hills."
Pakoras: Crisp, fried snack; a fritter made from vegetables and chickpea flour ~ TOP 20 Dish!
Pandi curry: A sweet and sour pork curry (Karnataka)
Paneer:

Fresh cheese, pressed to remove liquid, cut into cubes and added to sauces or used instead of meat.
Papadum/papad: Crisp lentil crepe served with a meal with chutneys
Paratha: Flaky unleavened flatbread made from whole wheat flour
Pasaanda/pasande: A rich North Indian Moghul dish using prime cuts of meat
Pathiri (Malayam): Rice flour and coconut flatbread
Patia: A Parsi seafood or vegetable dish in a thick sweet and sour tomato sauce
Patta/pata/patte: Leaves
Pav/pao: Bread
Pav bhaji: Street food; mashed vegetables with a soft roll

Paya

: Trotters, leg, or hoof
Payasam/kheer: Indian rice pudding
Paya curry: Goat leg curry
Phalahaar: Meal of fruits
Phool: Flower
Phulka/chapati/roti: Unleavened flatbread made with whole wheat flour
Pulao: Mild rice dish cooked with vegetables and spices
Puri/poori: Deep-fried whole-wheat puffy flatbread
Puttu: Cylinders of steamed rice and coconut
Pyaaji: Onion fritters/bhaji/pakora/pakoda
Raan: Whole leg of lamb or goat
Raita: Cooling yogurt-based condiment flavored with vegetables, fruit, and herbs
Rasam: Thin spicy South Indian broth
Rasgulla: Balls of thickened milk, cooked in a sugar syrup
Reshmi: Silky
Restaurant-style vs Home-style cooking: Home-style is often lighter, ingredients and sauces may be fresher, more nuanced, and healthier than dishes cooked in a restaurant, which often serves up richer, thicker gravies
Rezala: Meat curry with black pepper
Rogan josh: Rich lamb curry ~ TOP 20 Dish!
Roti/chapati: Whole-grain, unleavened flatbread
Saag: Saucy dish of pureed leafy greens
Saaru: A South Indian masala or soup
Sabji/sabzi/bhaaji: Any vegetable dish
Sadhya: Banquet or feast
Salli: Sticks as in potato sticks
Salna: A thin gravy usually made with meat stock
Sambar/sambhar: Spicy South Indian lentil soup; often served with idli/dosa
Samosa: Fried stuffed pastry eaten as a snack or appetizer ~ TOP 20 Dish!
Sattvick: Pure vegetarian diet
Sev: Thin, small pieces of crunchy noodles made from gram/chickpea flour
Shahi: Royal, for kings
Sherbet: Cold drink
Shorba/chorba: Soup, vegetarian or not
Sbuzi/sabzi: A spiced vegetable dish
Shaak: A Bengali vegetable dish
Sukha/sukka/sookhi: Dry curry; little sauce
Tambuli/thambuli/tambli: Raita eaten in the state of Karnataka
Tandoori: Any dish made in a traditional tandoor oven ~ TOP 20 Dish!
Tapelu/Khatri tapelu: A rich slow-cooked lamb or goat stew popular in Gujarat.
Tehri, tehari or tayari: Rice dish, yellow from Awadhi cuisine
Tel: Oil
Thali: Round platter used to serve a meal, but also meaning a meal comprised of many small dishes.
Thalipeeth: Multi-grain flatbread popular in western India
Thoran: South Indian stir-fried vegetable dish and coconut dish
Tikka: Cubes of meat, or a dish of vegetable patties that are fried and served as a snack
Torkari/tarkari/shaak: Spiced Bengali vegetable curry
Undhiyu/ubadiyu: Gujarati mixed vegetable dish; often with sweet potatoes
Upma: Spiced semolina cooked with vegetables, often eaten for breakfast
Urundai/bonda: A ball
Vada/vade/wada: A ball made from potatoes and lentils, then battered and fried.
Varutharacha: South Indian curry with roasted coconut and spices made into a paste.
Varak: Thin edible silver foil, used to decorate dishes
Vindaloo: Portuguese meat dish (often pork) made with vinegar, spices, and chilis ~ TOP 20 Dish!
Yahni/yakhni: A North Indian yogurt-based stew, traditionally made with mutton
​
Drinks
Chai/chaa: Tea
Feni/Pheni: Goan liquor
Lassi: Yogurt-based drink
Thandai: A cold drink made from dried seeds, cardamon, saffron, almonds, and milk
Fruit (phal)
Aadu/aadoo/adoo/aaru: Peach
Aam: Mango
Aam ka patta: Fresh mango leaf shoots
Aam papad: Dried mango pulp
Aaroo: Peach
Aloo bukhaara: Plum
Amarphal: Persimmon
Amla: Indian gooseberry
Amrood: Guava
Anaar: Pomegranate
Ananas: Pineapple
Anjeer/anjir: Fig
Angoor: Grapes
Ber: Plum, Indian/jujube
Carambola: Starfruit
Cantaloupe/musk melon:
Chakotra/shaddock: Pomelo
Chikoo: Sapota/sapodilla
Jaitoon/jolphail/zetoon/zaitoon: Olive
Jungle jalebi/ganga iml: Madras thorn/Manila tamarind
Jamun: Java plum
Kaitha bel/kath-be/kabeet: Wood apple
Kachch kela: Green/raw banana
Karonda: Conkerberry
Katahal: Jackfruit
Kela: Banana
Khajoor/khajur: Dates
Kharbooja: Musk melon/cantaloupe
Krishna phal: Passion fruit
Khubaanee/khubani/khumani/jardaloo: Apricot
Lichee: Litchi/lychee
Nariyal: Coconut
Neelbadri: Blueberry
Nimboo: Lime or lemon
Santra: Orange
Papeeta: Papaya
Nashpati: Pear
Makhanphal: Avocado/butter fruit
Mosambi: Sweet lime
Narangi: Tangerine
Rasbhari: Cape gooseberry/ground cherry
Santra/narangi: Orange
Seb: Apple
Shahtoot: Mulberry
Sitaphal/sitafal/seetaphal: Custard apple
Tamatar: Tomato
Tarbooj/kalingad: Watermelon
Fruit (dried), Nuts, & Seeds
Akhrot/akroot: Walnuts
Badam: Almonds
Beej: Seeds
Chhuar/Khajoor/khajur, sookhe: Dried Dates
Chilgoza: Chestnut
Imli: Tamarind
Kaddoo ka beej: Pumpkin seeds
Kaju: Cashews
Kanthal: Jackfruit
Kishmish: Raisins/currants
Khubaanee, dookhee: Apricot, dried
Moong Fali/moomphali: Peanuts/groundnuts
Mukhwaas: Flaxseeds
Nariyal: Coconut
Neembu/nimbu: Lemon or lime
Makhana: Lotus seeds/fox nuts
Pista/green Piste: Pistachio
Sabja: Chia seeds
Supari: Areca nuts/betel nuts
Sūrajamukhī kā bīj/soorajamukhee ke beej: Sunflower seeds
Til: Sesame seeds
​
Meat and Poultry
Buttak/battak: Duck
Gosht: Red meat (beef, lamb, or mutton)
Maans: Meat
Murgh/murghi: Chicken
Suar ka: Pork
​
Oils
Ghee: Clarified butter
Kusan/kusumbo: Safflower oil
Makhanphal tael: Avocado oil
Narial ka tael: Coconut oil
Saron ka tael: Mustard oil
Tel: Oil
Pulses, Beans, Peas, & Grains
Arhar dal/toor/tuvar/togre bele: Pigeon peas
Atta: Whole wheat flour
Bajra: Pearl millet
Barri/chena/vair: Proso millet
Besan: Bengal gram flour/gram flour made from brown chickpeas
Bhat: Boiled rice
Chana/Chole: Whole chickpeas/garbanzo beans
Chana dal/kala chana dal: split, skinless black chickpeas/ Bengal gram/yellow gram
Chana kala: Bengal gram or black chickpea
Chawal/chaval: Rice
Chaval ka atta: Rice flour
Cholia/Hara (Green) Chana: Chickpeas
Chana ka atta/Besan: Gram flour
Dal/Daal/: Split lentils/pulses
Dalia/samba rava: Cracked wheat
Gehun: Wheat
Jau: Barley
Jhangora: Barnyard millet
Jowar: Sorghum millet
Kulthi: Horse gram
Lobia/lobhia/chawli: Black eyed peas/cowpeas
Jowar/juvar: Sorghum
Kabuli chana: White gram/chickpeas
Kala/kali chana/kalaith/kulthi: Horse gram/black chana/chickpeas
Kakum/kangni: Foxtail millet
Kodra: Millet, kodo
Kurmura: Puffed rice
Kutki: Litte millet
Kuttu ka atta: Buckwheat
Maida: All-purpose flour/refined flour/fine wheat flour
Makai ka atta: Cornmeal/maize flour/cornflour
Masoor dal: Split red lentils
Matar dal: Dried peas, split
Moong dal: Split green gram/small yellow lentils
Motth: Moth beans
Poha/chiwda: Beaten/flattened rice
Quinoa: Quinoa
Ragi: Finger millet
Rajma: Red kidney beans
Saboodana/shudhana/sabudana: Sago, starch from the sago palm
Sabut moong: Whole moong beans/green moong
Sooji/suji/rava: Semolina
Safed/sukhe/sookhe or vatana matar/mutter: Dried green or white peas
Tuar/Arhar Daal: Peas, pigeon/red gram:
Urad/urid dal/dhuli: Black gram split and skinless
Urad/urid dal with chilka: Black gram split with skin
Urad/urid dal/sabut: Black gram whole
Vaal dal: Fava/horse/broad beans
Vatana: Dried white or green peas; see also safed/sukhe/sookhe
Vilayati jown/jai: Oats
Seafood (machli - machchhi)
Bagda chingri: Tiger prawn
Bumallo/bombil: Bombay duck (small fish)
Chingri: Shrimp/prawn
Golda chingri: Lobster
Machli ke ande: Fish roe
Paplet/pabda/pupta machli: Butter fish
Rawas: Indian salmon (unrelated to Western salmon)
Rui/rohu machli: green carp
Samudra-pheni/feni: Squid
Saranga: Silverfish/pomfret
Spices, Herbs, & Seasonings
Adrak: Ginger
Ajinomoto: Monsodium glutamate
Ajwain: Carom seeds
Amchoor/amchur: Dried mango powder
Anardana/anardhana: Pomegranate seeds
Araroot/paniphal/tikora: Arrowroot
Asafetida/asafoetida/hing: Dried strong-smelling resinous gum
Bhustrina: Lemongrass
Byadgi mirch: (medium to hot)Deep red chili from the state of Karnataka.
Chakra phool: Star anise
Cheeni/chini/shakkar/saakar: Sugar
Chironji/charoli: Almond flavored seeds
Dalchini: Cinnamon
Deghi mirch: A mix of capsicum (bell pepper) & paprika (very mild)
Dhania powder: Coriander powder
Dhania/dhone patta: Coriander leaves/cilantro, hara (green
Chhoti ellaichi: Green cardamom
Gamboge/garcinia xanthochymus: Kokum
Ganthoda: From the root of a long pepper; natural remedy
Ganna: Sugar cane
Garam masala: Spice mix
Gulab: Rose
Gulab jal: Rose water
Gur/gud: Jaggery/jagary is a dark brown palm sugar
Haldi/huldi: Tumeric
Hara dhania/dhaniya: Cilantro/coriander leaves
Hari mirch: Green chili
Hing/heeng: See Asafoetida
Imli: Tamarind
Javitri/javetry/javaitry: Mace
Jaiphal/jyfal: Nutmeg
Jeera: Cumin seeds
Kababchini/kebabcheeni: Piper cubeb/java pepper
Kala jeera:

Black cumin seeds; see also shahi jeera
Kala namak/sanchal: Black rock salt
Kali elaichi/Illaichi/bari/badi: Brown/black cardamom
Kali mirch: Black pepper
Kali tulsi: Basil
Kalonji: Nigella seeds/black onion seed
Karipatta: Curry leaves
Kashmiri lal mirch: Red chili (mild)
Kasoori methi: Dried fenugreek leaves
Kesar: Saffron
Khus khus: Poppy seeds
Lal mirch: Red chili
Lambee mirch: Long pepper
Lasan/lassan/lahsun/lahsun: Garlic
Laung/loang: Cloves
Methi dana: Fenugreek seeds
Mirch, kala: Black pepper
Mirch, lal: Red chili. See Kashmiri lal mirch, deghi mirch, and byadgi mirch
Mishri: Rock sugar or candy sugar, an unrefined sugar
Namak: Salt
Nimboo ka Sat: Citric acid
Panch phoron/paanch phoron: Bengali spice blend
Patthar phool: Stone flower
Pippali/pipli: Long pepper
Podi: A South Indian ground spice mix
Posto: Poppyseeds
Pudina: Mint
Ratan jot/alkanet: Root used as red food coloring
Safed mirch/shamarich: White pepper
Sarson/sarason/raai/raee: Mustard Seeds
Saunf/saumph/moti/shatphool/dodd jeera: Fennel seeds
Sendha namak: Rock salt
Shahi/siya/kala jeera: black cumin (NOT kalonji/nigella OR caraway); see vilayati jeera.
Shabdkosh: Poppy seeds
Sirka: Vinegar
Sowa/savaa/suva: Dill
Sui ki bhaji: Dill
Tej patta: Bay leaf
Tirphal/teppal: Variety of Sichuan/Szechuan pepper
Tulsi: Holy basil
Vilayati jeera: Caraway seeds
Indian
Vegetables

in Hindi
Ajavaayan: Celery
Adrak: Ginger
Aloo/aaloo/alu: Potatoes
Arbi/cocoyam/colocassia/taaro: Taro root
Baans ka patta: Bamboo shoots
Baingan/brinjal: Eggplant/aubergine
Bathua: White goose foot/lamb's quarters
Bhein: Lotus root
Bhutta sabut: Corn on the cob
Bhindi: Ladies' fingers/okra
Chachinda//chirchinda/chirchir: Snake gourd
Chawli/chauli bhaji: Amaranth leaves
Chow chow/cho cho: Chayote
Chukandar: Beetroot
Desi makai: White corn
Dhania patta: Fresh coriander/cilantro
Dosakaya: Yellow cucumber
Farash/Parash: String/green/French beans
Gajar: Carrot
Gawar phalli: Cluster beans
Gilka: Silk squash
Gobi: Cauliflower
Gucchi: Wild mushrooms
Haathe chak: Artichoke
Hara/hari: Green
Hara/haree matar: Green peas
Hara/hari pyaz: Spring onions/scallions
Hari mirch: Green chillies
Hari phoolgobhi: Broccoli
Jimikand/zimikand/ratalu: Elephants' foot yam
Kaddu: Pumpkin
Kakadi/kakari/kakdi/kheera: Thin cucumber (Armenian melon)
Kamal kakadi: Egyptian bean/lotus root
Kantola/kakoda: Spiny/teasle gourd
Karela: Bitter gourd
Kari patta: Curry leaves
Kathai: Jackfruit
Kele ka phool: Banana flower
Kheera: Cucumber (gourd)
Khumb/kukurmutta: Mushrooms
Kolrabi: Nol/knol/khol
Kundri: Ivy gourd
Laal ainthan: Red amaranth
Lauki/doodhi: Bottle gourd
Lahsun/lassan/lasan/lehsun: Garlic
Lobia: Cowpea (see grains)
Lunia: Purslane
Makai/makka/makki: Corn
Methi ki patte: Fenugreek leaves
Mirch: Chilli (see hari, shimla mirch)
Mishrikand: Jicama/yam beans
Mooli/moolee: Radish
Mooli ka patta: Radish leaves
Moomphali: Fresh chickpea
Mutter/matar (hara/haree matar): Peas
Nenua: Sponge gourd
Nol khol: Kolrabi
Parmal: Pointed gourd
Patta/patte: Leaves
Patta gobi/paat gobhi: Cabbage
Palak/saag: Spinach
Petha/kaddu: Ash/wax gourd/winter melon
Phali: Beans
Pharas: String beans
Phool/phul Gobi: Cauliflower
Pitwaa: Sorrel
Poi saag: Ceylon/Malabar spinach
Pudina: Mint leaves
Pyaz/pyaaj/piaaz: Onions or shallots
Rajgira/ramdana/seel: Amaranth
Sarson/sarason/sarson ka saag: Mustard greens
Sem ki phalli/sheem/valor papdi: Broad beans
Shakarakand: Sweet potato
Shalgum/shalajam/sakartam: Turnip
Shalajam/sakartam ka saag: Turnip greens
Shatwar/halyan/sootmooli: Asparagus
Shimla mirch: Capsicum/bell peppers
Singhada: Water chestnut
Surjan ki phalli: Drumstick
Suva bhaji: Dill
Tamatar: Tomatoes
Tinda: Apple gourd
Tindora/tendli/tundru: Ivy gourd/scarlet gourd
Turai/tori: Ridge gourd
Valor papdi/sheem/Sem ki phalli: Broad beans
Happy Cooking!
~Alonna