This aromatic potato masala can be a pizza topping, a sandwich filling, a potato salad, or a memorable side dish. What can't you do with this curry?
Aloo Masala
I feel rich when I have a batch of potato masala in the fridge. On the first night I make it I use it as an accompaniment to the main dish. The next day it makes a great lunch topping for naan pizza (using naan fresh from the freezer). I like topping with crumbles of paneer if I have it, or feta or goat cheese, if I don't. Dollop mint or coconut chutney just before serving, and you have a quick and easy lunch or even dinner in a pinch.
Use as fillings, soup & snacks
Potato masala can be used as a filling for samosas, naan (or any flatbread), a sandwich, and dosas, as in the popular masala dosa. If you cube the potatoes and add the stock, this would make a great soup. Formed into balls, or flat rounds and fried, you have a satisfying veggie burger, mix with fish and make into the best fishcakes you've ever had. Or shape into spiced potato balls, and "cutlets" for a snack or appetizers. Oh, and served cold, with the potatoes pieces left on the larger side, makes a savory twist for "potato salad."
Find curry leaves
I have added some spices that are not typically found in the pantry of beginner to Indian cooking. This potato masala will be tasty without curry leaves, hing (asafetida), and green mango powder (amchur). Still, if you have them, or are interested in finding them, they will up the flavor quotient. I find curry leaves at my local Indian grocery, but you can also find them fresh online on Amazon or ishopindian.com. Curry leaves keep well in the freezer, and you typically only use ten or so leaves, so a package can last a long time.
Happy cooking!
~Alonna
Oh, and by the way—This recipe is one of the top 20 Indian favorite dishes. And if you are a potato lover try my cauliflower potato curry.
See the Notes below before you cook.
Recipe Card 📖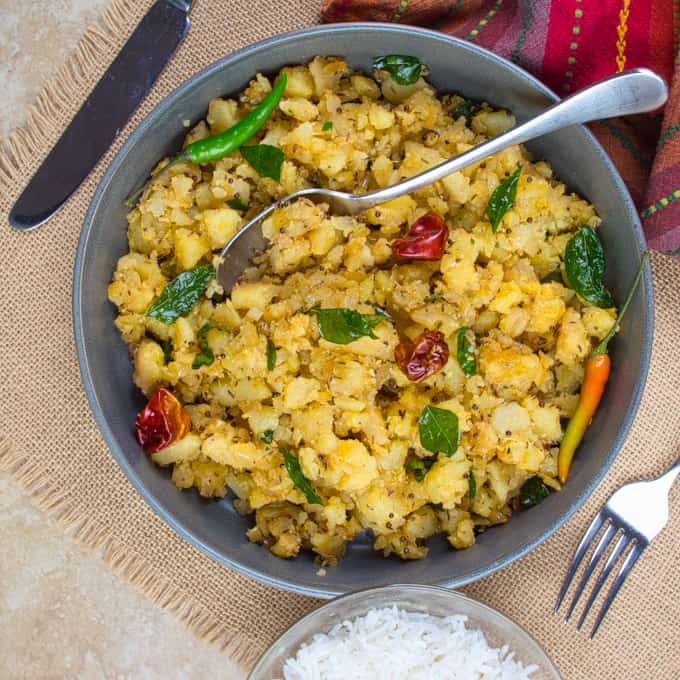 Potato Masala (Curry)
This aromatic potato masala can be a pizza topping, a sandwich filling, a potato salad, or a memorable side dish. What can't you do with this curry?
Print
Pin
Comment
<!–– I removed icon="star-empty"from above and change Rate to Comment ––>
Ingrediants
1

pound

potatoes

2

tablespoons

ghee or oil

~ Ghee recipe

1

teaspoon

mustard seeds

~ Brown or black preferably

1

teaspoon

cumin seeds

1

cup

onions

~ Chopped finely

10

curry leaves

~ Coarsely chopped. See Notes below. About and buy.

1

green chili

~ Or 1/2 a serrano, or more to taste, about

2

teaspoons

ginger garlic paste

~ Buy or make or use 1 teaspoon each grated or finely minced garlic and ginger

1

pinch

hing (asafetida)

~ Optional

1

teaspoon

table or sea salt

~ Divided 1/2 and 1/2, if using kosher half the amount, about

1/8

teaspoon

Kashmiri ground red chili  

~ Or a pinch of cayenne, more to taste; substitutions

1/2

teaspoon

garam masala

~ Buy or make

1/2

teaspoon

green mango powder (amchur)

~ Or 1 tablespoon of lemon or lime juice

2 to 4

tablespoons

water

2

tablespoons

cilantro

~ Chopped coarsely, for garnish
Instructions
Boil potatoes with the peels on so they don't get waterlogged. They should just be done, not mushy. Cool, peel and either chop in small cubes or crush with your fingers into pea-size pieces. I like doing this step by hand, it is satisfying somehow and easier to control the size that works best for the dish you are making. Alternately, instead of boiling the potatoes cut into 1/2-inch cubes, and place on a lined baking sheet with 2 tablespoons of oil. Roast at 425°F (220°C) for 20 to 24 minutes, stirring halfway through. Or you can microwave the potatoes, 5 minutes on each side. Boom!

Heat ghee or oil over medium-high heat in a large frying pan, kadai or wok. Sizzle the mustard and cumin seeds until they pop, change color and become fragrant, about a minute or two. 

Add onions, curry leaves, and a 1/2 teaspoon of salt. Sauté until the onions are soft and slightly golden, 3 to 5 minutes. Add the green chili, ginger garlic paste, hing (if using), and red pepper.  Mix well and fry for 2 to 3 minutes.

Turn up the heat to medium-high and add crushed or cubed potatoes, garam masala, 1/2 teaspoon of salt, amchur or lemon juice, and water (unless your potatoes and mushy and waterlogged). Cook, stirring frequently for 4 to 5 more minutes, and remove from the heat. Garnish with coriander leaves. Taste for the usual need for salt, heat, and acid (lemon). Serve with rice or bread.
Notes
This is an intensely flavored potato masala that works great as a filling or a topping.

 

If you would like a mildly spiced mixture, halve or eliminate the garlic ginger paste and onions. Skipping some or all of the chilies would get you there as well.

 

Curry leaves add herbaceous, anise, and citrus notes to a dish. curry. If you can't find them, you can add 1/2 teaspoon of lime rind. The result won't be the same but the zest can add some of the citrus notes you get with the real thing. Buy unwaxed fruit. 
If you want to make this dish as a potato salad, leave the potato chunks larger than you would as for a filling for samosas, or a topping of a pizza.
Save time by making the masala while the potatoes are cooking.
If you like, you can substitute 6 ounces of cooked green peas, for 6 oz. of potato; add peas to the mixture along with the potatoes.
Potato masala is a dry curry.

 

If you are wanting something with more sauce, add a half a cup of puréed or chopped tomato after the ginger garlic paste. Cook for 2 to 3 additional minutes, then proceed with the recipe.

 

Try finding small to medium potatoes of roughly the same size, so they finish cooking at the same time.
Potato masala is one of the Top 20 Dishes in India, enjoy!
Nutrition
Calories:
108
kcal
|
Carbohydrates:
23
g
|
Protein:
3
g
|
Fat:
1
g
|
Saturated Fat:
1
g
|
Sodium:
62
mg
|
Potassium:
583
mg
|
Fiber:
3
g
|
Sugar:
4
g
|
Vitamin A:
108
IU
|
Vitamin C:
64
mg
|
Calcium:
36
mg
|
Iron:
1
mg
Your Private Notes