Pakoras are enticing little bites that will brighten up any spot in your day. These onion and potato fritters are so easy and can be made and frozen for that rainy day.
Top 20 Dish! Get my free e-Cookbook: "The 20 Top Dishes in India"
Delightful Bites
Pakora is a compound word that means "cooked" and "small lump," which isn't very flattering. But it belies the fact that they make for a delightful little bite that pleases at any time of the day. Fritters are loved around the world, but India takes these snacks to new heights. They are served all across India, made in homes, restaurants, street stalls, and roadside cafes. Depending on where in India you are, pakoras are called pakoda, or bajji/bhajias.
Potato pakora is a wonderful little recipe to have in your back pocket for a savory accompaniment with drinks. Pakoras beg for your creativity; almost all vegetables will work as a fritter and goes veg or non-veg, as you wish. However, I do recommend adding an allium of some sort: shallots, spring onions, etc.
A must for pakoras is that they need to be fried; baking them doesn't give a very satisfying result. If you feel comfortable with that, the steps are quick and non-fussy. For a video of pakoras being made, see Hari Ghotra's excellent YouTube vegetable pakora video.
Happy cooking!
~ Alonna
See the Notes below before you cook.
Recipe Card 📖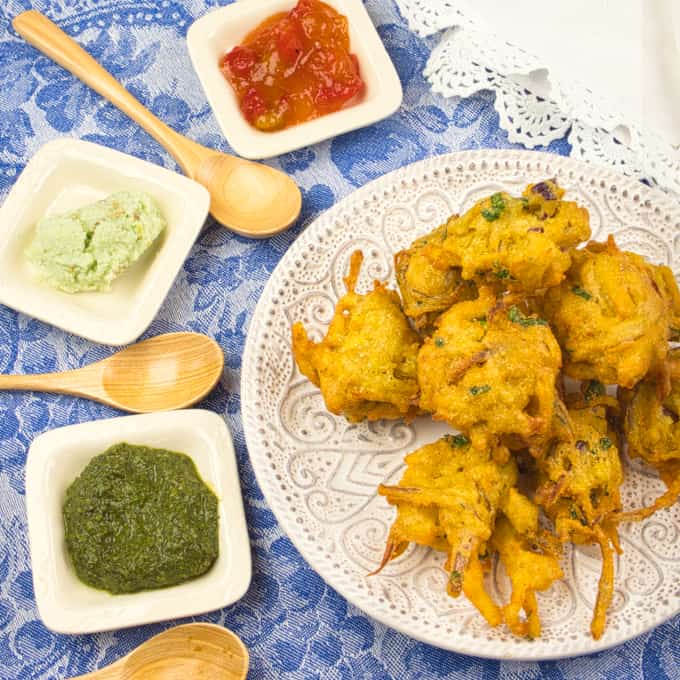 Potato Pakora
Pakoras are enticing little bites that will brighten up any spot in your day. These onion and potato fritters are so easy and can be made and frozen for that rainy day.
Print
Pin
Comment
<!–– I removed icon="star-empty"from above and change Rate to Comment ––>
Ingrediants
3/4

cup

chickpea flour (besan)

1/4

cup

rice flour

~ Or cornstarch, or potato starch

1

teaspoon

table or sea salt

~ Substitution

1/4

teaspoon

baking soda

1

teaspoon

garam masala

~ Buy or make

1/2

teaspooon

turmeric

1

pinch

cumin seeds

1/2

teaspoon

Kashmiri ground red chili

~ 1/4 teaspoon cayenne, or to taste; substitutions

1/4

cup

cilantro

~ Chopped

1

cup

onion

~ Very thinly sliced

12

ounces

potatoes

~ Grated on the large side of a box grater

2

tablespoons

lemon juice

1

small green Indian chili

~ Optional, 1/2 teaspoon finely minced, or more to taste; substitutions

2

teaspoons

fresh ginger, optional

~ Grated

2 to 3

cups

neutral oil

~ Use oil with a high smoke point: grapeseed, peanut, avocado, etc.
Instructions
Heat 2 to 3 inches of oil in a wok, kadhai/karahi, or dutch oven over medium heat to 350°F (180°C). 

To a medium bowl add the chickpea flour, salt, baking soda, garam masala, cumin seeds, turmeric, and chili powder. Mix and then add 1/4 cup water. Adding 1 tablespoon of the water at a time just until you have a batter the consistency of heavy cream and it coats a spoon.

While the batter is resting, thinly slice the onion, grate the potato, and mix together in a large bowl with fresh cilantro, lemon juice, green chili, and ginger (if using).

Add the flour batter into the vegetables and mix well. Don't let this mixture sit too long, or the liquid from the onions and potatoes will seep out, and your batter will become watery.

Line a baking tray with paper towels.

Heat your oil over medium-high heat in a wok or pan with high sides and pour the oil until it is two to three inches deep. If you aren't used to deep frying, please be careful. Test that your oil has come to 350°F (180°C) with a thermometer, or until a bit of the batter pops up to the surface immediately and is frying nicely. 

Turn the heat to medium and very carefully drop spoonfuls of the mixture into the oil. Do not crowd them and turn them several times until they are golden brown and crispy. This will take about 5 to 10 minutes. Turn the heat up a bit if the oil isn't bubbling gently.
Notes
These potato pakoras freeze beautifully and if you want to work ahead for a party, make a batch or two, and freeze in a zip lock bag. To heat up again, place in a 350°
oven for 5 to 10 minutes, and heat until warmed through and crispy.
Make sure your onion slices are not longer than 2 inches.
Other vegetables ideas are zucchini, eggplant, cauliflower, paneer, tomatoes, cabbage, corn, red bell pepper (capsicum), or spinach.
Seafood, chicken, or even tofu pakoras are also tasty.
If you do not have chickpea flour (besan), substitute a 50/50 mix of all-purpose flour and cornstarch makes a good substitution, though I do encourage you to find besan if you can.
Pakoras are best eaten hot out of the oil, as they lose their crispness.
A candy or deep-frying thermometer comes in handy here but is not absolutely necessary.
Additional flavorings to play around with:

Curry leaves instead of cilantro
A pinch of asafoetida (hing)
A 1/2 teaspoon of carom seeds (ajwain)
1 to 2 teaspoons of dried fenugreek leaves (kasoori methi) crushed
Chaat masala to dust the fritters after coming out of the oil

Potato pakoras are one of the Top 20 Dishes in India, enjoy!
Nutrition
Calories:
70
kcal
|
Carbohydrates:
15
g
|
Protein:
3
g
|
Fat:
1
g
|
Saturated Fat:
1
g
|
Sodium:
79
mg
|
Potassium:
410
mg
|
Fiber:
3
g
|
Sugar:
2
g
|
Vitamin A:
67
IU
|
Vitamin C:
16
mg
|
Calcium:
35
mg
|
Iron:
3
mg
Your Private Notes