You won't miss a traditional samosa wrapper and this is as quick as defrosting some puff pastry dough and cooking potatoes. You will be able to keep them around just long enough to make that pot of tea.
Top 20 Dish! Get my free e-Cookbook: "The 20 Top Dishes in India"
Puff Pastry ~ Perfect Shortcut
There is nothing better than a samosa for a snack or appetizer. Sadly, the whole project is a fail if you don't get the wrapper right. I want to rather defensively state that I am not exactly lazy, but most of the time, making samosa wrappers is just not in the cards. One way to solve this problem is to use buttery, crispy, light puff pastry dough, that stands at the ready in my freezer. Besides being an irresistible bite, the other beauty of this wrapper shortcut is that there is no frying, which always makes me happy.
Endlessly Customizable
Puff pastry samosas are endlessly customizable. They can go vegetarian and filled with the traditional pea and potato masala, or stuff with keema (a ground meat curry). Go sweet with a mango and honey combo dusted with coarse cardamom scented sugar, or a classic pairing of apple and cinnamon. The possibilities are only limited by your imagination.
One of my favorite YouTube channels is Food Wishes with Chef John, and he has a fun recipe he calls a samosadilla, using two flour tortillas, filling it with potato masala, which he cuts into triangles. So let these ideas give you inspiration. If you would like to make pakoras, see my potato pakora recipe.
Happy cooking!
~ Alonna
See the Notes below before you cook.
Recipe Card 📖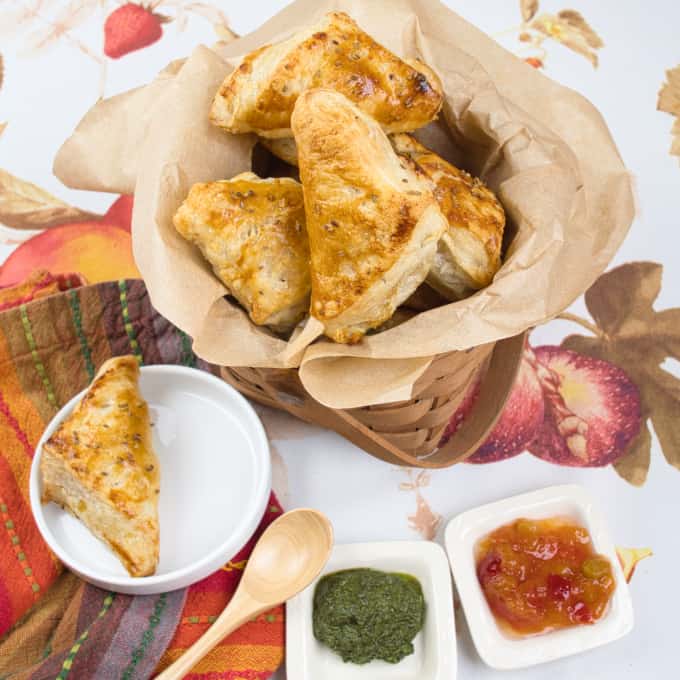 Flaky Puff Pastry Samosas
You won't miss a traditional samosa wrapper and this is as quick as defrosting some puff pastry dough and cooking potatoes. You will be able to keep them around just long enough to make that pot of tea.
Print
Pin
Comment
<!–– I removed icon="star-empty"from above and change Rate to Comment ––>
Ingrediants
1

sheet

puff pastry

~ Defrosted overnight in the refrigerator, or for 45 minutes at room temperature

filling of your choice

~ Aloo masala, keema, etc.

1/2

teaspoon

carom seeds (ajwain)

~ Optional

1

egg yolk

~ Optional if using carom seeds

1

tablespoon

cream or milk

~ Optional if using carom seeds
Instructions
Remove puff pastry from the freezer the night before and defrost in the refrigerator, or at room temperature for 45 minutes before using.

Make sure your oven rack is in the middle of the oven. Preheat to 400°F (200°C) and line a baking sheet with parchment paper; set aside.

Lightly flour a clean surface and roll the dough to flatten and make it slightly thinner. If going the triangle route, you will ideally have a rectangle measuring 12 x 8, which will give you six 4 x 4 squares. You may need to do some trimming, depending on the brand of puff pastry you use. If you are making half-moon shaped samosa, cut out 4 6-inch circles, using a bowl of that size. Cut each circle in half, and then proceed as follows.

Dock the dough with a fork to prevent excessive puffing (prick lightly about every inch or so).

Place a heaping tablespoon of filling on one side. Fold the dough over the filling, pressing out any air pockets as you go. Using a fork, crimp around the edges ensuring a good seal.

Place the samosas 2 inches apart on the baking sheet. If sprinkling with carom (ajwain) seeds, make a quick egg wash with an egg yolk and 1 tablespoon of milk or cream. Brush on the top side of the samosas and sprinkle with the seeds.

Bake until nicely browned and puffed up. Start checking the samosa at the 13 minute mark. Let cool for 5 minutes before serving.
Notes
For this recipe, you will need to have made some sort of filling. I have recommended a potato or ground meat filling in the ingredients.
If you have carom (ajwain/ajowan) seeds and want to give your puff pastry samosas a slightly more traditional note, add a sprinkle of these seeds for a lovely herbal note. You may want to beat an egg and give the samosa an egg wash in order for the seeds to stick a little more.
If you don't eat onion and garlic, simply leave them out of your filling and your samosas with still be yummy.
If you decide you want a triangular samosa shape, rather then a half-moon, what is important is that you cut the dough into squares. Whether they are exactly 4-inch squares is not important; just use up as much of your dough as you can depending on the size of your puff pastry sheet.
Look for puff pastry in the freezer section of your grocery store and make sure they are made with butter, rather than oil unless you want a vegan samosa.
Puff pastry samosas are one of the Top 20 Dishes in India, enjoy!
Nutrition
Calories:
235
kcal
|
Carbohydrates:
19
g
|
Protein:
3
g
|
Fat:
16
g
|
Saturated Fat:
4
g
|
Cholesterol:
33
mg
|
Sodium:
103
mg
|
Potassium:
25
mg
|
Fiber:
1
g
|
Sugar:
1
g
|
Vitamin A:
43
IU
|
Calcium:
8
mg
|
Iron:
1
mg
Your Private Notes