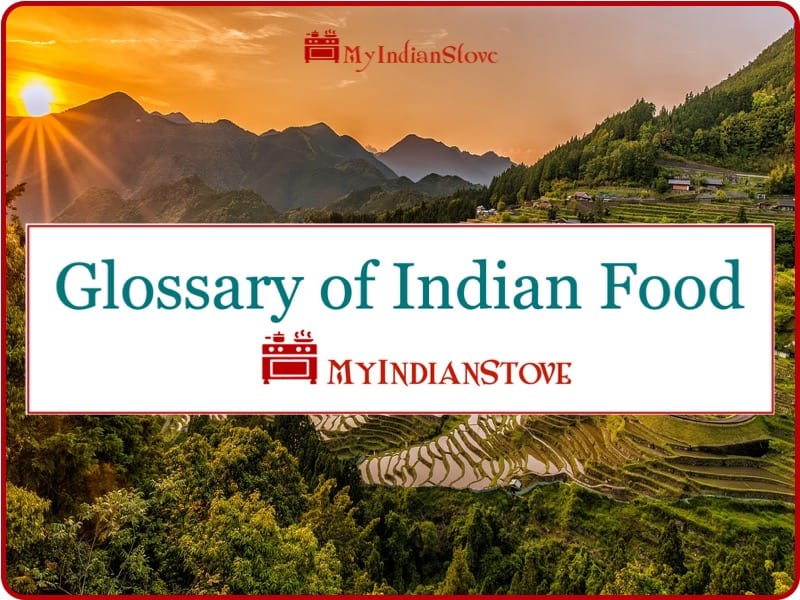 Indian Food Names A to Z In English to Hindi
According to Wikipedia, there are 122 major languages in India (and over 1500 minor languages!). Hindi is the "official" language, along with English, and it is spoken by roughly 420 million people. So you will find Indian terms in English translated into their Hindi names in this glossary. For and translation of the same Indian food terms, see the Hindi to English glossary.
The Indian (Hindi) word for food is khaana or khaanaa. The spelling of Hindi words varies around the country, so I add the various spellings as I find them. This Indian food glossary is updated frequently so bookmark this page and visit often. ~ Alonna
Jump to:
Indian Cooking Terms (also see Dairy)
Here is a list of Indian cooking terms that includes cooking pots, utensils, methods, and various cooking styles.
Ball shapped: Urundai/bonda
Black: Kala
Bone: Haddi
Bone marrow used to enrich a stew (as in nalli nihari): Nalli
Bucket: Balti
Butter: Makhani
Chef: Bawarchis
Chicken: Murgh
Chicken, free range (country): Kohzi
Coarse: Danedar
Cooking pot: Haandi/handi
Clay earthen pot: Matka
Coiled: Laccha, as in laccha paratha
Cooking pot: Nadan
Crispy: Kurkuri
Dish, plain or white: Sada
Fermented vegetables: Kinvit/kinema
Fermenting: Vikshobh/kinvan
Fried, frying: Varuval
Fry, cook over high heat: Bhuna/bhunao
Ghee/oil mixed into flour to make food crisp, flaky: Moyan
Grater: Kaddu kas
Goat or lamb: Gosht
Gravy, thin, usually made with meat stock: Salna
Grinding stone (similar to a mortar and pestle): Shil nora
Muth: Hand-crush
Hot and Sour: Chatpata/chutpata
Lamb: Gosht
Mash, to: Bharta
Mashed or macerated: Mahha/maha
Mix, to: Milai/milani
Pan, round, deep: Degch/deg/degii
Pan, round copper: Lagan
Peel: Chilke
Pot, large: Pateelaa
Raw: Kachcha
Ripe or raw: Pakka
Rolling pin: Belan
Silky: Reshmi
Smoke using charcoal: Dhungar
Sour: Khatta/khatti
Spice box: Masala dani/masala dabba
Spices fried in oil to add flavor: Tarka/tadka/chaunk/bagar/vagar/vaghar
Spicy: Masaledar/masaaledaar/mirchi
Steam: Dum style
Strip, roll, or sheet: Patti
Stuffed: Bharwa
Sweet/s: Mithai
Taste comes from the hand: Maza haath mein hota hai
Vegetable dish: Sabji/bhaaji
Wok: Kadhai/karhai/kadai/karahi
​
Chutneys and Pickles
Condiment made from vegetables, herbs, spices: Chutney
Pickle or relish: Achar/aachar
​
Dairy
Butter, clarified, cow or buffalo milk: Ghee
Butter: Makhan/makkhan
Buttermilk: Mattha/chhaach/chach/chaas/chas
Cheese, small balls (chenna/chhena): Angoori
Cheese, fresh, crumbled: Chenna/chhena
Cheese, fresh and pressed into a block: Paneer
Coconut milk: Naariyal ka doodh
Cream (fresh): Amul is an often used brand
Cream from boiling milk: Malai
Eggs: Unda/baida
Milk: Doodh
Milk, full-fat powdered: Khoya/mawa
Yogurt, carmelized, sweetened (Bengali): Mishti Doi
Yogurt: Dahi/curd
Indian Food Terms

& Dishes

Here is a comprehensive list of Indian food terms and dishes in English to Hindi. This will help you when you order food at your local Indian restaurant or cook your favorite Indian dishes.
Ball shaped: Bonda/urundai
Banquet or feast: Sadhya
Betel leaf stuffed with betel nuts, lime, fennel seeds, and other spices. Often eaten after a meal: Paan
Bharwas/Bharwan: Mushrooms filled with various mixtures, an appetizer
Biryani, Kuskai: No meat or vegetable biryani (South Indian)
Brains, fried: Bheja/maghaz
Bread, yeasted: Pav/pao
Breakfast, spiced semolina with vegetables: Upma (South India)
Breakfast, spicy pudding of mixed vegetables: Khara bath/masala bath (South India/Karanataka)
Broth used as a base for stews and rice dishes (North India/Kashmir): Yahni/yakhni
Broth, thin and spicy: Rasam (South India)
Cannabis used in food and drinks: Bhang/bhaan
Cheese, fresh, pressed, cut into blocks: Paneer
Chicken: Murgh
Chicken, butter: Murgh makhani ~ TOP 20 Dishes!
Chicken, whole, stuffed with eggs, cooked in onions and spices: Murgh masalam (North India/Mughlai)
Coiled: Laccha, as in laccha paratha
CURRY

Curry: Dish of meat or vegetables cooked in a sauce flavored with an infinite combination of spices. It is ALSO a mix of dry spices (masala), which varies from region to region. The word curry comes from the Tamil 'kari,' meaning sauce. ~ TOP 20 Dishes: Shrimp Curry, Potato Curry, Chickpea Curry, Fish Curry!

Curry, Black pepper with meat: Rezala (Mughlai)Curry, Creamy, rich dish with butter or ghee: Makhani (North India)

Curry, Coconut (roasted) and spices: Varutharacha (South India)Curry, Dry with little sauce: Shookhi, sukka, sukha

Curry, Ginger chicken (North India): Adrakr murgh

Curry, Lamb in a spicy tomato sauce: Rogan josh (Kashmir) ~ TOP 20 Dish!

Curry, Lamb or goat, rich slow-cooked: Tapelu/khatri tapelu (Gujarat)

Curry, Lamb or goat trotters, rich, spicy, thin sauce: Paya curry (North India/Mughlai)

Curry, (Marathi language), spoken in Maharashtra: Kalvan

Curry: Fenugreek, either fresh or dried leaves, or seeds: Methi

Curry, Meat, often pork, hot, sweet and sour: Vindaloo (Goan/Portuguese) ~ TOP 20 Dish!

Curry, Meat or poultry rich, slow-cooked: Nihari (North India/Mughal)

Curry, Meat or chicken, spicy, slow-cooked: Kosha Mangsho (Bengal)

Curry, Nadan, peppery, coconut milk with chicken or beef: Nadan (South India)

Curry, Onion sauce: Do pyaza (North India/Mughal)

Curry, Pandi: A sweet and sour pork curry (Karnataka)

Curry, Prime cuts of meat or poultry in a rich sauce: Pasaanda/pasande (North India/Mughal)

Curry, Smoky and Hot chicken dish: Murgh angara (Mughlai, North India)

Curry, Sweet and Sour with meat or vegetables: Balchao (South India/Goa)

Curry, Sweet and Sour thick tomato sauce with seafood or vegetables: Patia (Parsi)

Curry, Tamarind-based with vegetables, coconut: Kuzhambu (South India/Tamil Nadu)

Curry, Vegetables, coconut milk, mild dish: Olan (South India/Kerala)

Curry, Vegetables, mixed: Niramish (Bengal)

Curry, Vegetables, lentils, and coconut: Mulakootal/kootu (South India/Kerala)
Curry, Vegetables with Yogurt: Avial/aviyal (South India/Kerala)
Curry, Yogurt/cream, a mild sauce with meat or vegetables: Korma (North India/Mughlai) ~ TOP 20 Dish

Dal, wedding: Lagan dal (Gujarati)
Dal makhani: A creamy, rich black lentil and kidney beans
Dal over rice: Dal chawal
Dal, vegetables: Kulambu (South India/Tamil Nadu)
Dal of whole black gram/urad dal: Maa ki dal (North India/Punjab)
Dessert, apricot: Khubani/qubani ka meethi. (Hyderabad)
Dessert, fried balls of milk solids, semolina and spices, in a syrup: Gulab Jamun
Dessert, balls of thickened milk, cooked in a sugar syrup: Rasgulla
Dumplings of chickpea (besan) flour: Gatte
Eggs: Anda
Eggs, scrambled, spiced: Muttai kalakki (South India/Tamil Nadu)
FLATBREAD

Flatbread, Crisp, thin, wheat flour, ghee: Bakarkhani (North India/Mughlai)
Flatbread, Chickpea flour (besan): Cheela/chilla/chila (North India)

Flatbread, Layered, flaky, with wheat flour: Paratha (North India)
Flatbread, Layered, flaky with wheat flour: Parotta (South India/Kerala)

Flatbread, Leavened, wheat flour: Naan (North India)
Flatbread, Multi-grain: Thalipeeth (Western India)
Flatbread, Puffy, whole wheat, deep-fried: Puri/poori (North India)
Flatbread, Rice and Lentil batter similar to dosas: Adai (South India)
Flatbread, Lentils and Vegetables: Akki (South India, Karnataka)
Flatbread, Rice flour and Coconut: Pathiri (South India/Kerala)
Flatbread, Stuffed with Onion/potatoes: Kulcha
Flatbread, Whole wheat flour: Chapati/roti/phulka

Flower: Phool
Fruits, a meal of when fasting: Phalahaar
Green: Hara/hari/hariyali
Greens, leafy, puréed: Saag
Gravy, thin, made with meat stock: Salna (South India)
Jam, rose petal: Gulkand
Lamb or goat, whole leg dish: Raan
Leaves: Patta/pata/patte
Lentil and rice dish: Khichadi/khichdi
Lentil stew of vegetables and coconut: Khatkhatem (Goa)
MEAT

Meat, Cubed or ground, shaped into balls or logs, skewered and grilled: Kababs/kebabs ~ TOP 20 Dish!
Meat, Cubed, cooked in a tandoori: Boti kabab/kebab
Meat, Ground: Keema/kheema/Qeeman
Meat, Ground, spiced, formed into balls or logs: Khofta/kofta/kola

Meat, Goat: Mutton
Meat: Gosht

Mish-mash or mixture of vegetables: Ghonto (Bengal)
Mughali cusine (North India): A medieval cuisine, combination of Persian and North Indian food
Noodles, crunchy, thin and small, of chickpea/gram flour: Sev
Offering of food: Bhoger
Oil: Tel
Pancake, thin, from rice and lentils: Appam (batter: kappi kachai)
Pancake, thin, crispy often filled with a dry masala: Dosa
Paneer and peas in a sauce: Mutter paneer
Pickle: Achar
Pickle-flavored: Achari
Plater, round, used to serve a meal on, or a meal of many small dishes: Thali
Raita, see Yogurt
Restaurant-style vs Home-style cooking: Home-style is often lighter, ingredients and sauces may be fresher, more nuanced, and healthier than dishes cooked in a restaurant, which often serves up richer, thicker gravies
Restaurant, roadside: Dhaba (Punjab)
RICE

Rice, layered with meat/vegetables: Biryani/biryiyani, biriaini ~ TOP 20 Dish
Rice, steamed cakes, of fermented rice and lentil batter: Idli
Rice pudding made with ground rice: Firni/Phirni
Rice pudding: Kheer/payasam
Rice dish, spiced: Pulao
Rice, cylinders of layered steamed rice and coconut (South Indian): Puttu
Rice dish, yellow from Awadhi cuisine: Tehri, tehari or tayari

Royal, fancy: Shahi
Salad, coconut, lentils, vegetables: Kosambari (South India/Karnataka)
Salad, mixed vegetables: Kachumber
Seeds: Beej
Silky: Reshmi
Silver foil, edible, used to decorated dishes: Varak
SNACKS

Snack, ball shaped crisp round vegetable fritters: Bonda/urundai
Snack, sweet and sour, fruit/vegetables, crisp lentil crackers: Chaat/chatpata ~ TOP 20 Dish!
Snack, mashed vegetables with a soft roll (street food): Pav bhaji
Snack, vegetables/ meat rolled into flatbread: Kati/kathi roll
Snacks, round fritter of rice and lentils: Dangar vada/vade(South India)
Snack, deep fried donut-shapped fritters of vegetables and lentil: Vada/wada
Snacks, deep-fried vegetable fritters: Pyaaji/bhaji/pakora, pakoda
Snack, puffed rice, vegetables, chutney: Bhel puri (kind of chaat)
Snack, deep-fried fritters of chopped vegetables: Bhaji
Snack, fried cubes of meat or vegetable patties: Tikka
Snacks, round deep-fried balls of lentals and vegetables: Bondas/vadas (South India)
Snack, fried snack; a fritter of vegetables and chickpea flour: Pakoras ~ TOP 20 Dish!
Snack, cracker, thin, crisp of lentils: Papadum/papad
Snack, sweet and sour, fruit/vegetables, crisp lentil crackers: Chaat/chatpata ~ TOP 20 Dish!

Soup, broth, thin and spicy: Rasam (South India)
Soup, broth made from vegetables/meat: Shorba/chorba
Soup: Torkari/tarkari. A spicy vegetable dish or soup
Soup, lentils and spices: Dal/daal
Soup, spicy lentil and vegetables (South India): Sambar/sambhar
Soup: Saaru, a South Indian masala or soup
Sour: Khatta/khatti
Spices, blends of, dry or a paste/curry: Masala
Spicy: Masaledar/masaaledaar
Sticks, often potato sticks: Salli, as in the Parsi dish salli boti
SWEETS

Sweets: Meethi/meetha/meethe
Sweets, coconut filled pastries: Karanji (South India)
Sweet, dumplings, cone-shaped with coconut, rice flour: Modak
Sweet, fried dough in syrup: Gulab Jamun and rasgulla
Sweet, fried sweet crisp round swirls, made from wheat flour: Jalebi
Sweet, frozen (milk): Kulfi
Sweet, fudgelike sweet: Barfi/burfi
Sweet, fudge of ghee and chickpea flour (besan): Mysore pak
Sweet, milk, fruit, vegetables, and spices: Halva/halwa

Tandoor, food cooked in: Tandoori ~ TOP 20 Dish!
Trotters/feet/leg: Paya
VEGETABLES

Vegetable, mashed: Bharta ~ TOP 20 Dish!
Vegetable dish, potato: Alugadde/Aloogadde palya (South Indian)
Vegetable dish: Hara bhara kebab/kabab (North Indian)

Vegetable dish, mixed: Labra (Bengali)
Vegetable dish: Sabji/subzi

Vegetable dish: Shaak/Torkari/tarkari (Bengali)
Vegetable dish, stir-fried with coconut: Thoran (South India/Kerala)

Vegetable dish, often with sweet potatoes: Undhiyu/ubadiyu (Gujarat)
Vegetarian diet: Sattvick

YOGURT

Yogurt-based side with ground grains: Dangar (South India/Maharashtrian)
Yogurt-based spiced condiment/salad: Raita and Pachadi (inTamil)
Yogurt-based spiced condiment/salad: Tambuli/thambuli/tambli (Karnataka)

Yogurt, fermented and sweetened: Mishti doi (Bengal)
Yogurt drink, sweet or savory: Lassi
Yogurt gravy/stew thickened with besan: Kadhi
​
Drinks
Cold (seeds, spices, nuts and milk): Thandai
Cold of fruit and rose water: Sherbert/sharbert (North India/Mughlai)
Liquor, Goan: Feni/Pheni (South India)
Tea: Chai/chaa
Yogurt drink: LassiLassi: Yogurt-based drink
Fruit (phal)
Apple: Seb
Apricot: Khubaanee/khubani/khumani/jardaloo
Avocado/butter fruit: Makhanphal
Banana: Kela
Banana, green: Kachcha kela
Blueberry: Neelbadri
Cantaloupe/musk melon: Kharbooja
Cape gooseberry/ground cherry: Rasbhani
Coconut: Nariyal
Conkerberry: Karonda
Custard apple: Sitaphal/sitafal/seetaphal
Dates: Khajoor/khajur
Fig: Anjeer/anjir
Gooseberry, Indian: Amla
Grapes: Angoor
Guava: Amrood
Jackfruit: Katahal
Java plum: Jamun
Lime or lemon: Nimbu/nimboo
Litchi/lychee: Lichee
Madras thorn/Manila tamarind: Jungle jalebi/ganga iml
Mango: Aam
Mango, fresh leaf shoots: Aam ka patta
Melon, musk/cantaloupe: Kharbooja
Mulberry: Shahtoot
Peach: Aaroo
Plum: Aloo bukhaara
Pomelo: Chakotra/shaddock
Olive: Jaitoon/jolphail/zetoon/saitoon
Orange: Santra/narangi
Papaya: Papeeta
Passion fruit: Krishna phal
Peach: Aadu/aadoo/adoo/aaru
Pear: Nashpati
Persimmon: Amaphal
Pineapple: Ananas
Plum, Indian/jujube: Ber
Pomegranate: Anaar
Pomelo: Chakotara
Sapota/sapodilla: Chikoo/sapodilla
Starfruit: Carambola
Sweet lime: Mosambi
Tangerine: Narangi
Tomato: Tamatar
Watermelon: Tarbooj/kalingad
Wood apple: Kaitha bel/kath-be/kabeet
Fruit (dried), Nuts, & Seeds
Almonds: Badam
Areca nut/betel nut: Supari
Apricot, dried: Khubaanee, dookee
Cashews: Kaju
Chia seeds: Sabja
Chestnut: Chilgoza
Coconut: Nariyal
Dates, dried: Chhuar/khajoor/khajur/sookhe
Flaxseeds: Mukhwaas
Jackfruit: Kanthal
Lotus seeds/fox nuts: Makhana
Mango, dried: Aam papad
Peanuts/groundnuts: Moong fali/moomphali
Pistochio: Pista
Pumpkin seeds: Kaddoo ka beej
Raisins/currants: Kishmish
Seeds: Beej
Sunflower seeds: Surajamukhi ka bij/soorajamukhee ke beej
Tamarind: Imli
Sesame seeds: Til
Walnuts: Akhrot/akroot
​
Meat and Poultry
Chicken: Murgh/murghi
Duck: Buttak/battak
Meat: Maans
Pork: Suar ka
​

Oils

~Tel
Avocado oil: Makhanphal tael
Coconut oil: Narial ka tael
Mustard oil: Saron ka tael
Safflower oil: Kusum/Kusumbo
Pulses, Beans, Peas, & Grains
Barley: Jau
Black gram, split and skinless: Urad dal/dhuli
Black gram, split with skin: Urad dal with chilka
Black gram, whole: Urad dal/sabutPigeon peas: Arhar dal/tuvar dal
Chickpea flour: Besan/Bengal gram flour/chane ka atta/flour from brown chickpeas
Black-eyed peas/cowpeas: Lobia/lobhia/chawli
Buckwheat: Kuttu ka atta
Chickpeas, whole: Chana/chole
Chickpeas, black, split, skinless/Bengal gram: Kala chana dal
Chickpeas, green, dried: Cholia/hara chana
Chickpeas, white gram: Kabuli chana
Chickpeas, black: Kala/kali chana/kalaith/kulth
Cornmeal/maize flour/cornflour: Makai ka atta
Fava/horse/broad beans: Vaal dal
Horse gram: Kulthi
Lentils, split: Dal/daal/pulses
Lentils, red, split: Masoor dal
Lentils, yellow/split green gram: Moong dal
Kidney beans, red: Rajma
Millet, barnyard: Jhangora
Millet, finger: Ragi
Millet, foxtail: Kakum/kangni
Millet, kodo: Kodra
Millet, little: Kutki
Millet, pearl: Bajra
Millet, proso: Vair/barri/chena
Millet, sorghum: Jowar
Moong beans, whole, green: Sabut moong
Moth beans: Motth
Peas, green or white, dried: Safed/sukhe/sookhe or vatana matar/mutter
Peas, dried and split: Matar dal
Peas, pigeon/red gram: Tuar/Arhar Daal
Quinoa: Quinoa
Oats: Vilayati jown/jai
Rice, boiled: Bhat
Rice: Chawal/chaval
Rice, flattened/beaten: Poha/chiwda
Rice flour: Chaval ka atta
Rice, puffed: Kurmura
Sago (starch from the sago palm): Saboodana/shudhana/sabudana
Semolina: Sooji/suji/rava
Sorghum: Jowar/juvar
Wheat flour, refined/white all-purpose: Maida
Wheat, cracked: Dalia/samba rava
Wheat: Gehun
Wheat flour, whole: Atta
Seafood (machli ~ machchhi)
Bombay duck (small fish): Bumallo/bombil
Butter fish: Paplet/pabda/pupta machli
Green carp: Rui/rohu machli
Lobster: Goldac chingri
Pomfret/silverfish: Saranga
Prawn, tiger: Bagda chingri
Roe, fish: Machli ke ande
Salmon, Indian (unrelated to Western salmon): Rawas
Shrimp/prawn: Chingri
Squid: Samudra-pheni/feni
Spices, Herbs, & Seasonings
Arrowroot: Araroot/paniphal/tikora
Asafoetida/asafetida/gum: Hing/heeng
Basil: Kali tulsi
Basil, holy: Tulsi
Bay leaf: Tej patta
Cardamom, black, brown: Kali elaichi/bari/badi
Caradmom, green: Chhoti ellaichi
Caraway seeds: Vilayati jeera
Carom seeds: Ajwain
Chili, red, ground: Deghi mirch (very mild) a mix of capsicum (bell pepper) & paprika
Chili, red: Kashmiri lal mirch (mild chiies from Kashmir)
Chili, red: Byadgi (Karnataka) (medium to hot)
Chili, green: hari mirch
Cilantro, coriander leaves: Dhania/dhone patta, hara (green) dhania
Cinnamon: Dalchini
Citric acid: Nimbu ka sat
Cloves: Laung Methi dana
Coriander powder: Dhania
Cumin seeds: Jeera
Cumin seeds, black: Shahi/kala jeera (NOT kalonji/nigella OR caraway); see caraway seeds
Curry leaves: Karipatta
Dill: Suva bhaji/sowa/savaa
Fennel seeds: Saunf
Fenugreek, dried leaves: Kasoori methi
Fenugreek seeds: Methi dana
Garlic: Lasan/lassan/lahsun
Ginger: Adrak
Kokum, fruit: Gamboge indica
Lemongrass: Bhustrina
Long pepper, from the root: Ganthoba (see pepper)
Mango powder, dried: Amchoor/amchur
Mace: Javitri/javetry/javaitry
Mint: Pudina
Monsodium glutamate: Ajinomoto
Mustards seeds: Sarson/sarason/raai/raee
Nigella seeds/black onion seed: Kalonji
Nutmeg: Jaiphal/jyfal
Pepper, black: Kala mirch
Pepper, long: Lambee mirch/Pippali/pipli
Pepper, red: Lal mirch
Pepper, (variety of) sichuan/szechuan: Tirphal/teppal
Pepper/white: Safed mirch/shamarich
Physic nut, root, used as red food coloring: Ratan jot/alkanet
Piper cubeb/java pepper: Kababchini/kebabcheeni
Pomegranate seeds: Anardana/anardhana
Poppy seeds: Posto, khus khus, khas khas
Rose: Gulab
Rose water: Gulab jal
Salt, black rock: Kala namak
Salt: Namak
Salt, rock: Sendha namak
Saffron: Kesar
Seeds, almond flavored: Chironji/charoli
Spice blend: Garam masala
Spice blend: Panch phoron (Bengali)
Spice blend: Podi (South Indian)
Star anise: Chakra phool
Stone Flower: Patthar phool
Sugar: Cheeni/chini/shakkar/saakar
Sugar, dark brown palm sugar: Jaggery/jagary/gur/gud
Sugar, rock/unrefined: Mishri
Sugar cane: Ganna
Tamarind: Imli
Tumeric: Haldi/huldi
Vinegar: Sirka (kachampuli, feni)
Indian
Vegetables

in English
Amaranth leaves: Chauli/chawli
Amaranth, red: Laal chaurai
Artichoke: Haathe chak
Asparagus: Shatwar/halyan/sootmooli
Banana flower: Kele ka phool
BEANS
Beans: Phali

Beans, broad: Sem ki phalli/valor papdi/sheem
Beans, cluster: Gawar phalli
Beans, string/green/French beans: Farash/Parash

Beetroot: Chukandar
Bell peppers/capsicum: Shimla mirch
Broccoli: Hari phool gobhi
Black eyed pea/cowpea: Lobia (see grains)
Cabbage: Patta gobi/paat gobhi
Carrot: Gajar
Cauliflower: Phool/phul gobi
Celery: Ajavaayan
Chayote: Chow chow/cho cho
Chickpeas, fresh: Moomphali
Chilli: Mirch (see hari, shimla mirch)
Chillies, green: Hari mirch
Cilantro, fresh coriander: Dhania patta
Corn: Makai/makka/makki
Corn on the cob: Bhutta sabut
Corn, white: Desi makai
Cucumber: Kheera
Cucumber, yellow: Dosakaya
Cucumber, thin (Armenian melon): Kakadi/kakari/kakdi/kheera
Curry leaves: Kara patta
Dill: Suva bhajiBamboo shoots: Baans ka patta
Drumstick: Surjan ki phalli
Eggplant/aubergine: Baingan/brinjal
Elephants' foot yam: Jimikand/zimikand/ratalu
Fenugreek leaves: Methi ki patte
Garlic: Lasan/lassan/lahsun
Gilka: Silk squash
Ginger: Adrak
Gobi: Cauliflower
GOURDS

Gourd, apple: Tinda
Gourd, ash/wax/winter melon: Petha/kaddu
Gourd, bitter: Karela
Gourd, bottle: Lauki/doodhi
Gourd, ivy or scarlet: Tindora/tendli/tundru
Gourd, pointed: Parmal
Gourd, ridge: Turai/tori
Gourd, snake: Chachinda/chirchinda/chirchir
Gourd, spiny/teasie: Kantola/kheksa/kakoda/paroda
Gourd, sponge: Nenua

Green: Hara/hari
Jackfruit: Kathai
Jicama/yam beans: Mishrikand
Kolrabi: Nol khol
Lamb's quarters/white goose foot: Bathu
Leaves: Patta/patte
Lotus root/Egyptian bean: Kamal kakadi
Mint: Pudina
Mushrooms, wild: Gucchi
Mushrooms: Khumb/kukurmutta
Mustard greens: Sarson/sarso ka saag
Okra/Ladies' fingers: Bhindi
Onions or shallots: Pyaz/pyaa/pyaaj/piaaz
Onions, spring, green, scallions: Hara/hari pyaz
Peas: Mutter/matar (hara/haree matar)
Potatoes: Aloo/alu
Potato, sweet: Shakarakand
Pumpkin: Kaddu
Purslane: Lunia
Radish: Mooli/moolee
Radish leaves: Mooli ka patta
Safflower leaves: Kusum bhaji
Sorrel: Pitwaa
Spinach: Palak/saag
Spinach, malabar/ceylon: Poi saag
Taro root: Arbi/cocoyam/colocassis
Tomatoes: Tamatar
Turnip: Shalgum/shalajam/sakartam
Turnip greens: Shalajam/sakartam ka saag
Water chestnut: Singhada
Happy Cooking!
~Alonna