The rich flakey layers of this South Indian bread goes perfectly with anything you are eating or just a cup of chai. No bread baking experience is necessary; only time and simple ingredients.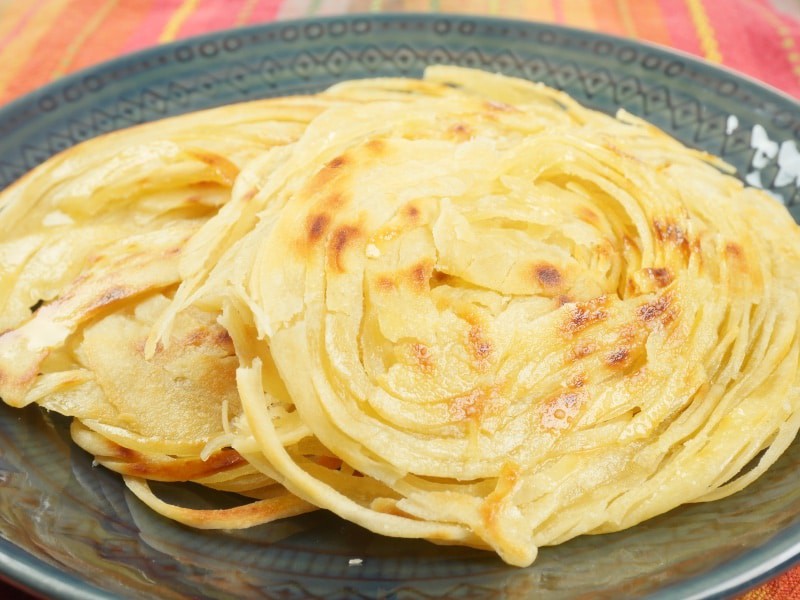 A Street Food Favorite
Kerala parotta is favorite street food in the southern Indian states of Kerala, Karnataka, and Tamil Nadu. It is also known as Malabar parotta and is so worshipped in other regions of India that they have put their stamp on this rich, layered Indian flatbread and made it their own. Eaten with a cup of tea, or with any meat or vegetable stew you have going, you may not want to go back to a plain bread again.
Paratha tends to be a more recognizable word for Indian bread to non-Indians. Popular in Southern India, it is made with white flour and sometimes eggs and milk. Paratha, or lachha paratha, is typically made with whole wheat flour. It graces North Indian vegetables, dal, and meat stews. Both of these flatbreads are loved for their rich flakey layers.
Practice Makes Perfect
I failed in my first attempt at this bread but after another deep dive into many recipes, I've come up with a step-by-step process that is hard to mess up. My second go resulted in a wondrous, flakey triumph. You make Kerala parotta by rolling the dough paper-thin, layered by cutting into it into thin strips. Or you can fold the dough into accordion-like layers. You then roll into a coil and roll or press it flat before cooking in a hot pan.
Layered Indian Flatbread
After cooking, the flatbread is scrunched up to loosen the flakey layers by clapping your hands together from each side. I promise that if you follow the step by process below, you will amaze yourself, not to mention your friends (who will forgive your showing off!). The key is patience and resting the dough between steps to relax the gluten and keep the dough soft and workable.
Puttering in the Kitchen Project
Whether you are a bread baker or not, this South Indian flatbread is a fun weekend project. Using only a few ingredients that you probably have on hand, you can make this layered Indian flatbread. Some cooks add an egg and swap out the water for milk, but I've had success with a simpler dough. Depending on your mood and what you are serving it with, you can dress parotta up with coarsely ground cumin seeds, chopped mint or cilantro, minced garlic, or red chili flakes.
Kerala Parotta
The secret to success in making Kerala parotta is to relax; it is only bread after all. Secondly, follow the simple steps to the letter. It may look complicated, but in the end, you will wonder what all the fuss was about. Make this temptation now!
Happy cooking!
~ Alonna
See the Notes below before you cook.
Recipe Card 📖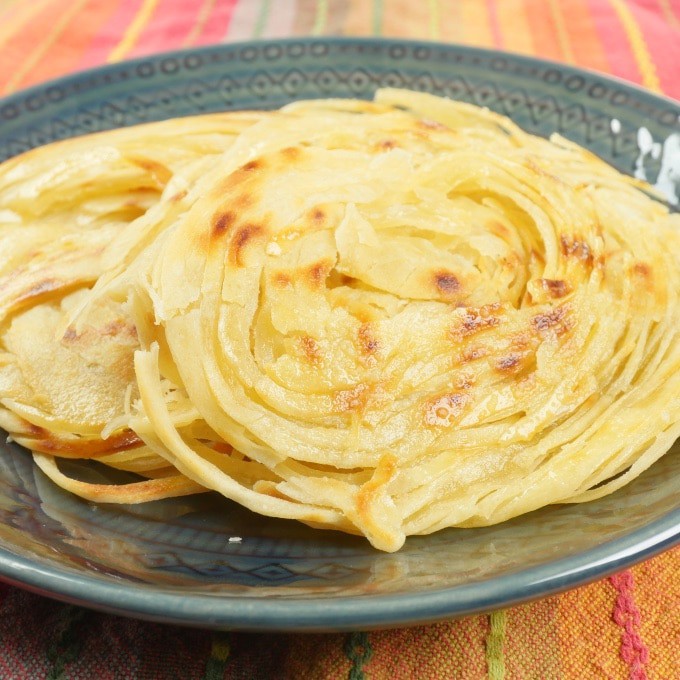 Layered Indian Flatbread (Kerala Parotta)
The rich flakey layers of this South Indian bread goes perfectly with anything you are eating or just a cup of chai. No bread baking experience is necessary; only time and simple ingredients. 
Print
Pin
Comment
<!–– I removed icon="star-empty"from above and change Rate to Comment ––>
Ingrediants
3

cups

all-purpose flour

1

teaspoon

sea or table salt

~ Substitutes

1

teaspoon

sugar

1

teaspoon

baking powder

2

tablespoons

oil

~ More for kneading

1

cup

water

~ Lukewarm, more may be needed

1

tablespoon

ghee

~ Or oil

1

tablespoon

butter

~ Softenened, or oil
Instructions
In a bowl mix together the flour, salt, sugar, and baking powder.

Drizzle 1 tablespoon of oil onto the dry ingredients and using your hand, incorporate the oil into the flour by rubbing your fingers together. You are wanting a sandy texture. Drizzle another tablespoon of oil into the dry ingredients and work in as before.

Start adding the water a little at a time using your hand to bring the dough together. The exact amount of water you need will depend on the flour you are using, the temperature, and the humidity. The last time I made this recipe I needed 1 cup + a tablespoon. The dough will be shaggy and sticky. Don't worry! 

Transfer the dough to a lightly floured countertop, lightly oil your hands, your rolling pin, and the dough. Knead for 5 to 7 minutes, add flour a tablespoon at a time if the dough is too wet. 

Knead for another 5 minutes, then divide the dough into 9 balls about 2-inches across. They will weigh around 72 grams if you like to weigh when you bake. Feel free to make the bread as small or large as it makes sense for you. Dividing this recipe into 9 pieces of dough will yield flatbreads approximately 6 inches in diameter.

Shape the balls so that they have a smooth surface. This can be done by folding the sides of the ball towards the center. Do this folding motion 3 or 4 times until you have a smooth ball of dough. Cover and rest for another 15 minutes.

Lightly oil the counter and the rolling pin before you begin. Taking a ball of dough roll it out as thin as possible. Roll from the center out in all directions. There is no need for a perfect round shape and if the dough tears, that is okay. All the resting you allowed the dough to do will allow it to be soft and stretchy. Dust with flour as needed.

You can create layers either by using a pizza cutter or a knife and cut 1/4-inch strips. If you would like to see this step in action, watch the video by Salu Kitchen. If you wish, jump to 4:43 minutes and you can see what the cutting looks like. See the Notes below on folding the dough into layers.

After cutting the dough into thin strips, mix the ghee and softened butter together. Brush this mixture sparingly over the cut dough and lightly dust with flour.

Starting on one side, roll your strips of dough carefully into a long gathered roll of strips. Beginning at one end, firmly roll the strips into a coil, tucking the end underneath. Flatten slightly and lightly oil each side. Allow it to rest another 10 minutes.

You can use a rolling pin to flatten your layered balls, but I find placing it in the center of a pie pan and using your fingers to flatten the dough out works best. Work from the center and press the dough out in all directions until the dough is approximate 6 inches across if you've divided the recipe into 9 balls.

Heat a skillet or tawa on medium-high heat. When your pan is hot, lightly oil it. You may have to play with the right heat for your stove. The pan needs to be hot enough to cook the bread, but since it is thicker than some flatbreads, you don't want the heat to be so high it cooks on the outside but is raw in the middle.

Place the parotta on the hot pan and cook for about 2 minutes. It should have some nice browning on the cooked side. Turn it over and brush with ghee or oil. Cook for another couple of minutes, flip and oil or ghee the other side. Flip a time or two more to make sure that both sides have golden brown flecks, bread is crisp, and you don't see any raw dough in the center. Adjust the heat as needed. Line a lidded pot with a kitchen towel and when each bread is done, place in the prepared pot to stay warm.

When all the flatbreads are cooked remove the stack from its nest and with a hand on each side of the breads, clap your hands together so that the layers separate. It may look a bit messy but that is the flakey glory of a Kerala parotta.

KEEPING: These flatbreads keep well in the freezer. Make the dough to the point when you are ready to cook it. Place wax paper between each shaped bread so they don't stick together. This will allow you to use as many or as little as you want at a time.
Notes
The most important tip is to rest the dough for layered Indian flatbread as suggested so that it is soft and pliable to work with. And so that the final bread is not stiff and tough.
You need oil to keep the dough from sticking but don't use more than a couple of drops at time or the dough will become slippery and difficult to rollout.
To make the layers, instead of cutting the thinly rolled out dough into strips, you can fold the dough in 1/2-inch folds like an accordion beginning on one side and working your way to the opposite side. To watch this in action, see Vahchef's method for folding.
You can substitute some whole wheat flour for the white all-purpose flour. I would love to hear about your successes on this, especially if you use more than half whole wheat.
Depending on your mood and what you are serving it with, you can dress parotta up with coarsely ground cumin seeds, chopped mint or cilantro, minced garlic, or red chili flakes.
Nutrition
Calories:
207
kcal
|
Carbohydrates:
32
g
|
Protein:
4
g
|
Fat:
6
g
|
Saturated Fat:
2
g
|
Cholesterol:
8
mg
|
Sodium:
13
mg
|
Potassium:
45
mg
|
Fiber:
1
g
|
Sugar:
1
g
|
Vitamin A:
39
IU
|
Calcium:
6
mg
|
Iron:
2
mg
Your Private Notes