Smoky and enlivened with cumin, garlic and ginger, eggplant curry is comfort in a bowl. Serve as an appetizer with some flatbread and your guests will be so happy.
Top 20 Dish! Get my free e-Cookbook: "The 20 Top Dishes in India"
Comfort Food
Eggplant curry, or baingan bharta as it is known, is India's answer to the Middle Eastern stalwart baba ganoush. Smoky from the grill, this creamy eggplant curry is enlivened with the usual suspects. Ginger, garlic, cumin, and fresh cilantro all work together for a comforting, healthy bowl of goodness. As with all food in India, each region puts its stamp and name on this beloved dish. The south throws in coconut, tamarind, mustard seeds, white poppy seeds, or a dash of sesame oil.
Other Twists
Dead center of India, Hyderabad's twist adds curry leaves to the party. And cooks prefer cooking tiny, flavorful eggplants whole, stuffed with spices. A Maharashtrian variation features flame-roasted eggplant, but the rest of the ingredients are raw. The result is a compelling mix of textures and flavors.
Soulful Eggplant Curry
The eggplant curry most familiar to Westerners is from Punjab. In the perfect world (but who lives there?) you will use a grill to char the eggplants for the signature smoky notes. However, many of us lack an outside grill, or even a gas burner, have a good option with an oven cranked up to 450°F (230°C). If you are able to grill outside, please do that.
Serve up this masala with your favorite rice and flatbread, and maybe a bit of pickle for a lovely light meal. Or serve on the side with your favorite meat curry. Also, this is a good back-pocket recipe because it can be made ahead. Bring a big dish of eggplant curry to a potluck, and you will be the belle of the ball.
Happy Cooking!
~ Alonna
See the Notes below before you cook.
Recipe Card 📖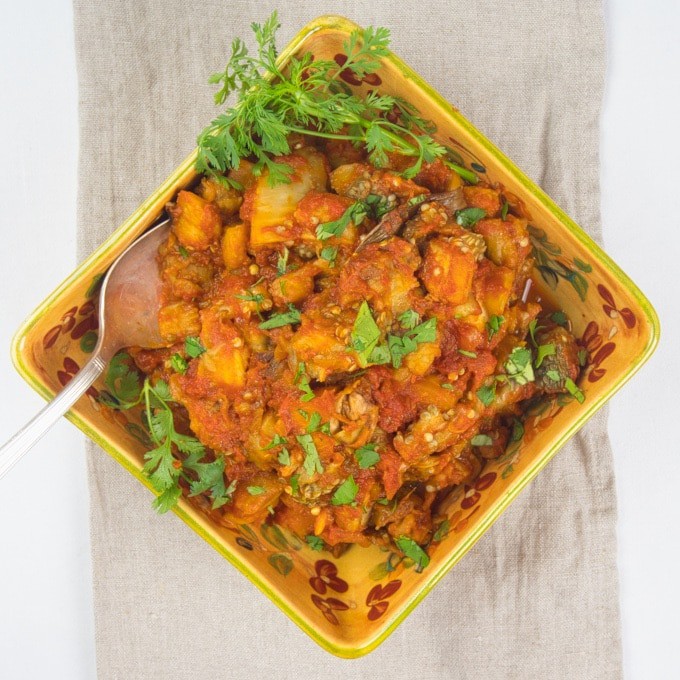 Eggplant Curry (Baingan Bharta)
Smoky and enlivened with cumin, garlic and ginger, eggplant curry is comfort in a bowl. Serve as an appetizer with some flatbread and your guests will be so happy.
Print
Pin
Comment
<!–– I removed icon="star-empty"from above and change Rate to Comment ––>
Ingrediants
2

pounds

eggplant

~ Preferrably small Italian or Japanese eggplants

1

teaspoon

cumin seeds

2

tablepoons

ghee or oil

~ Buy or make ghee

1 1/2

cups

onions

~ Finely chopped

1

tablepoon

ginger garlic paste

~ Make or buy; substitutions

2

teaspoons

ground coriander

1/2

teaspoon

ground turmeric

1/2

teaspoon

paprika

~ Preferrably smoked

1/2

teaspoon

Kashmiri ground red chili

~ More to taste; substitutions

3/4

teaspoon

sea or table salt

~ Substitutions

1

15 ounce can

tomato puree or sauce

1

teaspoon

lemon juice, optional

~ Or lime juice

1/2

teaspoon

sugar, optional

1/2

teaspoon

garam masala, optional

Buy or make

2

tablespoons

cilantro

~ Coarsely chopped
Instructions
Preheat oven to 450°F (230°C). If using oven to roast the eggplants, line a baking sheet with parchment paper or aluminum foil.

If you are using large eggplants, slice them in half lengthwise, otherwise, keep whole. Place the eggplant on a baking sheet cut side down if sliced, and roast for about 40 minutes. 

Start checking the eggplant at the 35-minute mark, and look for it to be completely cooked through and the skin is beginning to char. If there is no char, but the eggplant is soft, place it under the broiler, or oven grill 6 inches away from the element. Roast for 3 to 5 more minutes. If you prefer, you can use the broiler for the whole cook time. This will shorten the roasting time to approximately 20 to 25 minutes. Allow the eggplant to cool.

While the eggplant is roasting, place a medium-sized pan over medium-high heat and add the ghee or oil. When the oil is hot, add cumin seeds and sauté for a minute or two, until they sizzle. Add the onions and fry until a light golden color. This will take between 5 to 8 minutes.

Turn the heat down to medium and add the ginger garlic paste and stir for a minute or two, until it no longer smells raw. Add the ground coriander, ground cumin, turmeric, paprika, Kashmiri chili powder, and salt. Add a tablespoon or two of water, if the spices are sticking. Sauté for 2 minutes.

Add the tomato puree. Cook uncovered for 10 minutes until the sauce thickens slightly and the tomatoes darken a bit. If using chopped fresh tomatoes, take this step another 5 minutes.

Meanwhile, after taking the eggplant out of the oven, let them cool and then remove all the skin. Chop the eggplant into coarse chunks or mash with a fork, if you prefer your final dish to be smoother.

Add to the tomato mixture, along with the lemon juice. Taste for seasoning and if you think it needs more flavor, add the garam masala. Stir well, cover, and lower heat to a simmer for 5 minutes. Taste for seasonings and add the garam masala, if you feel the mixture needs more flavor. I typically leave it out. Also check for enough salt, ground chili, sugar, and lemon to your taste.
Notes
I prefer small eggplants for an eggplant curry, especially the Japanese variety, for their milder flavor. In this recipe, the large Italian ones also work well, though at least the Italian eggplants I find in my local grocery stores tend to be quite bitter.
If you have an outdoor grill that would be the ideal way to cook the eggplant. The instructions in this recipe are for roasting in the oven because it gives you the cook more flexibility.
Eggplant curry is one of the Top 20 Dishes in India, enjoy!
Nutrition
Calories:
87
kcal
|
Carbohydrates:
20
g
|
Protein:
3
g
|
Fat:
1
g
|
Saturated Fat:
1
g
|
Sodium:
9
mg
|
Potassium:
629
mg
|
Fiber:
8
g
|
Sugar:
11
g
|
Vitamin A:
189
IU
|
Vitamin C:
10
mg
|
Calcium:
46
mg
|
Iron:
1
mg
Your Private Notes