This bright green spinach curry is a favorite for good reason. Quick and easy enough for weeknight cooking, palak paneer will please even those spinach haters.
Top 20 Dish! Get my free e-Cookbook: "The Top 20 Indian Recipes"
Fragrant Spinach and Cheese Curry
If you have only had the restaurant version of this dish, you will want to make this curry! I think it is safe to say that palak (or saag) paneer is one of the most popular Indian recipes, whether you are vegetarian or not. I've never been to an Indian restaurant in the U.S. that did not serve palak or saag paneer, and for a good reason. It is flavorful without being too spicy, nutritious, and comforting. Because this dish is popular throughout India, the recipe varies from region to region and stove to stove. The soft cubes of fresh cheese (paneer) adds richness and heft to this North Indian favorite, without making it heavy.
Palak Paneer ~ Versatile & Vegan
Indian food is wondrous for its endless ability to take well to variations, depending on what you as the cook has at hand. Saag paneer can be made with any leafy greens, but palak paneer specifically uses spinach leaves. If you don't have paneer and don't feel like making your own, you can use feta, which gives you—arguably—an even better final result, or chunks of cooked potatoes. If you are vegan, add firm tofu instead of paneer, and use coconut milk instead of milk or cream.
Shortcuts
This is my easy, streamlined, weeknight palak paneer was inspired by Sia of Monsoon Spice. If you use prewashed fresh spinach or frozen spinach and don't sauté the paneer, a bowl of this goodness can be on your table quite quickly. Make a double recipe and tuck half in the freezer for another day when you are pressed for time.
Palak paneer relies on two main ingredients: paneer (cheese) and spinach. Choose baby spinach with small tender leaves or good quality frozen spinach. Likewise, try making your own paneer or use a good brand of store-bought paneer.
Happy cooking!
~Alonna
Oh, and by the way—This recipe is one of the Top 20 dishes that are Indian favorites. Take a look!
See the Notes below before you cook.
Recipe Card 📖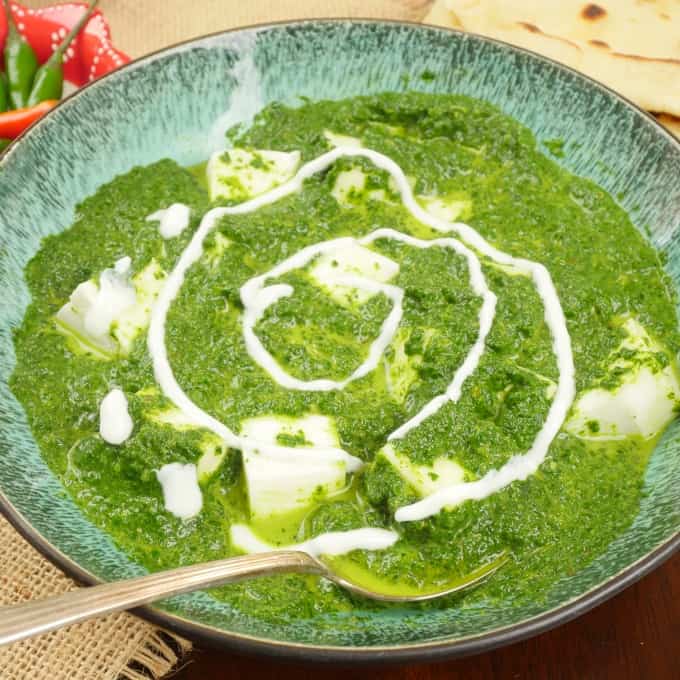 Palak Paneer ~ Homemade & Healthy
This bright green spinach curry is a favorite for good reason. Quick and easy enough for weeknight cooking, palak paneer will please even those spinach haters.
Print
Pin
Comment
<!–– I removed icon="star-empty"from above and change Rate to Comment ––>
Ingrediants
12

ounces

paneer

~ Cut into 1-inch cubes; buy or make. See last Note

1

tablespoon

ghee or oil

~ Buy or make ghee

1

teaspoon

cumin seeds

1

cup

onion

~ Thinly sliced

3/4

teaspoon

fine sea or table salt

~ Or to taste. Substitutions

2

teaspoons

ground coriander

1

teaspoon

sugar

1/4

teaspoon

Kashmiri red ground chili

~ Or ground chili of your choice; substitutions

1

teaspoon

garlic

~ Minced or grated

2

teaspoons

fresh ginger

~ Minced or grated

1

small green Indian chili

~ Minced (1/2 teaspoon) or 1 teaspoon serrano chili. See substitutions add more to your taste

1

pound

fresh or frozen spinach

1/3 to 1

cup

heavy cream

~ Depending on how rich and saucy you want; milk or yogurt.

1

teaspoon

garam masala

~ Buy or make

1

teaspoon

dried fenugreek leaves (kasoori methi)

~ Optional
Instructions
If you are using store-bought paneer, boil enough water to cover the cubes and soak for 8 minutes to soften. Drain and set aside.

Meanwhile, heat ghee or oil in a pan over medium-high heat. Add the cumin seeds and wait for them to sizzle, about 1 or 2 minutes. 

Turn the heat down to medium and add onions and salt. Stir frequently and cook until the edges are golden. Turn the heat down if the onions are browning too quickly, scraping any bits sticking on the bottom. Add a tablespoon or two of water if needed. This will take about 8 to 10 minutes. Don't rush this step because you are building flavor for the dish.

Add ginger, garlic, and green chili. Saute for 1 to 2 minutes until they no longer smell raw.

Stir in the sugar, ground coriander, and Kashmiri chili and sauté for 1 to 2 minutes to toast the spices.

Add the spinach, mix well and cook for 3 to 5 minutes over medium heat until the spinach is wilted.

Blend this mixture in a food processor or blender until smooth, adding 1/2 to 1 cup of water, as needed. If you have used frozen spinach you probably won't need any extra water.


Add the spinach purée back to the pan over medium heat and add milk, yogurt, or cream to get the desired consistency. Over medium-low heat simmer gently for several minutes.

Add the paneer; cover and simmer for 3 minutes. Add garam masala and kasoori methi now if using. Turn off the and let the palak paneer sit for 10 minutes, so the spices can mix and mingle. Taste for salt and heat, adjusting the seasonings to your taste.

This dish will keep in the refrigerator for 2 to 3 days, and in the freezer for up to 6 months.

Notes
If you aren't using prewashed or frozen greens for your palak paneer, make sure to wash your greens thoroughly to remove the grit and dirt that spinach has. Fresh greens will give you a brighter green color if that is important to you.
Many cooks blanch their greens. This helps set the color for a bright green finish. I do not blanch for three reasons: you lose some nutrients, it takes longer to cook the dish, and I am lazy.
I've added a generous amount of paneer in this recipe. If you want more sauce to paneer, start with at least 6 ounces.
If you don't eat garlic and onions, use a big pinch of asafetida (hing) instead, and add to the pan with the sliced onions.
Nutrition
Calories:
273
kcal
|
Carbohydrates:
8
g
|
Protein:
13
g
|
Fat:
22
g
|
Saturated Fat:
13
g
|
Cholesterol:
56
mg
|
Sodium:
24
mg
|
Potassium:
80
mg
|
Fiber:
1
g
|
Sugar:
3
g
|
Vitamin C:
4
mg
|
Calcium:
429
mg
|
Iron:
1
mg
Your Private Notes