Easy to cook, cheap, and with layers of flavor, keema curry can be made with any ground meat you love, or with firm tofu crumbles for a vegetarian version.
I am obsessed with keema curry. Why? Because you can do so many things with it. Perfect for meat lovers or vegetarians: using ground meat, poultry, mushrooms, or tofu. Indian bolognese, sloppy joes, chili, tacos, or pizza, are just a few ways to use this intensely flavorful dish. If you would like some other Indian beef recipes, see my Kerala-style beef curry and a Goan Red Beef Curry.
Jump to:
Keema makes a good weeknight meal with some rice and naan, and you don't need any time for marination. If you are looking for a good vegetarian recipe see Meera Sodha's vegetarian keema in The Guardian.
While the word keema simply means ground or minced meat, when you see a traditional keema recipe, it refers to a curry with ground meat. Of North Indian Mughal origin, today keema is popular throughout India, with each region putting its stamp. The variations of deliciousness are endless, as are the spices and flavorings combinations.
Enjoy this quick, weeknight, "gotta get dinner on the table quick" recipe from the Sri Rao's cookbook Bollywood Kitchen. Pairing Bollywood musicals with his mother's home-cooked meals is a fun way Mr. Rao presents his favorite dishes. I hope you will try this full-flavored keema curry and play with your favorite flavoring and ways to use it.
Why is keema so popular?
Layered with vibrant Indian flavors
Versatile and can solve your dinner dilemma
It freezes well for a rainy day
It is inexpensive
Easily made vegetarian or vegan using firm tofu or mushrooms
A perfect way to add excitement to a weekday meal
Ingredients
Your protein: Ground lamb, beef, turkey, chicken, mushrooms, or tofu all make a great keema. I have found that it is even better when I have a mix of meats. I made my last keema with what I had on hand: one pound of ground turkey, some mild Italian sausage, and pork, and it was especially flavorful.
Spices: Besides the Indian pantry basic like Kashmiri chili powder, this recipe uses spices that you probably already have in your cupboard. Ground cinnamon, cloves, and coriander all come together to make this beautifully spiced curry.
Aromatics: Minced, browned onions provide a sweet flavor base, and the ever-popular duos of ginger and garlic add their unique flavors.
Tomato: You will only need 1/2 a cup of some sort of tomato. I like to use tomato purée because it is convenient and perfect when tomatoes are not in season. Certainly use fresh tomatoes if you have them, and there is no need to peel or deseed them.
Final flourishes: A couple of teaspoons of the juice of lemon or lime brightens up the whole affair. Some chopped cilantro adds freshness and color and using mint instead would be perfect if you are using ground lamb.
How to Make Keema
In a pan over medium heat, add 1 1/2 teaspoons oil, and when hot, add the ground meat/poultry or extra-firm tofu crumbles. Sprinkle with the turmeric and mash the meat into crumbles. Stir occasionally for about 7 to 9 minutes or until thoroughly browned. Remove it with a slotted spoon.
Using the same pan, heat another 1 1/2 teaspoons of oil over medium heat and add the onion, salt, and curry leaves, if using. Cook until the onions are golden, about 8 minutes.
Add the ginger garlic paste and stir for 1 to 2 minutes until it no longer smells raw. Stir in the chili powder, cloves, cinnamon, and coriander. Cook the spices for another minute, then add the tomato sauce or minced tomatoes. Simmer for 6 minutes or until the mixture has darkened and the oil separates along the edges.
Return meat and add peas (if using), to the pan, stirring well. Cook for another 8 more minutes.
Garnish keema curry as you wish with cilantro, mint and fried curry leaves.
FAQ: Keema questions
Does it matter what kind of ground meat or poultry I use?
No, but I recommend a good quality protein since there aren't many other ingredients to hide behind. More flavorful meat stands up well to the spices.
What are other flavoring ideas?
I suggest you make my recipe once and then tinker with your favorite flavors. Instead of tomato, use coconut milk or yogurt. Especially with lamb, consider swapping the tomato with orange juice.
Is it okay to add vegetables?
Adding vegetables to keema is very common. Peas (keema matar) and potatoes (keema aloo) are favorites, but mushrooms, carrots, and cauliflower (keema gobi) also work well. The advantage of adding vegetables is the added texture and nutrition, making the dish more economical.
What is the best way to add some heat?
Mix in a minced green chili with your ginger and garlic, leaving the seeds in if you want even more heat. Kashmiri ground chili isn't a very hot chili powder, so you could add more or use a hotter red chili.
What other spices might be good in keema?
Be sure to keep your spices in balance, but star anise, green/black cardamom, black peppercorns, fennel, and cumin are all fair game. Keep in mind what flavors pair well with the protein you are using.
14 Ways to use Keema
Keema curry is endlessly customizable and impossible to mess up. It works so well as a filling, stuffing, and topping because this keema is intensely flavored. Here are some ideas: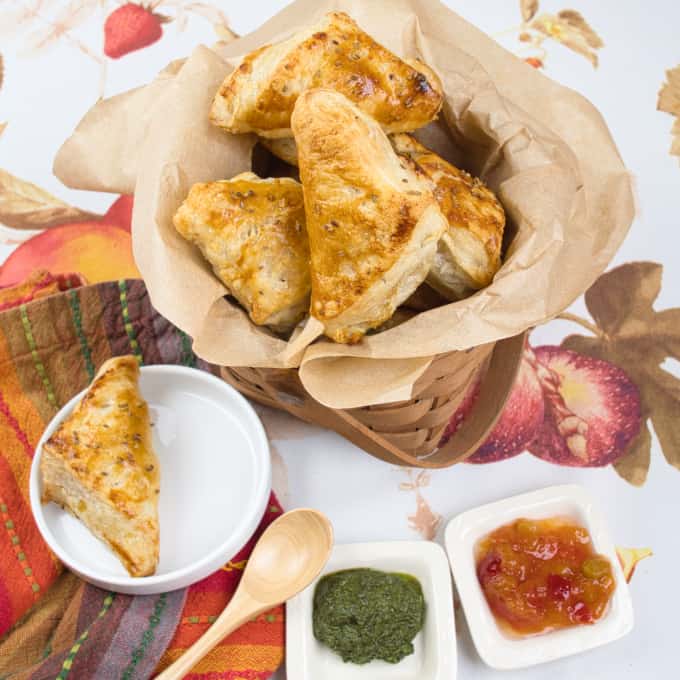 Serving tips
A simple and satisfying way to serve keema curry is with a side of rice and flatbread. Chopped onion, some fresh herbs, wedges of lime, and fresh chilies are also welcome garnishes.
Keema Storage
Like most highly spiced dishes, keema keeps well in the refrigerator for several days. It is even better on Day Two, making it a great make-ahead dish. It also freezes well. I like to take meal-sized portions and pop it into ziplock bags so that I can defrost it for that rainy day when I am out of "what is for dinner" juice.
This recipe is one of the 10 dishes I make over and over!
Here are my favorite ways to use keema
Recipe Card 📖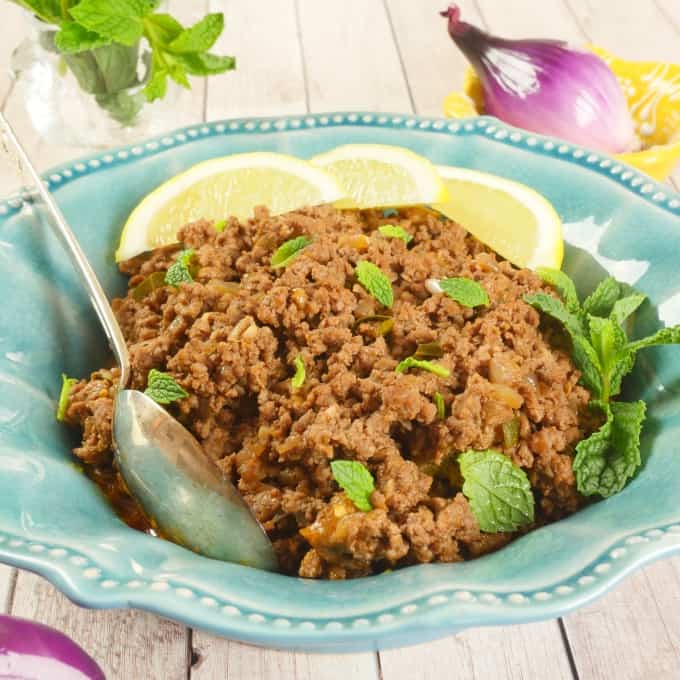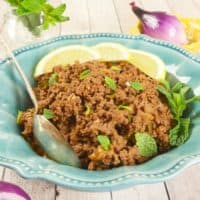 Weeknight Beef Keema Curry
Easy to cook, cheap, and with layers of flavor, keema curry can be made with any ground meat you love, or with firm tofu crumbles for a vegetarian version.
Print
Pin
Comment
<!–– I removed icon="star-empty"from above and change Rate to Comment ––>
Ingrediants
1

tablespoon

oil

2

pounds

ground meat

~ See first Note below

1

teaspoon

turmeric

2

cups

onions

~ Finely chopped

2

teaspoons

table or sea salt

~ Substitutions

1/2

teaspoon

Kashmiri ground red chili

~ Or 1/4 teaspoon cayenne, to your taste; substitutions

1/2

teaspoon

ground cloves

1

teaspoon

ground cinnamon

2

teaspoons

ground coriander

10

curry leaves

~ Optional; coarsely chopped. More for garnishing.

1/2

cup

tomato puree

~ Or a chopped medium tomato

1/4

cup

cilantro

~ Chopped. Mint if using lamb.

2

teaspoons

lemon juice

~ Or lime; more to taste

1

cup

peas

~ Optional, fresh or frozen. See Notes below.
Garnishes
2

tablespoons

cilantro, mint, or fried curry leaves

~ Chopped
Notes
Feel free to use any ground meat you prefer or go vegetarian using crumbled firm tofu or mushrooms.
To streamline this recipe you can use a store-bought ginger garlic paste and canned tomato puree.

 

Feel free to use fresh tomatoes and make your own ginger garlic paste. 
Other vegetables: Besides peas, you could add half-cooked cubes of potatoes, carrots, or cauliflower florets.
If you find this keema curry to be too intensely flavored, Mr. Rao recommends adding a tablespoon of ground, unsweetened coconut to the dish. Or I like to add some yogurt or coconut milk.
Keema curry can be eaten the same day, but like many Indian dishes, it is even better the next day.
Nutrition
Calories:
447
kcal
|
Carbohydrates:
8
g
|
Protein:
27
g
|
Fat:
33
g
|
Saturated Fat:
12
g
|
Cholesterol:
107
mg
|
Sodium:
890
mg
|
Potassium:
599
mg
|
Fiber:
2
g
|
Sugar:
3
g
|
Vitamin A:
219
IU
|
Vitamin C:
41
mg
|
Calcium:
61
mg
|
Iron:
4
mg
Your Private Notes