For when you need a quick meal, or you just plain crave pizza with an Indian twist, naan pizza welcomes your leftovers and is all the better for them.
Way better than Takeout!
This is an "I'm too tired to cook but don't want an unhealthy, expensive takeout or delivery dinner" naan pizza recipe. Since traditionally, there is no such thing as Indian pizza; this is your chance to be creative without any "shoulds."
Italian and Mexican foods are becoming ever more popular with Indian families, joining the beloved Indo-Chinese mashup. If you have some Indian flatbreads at home, then use them as the base. Do you want to make your own naan? Then I have two recipes, a naan without yeast, or my easy yeasted naan, for the foundation of your pizza. Or, as I always do, have a naan from Trader Joe's, or my local Indian grocery, in the freezer.
Top With Whatever You've Got
I like to think of meals in this category as kitchen sink dinners. As in everything but the kitchen sink. Leftover odds and ends of veggies, especially mushrooms, peas, green bell peppers (capsicum), cauliflower, or even potatoes, make a great topping for naan pizza. My two favorite toppings are dry potato curry (aloo masala), or my favorite keema (a ground meat curry), with a crumble of paneer, feta, or goat cheese drizzled with mint chutney, and slivers of red onion. Butter chicken or chicken tikka masala without too much sauce would also be as glorious toppings.
The nature of this meal is ease and speed, and you are the chef (chief) in your kitchen. I encourage you to play with your food. Here is my ideal Indian naan pizza recipe. What is yours?
Happy cooking!
~ Alonna
See the Notes below before you cook.
Recipe Card 📖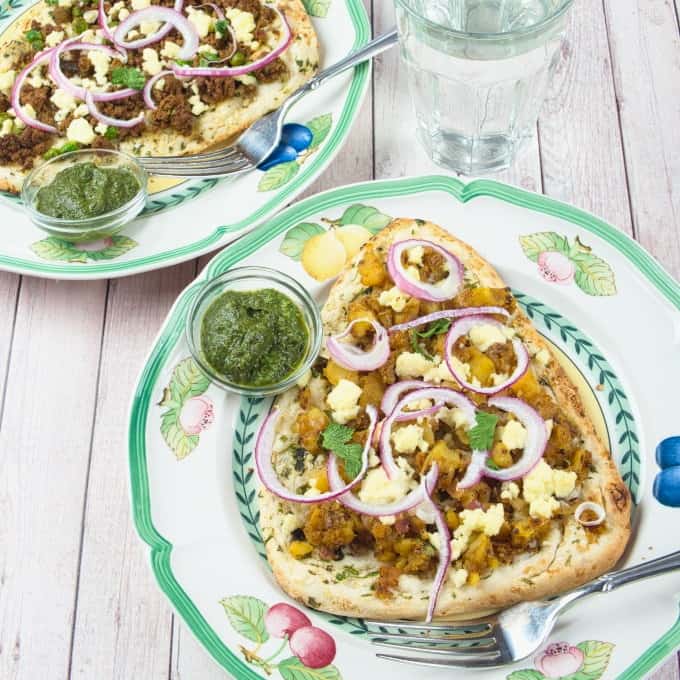 Naan Pizza Recipe
For when you need a quick meal, or you just plain crave pizza with an Indian twist, naan pizza welcomes your leftovers and is all the better for them.
Print
Pin
Comment
<!–– I removed icon="star-empty"from above and change Rate to Comment ––>
Ingrediants
1

naan

1

teaspoon

ghee

~ Optional

1/2

cup

keema

~ Recipe for keema, or roasted vegetables, a mix of both, leftovers

2

tablespoons

cheese

See Notes

2

tablespoons

onions

~ Thinly sliced

2

tablespoons

vinegar, or lemon juice

~ If pickling your onions

1

tablespoon

cilantro

~ Coarsely chopped

1

tablespoon

mint

~ Coarsely chopped

1

teaspoon

coriander seeds

~ Toasted and coarsely crushed

chutney, raita, yogurt

~ Drizzle as you wish
Instructions
Preheat your oven to 425°F (220°C) with a pizza stone, pizza steel, or a baking sheet turned upside down on the middle rack.

Brush naan with ghee, if you wish.

If you would like to add a pop of acid or don't like raw onions, soak thinly sliced onions in vinegar or lemon juice for 10 minutes, while the oven is heating. This step isn't necessary if you are garnishing your pizza with a flavorful chutney.

Top your naan with any toppings of your choice, starting with keema, roast chicken, or roasted or cooked veggetables, then sprinkle with cheese, paneer, and cilantro, if using.

Bake for about 12 minutes, or until your toppings look cooked. If using a cheese besides paneer, it should be melted, or at least softened.
Notes
If you have a pizza stone or steel, this is the perfect time to use it for your naan pizza recipe. If you don't, a cookie sheet turned upside down, will also work well.

 

The key is to preheat it so that it is hot when you put your pizza in the oven.
Flatbread: naan (I like Deep's naan from an Indian grocer's freezer), roti, dosa, or even a store-bought prebaked pizza dough works well.
Sauce: you may want a thin layer of concentrated sauce without too much liquid. This can be accomplished with a jarred pizza sauce, or use my basic curry sauce cooked down a little so it won't make the bread soggy. 
Meat in the form of keema, leftover roast chicken, and bite-sized roasted (or simply cooked) vegetables like mushrooms, cauliflower, broccoli, or even potatoes are great.
Cheese: any cheese, but especially feta, fresh goat cheese, mozzarella, and parmesan, or a combination. Paneer works here but does get lost because of its delicate flavor.
Garnishes for this naan pizza recipe: thinly sliced fresh green or red chilis, chili flakes, thinly sliced red onions (lightly pickled or not), scallions, fried curry leaves, fresh cilantro or mint leaves, mint and coriander chutney, dollops of raita, or even a fried egg, to make for a heartier meal.
Nutrition
Calories:
557
kcal
|
Carbohydrates:
63
g
|
Protein:
18
g
|
Fat:
25
g
|
Saturated Fat:
11
g
|
Cholesterol:
54
mg
|
Sodium:
1037
mg
|
Fiber:
4
g
|
Sugar:
5
g
|
Vitamin A:
513
IU
|
Vitamin C:
3
mg
|
Calcium:
321
mg
|
Iron:
1
mg
Your Private Notes