So light, moist, and flavorful you will never know this carrot cake is gluten-free. It is perfectly spiced and a dessert of your dreams with its crown of cream cheese frosting.
Jump to:
Almond flour carrot cake
One of my cooking heroes is Chris Morocco of Bon Appétit. He is a meticulous cook but at the same time practical. When I saw he made a gluten-free carrot cake, one of my all-time favorite desserts, I had to make it. This cake is so good, and you will never know it is gluten-free. And it is also healthy with almond flour instead of wheat, and just enough oil and sugar to keep it sweet and moist. So this spiced carrot cake is now my go-to carrot cake recipe.
I parted ways from Chris's 2-layer cake option by halving the recipe to make an easy snacking cake. I also skipped the vanilla because the cake doesn't need it, IMHO. Chris's suggestion to wring the juice of grated carrots wasn't a necessary step from my testing. So, I present to you a gluten-free carrot cake that is a simple one pan, one layer affair. However, it is hard to argue with a cream cheese frosting and maybe even a sprinkling of candied carrot coins.
Top Ten Recipe for 2020
In the top ten popular recipes on MyIndianStove in 2020 was my Indianish carrot cupcakes. The spicing is perfect, if I may say so myself. For this gluten-free spiced carrot cake, I use the same blend of cardamom, cinnamon, cloves, and a few other supporting players, making for an amazingly beguiling and tender cake. However, I also give an idea for a more streamlined spicing option if you are in a hurry or missing some of the spices.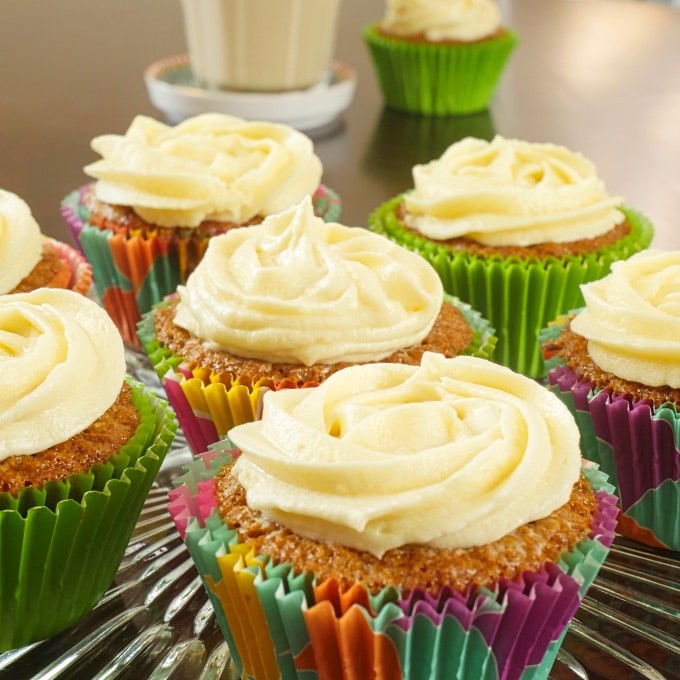 About the carrots
The most time-consuming part, and dare I say the most annoying, is the grating of the carrots. And yes, it is best to coarsely grate the carrots using your box grater. If you finely grate the carrots, they will make the cake too dense and wet.
Another tip to getting the proper texture is to start with 5 ounces of carrots before peeling and grating them. It is difficult to give you an exact cup measurement of grated carrots. This is because there are variations in graters and moisture content in the carrots. However, you will get approximately 1 1/4 cups of grated carrot when starting with 5 ounces of whole carrots.
Choose your pan
A perfect snacking cake batter should be flexible and not fussy. The great baker and new author of "Dessert Person"—Claire Saffiz says of carrot cake, "It's supposed to be rustic and homey." So you can make these treats into 12 to 18 cupcakes depending on how full you fill the papers. But be sure to reduce the baking time to just 17 to 20 minutes. You can also use an 8 1/2 x 4 loaf pan, an 8 x 8-inch square pan, or an 8-inch round pan for batter amount. And this recipe doubles beautifully if you want a two-layer 8-inch round cake.
A word about topping
When making this cake for a quick snack fix, you can skip any fancy garnishes and even the frosting. This spiced carrot cake is that good. If I am feeling fancy, I add a fun sprinkling of candied carrots coins. To make them, simply cook very thinly sliced carrots in a sugar syrup until they are tender. They curl up into adorable ruffled carrot rounds for a pretty garnish. Here's the recipe for the candied carrots from Bon Appetit and it the Notes below.
Make it your house carrot cake
I typically don't add raisins to carrot cake, but I was surprised how much I enjoyed the intense pops of sweetness they bring after plumping up while baking. So, add them or not. Also, I often reach for pecans rather than walnuts. I hope you will find your perfect spice blend. If you have allspice and fennel, do give them a try. Let me know how this gluten-free spiced carrot cake goes for you!
Happy cooking!
~ Alonna
See the Notes below before you cook.
Recipe Card 📖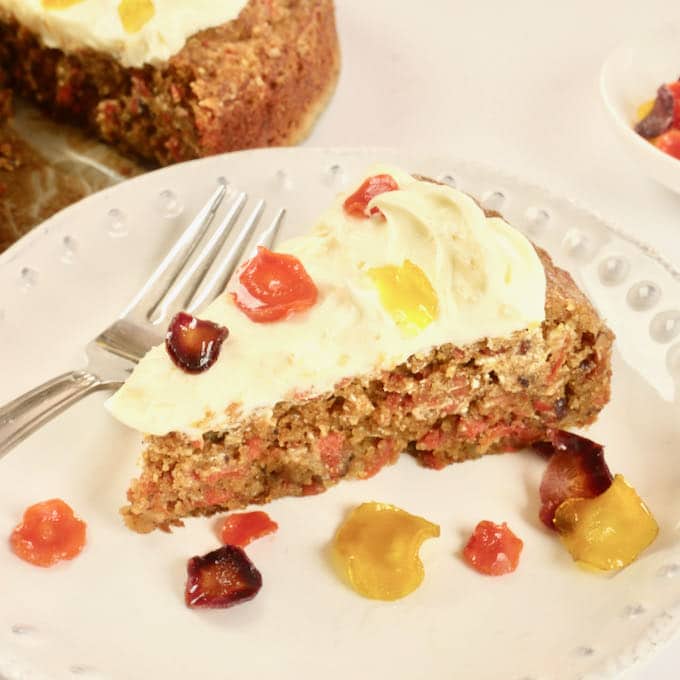 Gluten-free Spiced Carrot Cake
So light, moist, and flavorful you will never know this carrot cake is gluten-free. It is perfectly spiced and a dessert of your dreams with its crown of cream cheese frosting.
Print
Pin
Comment
<!–– I removed icon="star-empty"from above and change Rate to Comment ––>
Equipment
1 8-inch round pan

A 9-inch pan will also do, the cake will be a bit flatter

12 cupcakes
Ingrediants
5

ounces

carrots

~ Peeled and coarsely shredded, for 1 1/4 cup lightly packed

1

3/4

almond flour

1/2

teaspoon

sea or table salt

~ Or 3/4 teaspoon kosher salt

1/2

teaspoon

baking powder

1/4

teaspoon

baking soda

1/2

teaspoon

ground cinnamon

1/2

teaspoon

ground cardamom

~ Make sure it is fresh

1/2

teaspoon

ground ginger

~ Or better yet, 1/4 teaspoon allspice & 1/4 teaspoon fennel, or just 1/2 teaspoon allspice

1/8

teaspoon

ground cloves

1/4

cup

coconut oil

~ Or neutral oil, more for preparing the pan

1/2

cup

dessicated coconut

~ Also called shredded coconut (dried)

1/3

cup

golden raisins

~ Optional, or regular raisins

1/4

cup

walnuts

~ Optional, or pecans finely chopped

3

large eggs

1/2

cup

brown sugar

~ Packed, or dark brown sugar; see Notes below
Cream cheese frosting
4

ounces

cream cheese

~ At room temperature

1/4

cup

butter

~ At room temperature

1 1/4

cups

powdered sugar

~ Add up to 2 cups, depending how sweet you want it

1

teaspoon

lemon juice

~ Or 1 teaspoon vanilla

1

pinch

sea or table salt
Instructions
For the cake
If making cream cheese frosting, take the butter and cream cheese out of the refrigerator. Prepare your baking pan by greasing and line with parchment paper. See the Notes below about pans. Adjust your oven rack so that it is in the middle of the oven and preheat the oven to 350°F (180°C).

Peel and grate the carrots on the largest holes of a box grater.

In a medium bowl add the almond flour, salt, baking powder, baking soda, and spices. In another bowl mix together the carrots, shredded coconut, chopped nuts, raisins, and oil.

With a mixer on medium-high fitted with a paddle attachment if using a Kitchenaid, combine the eggs and sugar. Beat for 4 to 5 minutes until the mixture makes large swirls and when you lift a spoonful of batter and drizzle it, it creates ribbons. Be patient with this step because this is what will make a light cake.

Add the dry flour mixture in 3 additions, alternatively with the carrots mixture also in 3 additions. Beat well after each addition.

Pour the batter into your prepared cake or cupcake pan. Bake the cake for 30 minutes and check to see if it is done. You may need another 3 to 5 minutes. The cake is done when a tester poked into the center of the cake comes out clean and the cake bounces back when gently pressing a finger into the center of the cake. Begin checking cupcakes at the 16-minute mark.

Allow the cake to cool in the pan for 10 minutes, then gently turn it out onto a rack to cool completely before frosting.
Frosting and Garnishing
If you are using a Kitchenaid mixer, use the paddle attachment and combine the butter and cream cheese on medium-high speed for 1 to 2 minutes until smooth.

On low, add in the powdered sugar, lemon juice or vanilla, and salt and mix for 1 minute. Turn the mixer to medium-high and beat for 4 minutes until the frosting is light and airy.

If the frosting to too thick mix in a tablespoon of heavy cream or plain yogurt. Add more as needed. Frost your cake. If you want to candy carrot coins for garnishing see the Notes below.
Notes
Cake Pans: I like to use a removable bottomed cake pan, which makes removing it from the pan easier. 
Nutrition: The nutrition information does not include any frosting.
Sugar: This cake is lightly sweetened. If you want a sweeter cake, add another 2 tablespoons of sugar. I have had good luck using the sugar substitute Whey Low if you prefer to take the sugarless route.
Make powdered sugar: For when using white granulated sugar, see Rajan Singh Jolly's video.
This cake is even better the next day if it lasts that long. The resting time allows all the spices to mix and mingle together
Dairy-free: If you don't do dairy use non-dairy cream cheese, sprinkle the cake with powdered sugar, or skip the frosting altogether.
Candied carrot coins from Bon Appetit:

1 cup very thinly sliced peeled carrot, a mandoline is ideal.
1/4 cup water
2 tablespoons sugar
In a small pan over high heat, stir all the ingredients together. When the water begins to boil turn the heat down to simmer and cook until the carrots are soft; about 5 minutes. Turn up the heat to medium and cook until the liquid is thick and syrupy. Add 2 big pinches of sugar and stir to coat the carrots. Spread the carrots out onto a parchment-lined tray and allow them to cool.
Nutrition
Calories:
198
kcal
|
Carbohydrates:
22
g
|
Protein:
1
g
|
Fat:
13
g
|
Saturated Fat:
9
g
|
Sodium:
225
mg
|
Potassium:
165
mg
|
Fiber:
2
g
|
Sugar:
18
g
|
Vitamin A:
2960
IU
|
Vitamin C:
1
mg
|
Calcium:
40
mg
|
Iron:
1
mg
Your Private Notes