Fragrant with spices, this dreamy, creamy make-ahead chai pudding is the perfect ending to any meal.
Fragrant & Flavorful Chai Pudding
Regardless of the season, I think there is nothing more comforting than a good custard at the end of the meal. Depending on your mood, this dessert can be chai-spiced, or I have added another twist for this pudding. I love the licorice-scented warmth of toasted star anise, and it makes for an unusually delicious treat. Regardless of the spicing you choose, garnish it with a dollop of whipped cream, sweet and salty nuts, or a simple dusting of confectioner's sugar. Whatever your choices, this dessert is cool and creamy.
Options
Other flavoring ideas are cardamom and rose. Starting with 1/2 teaspoon of cardamom and 1 teaspoon of rose water (1/4 teaspoon of rose essence), then adjust to taste. Keep in mind that when chilled, the flavors tend to be muted. Another favorite flavor pairing is star anise and grapefruit. See how this combination is used in my coconut pudding with citrus for inspiration. I like to pull out my kitchen torch, sprinkle the puddings with a sweet dusting of sugar, and fire away. This treatment results in a caramelized crunchy topping a dreamy custard underneath.
Chai pudding is a perfect ending for any meal when entertaining. You can make it the day before, and at serving time, all you need to do is pull the puddings out of the refrigerator. Feel free to vary the spicing and garnishes according to your mood and the lucky people you are feeding. And you are ready to serve!
Happy cooking!
~ Alonna
PS If you like puddings like me, take a peek at my cardamom pumpkin cheesecake.
See the Notes below before you cook.
Recipe Card 📖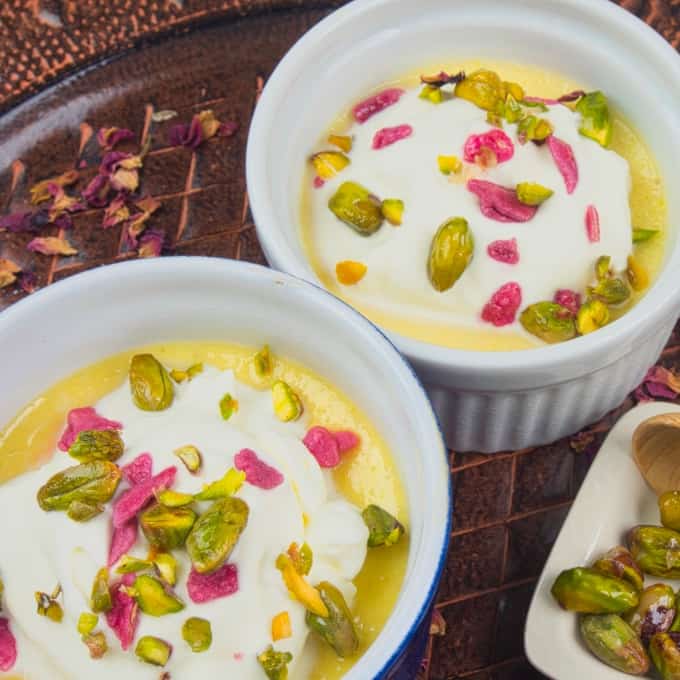 Sweet & Creamy Chai Pudding
Fragrant with spices, this dreamy, creamy make-ahead chai pudding is the perfect ending to any meal.
Print
Pin
Comment
<!–– I removed icon="star-empty"from above and change Rate to Comment ––>
Ingrediants
1

cup

heavy cream

1

cup

half-and-half

6

green cardamoms

4

whole allspice berries

1/2

cinnamon stick, lightly crushed

4

whole cloves

1-inch

fresh ginger

~ Or 1 1/2 teaspoons, coarsely chopped

4

whole black peppercorns, lightly crushed

1/2

teaspoon

lemon or lime zest

6

egg yolks

1/4

cup

white granulated sugar

1/4

cup

light brown sugar

1

big pinch

sea or table salt
Instructions
Over medium heat in a heavy-bottomed saucepan, lightly toast the cardamom and allspice for about 1 to 2 minutes, or just until fragrant.


Add cream and half-and-half, cardamom, allspice, cinnamon, cloves, ginger, crushed peppercorns, lemon zest, sugar, and salt to the pan over medium-high heat and bring to boil, remove from the heat, and let spices steep for 10 to 15 minutes, or longer if you want a more flavorful custard. Taste as you go and decide how intensely flavored you would like your dessert to be.


Heat the oven to 325°F (160°C). Line a 13-by-9-inch baking dish with a kitchen towel and place the ramekins in the baking dish.


After the spice and cream mixture steeps, it should be slightly warm. Add the egg yolks to the spiced cream and then strain the pudding through a fine strainer or cheesecloth, into a 4-cup glass measuring cup or something that you can easily pour from. 


Pour custard into ramekins or serving the dish and then pour hot tap water around puddings until it comes halfway up the sides.

Using aluminum foil, cover the pan; poking several holes to let the steam out.


Bake until the custards are just set, but still have a little jiggle in the middle. This will take about 30 minutes, but start checking at the 28 minute mark.


Remove ramekins or serving dish from the water bath, and let cool on a rack. Cover with plastic wrap and chill in the refrigerator until cold.


Serving ideas: Softly whipped, lightly sweetened heavy cream, toasted or candied nuts (pistachios or almonds, preferably), citrus supremes, toasted coconut, cookies, or orange caramel.

Rose and Cardamon Pudding
Instead of the spices (cardamom through peppercorns) in Version 1, toast 8 crushed cardamon pods in a heavy-bottomed saucepan and follow the recipe as above.  Add one teaspoon of rosewater to the pudding after straining the mixture. Garnish with candied pistachios and rose petals. Oh, and whipped cream, possibly scented with a tiny splash of rose water: 1 cup of heavy cream, lightly sweetened with 4 teaspoons of granulated sugar, and 1/2 to 1 teaspoon of rose water, to your taste.
Star Anise Pudding with a Grapefruit Garnish
I am on a star anise and grapefruit kick because these two flavors work so well together.  Instead of the spices (cardamom through peppercorns) in Version 1, take 6 whole star anise, lightly crush and toast in a small skillet over medium-high heat, for about 2 minutes or until fragrant. Steep and strain as described above and garnish with grapefruit or pomelo, cut into bite-sized supremes (see Notes below) . Other garnishing ideas: candied pistachios and toasted coconut. Or serve simply with a dollop of lightly whipped and sweetened heavy cream.
Notes
Chai pudding needs some chill time, so plan accordingly.
For serving, you will either need six 6-ounce ramekins, or you can put chai pudding in one large 4-cup dish, and simply serve by scooping out.
Quick substitution: Instead of the cardamom, cinnamon, cloves, and ginger, add 1 1/2 teaspoons of a good quality store-bought garam masala.

 

I like the Rani brand or make your own.
If you would like to use nuts for garnishing, try my sweet and salty nut recipe.
Emily Caruso has a very good short video on how to supreme citrus.
Nutrition
Calories:
483
kcal
|
Carbohydrates:
34
g
|
Protein:
8
g
|
Fat:
36
g
|
Saturated Fat:
21
g
|
Cholesterol:
397
mg
|
Sodium:
66
mg
|
Potassium:
205
mg
|
Fiber:
1
g
|
Sugar:
26
g
|
Vitamin A:
1478
IU
|
Vitamin C:
2
mg
|
Calcium:
160
mg
|
Iron:
1
mg
Your Private Notes