This is the make-ahead, creamy dessert you've been waiting for. It is easy, vegan, dairy-free, gluten-free, and egg-free. Serve Indian-ish coconut custard with your favorite toppings to rave reviews. Enjoy! 
Easy Coconut Custard
This dreamy and intriguing end of the meal dessert skirts the biggest dietary restrictions: it is vegan, dairy-free, egg-free, and gluten-free. Wow! I don't often manage to hit the brief for all those preferences at once so successfully. Indian-ish coconut pudding is as pretty as a picture; creamy with a citrus crown, and oh, it is make-ahead as well. Gently held together by gelatin, so there is no baking is required. Perfect for the hot summer months when you can't bear to turn on the stove.
I've designed this dessert to be gently spiced, but if you want more flavor, you could play with adding some fresh ginger or allspice instead of star anise. I love the combination of star anise and grapefruit, which I discovered by referring to my single most favorite book about food: "The Flavor Bible" by Karen Page and Andrew Dornenburg. The copyright is 2008, and my dear husband gave it to me as a Christmas present that year. I've been pouring over its pages ever since, figuring out what to cook based on the best flavor combinations.
Garnishing Ideas
Please do not be afraid of this recipe. Most of the instruction is around the garnishes. All of which can be dispensed with if you want to keep it simple. Lovely on its own or you can bedeck this coconut pudding with toasted nuts or with a light drizzle of honey. Maybe even serve some homemade shortbread cookies or your favorite dainty store-bought cookies on the side.
Present these coconut puddings individually in cute 3- to 4-ounce cups or scoop out of a single serving dish. I've had great fun with garnishes. At the minimum, consider supreming (there is a link to instructions below) a couple pink grapefruits or pomelos to lay on top. Or if you are feeling cheffy, use a trick to make grapefruit "pearls." This is an easy and pretty way to up your garnishing game. Also, see the notes below on how to supreme and pearl citrus. Enjoy this special dessert.
Happy Cooking!
~ Alonna
Some other Indian-inspired puddings to make: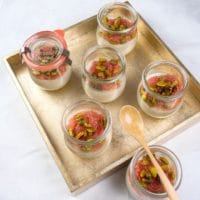 Indian-ish Coconut Custard
This is the make-ahead, creamy dessert you've been waiting for. It is easy, vegan, dairy-free, gluten-free, and egg-free. Serve Indian-ish coconut custard with your favorite toppings to rave reviews. Enjoy! 
Print
Pin
Comment
<!–– I removed icon="star-empty"from above and change Rate to Comment ––>
Ingrediants
For the Pudding:
3

cups

full-fat coconut milk

~ About coconut milk and see Notes below.

2 3/4

teaspoons

gelatin

~ I use Knox brand. See the last note below.

1/2

cup

honey

~ Extra for drizzling on top before serving, optional

4

star anise

~ Broken into several pieces

1/8

teaspoon

salt
Optional Garnishes:
2

grapefruits

~ Or pomelos

1

tablespoon

honey

1/4

cup

nuts

~ Candied or toasted, I prefer pistachios here

4

mint sprigs

cookies

~ You may want to make my shortbread

1/2

cup

neutral oil

~ If making citrus pearls
Instructions
Notes
For time estimations in this recipe, please note that it does not include any garnishes you choose to use. Also, if topping with nuts, don't sprinkle on much beyond an hour ahead, or they will lose their crunch.
Most coconut milk uses a stabilizer like guar gum, to prevent the cream and the milk from separating. If you do use coconut milk with guar gum, you can skip the icing step. Put in refrigerator, and an hour into the chill time give it a good whisk to ensure the cream is not coming to the top. From there you can pour the custard into the final serving dish or ramekins.
If using coconut milk without stabilizers, the icing step prevents the cream from the coconut milk from rising to the top and forming a thin, hard layer.
Use full-fat coconut milk. Reduced fat will not give you the creaminess you are wanting for this dessert.
If you want a vegan dessert, use agar agar to thicken the custard. The conventional wisdom is to use 2 teaspoons per cup of liquid. Unfortunately, I don't have experience with this thickener.
Don't skip toasting the star anise. This step brings out the essential oils and more flavor. It also shortens the steeping time.
This custard can be made the day before, though it will be set a little more firmly. If you like your puddings just softly set, and you are keeping it in the fridge overnight, use 2 1/2 tablespoons of gelatin instead of 2 3/4 teaspoons.
Nutrition
Calories:
399
kcal
|
Carbohydrates:
40
g
|
Protein:
6
g
|
Fat:
27
g
|
Saturated Fat:
22
g
|
Sodium:
69
mg
|
Potassium:
424
mg
|
Fiber:
2
g
|
Sugar:
32
g
|
Vitamin A:
981
IU
|
Vitamin C:
28
mg
|
Calcium:
49
mg
|
Iron:
4
mg
Your Private Notes