How about a perfect little afternoon pick-me-up? Tender, crunchy, lightly sweet and pretty as a picture, these cookies are just the thing with your next cup of tea!
Spicy Sweetness and a Delicate Crunch
These cardamom cookies have lovely floral notes from rose water and a spicy sweetness from the cardamom. There is also a delicate crunch from the grass green scattering of pistachios over the top. Pull out your favorite chai for this pretty, irresistible cookie.
If you are familiar with the Parsi treat nankhatai, this cardamom cookie is very similar in flavor. Here is a recipe for that cookie from the excellent Parsi food blog created by Rita Kapadiea of Parsi Cuisine.
Live the LIfe
I always fantasize about living a life that allows me to have time for afternoon tea with a beloved sister, friend, or neighbor, even on a weekday. There are far more civilized cultures that build this luxury into their day. Unfortunately, I still have yet to make this happen. This is the perfect cookie for such an occasion, however.
Cardamom Cookie Crunch
Sablé means sand in French, which is their name for shortbread. They are sweet but not too sweet and small enough to have several. At once tender, crumbly, crunchy with a lovely melt in your mouth quality. You will make these delightful cardamom cookies over and over. To get this appealing texture, some of the regular sugar is replaced with powdered sugar.
And if you would like to try your hand at making powdered sugar, the Rajan Singh Jolly YouTube channel shows you how. Also, there is no baking soda or baking powder, one or both of which is normally used in most cookies in the West.
Happy cooking!
~Alonna
PS If you are a cardamom hound like me, try my cardamom crunch almond cupcakes. Or for more cookie inspiration, see my chewy coconut almond cookies.
See the Notes below before you cook.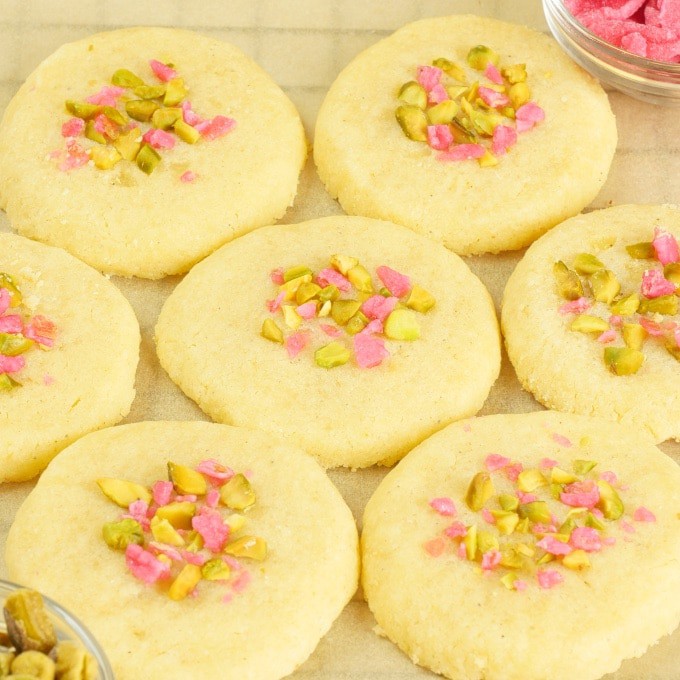 Cardamom Cookies
How about a perfect little afternoon pick-me-up? Tender, crunchy, lightly sweet and pretty as a picture, these cookies are just the thing with your next cup of tea!
Print
Pin
Comment
<!–– I removed icon="star-empty"from above and change Rate to Comment ––>
Ingrediants
2

sticks

butter

~ Room temperature, cut into chunks

1/2

cups

white sugar

1/4

cup

powdered sugar

1/2

teaspoon

table or sea salt

2

large egg yolks

~ Or 2 tablespoons thick yogurt

1/2

teaspoon

ground cardamom

~ About 8 pods; see Notes below

2

teaspoons

rosewater

2

cups

all-purpose flour
Instructions
Preheat your oven to 350°F (176°C) and line baking sheets with parchment paper.

If toasting and grinding your own cardamom, over medium heat in a small skillet, toast 8 cardamon pods until a shade darker and very aromatic. This will take about 3 minutes. Grind in a spice grinder or with a mortar and pestle into a fine powder.

Using a stand mixer, fitted with the paddle attachment, add butter, sugars, and salt to the bowl. Beat on medium speed until smooth but not fluffy; about 3 minutes. Scrape down the sides of the bowl as needed. (The batter can be made with a handheld mixer as well.)

Turn down mixer speed to low and add the egg yolk (or yogurt), rose water and cardamom. Mix just until incorporated.

Turn off mixer and add all of the flour. Turn mixer to low, and mix until all the flour is moistened. Do not overmix or your cookies will be tough.

Shape into balls 1 1/4-inch across (25 grams), place on the lined baking sheet, spacing cookies with 2 inches between them. Using your fingers, press down on each cookie until it is 1/4- thick. Pat gently around the edges of the cookie cracks slightly.

Bake for 6 minutes, turn the tray around so the cookies will bake evenly, and start checking the cookies in 4 more minutes. You are looking for the slightest bit of golden brown around the edges, but the rest of the cookie will not have changed color. Let cool for 5 minutes on the baking sheet, and then transfer to a cooling rack. 

Keeping: The raw dough will keep in the refrigerator for two days, (but let the dough come to room temperature before shaping into balls), and the freezer for 2 months. Baked, the cookies will stay fresh for 4 days at room temperature, and in the freezer for up to 2 months.
Notes
If you prefer and eggless cardamom cookies, substitute 2 tablespoons of yogurt for the 2 egg yolks, and the cookies come out perfectly.
I like to toast the cardamom pods over medium heat for a couple of minutes just until browning slightly, then grind in a spice grinder. The shell will naturally separate and you can discard. I use a small sieve to remove larger pieces of spice that don't break down and give them another whirl in the grinder. If you are using purchased cardamom, make sure it is still fresh and flavorful, as this spice is the queen of your cookie. IMPORTANT: if you are using freshly ground cardamom, use a scant 1/2 teaspoon; if using purchased ground cardamom, use the full 1/2 teaspoon.
This recipe doubles beautifully and you can freeze all or part of the dough, rolled in balls for quickly popping into the oven when a craving hits, or unexpected guests come to call. Or you can freeze in an airtight container (freezer bags) after baking.
I use raw pistachios for their bright green color, but if you can't find them, or prefer toasted pistachios, go for it. As you can see, I did not go to the trouble of skinning my pistachios but just pull off the loose and easily removed skins.
For the rose water used in this recipe, I like the Cortas rose water found in Indian and Middle Eastern shops or on Amazon.
Feel free to make these cookies daintier if you prefer.
Nutrition
Calories:
127
kcal
|
Carbohydrates:
13
g
|
Protein:
1
g
|
Fat:
8
g
|
Saturated Fat:
5
g
|
Cholesterol:
20
mg
|
Sodium:
68
mg
|
Potassium:
13
mg
|
Fiber:
1
g
|
Sugar:
5
g
|
Vitamin A:
235
IU
|
Calcium:
4
mg
|
Iron:
1
mg