Here is a carrot cupcake recipe that is light, moist, and spiced with the warming flavors of cinnamon, cardamom, and fennel. Perfect for any ending of a meal or a tempting afternoon snack.
Jump to:
Cake anyone?
Carrots and dessert have been popular since the middles ages. Louis XVI's chef, Antoine Beauvilliers, published a cookbook in 1814 that included "Gateau de Carottes." Infused with spices, moist from shreds of carrot, and gilded with a tangy cream cheese frosting, this carrot cupcake recipe is hard to beat. I've added three of my favorite spices: cardamom, fennel, and allspice to the mix for their floral, aromatic warmth, and a more Indianish twist. I think once you've made this version you won't go back to the usual recipe.
Cream cheese frosting is non-negotiable for me. It simply isn't a proper carrot cake without it. I've added some spicing ideas if you want and even more soulful frosting with cardamom, cloves, and a splash of rosewater. This is up to you and your mood on the day.
Make it your own
There is a lot of room for you to add your personal preferences. This is not an overly sweet cake, and you can steer your carrot cake in an even healthier direction by swapping out some of the all-purpose flour with white or regular whole wheat flour. And it is easy to make this cake vegan by swapping out the dairy cream cheese with cashew cream cheese. The blog Nora cooks has good instructions for you to make your own.
No creaming & just 2 bowls
The foundation for this recipe is from Bal Arneson's coconut carrot cake published on the Cooking Channel's website. I have changed up the spicing a bit, reduced the sugar, and played with some spices for the cream cheese frosting. I love the fact that there is no creaming of butter and sugar: just two bowls, one for the wet ingredients and the other for the dry. Yes, there is some grating required, but you can handle that. Get out that old-fashioned box grater of yours and use the side with the small holes. Please don't be tempted to buy pre-shredded carrots because they will not be shredded fine enough.
Versatile cake batter
If it would work better for you, you can make this cake in stages. Grate the carrots ahead of time and store them in an airtight container. The frosting can also be made a couple of days in advance and parked in the fridge. Let it come to room temperature and give it a good whisk before frosting the cupcakes.
Depending on my mood and the occasion, I bake this cake in a loaf pan for casual days, into cupcakes for sharing, or as a layer cake for parties. For an 8-inch two-layer cake, double the cupcake ingredients and quadruple the frosting. If you go all-in with the optional ingredients, you are going to have something close to a fruitcake. But that isn't a bad thing.
More to Come
Since I love cake in general, and carrot cake in particular, I am going to work on a gluten-free and sugar-free version. That way, I can indulge more often! I am looking at almond flour, maybe some coconut flour, and my favorite sugar substitute: whey low. Don't miss out on making these memorable spice carrot cupcakes. If you are looking for a delightfully spiced cup of chai see Alonna's Chai Recipe to go along with your cupcakes.
Happy cooking!
~ Alonna
PS If you want to make cookies with Indian spices, take a look at my cardamom spice cookies.
See the Notes below before you cook.
Recipe Card 📖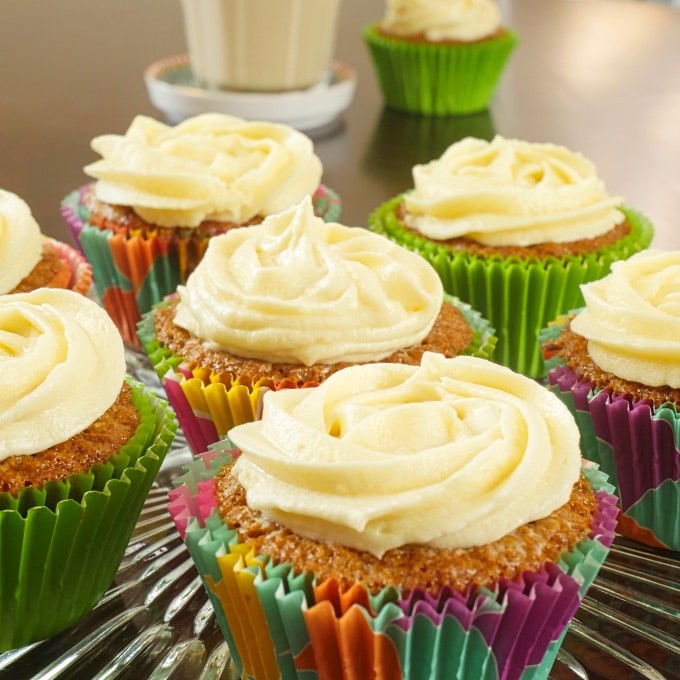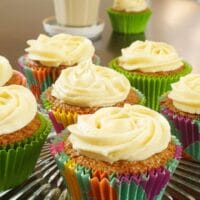 Indianish Carrot Cupcakes Recipe
Here is a carrot cupcake recipe that is light, moist, and spiced with the warming flavors of cinnamon, cardamom, and fennel. Perfect for any ending of a meal or a tempting afternoon snack.
Print
Pin
Comment
<!–– I removed icon="star-empty"from above and change Rate to Comment ––>
Ingrediants
Cake
butter or cooking spray

~ To grease the cupcake pan if not using papers

cup cake papers

~ If using

6

tablespoons

white sugar

1/2

cup

light brown sugar

2

large eggs

1/2

cup

grapeseed oil

~ Or coconut, avocado, canola oils

1

cup

all-purpose flour

~ See Notes about measuring the flour

1

teaspoons

baking powder

1/2

teaspoon

baking soda

1/2

teaspoon

ground cardamom

1/2

teaspoon

ground cinnamon

1/4

teaspoon

ground nutmeg

1/4

teaspoon

ground allspice

~ Optional

1/4

teaspoon

ground fennel

~ Optional

1/8

teaspoon

ground cloves

1/4

teaspoon

sea or table salt

~ Or 1/2 teaspoon Diamond Crystal kosher salt; about

1 1/2

cups

carrots

~ Finely grated

1/2

cup

shredded coconut

~ Optional

1/2

cup

raisins

~ Optional, mixed with 1 tablespoon flour

1/2

cup

crushed pineapple

~ Optional, drained well

1/2

cup

pecans

~ Optional; toasted, or walnuts
Cream Cheese Frosting ~ Double recipe if you like lots of frosting ~ See Notes below for optional spices
8

ounces

full fat brick style cream cheese

~ Bring to room temperature. See Notes below.

8

tablespoons

butter

~ 1/2 cup (1 stick); at room temperature

1 to 2

cups

icing sugar

~ Depending how sweet you like it

2

teaspoons

lemon juice

~ To taste, or 1 to 2 teaspoon vanilla
Instructions
Cupcakes
Butter your cupcake pan or and line with cupcake papers.

Preheat the oven to 350°F (180°C). 

If using nuts, toast them in a 350°F (180°C) oven for about 5 minutes, until golden and fragrant.


If using a stand mixer, using the whisk attachment, mix the eggs on low until combined. Add the sugar and turn speed to medium-high. Mix until the batter is smooth and pale. 

Sift together the flour, baking soda, cardamom, cinnamon, fennel, nutmeg, cloves, and salt and add to the egg and sugar mixture. Beat on medium-low just until it is  combined. 

Stir in the carrots (and coconut, raisins, and nuts if using) and spoon the batter into the cupcake pan. Don't overfill the cups; slightly over half full or 37 grams is perfect. You will have more than 12 cupcakes i

Bake until the cupcakes are firm to the touch and a toothpick inserted into the center comes out clean. About 12 to 15 minutes.

Let the cupcakes cool on a baking rack. Cool completely before frosting, about 45 minutes to 1 hour.
Cream Cheese Frosting ~ One Cup Frosting
Take the cream cheese and butter out of the refrigerator at least an hour before you want to frost the cake. This can even be done the night before. If you forgot this step, cut the cream cheese into 1-inch cubes and lay out on a microwave-safe plate. Heat in 10-second increments just until softened, not melted.

Gather your frosting ingredients.

Using a stand or hand mixer, mix the butter and cream cheese until light and fluffy; about 3 minutes on high speed.

Add icing sugar 1/2 cup at a time. Add the spices if using (see Notes below), salt, lemon juice, or rose water, or vanilla. Mix until combined. For ideas on how to thin or thicken your frosting see the Notes below.
Notes
If you prefer to make a two-layer cake 8-inch cake, double the cupcake recipe and use frosting measurements for 16 ounces of cream cheese, or 4 times the frosting recipe.
If you add in pineapple and/or nuts you will have another 4 or more cupcakes. Not to bad a problem I think.
Thin to medium carrots have the best flavor.
Measuring the flour: I encourage you to weigh your flour because this recipe works best with 142 grams of flour per cup. Sadly, one cup of flour is anywhere from 125 grams to 142 grams, depending on whose recipe you are using. If you fluff the flour, spoon the flour into a measuring cup, then level you get a cup that is approximately 130 grams, which too light for this recipe. If this is the way you measure your flour and you don't have a scale, you will want to add in 3 tablespoons of flour.
To hasten the cooling of the cupcakes before frosting, you can pop them in the refrigerator. Make sure the cupcakes are cool throughout, however, and not just on the surface.
For spiced cream cheese frosting add:

1/2 teaspoon ground cardamom
1/8 ground cloves
1/4 teaspoon sea or table salt
1/8 teaspoon rose water, optional
Make this recipe vegan by using cashew cream cheese. Head over to Nora Cooks and make her easy vegan cream cheese.
Frosting tips: a

dd more icing sugar if the frosting is too soft. If the icing is sweet enough and you still need to firm it up, use 1/2 a tablespoon, or at the most, 1 tablespoon of cornstarch. You can also pop it into the fridge for 20 minutes. And if the frosting is too thick add a splash of milk or cream
Nutrition
Calories:
256
kcal
|
Carbohydrates:
35
g
|
Protein:
1
g
|
Fat:
13
g
|
Saturated Fat:
3
g
|
Cholesterol:
10
mg
|
Sodium:
177
mg
|
Potassium:
75
mg
|
Fiber:
1
g
|
Sugar:
25
g
|
Vitamin A:
2790
IU
|
Vitamin C:
1
mg
|
Calcium:
35
mg
|
Iron:
1
mg
Your Private Notes