Soulful and endlessly comforting, Indian spaghetti bolognese will warm your nights. Make it with any ground meat or tofu of your choice and make it mild or spicy as you wish.
Weeknight Comfort!
There is nothing more comforting than a big bowl of pasta or noodles at the end of the day. This Indian twist on Italian spaghetti bolognese is one of those recipes you need to keep handy. Make a double recipe and freeze half of it for that next crazy busy day coming up.
Of course, bolognese is good to eat any time of the year, but as the weather becomes chilly, my cravings turn to pasta or noodles. This dish, originally from the city of Bologna, I am giving a heady veer towards India. Starting with my weeknight beef keema curry, and making it a little bit saucier with more tomato purée. You now have a quick, irresistible, and comforting meal. Indian-ish spaghetti bolognese goes well with spaghetti, but feel free to use your favorite pasta. Make it gluten-free with an alternative flour pasta, or serve it over a lovely bowl of plain rice.
Quick? Yes!
The preparation for this soulful main dish is quick enough for weeknight cooking. Since I am often trying to increase the vegetable part of a meal, I like to add cooked vegetables. Peas, sweet cubes of carrot, and finely chopped mushrooms are healthy ways to up your nutrition game. And streamline your cooking with tomato sauce or purée and ginger garlic paste that you've made or purchased. See the Notes below for ideas.
Versatile Indian Spaghetti Bolognese
Even though I am only feeding two people, I always double this recipe. The sauce freezes well, and it can also be used as an aromatic meat layer for shepherds pie. Or make yummy sandwiches as in Indian-ish sloppy joes. I've even been known to mix Indian spaghetti bolognese with leftover mashed potatoes and a bit of egg for a quick and easy "burger" or kebab.
I am getting hungry just thinking of all the possibilities. Use your imagination and get cooking!
Happy cooking!
~ Alonna
See the Notes below before you cook.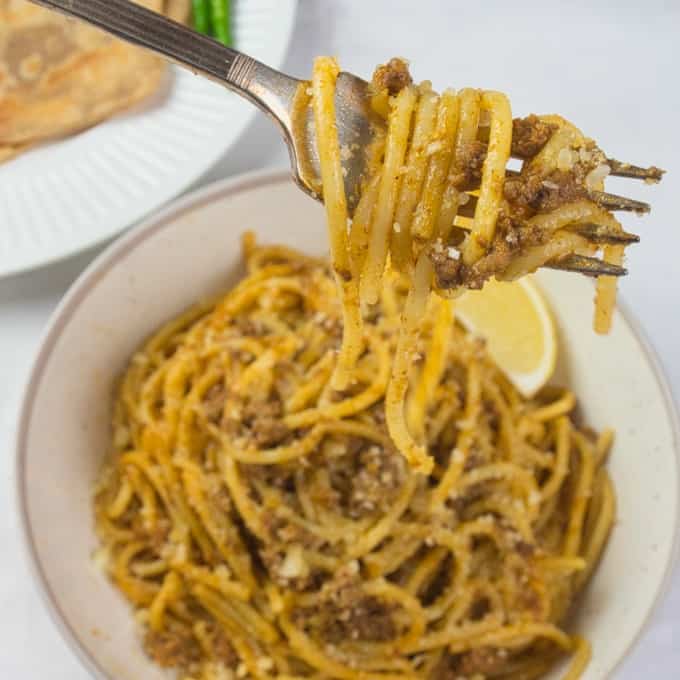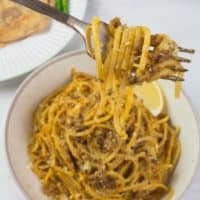 Indian Spaghetti Bolognese
Soulful and endlessly comforting, Indian spaghetti bolognese will warm your nights. Make it with any ground meat or tofu of your choice and make it mild or spicy as you wish.
Print
Pin
Comment
<!–– I removed icon="star-empty"from above and change Rate to Comment ––>
Ingrediants
1

pound

ground meat

~ I typically use beef, but see Notes below for other choices

1

pound

spaghetti

~ Or pasta of your choice

1

tablespoons

kosher salt

~ Or 1 1/2 teaspoons sea or table salt; substitutions

1

tablespoon

neutral oil

1/2

teaspoon

turmeric

1

cup

onion

~ Finely chopped

1

teaspoon

sea or table salt

~ Substitutions

2

tablespoons

ginger garlic paste

~ 50/50 ginger & garlic purée; make and about or buy

1/4

teaspoon

Kashmiri ground red chili

~ Or 1/8 teaspoon cayenne, more to your taste. Substitutions

1/2

teaspoon

ground cloves

1/2

teaspoon

ground cinnamon

1

teaspoon

ground coriander

1

cup

tomato purée or sauce

~ Or 3 plum tomatoes finely chopped; substitutions

1/2

cup

reserved pasta water
Garnishing Ideas
1/4 to 1/2

cup

parmesan

~ Or romano cheese, grated. Optional

2

tablespoons

cilantro

~ Chopped. Optional
Instructions
In a large pot over high heat, add at least 2 quarts of water and 1 tablespoon of kosher salt (or 1 1/2 teaspoons of sea or table salt), and bring to a boil. The salt will ensure your pasta is well flavored.

Meanwhile, In a medium pan over medium heat, add 1 1/2 teaspoons oil, When hot, add the ground beef (or extra-firm tofu crumbles). Sprinkle with the turmeric and mash the meat into crumbles and stir occasionally for about 7 to 9 minutes or until completely browned.  Remove the meat with a slotted spoon and discard any remaining fat.

Using the same pan, heat the remaining 1 1/2 teaspoons of oil over medium-high heat and add onion and 1 teaspoon of salt.  Cook until the onions are golden, about 8 minutes. Reduce heat if necessary to keep the onions from sticking, and/or add a tablespoon of water.

Add the ginger garlic paste to the onions and stir for 1 to 2 minutes until it no longer smells raw. Next, add the chili powder, cloves, cinnamon, and coriander. Stir, cooking the spices for another minute, then add the tomato sauce or minced tomatoes. Cover and simmer for 6 minutes if using the puree or sauce. If using fresh tomatoes, add another 5 minutes to the cooking time, or until the tomatoes are completely cooked.

When the water is boiling add your pasta, give it a good stir. Cook until al dente (while it still has some firmness) or to your preference.

Return the meat or tofu (or add cooked lentils) to the pan with the onions and tomato mixture. Cook for 7 more minutes stirring several times, continuing to break down the meat.

When the pasta is finished cooking, reserve a 1/2 cup of pasta water and add the pasta to the sauce. Cook together over medium heat, adding pasta water as needed so the sauce coats the pasta well. Simmer together for a few minutes so that the pasta is flavored with the sauce, adding cooking water as needed if the sauce is too dry. I also sometimes like to add about 1/4 cup of parmesan cheese for more flavor and richness. See Notes below about adding some additional dairy or coconut milk.
Notes
For a vegetarian version of Indian spaghetti bolognese, use roughly 14 ounces of extra-firm tofu or a 1 1/2 cups of cooked green or brown lentils (that hold their shape) instead of ground meat or poultry.
Skip the cheese for a vegan twist. If you are eating gluten-free, swap out the regular pasta for a gluten-free flour one or serve over rice.
To up the vegetable quotient, add cooked carrots, peas, or mushrooms when you return the meat or tofu to the onion and tomato mixture.
To streamline this recipe you can use a store-bought ginger garlic paste and canned tomato puree.

 

Feel free to use fresh tomatoes and make your own ginger garlic paste.
If you find the flavors of this sauce needs mellowing out or it needs some added richness, add some yogurt, coconut milk, or a little cream.
Nutrition
Calories:
757
kcal
|
Carbohydrates:
89
g
|
Protein:
37
g
|
Fat:
26
g
|
Saturated Fat:
10
g
|
Cholesterol:
85
mg
|
Sodium:
2513
mg
|
Potassium:
617
mg
|
Fiber:
4
g
|
Sugar:
5
g
|
Vitamin A:
62
IU
|
Vitamin C:
3
mg
|
Calcium:
127
mg
|
Iron:
4
mg