Every meal will be a celebration with a steaming bowl of fragrant, fluffy basmati rice on the side. I have easy instructions for both the stovetop or your Instant Pot.
Close yet Separate
"Perfectly cooked rice grains are like brothers, close, yet separate, and definitely not stuck together." – Indian proverb
I know that making rice is one of those tasks that can be frightening for some, but if you don't have a rice cooker, here are two foolproof ways of making fluffy basmati rice. First, what is basmati rice?
The Fragrant One
The word basmati translates to "the fragrant one." The most sought after basmati rice is grown in the foothills of the Himalayas and is aged for a minimum of two years. A type of long-grain rice, basmati has as an enticing nutty fragrance, and the aging process increases the flavor and aromas. Properly cooked, basmati rice grains are long, slender, and delicate; they should also be separate, light, and fluffy.
Each Region Has Its Own
Rice is one of those kitchen staples without which it is hard to imagine many Indian meals. Each region has locally grown rice that is a favorite everyday rice, and a more expensive rice for celebrations. Rice often gets cooked and served simply, with some dal and pickle, or it is ground and used to make sweets, crepes, idlis, and dumplings, or it roasted into flakes. Biryani rice is also famously served fancy in biryanis and pulaos. Indian cooks primarily cook with long grain rice, of which basmati is the most expensive. Costing 3 to 5 times more than regular long grain rice, biryani is often reserved for special occasions.
Recommendations
On a weekday I often throw basmati rice into a "baby" rice cooker that we got as a wedding present over thirty years ago. It only accommodates 1 cup of uncooked rice, and works like a charm, serving up rice for two people for several meals. If you cook rice frequently, you may want to consider a rice cooker. My top of the line pick would be the Zojirushi NS-ZCC10 5-1/2-Cup (Uncooked) Neuro Fuzzy Rice Cooker, and a great budget pick is the Hamilton Beach (37548) Rice Cooker, 7 Cups (Uncooked).
It is time to tackle this easy cooking project, and you too can serve up perfect fluffy basmati rice. If you want another easy rice dish with a few more flavorings, see my Indian lemon rice.
Happy cooking!
~ Alonna
See the Notes below before you cook.
Recipe Card 📖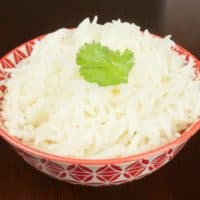 Fluffy Basmati Rice Two Ways
Every meal will be a celebration with a steaming bowl of fragrant, fluffy basmati rice on the side. I have easy instructions for both the stovetop or your Instant Pot.
Print
Pin
Comment
<!–– I removed icon="star-empty"from above and change Rate to Comment ––>
Ingrediants
1

cup

basmati rice

1/2

teaspoon

sea or table salt

~ 1 teaspoon kosher, substitutions

1 1/2

cup

water

~ 1 cup for the Instant Pot method

1

tablespoon

ghee

~ Or oil
Instructions
In a heavy-bottomed sauté pan, add the rice and pour enough water to cover the rice by about an inch. Rub the grains of rice gently between your fingers, removing the starch. Pour off the water and repeat 2 or 3 more times, or until the water runs relatively clear. Drain.
Stovetop Method ~ Cooking Time Above
Add the 1 1/2 cups of water, rice, and salt to a medium saucepan over medium-high heat and bring it to a hard boil. Turn the heat down to medium or whatever temperature you need to to keep the rice at a low boil cooking uncovered. Simmer until there are craters on the surface and the water has started to evaporate. About 5 to 9 minutes.

Stir, redistributing the rice throughout the pan, cover the pan with a tight-fitting lid, and reduce the heat to the lowest setting. Cook for 5 minutes, then turn off the heat.

Let the rice sit on the same burner without stirring for 10 minutes. This helps the rice finish cooking evenly. Stir through with some ghee if you wish.
Instant Pot Method ~ Cooking Time Follows
The time listed above is for the stovetop method. Instant Pot times are as follows: Prep: 5 mins; Pressuring Step: 10 minutes; High Pressure Cooking: 6 minutes; Natural Release: 10 minutes. Total time: 31 minutes.

Instead of 1 1/2 cups of water, you only need 1 cup for the Instant Pot method; otherwise the ingredients are the same. Measuring the water is important with this method, so drain the rice well after rinsing.

Add to the rice, 1 cup of water, and the rest of the ingredients to the Instant Pot; mix well. 

Turn the setting to High Pressure for 6 minutes and turn the pressure valve to the closed position. Natural Release for 10 minutes, then release any remaining pressure.
Making Rice Ahead
You would not want to make biryani or pulao ahead, but simple rice dishes can be successfully cooked ahead and reheated on the stovetop. Using a heavy-bottomed pan, and starting with 1 tablespoon of water, heat the rice over medium heat, stirring gently and frequently, until steam builds up. Cover the pan tightly and reduce the heat to the lowest setting. Let the rice steam until heated through; about 10 to 15 minutes.
Notes
For softer rice in the Instant Pot

, increase the liquid amount rather than cooking time, starting with 2 more tablespoons of water. If you add water in increments, you can find your sweet spot without going directly to the mushy stage.

If you've already cooked the rice in the Instant Pot 

and feel it needs more time, turn on the warm setting, put the lid on, and allow the rice to sit for another 10 minutes.

Always make more fluffy basmati rice than you think need for your current meal; especially when cooking plain rice, you can make flavored rice the next meal, or it freezes beautifully. Lovely fried rice with whatever leftovers you have in the fridge is also a great option. Oh, and add an egg to it!

For stovetop cooking, use a heavy pot with a tight-fitting lid

. If you have a loose-fitting lid, cover the pot with aluminum foil before covering with the lid.

I have found that with thorough rinsing, I can skip the soaking step

, though seasoned rice cooks will be appalled at the idea. Soaking rice for at least 15, ideally 30 minutes before cooking preserves the lovely aromas and ensures that your rice will be less likely to be mushy and stick together. This step is up to you!

Finally, 

be sure to

 

leave time to rest the rice

covered and undisturbed after it is finished cooking for at least 5 minutes for the stovetop method, and 10 minutes for Natural Release in the Instant Pot. This will ensure the rice is uniformly cooked through and fluff up. If you are having problems with sticky rice, after resting, leave the lid ajar and allow the steam to escape for another 15 to 20 minutes.
Nutrition
Calories:
202
kcal
|
Carbohydrates:
37
g
|
Protein:
3
g
|
Fat:
4
g
|
Saturated Fat:
2
g
|
Cholesterol:
10
mg
|
Sodium:
298
mg
|
Potassium:
53
mg
|
Fiber:
1
g
|
Sugar:
1
g
|
Calcium:
16
mg
|
Iron:
1
mg
Your Private Notes