Here is your easy, soft, and fluffy potato roll recipe that makes a perfect slider, hamburger, or pao bun. Sub out the egg for yogurt to go eggless!
Jump to:
Soft and fluffy
Both Indians and Americans are fans of soft, fluffy rolls. Americans often either use them as an accompaniment to dinner or as a burger or slider bun. Indians love them as a delivery system for pav or pao bhaji, a wildly popular street food. Pav or pao is the word for bread and bhaji is a rich and fragrant vegetable mash shot through with butter and spices.
Or another irresistible street food tucked into a bun is vada pav. The vada is often a spiced mixture of potatoes and lentils dipped into a batter and deep-fried. This snack is drizzled within an inch of its life with various sweet, spicy, and tangy chutneys served with green chilies on the side. If you want to make this treat, head over to Cook with Manali's vada pav recipe and see how it is done.
Let's talk potatoes
My mother, who was a nurse before raising her brood of seven, was a good cook. She made nothing fancy but fed us tasty, healthy food. And boy did she love to bake. She even did the whole "earth mother" thing and ground her wheat for the honey whole wheat bread she perfected.
And she was a proponent of using potatoes in yeast doughs. She was famous for her potato doughnuts which, in my husband's words, she made by the shopping bags full. Only 12 dozen, I say. But yes, they were so good.
Instead of the more and more popular Japanese tangzhong method of making incredibly soft and fluffy bread, try adding potatoes to your rolls. Besides the beautiful texture, the potato rolls will keep for days longer. However, if you want to know more about the tangzhong method, see The Perfect Loaf blog for a detailed explanation.
The basis for this recipe is from Jenni Field's great blog Pastry Chef Online. I love her detailed recipes and have followed her outline fairly closely, except that I didn't add the parmesan and garlic she included in her Thanksgiving dinner rolls. Adding potatoes to your bread dough is as easy as cooking some potatoes, mashing them, then mixing a half cup into your dough.
Equipment that helps
I normally try to stay away from special equipment, and this bread can be made without any. However, I highly recommend using the following three items for a more foolproof bread making experience. First, and especially when baking, I am most happy weighing my flour, so I recommend a scale. They are cheap.
Secondly, an instant-read thermometer is quite helpful to make sure your bread is done. You can spend a bit of money, but I use the reasonably priced Thermopop by Thermoworks (I am not being paid). An even cheaper option is the OXO digital thermometer that comes in under $20 at the time of this post.
And lastly, while it is possible to properly knead the very sticky dough by hand, it is much easier to use a stand mixer. If you want to go the hand kneading route for this potato roll recipe, head on over and watch Helen Rennie knead sticky dough.
Your turn!
There are few kitchen projects that are more rewarding than making homemade bread. Like every new process, you may need a bit of practice to make perfect, but this recipe is pretty foolproof, and the smell of baking bread is so comforting. And in the end, you will have better bread than what you can buy at a grocery store. I hope you give this potato roll recipe a go and let me know how it went!
Happy baking!
~Alonna
P.S. This potato roll recipe is perfect for my turkey burgers, Kerala chicken burgers, keema, homemade chorizo, and a curry meatball sandwich.
See the Notes below before you cook.
Recipe Card 📖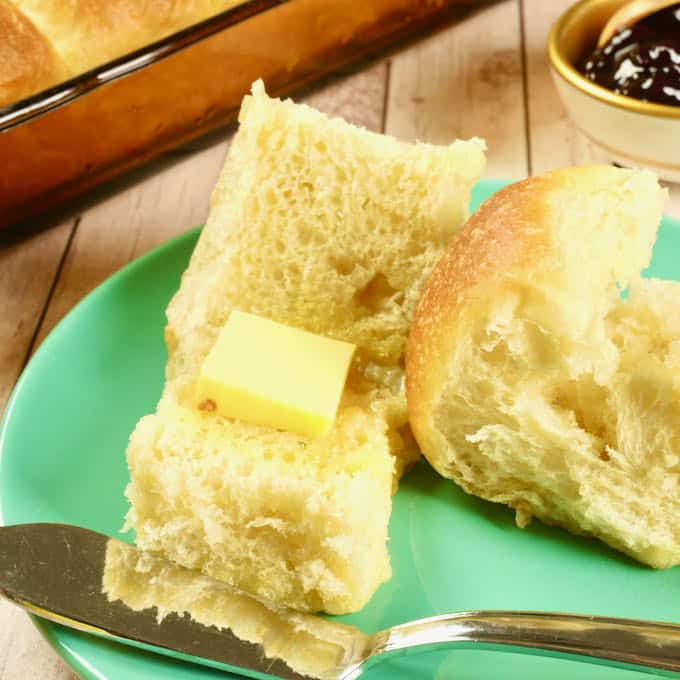 Homemade Potato Roll Recipe
Here is your easy, soft, and fluffy potato roll recipe that makes a perfect slider, hamburger, or pao bun. Sub out the egg for yogurt to go eggless!
Print
Pin
Comment
<!–– I removed icon="star-empty"from above and change Rate to Comment ––>
Equipment
Stand mixer

Thermometer

Scale

9" x 13" baking pan
Ingrediants
1

cup

mashed potato

~ 1 large russet (baking) potato

3/4

teaspoon

sea or table salt

~ Or 1 1/2 teaspoon Diamond Crystal Kosher salt

1/4

cup

olive oil

~ Or grapeseed, avocado oil; softened butter

1/2

tablespoon

granulated sugar

1/2

teaspoon

sea or table salt

~ Or 1 teaspoon Diamond Crystal Kosher salt

1

cup

whole milk

~ Or 2 %, or soy milk

1

large egg

~ Or 1/4 cup full-fat plain yogurt

1

pound

bread flour

~ Or 3 3/4 cups. All-purpose works too.

2 1/2

tablespoon

active dry yeast

~ Or instant yeast

1/4

cup

butter

~ Optional, melted to glaze prior to baking
Instructions
Mix up the dough
Peel and cut the potato into 3/4-inch pieces, place in a small pan with the 3/4 teaspoon of salt. Cover with cold water and bring to a boil over high heat. Turn the heat to simmer and cook uncovered for 15 to 20 minutes, or until the potatoes are soft. Drain, cover, and put back on the turned off burner to allow the potatoes to dry off for 5 minutes.

Mash the potatoes and measure out a 1/2 cup of firmly packed potatoes. If you love weighing things, this will be about 6 ounces. Place in your stand mixer fitted with the paddle attachment. Add in your oil, sugar, and salt and on low-speed mix until smooth .

Add in the egg, milk, flour, and yeast in this order. Switch to the dough hook and on low-speed until the dough is coming together.

Knead on medium speed for 10 minutes until the dough is stretchy, smooth, and it is cleaning off the sides of the bowl. The dough will be soft and some may stick to the bottom of the bowl, but that is okay.

Shape the dough into a ball and pour a teaspoon of oil over top. Turn to dough over so it and the sides of the bowl have a light coating of oil. Cover and place in a warm place for an hour or until it has doubled in size. If your kitchen is cold, put the dough in your unheated oven with the light on.

Turn the dough onto a lightly greased surface and gently press out the air bubbles. Using a scale or working by eye, divide the dough into 12 or 24 balls of dough. If using a scale weigh your dough and figure out grams. (My last test batch weighed 960 grams so each of the small rolls weighed 40 grams.)

Shape the dough into smooth balls by working in circles bringing the edges into the middle, either resting the dough in your hand or on the counter. When you have a pretty decent ball, cup your hand over the ball keeping the edges of your hand on the counter, and move in a small circular motion. This will create a smooth surface. If you would like to see a very short demo on shaping, head on over to King Arthur Flour.
Baking
Preheat the oven to 350°F (180°C). If using a butter glaze, melt the butter and gently brush the rolls so as not to deflate them.

Bake for 20 to 25 minutes until golden brown and they reach 195 to 200°F (100°C). If you find they are browning before being done inside, loosely cover them with foil.
Notes
Texture: To keep these rolls light and fluffy, use a bit of oil when shaping the dough rather than flour.
Make in two steps: If you want to break this potato roll recipe in half, pop the dough into the fridge overnight for the first rise. Bring it to room temperature and it if hasn't doubled in size allow it to rest, then continue with the recipe.
Keeping: These rolls freeze beautifully. Break them apart and store them in a freezer bag, squeezing out as much air as possible. They will keep well for two months.
Dairy-free, Vegetarian, and Vegan: Instead of a butter glaze, any non-dairy milk works, but soy milk is ideal. Recipe: 2 tablespoons of non-dairy milk mixed with 1 tablespoon of maple syrup.
Egg-free: Use 1/4 cup full-fat plain yogurt instead of the egg
Nutrition
Calories:
106
kcal
|
Carbohydrates:
16
g
|
Protein:
3
g
|
Fat:
3
g
|
Saturated Fat:
1
g
|
Cholesterol:
8
mg
|
Sodium:
129
mg
|
Potassium:
76
mg
|
Fiber:
1
g
|
Sugar:
1
g
|
Vitamin A:
26
IU
|
Vitamin C:
2
mg
|
Calcium:
16
mg
|
Iron:
1
mg
Your Private Notes