Spaghetti and meatballs Indian-style will change up your dinner routine. Vibrant with a few common spices, this is an exciting but comforting curry meatballs dinner.
Jump to:
Indo-Italian-American
According to the website Taste Atlas, spaghetti and meatballs is the third most popular Italian-American dish. I was curious whether this combination was actually eaten in Italy, according to Wikipedia, while Italian chefs and food writers like to make fun of our combination of long pasta and large meatballs, there are some very similar Italian dishes. So I guess we get the last laugh. Of course, Italians, like any other immigrant group, adapt their food to ingredients they find in the new country. And the size of the meatballs being one of those evolutions. Americans tend to eat a lot of meat, though that is changing. Speaking of evolutions, let's talk about curry meatballs.
Keema or ground meat
My Indian spaghetti bolognese has been such a popular recipe that I wanted to post another Indian-spiced Italian-American favorite. Wow, these meatballs have certainly made their trip around the world, and if I may say so, they are all the better for it. They are vibrant with a few common spices. And just different enough to be exciting, but familiar enough to hit all the comfort food notes. Curry meatballs can be made with any ground meat you prefer. I started with ground chicken, and my initial concern was that they would be dry.
Taking a page from my kebab recipe, I added finely minced onion, grated ginger and garlic, yogurt (or milk), and a dose of fresh herbs. All these additions keep these meatballs moist and tender. Feel free to use any ground meat you have on hand, or even a mix of meats would be great. I want to try these curry meatballs with ground lamb and use mint instead of cilantro. As usual, if you are one of those cilantro haters, feel free to use parsley instead.
Making meatballs
For this recipe, I decided to bake the meatballs rather than do a messy stovetop sauté. If you prefer the stovetop, the advantage you have is that the meatballs tend to stay rounder. In the oven, they flatten a bit, but I think what they lack in perfection they make up for in flavor. If you eat gluten-free, Trader Joe's carries rice-based panko crumbs that is an option here. In trying to find other gluten-free binding options, I also did a version using chickpea flour (besan). In testing both the toasted and untoasted besan, I found that the resulting meatball was dense and bready. So if you need a gluten-free binder and Trader Joe's is not an option for you, I recommend using day-old gluten-free bread.
Tomato sauce
If you are an Indian cook, I am pretty sure you would use fresh tomatoes. Our tomato season is pretty short so I've gone the prepared tomato route. Canned tomatoes have the advantage of being oh so convenient, but don't be tempted by diced tomatoes. They have an ingredient that prevents them from breaking down easily. Other than that, feel free to use the tomato base you feel most comfortable with. I started by using a favorite spaghetti or pasta sauce, Newman's Own, which worked great, but it wound up being quite thick and needed extra pasta cooking water to thin it out. My next trial was with crushed tomatoes that were the perfect backdrop to one of my favorite spice combos: coriander, cinnamon, cloves, and cumin.
If you want to play with spicing, instead of the coriander, cinnamon, and clove combination, you might start with a teaspoon of your favorite spice mix, adding more as needed. If you want to try your hand at making garam masala, I have three different recipes for you. Garam masala powder is most similar to what you buy in the store; more of a North Indian version. And I also have a Kerala and Goan garam masala that you can check out.
As always, have fun playing with your food.
Happy cooking!
~ Alonna
See the Notes below before you cook.
More Recipes You'll Enjoy
Recipe Card 📖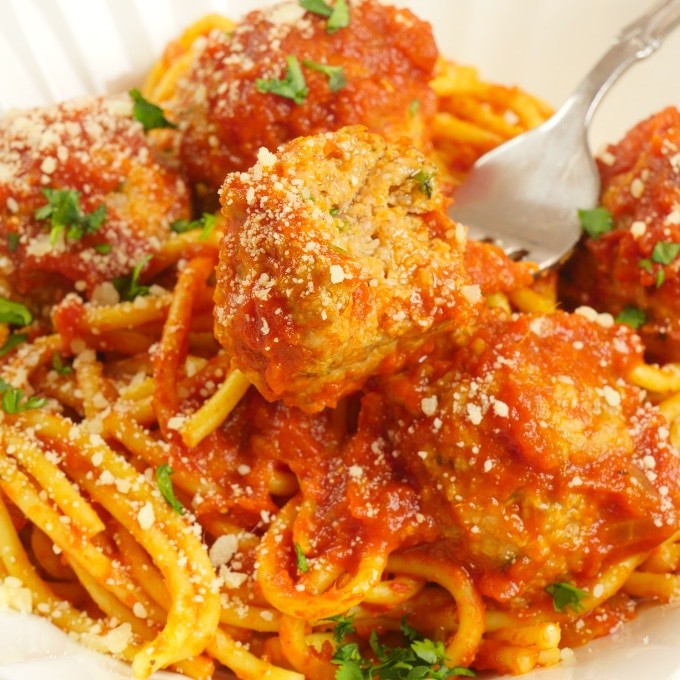 Spaghetti & Curry Meatballs
Spaghetti and meatballs Indian-style will change up your dinner routine. Vibrant with a few common spices, this is an exciting but comforting curry meatballs dinner.
Print
Pin
Comment
<!–– I removed icon="star-empty"from above and change Rate to Comment ––>
Servings:
6
(Or 4 hungry people)
Ingrediants
Spice Mix--Half for the meatballs and 1/2 for the sauce
2

teaspoons

ground coriander

1/2

teaspoon

ground cinnamon

1/4

teaspoon

ground cloves
Meatballs
1

pound

ground meat

~ Any meat you prefer, see Notes below

1

tablespoon

oil

~ For frying, and if using very lean poultry add another tablespoon into the mix

2/3

cup

panko crumbs

~ Or day-old crustless bread finely chopped or crumbled

1/4

cup

plain yogurt

~ Or milk, ricotta, kefir, or buttermilk

1/2

cup

onion

~ Finely chopped, another cup for the sauce

2

tablespoons

ginger garlic paste

~ 1 tablespoon each garlic and ginger grated or pureed. You will need 2 more tablespoons for the sauce

1/2

teaspoon

Kashmiri ground red chili

~ Or 1/4 cayenne, or to taste

1 1/2

teaspoons

spice mix from above

~ Half of it

1

teaspoon

sea or table salt

~ Or to taste, substitutions

1/8

teaspoon

ground black pepper

1

large egg

~ Or another 2 tablespoons of yogurt

1/4

cup

cilantro

~ Chopped, or mint with ground lamb
Sauce
1

28 ounce

can of crushed tomatoes

~ Or 2 15-ounce cans, see Notes below

1

cup

onion

~ Chopped

2

tablespoons

ginger garlic paste

~ 1 tablespoon each ginger and garlic grated or pureed

1 1/2

teaspoons

spice mix above

1/2

teaspoon

turmeric

1/2

teaspoon

Kashmiri ground red chili

~ Or 1/4 cayenne or to taste

sea or table salt

~ To taste

1 to 2

teaspoons

sugar

~ If needed

1 to 2

tablespoons

butter

~ Or whole cream, if needed

1/2

cup

reserved pasta water

~ As needed
Pasta
1

pound

spaghetti

~ Or pasta of your choice
Instructions
Gather your meatball ingredients and turn the oven to 425°F (220°C).
In a bowl large enough to hold all the ingredients, first thoroughly mix together everything except the ground meat. If using ground poultry I recommend adding 1 tablespoon oil. Then using a fork or your hands, mix in the meat until well combined.

(See note below if you want to cook on the stovetop.) Line a baking sheet with parchment paper or aluminum foil and evenly spread a tablespoon oil. Portion out the meatballs into 2-inch balls for 16 to 18 meatballs, or make 8 larger ones.
Sauce
In a medium saucepan or dutch oven, heat the oil over medium-high heat. Add the onion and a pinch of salt. Stirring frequently cook the onions to translucent, about 5 minutes. Turn the heat down to medium and stir in the ginger garlic paste. Sauté for a minute of 2 until it smells cooked.

Add the remaining 1 1/2 teaspoons of the spice mix, turmeric, cumin, and chili powder. Stir constantly until the spices are toasted. If they are sticking to the bottom of the pan, add a tablespoon of water. This step will take 2 to 3 minutes. Stir in the tomatoes and cook for 10 minutes on medium-low heat uncovered. The sauce will reduce a bit and the flavors will marry.
Pasta
While the sauce is cooking, heat the water for the pasta. Cook the pasta, drain, and reserve a 1/2 cup of pasta cooking water.
Final assembly
Using the reserved pasta water, thin your tomato sauce as needed. Taste the sauce for salt, sugar, and butter or cream. Depending on the tomatoes you used, you may or may not need additional sugar or salt. If you feel the sauce needs mellowing or enriching, add butter or whole cream. Yogurt would also be a good choice.

Mix the meatballs into your sauce and serve over pasta or polenta. This is a great make-ahead meal. The curry meatballs and the sauce keep in the refrigerator for up to 3 days, or in the freezer for up to 2 months.
Notes
Meat: It is worth mentioning that if you are using either ground turkey or chicken, your meatballs will be slightly softer and more tender.
Tomatoes: You need to start with about 3 cups of tomatoes:

Canned crushed tomatoes are my preference
Canned whole tomatoes chopped
I do NOT recommend diced tomatoes as they may have an ingredient to prevent them from breaking down.
Jarred pasta sauce, though this will be thicker and will need more pasta water to dilute it.
Fresh tomatoes, either regular if in season, or Italian Roma or plum tomatoes chopped.

Binder: I have played with chickpea flour as a binder but the meatballs came out quite dense. If you are needing a gluten-free solution, take your favorite gluten-free bread and allow it to dry out overnight, then crumble on chop to use instead of the panko crumbs. Trader Joe's has rice flour panko crumbs that are an option as well.
Instead of spaghetti: Polenta would be a perfect foundation for these meatballs and it has the advantage of being gluten-free. You can also cook up any gluten-free pasta you love.
Stovetop: If you want to keep all your cooking to the stovetop, simply sauté the meatballs in a frying pan.
Nutrition: Please note that the nutrition information is for the meatballs, sauce, and pasta for 6 people. Depending on the appetite of your diners and what else you are serving, these amounts for curry meatballs might be for 4 hungry people.
Nutrition
Calories:
546
kcal
|
Carbohydrates:
77
g
|
Protein:
29
g
|
Fat:
14
g
|
Saturated Fat:
4
g
|
Cholesterol:
90
mg
|
Sodium:
705
mg
|
Potassium:
823
mg
|
Fiber:
6
g
|
Sugar:
11
g
|
Vitamin A:
493
IU
|
Vitamin C:
17
mg
|
Calcium:
119
mg
|
Iron:
4
mg
Your Private Notes