Talking about Indian food as a whole in 1,000 words or less is next to impossible, but I will give it a go. The most important thing to keep in mind is that Indian food is influenced by the community, caste, religion, region, even by the cook's preferences. Try these links to my recipes for the top 20 most popular Indian dishes and download the free ebook.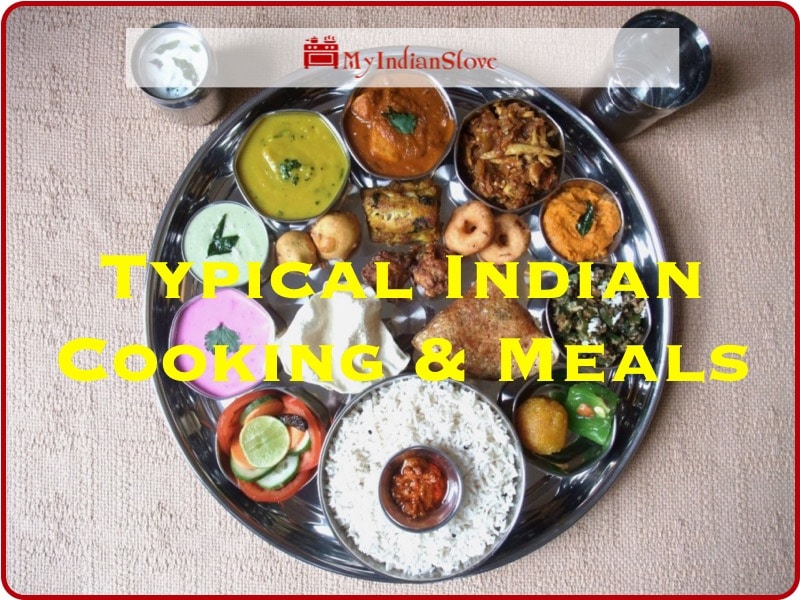 Jump to:
About Indian Food
India, one of the few places on earth, where eating vegetarian is not a burden. In Punjab, wildly varying textures, huge selections, thrilling blends of spices, and assertive, delicious flavors are always accompanied by wonderful, freshly-made bread.

Anthony Bourdain quoted in Vogue.
Dishes that Westerners call "curries" are simply called by the name of a dish in India, rather than rounding up all dishes with spices and describing them as a curry. I do use the term curry at times, for want of a better description.
Meat and vegetable dishes are separated into dry and wet gravies. Wet gravies are saucy made from tomatoes, yogurt, coconut milk, or water, Dry gravies are cooked down so when they are finished cooking the spiced sauce is just clinging to the protein or vegetable.
Whole spices are often left in a dish, and Indian diners neatly place them on the side of their plates. You, the cook can fish them out before serving, if you wish. Ashley from the great blog myheartbeets, has a post on how to handle whole spices when serving Indian food.
Indian food is often eaten with the hands. It is thought variously, that eating with your hands aids your digestion, helps prevent over-eating, there is a sensory pleasure to feeling your food, slows your pace, and it is fun. Try eating with your hands (ideally your right hand).
Is it a myth that a majority of Indians are vegetarian? The estimated percentage of Indians who are 100% vegetarian varies wildly. It somewhere between 20 to 30% according to the BBC's article called "The Myth of the Indian Vegetarian Nation." There is a lot of cultural and religious pressure to be vegetarian so accurate reporting is difficult.
Beloved Dishes Throughout India
Opinions about typical Indian food vary, certain essential dishes are loved throughout the country. Of course, each dish will be spiced with the blend popular in that region. 
Each region of India has a version of the following dishes:
Essential Side Dishes
Here are basic side dishes found in much of India. And each region has its particular variation that rounds out a meal:
Typical Menus
The core of a typical Indian dinner (or lunch) is rice, or a flatbread, and or a lentil stew (dal). There will also be a vegetarian stew, and if non-vegetarian, a meat, chicken, or seafood curry. A pickle (achar), papad (a thin round "chip" made from chickpea flour and spices), and chutney round out the meal.
Unlike in the West, Indian meals are not often served in courses. The exception to this would be for meals in Bengal or in restaurants catering to Westerners.
Indian meals are eaten with an eye to a mix of flavors: sweet, sour, bitter, salty, pungent, and heat from chilies, based on the principles of Ayurveda. Indian dishes are famous for a sophisticated balance of spices, creating crave-able food dominated by vegetables, with eggs and paneer (a fresh Indian cheese) making a frequent appearance. Meat, poultry, and seafood often play a minor role.
A thali is both an Indian meal and it also describes the round platter it is served on. Served for lunch or dinner, a thali is laden with lots of little dishes: rice, vegetarian or non-vegetarian curries, pickles, dals (lentils), yogurt, and possibly a sweet. Special delicacies are added based on the region and season.
North Indian thali: An example of North Indian thali would be a rich lentil stew (dal makhani), paneer curry, cumin (jeera) rice, raita, a roll, papad, and carrot halwa. Common non-veg additions would be a meat, chicken, or seafood dish.
South Indian thali: Traditionally served on banana leaves, popular dishes are rasam (a thin spicy soup), a vegetable cooked with coconut (poriyal/thoran), rice pudding (kheer), a chutney, sambar (a vegetable and lentil soup), and pickle.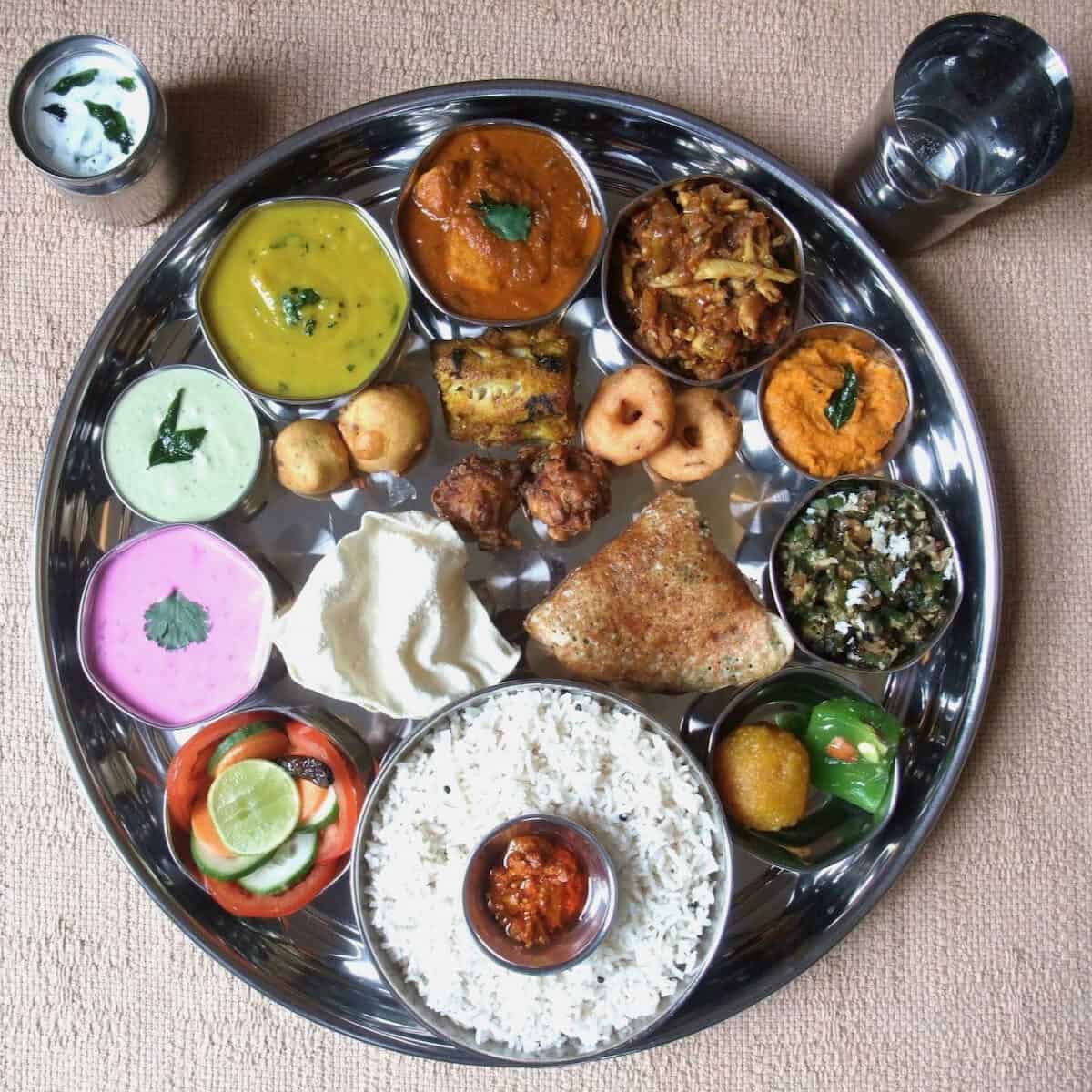 Other Articles about Indian Food