Welcome to the endlessly fascinating world of Indian food! As one of the most popular cuisines, India's food culture is routinely shortlisted as one of the world's best. There is a wide range of curries, rice dishes, meats, vegetables, and bread, all flavored with a beautifully balanced mix of traditional spices. See my Top 20 Most Popular Indian Dishes and download my free ebook for these recipes.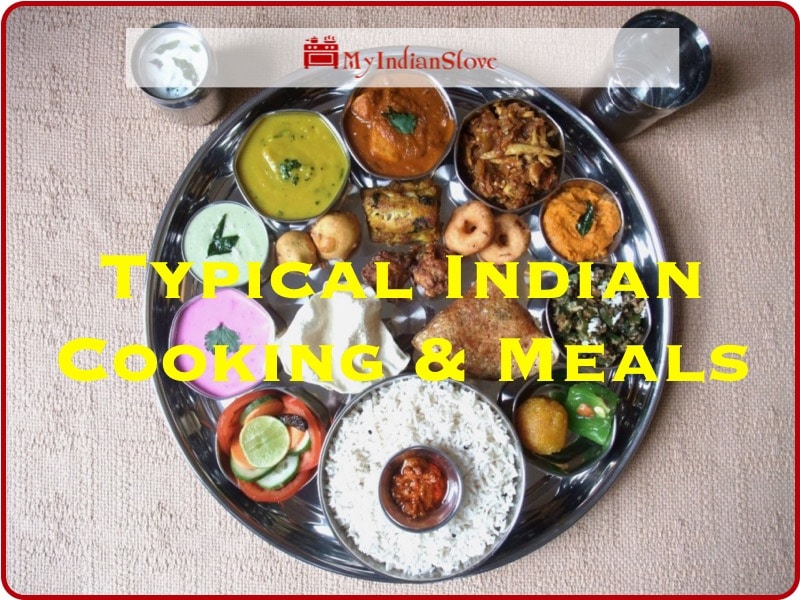 Jump to:
The Foods of India
It is impossible in this space to describe the breadth and depth of Indian cuisine. There are so many traditions and they vary, not just from one region to another, or even from one town to another, but from stove to stove. India has over a dozen languages, 29 states, 7 union territories, 12 regions, and 35 recognized cuisines. Besides all these influences fold in caste, ethnic background, religion, and other countries' food cultures—invited or otherwise—brings a varied, joyous mix of food.
Indian cooks are passionate about good food and are masters at balancing flavors. Much time and effort is spent in shopping and preparing tempting, healthy meals. And every cook has their go-to spice mix and favored ingredients.
India, one of the few places on earth, where eating vegetarian is not a burden. In Punjab, wildly varying textures, huge selections, thrilling blends of spices, and assertive, delicious flavors are always accompanied by wonderful, freshly-made bread.

Anthony Bourdain, Vogue Magazine
Some Basics
Dishes that Westerners call "curries" are called by dishes name in India, rather than rounding up all dishes with spices and describing them as a curry. However, I do use the term curry at times for want of a better description.
Meat and vegetable dishes are separated into dry and wet gravies. Wet gravies are saucy made from tomatoes, yogurt, coconut milk, or water. Dry gravies are cooked down so that when they are finished cooking, the spiced sauce is just clinging to the protein or vegetable.
If the curry is going to be eaten with rice, the gravy is left on the thinner side. Eating it with bread requires a thicker sauce.
Whole spices are often left in a dish, and Indian diners neatly place them on the side of their plates. You, the cook, can fish them out before serving if you wish. Ashley from the excellent blog myheartbeets has a post on serving dishes with whole spices.
Indian food is often eaten with the hands. It is thought variously that eating with your hands aids your digestion, helps prevent over-eating, is a sensory pleasure in feeling your food, slows your pace, and it is fun. Try eating with your hands (ideally your right hand).
Is it a myth that a majority of Indians are vegetarian? The estimated percentage of Indians who are 100% vegetarian varies wildly. It is somewhere between 20 to 30% according to the BBC's article called "The Myth of the Indian Vegetarian Nation." There is a lot of cultural and religious pressure to be vegetarian, so accurate reporting is difficult. And it is not unusual to have vegetarians and non-vegetarians in the same household.
Cooking Indian Cuisine
As I tell all my students, Indian cooking is all about interpretation. Each household in India will have their own recipe for the classics, and everyone will (and should) believe that their recipe is the best. I guarantee that if you go to ten different households in India, you will get ten different versions of this dish. And every one of them will be delicious in their own way. It's what makes cooking so much fun, and gets your creative juices flowing.

Michelle Peters-Jones of The Tiffin Box blog
The foundational ingredients of Indian cooking are rice, wheat flour, lentils, pulses, tomatoes, potatoes, onions, and dairy products. As a rule, the North Indian diet relies on wheat, and rice is king in the South.
Spices and their combinations are one of the magical aspects of this cuisine. Each region has its spice box (masala daba) with its favorite spices. There are significant overlaps in the spices used from area to area. These are the most common spices used in India: turmeric, cumin, coriander, cardamom, cloves, mustard seeds, fennel, fenugreek, saffron, star anise, and last but not least, all kinds of ground red chili pepper.
The aromatics used for many savory dishes are onion, garlic, and ginger; India's version of the French "mirepoix" or Lousiana's "holy trinity."
The term garam masala typically refers to the North Indian spice blend dependent on coriander, cumin, and cloves with smaller amounts of other spices. However, all regions of India have their favorite masala or blend. If you want to make the several versions from South India, make my Kerala garam masala, or Goan masala.
Global Influences
Foods and cooking methods have been added to the Indian repertoire, most notably by the Mughals, English, and Portuguese. Other influences come from countries bordering India: Pakistan, Nepal, China, and Bangladesh.
Just as cooks in other countries, Indians are cooking not only beloved family recipes but are also looking for new ideas and recipes.
Foods and cooking methods have been added to the Indian repertoire most notably by the Mughals, English, and Portuguese. Other influences come from countries bordering India: Pakistan, Nepal, China, and Bangladesh.
Just as cooks in other countries, Indians are cooking not only beloved family recipes but are also looking for new ideas and recipes. Inspiration comes from other regions of India, the West for baking ideas, to China for noodles, and to Italy for pizza and pasta. Ancient family recipes are also being streamlined to fit into a working family's lifestyle.
Of his polenta Yotam Ottolenghi says "it is wonderful in a very different way from my father's polenta, rich and generous and gratifyingly complex. It also offers another proof that rethinking and reinventing beloved dishes isn't an act of betrayal. There's always room for more than one version of a great thing."

Yotam Ottlenghi, The New York Times
The Flavors of India
According to an article published in the Washington Post in 2015, Indian food is so good because of "the way flavors rub up against each other." In the article titled "Scientists Figured Out What Makes Indian Food so Delicious," they reported on the scientific analysis of the chemical compounds found in Indian spices to explain what makes this cuisine so compelling.
Ayurvedic Influences & the Six Tastes
In addition to the eternal quest for flavor, most home cooks keep an eye on the healthfulness of the food they are serving to their family. India has a long tradition of vegetarian diets and the influence of the Ayurvedic system of medicine on cuisine. This prescribing of food is done to keep the body healthy. Indian cuisine is a Godsend to anyone vegetarian, vegan, or needs to avoid gluten or simple carbs.
Ayurveda is a tradition based on ancient writings that focuses on holistic physical and mental health. By these principles, it is recommended that each dish includes six elements of taste: bitter, heat, pungent, salty, sour, and sweet. Here are some of the foods that lend their flavors to these elements:
Bitter
Fenugreek (methi) in all forms is used in Indian cooking. The seeds are tempered and used whole or ground, the leaves are cooked fresh or from frozen, and the dried leaves (kasoori methi) are added to sauces to add another flavor dimension.
Bitter melon (karela), turmeric (haldi), Indian bay leaves (tej patta), and carom seeds (ajwain) all add various earthy, bitter notes which balance out other flavors and add a savory complexity to a dish.
Heat
India is the world's largest producer and consumer of chilies. The peppers used depends on what is grown locally. Heat is added to dishes, often using both fresh green, and dried red chilies.
Fresh Chilies
If Indian small green chilies are not available, use Serranos for moderate heat and green Thai chilies for a little more of a kick. Jalapeños also work as a last option.
Dried Chilies
Indian whole dried red peppers are toasted before using. If you don't have access to an Indian grocer and aren't inclined to buy groceries online, Kashmiri chiles, Mexican chiles de Arbol, and pasilla chiles are good substitutes.
Pungent
Brahmin and Jain sects use Asafoetida/asafetida (hing) as a replacement for the prohibited onion and garlic. It is also used in spice blends to add a pungent, savory element.
Fresh cilantro is often used to garnish savory dishes. This controversial herb (in the West) adds a fresh pungency to Indian food. Parsley can be substituted if one cannot abide cilantro.
Salty
Rock salt (sendha namak) is a Himalayan salt that can be white, pink, red, or blue. Mined in the Punjab region of Northern India, it has many trace minerals and is thought to have many healing properties.
Black salt (kala namak/sanchal) is rich in iron, and trace sulfates, thus lending its distinctive smell, which disappears after cooking. Black salt is used extensively in Ayurvedic medicine and in cooking. It is added to the street food chaat and to chutneys and snacks. Due to its sulfuric nature, it can be used in egg-free dishes to give a similar umami savoriness.
Sour
The souring agent Indian cooks use depends on what is available locally:
Amchur (amchur, amchoor) powder, made from dried green mangos, has the fragrance and flavor of a very sour green apple, and is used throughout India. It is often used in the popular spice blend chaat masala, which is sprinkled on celebrated street foods.
Anardana (darun khatta) from northwestern India is made by drying the flesh of pomegranate seeds (either whole or ground). It is used for flavoring samosas, chickpea stew (chole), and bread.
Bimbli is a tangy sour fruit shaped like a small cucumber and tastes like star fruit. Popular in the South Indian coastal state of Karnataka.
Kokum is a red berry related to the mangosteen. Used along India's west coast, especially in the Konkon region that stretches from Mumbai to Goa. It is used to add a bright berry tang to drinks, curries, and lentil dishes.
Lemon and limes (see Nimbu) are a part of the cuisine throughout India and are used interchangeably.
Mango, fresh green (hare aam) is used grated, pickled, and added to curries.
Nimbu is a small yellow-green lime whose spritz of tangy juice is used all over the continent to brighten any meal. It is less bitter than Mexican limes and less sour than lemons. Also used very widely in various thirst-quenching drinks.
Nimbu ka sat (Citric Acid) comes in powder form and is used when a bit of sour flavor is needed, but additional liquid is unwanted.
Pickles (achar) are a spicy condiment that Indian cuisine offers the world. Pickles using almost every conceivable fruit and vegetable are eaten with most meals.
Tamarind (imli) is from a tree with pods that have a sweet and sour pulp. The traditional way the pulp was preserved was to dry the pulp and seeds together and pressed into a rectangular brick that is then soaked before using. Today you can buy a concentrate that is quick and easy to use. I use the easy-to-find Indian Tamicon brand. Tamarind adds a tang to soups, gravies, lentil dishes, and chutneys. Here is a great read about all things tamarind paste or concentrate.
Tomatoes (tamatar) are used either as a purée, or chopped and used as the basis for many curries to give body, acid, and color to a dish.
Vinegar is an ingredient introduced by the Portuguese in Goa. While the Hindus of this region cook their curries with kokum, the Christians along the western coast use vinegar to add acid to their food. In addition, the Parsi's (originally from Persia) in Mumbai and Gujarat use vinegar made from cane.
For more detailed information about souring agents, see Michael Synder's article on India's souring agents.
Sweet
Jaggery (gur, bellam, chakkara) is the most popular sweetener in India, though white sugar is making its inroads. Made from cane, date, or toddy palm, the sugar is not separated from the molasses, so it has a moist, deep brown color. Jaggery is used in sweets, to balance curries, as medicine, and in dishes offered to the gods during Hindu ceremonies.
Beloved Dishes
Opinions about typical Indian food vary, but certain essential dishes are loved throughout the country. Of course, each dish will be spiced with the blend popular in that region.
Most regions has some version of the following dishes:
Typical Meals & Menus
Indian meals are composed with an eye to the six Ayurvedic elements. Dishes are famous for a sophisticated balance of spices, creating crave-able food dominated by vegetables, grains, pulses, eggs, and paneer (a fresh Indian cheese). Meat, poultry, and seafood often play a minor role, if at all.
Unlike in the West, Indian meals are not often served in courses. The exception to this would be for meals in West Bengal or restaurants catering to Westerners.
North & South Meals
One obvious way to talk about traditional dishes is to divide India into North and South. Here is a representative example of popular dishes in each region. Please note that the state of Maharashtra (Mumbai/Bombay is the largest city) is in central India, and I have arbitrarily included it in the North Indian category.
From the Mughals, North Indians learned to make rice pilaf and biryani, an elaborate dish of rice and meat. The Mughals refined cooking became palace cooking. And the dominant influence in the North. In the tropical South the food is hotter and seafood dominates the coastal diet. The treasured fruit of the coconut palm yields coconut milk for curries and coconut water for toddy, a fermented beverage. From North to South, India offers an endless varied feast befitting its varied geography and multicultural heritage.

Culinary Institute of America, Exploring Indian Cuisine (video)
Traditional Indian Breakfast Foods
North India
Akuri: Parsi-style spiced scrambled eggs
Bhature Chole: Deep-fried flatbread (Bhature) paired with a spicy chickpea dish (Chole).
Bengali luchi aloo dum: Deep-fried bread with a potato curry
Gobi ka paratha: The layered flatbread paratha, stuffed with cauliflower.
Masala omelet: Spicy eggs, onions, and tomatoes.
Paneer toasty: A grilled sandwich stuffed with paneer and chutney.
Poha: Parboiled, flattened rice seasoned with cumin, turmeric, and garnished with peanuts.
South India
Dishes based on a fermented batter made from rice, and lentils are very popular. This batter is used to make idlis, little steamed cakes, dosas, a crisp thin crepe, and uttapam, a thick pancake mixed with spices and vegetables.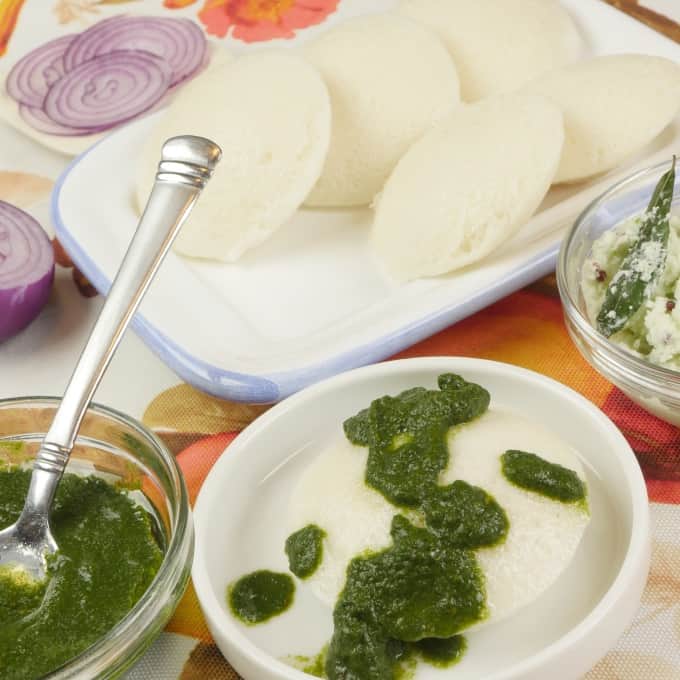 Other South India breakfast examples:
Appam: A fermented rice and coconut milk batter eaten with a vegetable or meat stew.
Bise Bele Bhath translates to "Hot Dal Rice." A spiced lentil, rice, mixed vegetable curry.
Lentil based medhu vada are doughnut-shaped fried dumplings
Upma: A thick porridge made from cream of wheat or ground semolina.
Pongal: Thick, spiced mixture of rice and lentils.
Puttu Kadala: A steamed rice or grain cylindrical cake coated with coconut shavings.
Lunch & Dinner
I have combined these two meals because most dishes are eaten either for lunch or dinner. The core of a typical Indian dinner (or lunch) is rice, or a flatbread, and a lentil stew (dal).
There will also be a vegetarian stew, and if non-vegetarian, a meat, chicken, or seafood curry. Pickle (achar), papad (a thin round "chip" made from chickpea flour, and chutney round out the meal.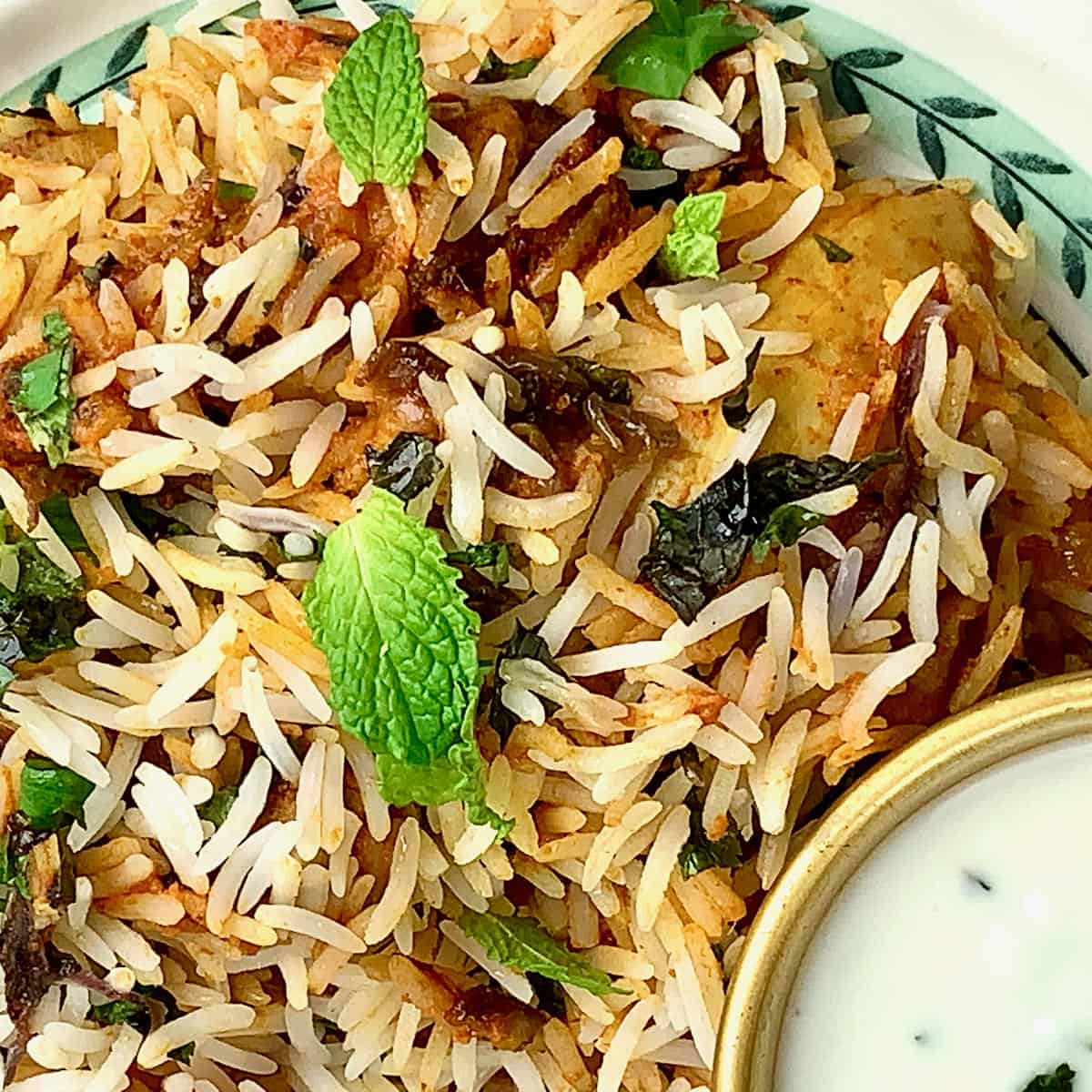 NORTH INDIA
If you aren't familiar with a thali, it's a way of eating Indian food. A large plate filled with several small bowls called katoris containing food is served together. Everything is compartmentalized like a bento. The type of food served is dictated by the region and religious holidays. For example, I grew up on the West coast of India and the thalis often contain coconut, meat, and seafood. In the North, where my dad's from, thalis served at his parent's home were vegetarian and rich in dairy. Of course, you can skip all the rules and make your own thalis with your favorite dishes.

Nik Sharma in This is A Cook-Letter
North Indian thali: An example of North Indian thali would be a rich lentil stew (dal makhani), paneer curry, cumin (jeera) rice, raita, a roll, papad, and carrot halwa. Common non-veg additions would be a meat, chicken, or seafood dish.
Biryani: According to the Travel Food Atlas, biryani is one of the best Indian dishes. It is a layered rice and meat or poultry dish (though sometimes vegetarian) that has its origins in North India. Still, it is made all over India using the favored spices and ingredients of the region.
Bombay sandwich: Is made with thin slices of tomatoes, potatoes, cucumbers, beets and moistened with green chutney.
Bombil fry (Bombay duck): A fish dish marinated, breaded, and shallow-fried.
Do pyaza (two onions): A chicken, mutton, or paneer curry made from caramelized onions and spices.
Korma or qorma: A dish of meat or vegetables braised with yogurt (dahi) or cream, water or stock, and spices to produce a thick sauce or gravy.
Laal Maas: A hot meat curry from Rajasthan
Macher jhol: A Bengali very spicy fish and potato curry in a creamy tomato sauce.
Mumbai frankie: Naan coated with egg, toasted, filled with mutton or chicken, and rolled.
Pav bhaji: A spiced mixture of mashed vegetables in a thick gravy served with a soft white wheat roll.
Rogan josh: A lamb curry with origins in Persia, thus a Mughlai-influenced dish of the North. Mutton is slow-cooked in spices and a rich gravy.
SOUTH INDIA
South Indian thali: Traditionally served on banana leaves, popular dishes are rasam (a thin spicy soup), a vegetable cooked with coconut (poriyal/thoran), rice pudding (kheer), a chutney, sambar (a vegetable and lentil soup), and pickle. (A thali description above.)
Appam: A fermented rice and coconut milk batter eaten with a vegetable or meat stew.
Biryani: (See above)
Chicken 65: A highly spiced fried chicken dish
Chicken or Mutton Chettinad: is a highly spiced dish flavored with freshly ground spices and fresh herbs.
Coconut lamb curry: A lamb cooked in a rich coconut milk sauce flavored with the warm spices of the South.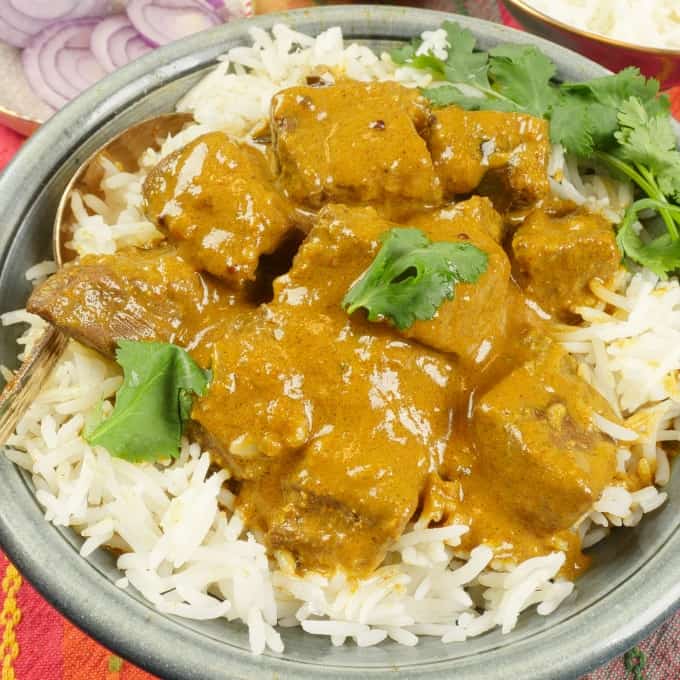 Goan Crab Masala: A crab dish cooked in a spicy curry of tomato, onion, and coconut.
Karimeen pollichathu: A spiced fish dish cooked wrapped in banana leaves and grilled.
Mappas: A Keralan creamy, coconut-based curry using meat, poultry, vegetables, or eggs.
Nadan Meen Curry: A fish curry from Kerala cooked in spiced coconut milk.
Sambar: A lentil and mix vegetable stew flavored with sambar powder, tamarind, herbs, and spices.
Vindaloo: Traditionally made with pork, but now often chicken, a spicy-sweet and sour curry. The red sauce has more than its share of dried red chilies, the spices of Goa, and is balanced with vinegar.
Essential Side Dishes
Here are some basic side dishes found on many Indian tables. And each region has its particular variation that rounds out a meal: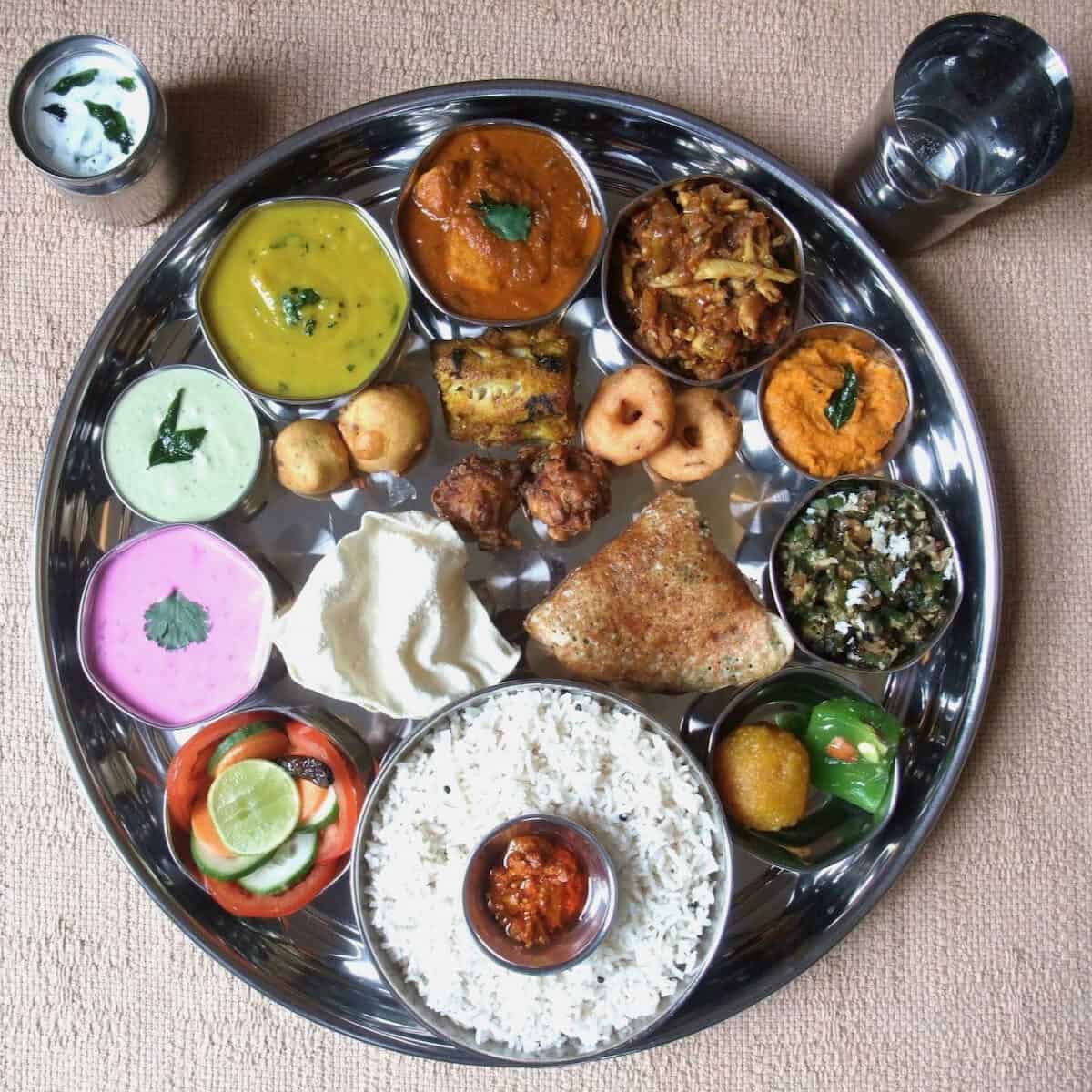 Home-cooked Indian food is healthy, balanced, comforting, and exquisite. The explosion of flavors from spices and herbs makes you forget about butter, cream, and even meat. Here are Mrs. Gupta's tips on Mamta's Kitchen for reducing calories in your cooking:
Reduce the amount of fat during cooking
Use only lean meat
Add vegetables to meat during cooking, so that less meat is eaten
Skim the fat off the top, after you have finished cooking
Visit my glossary of Indian food terms for translations you may need:
And if you want to shop online for Indian groceries see my guide to the best Indian grocery stores online.
Other Articles About Indian Food