Kerala garam masala is fragrant with fennel, star anise, and mace. Make your own spice mix and add that extra something to your cooking.
Jump to:
South vs. North Indian Masala
Kerala garam masala flavors dal, meat, and vegetable stews. And most famously, this spice combination infuses a black chickpea masala called kadala curry, and a fragrant chicken stew. Both are redolent with mustard seeds, coconut, and curry leaves.
Garam masala in India is what we non-Indians think of as curry. It is a blend of spices that changes from state to state and kitchen to kitchen. In their all-purpose spice mix, Keralan cooks use fennel seeds and nutmeg with accents of star anise and mace.
For non-Indians, the garam masala we are more familiar with comes from Northern India. It is built on coriander and cumin. Both masalas share cloves, black pepper, and cinnamon, all appreciated for their distinct flavor contributions.
Roasting Spices is Magical
What a joy to make your own spice blend! The smell of roasting spices is magical, and the flavor bump you get from the little bit of effort to make freshly ground masalas takes delicious dishes to the extraordinary.
If you don't have the time or inclination to make your own Kerala garam masala, the South Indian brands of Eastern or Aachi are worth hunting for. The more commonly found North Indian garam masala will give you a very good curry, but Kerala garam masala will infuse the essence of South India into your dishes.
Kerala Garam Masala
The following recipe is based on one posted by Neha Mathur on her great blog Whisk Affair.  As you become more comfortable cooking Indian food, I encourage you to experiment and develop your own spice masala.
Pull a little bit from here and there, then make your own favorite combination of spices. If you haven't tried my North Indian garam masala, that is a great all-purpose spice blend to try. Another South Indian spice blend to consider is my Goan garam masala. Have fun playing with your food!
Happy cooking!
~ Alonna
See the Notes below before you cook.
Here are some Dishes Popular in Kerala:
Recipe Card 📖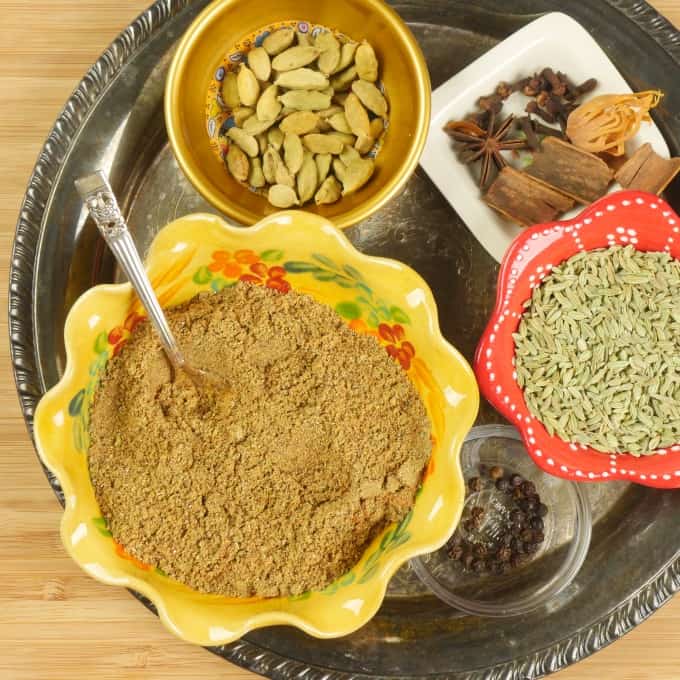 Kerala Garam Masala
Kerala garam masala is fragrant with fennel, star anise, and mace. Make your own spice mix and add that extra something to your cooking.
Print
Pin
Comment
<!–– I removed icon="star-empty"from above and change Rate to Comment ––>
Ingrediants
1/4

cup

whole fennel seeds

1 heaping

teaspoon

whole cloves

~ 30 cloves

1/2

teaspoon

whole black peppercorns

~ 30 peppercorns

6

1-inch

cinnamon stick

~ Broken into pieces

1

star anise

4

teaspoons

whole green cardamom pods

~ Or 2 teaspoons cardamom seeds

1

piece

whole mace

~ Or 1/2 teaspoon ground mace

1

whole nutmeg

~ Do not toast
Instructions
Using a mortar and pestle or a heavy pan, crush the nutmeg into pieces. With a spice grinder, grind the crushed nutmeg into a powder and set aside.

In a frying pan over medium-low heat, add all the other spices (EXCEPT the nutmeg and cardamom if your cardamom is not shelled) and toast for 2 to 3 minutes, or until you see the fennel turn a slightly darker shade and the spices become fragrant.

Remove the pan from the burner and allow the spices to cool.

If using whole cardamom pods, toast the same way you toasted the rest of the spices. Allow to cool. Using a spice grinder, give it a short whirl or two and most of the shells will open and be separated from the seeds. Or, if using a mortar and pestle, coarsely crush the cardamom pods. Pick out the seeds and discard the shells. Grind the seeds to a powder and add to the rest of the spices.
Notes
Be sure to buy good quality spices for Kerala garam masala.
When toasting the spices, use medium-low heat so as allow the essential oils from the spices to be activated before they get too brown.
Nutrition
Calories:
9
kcal
|
Carbohydrates:
2
g
|
Protein:
1
g
|
Fat:
1
g
|
Saturated Fat:
1
g
|
Sodium:
1
mg
|
Fiber:
1
g
|
Sugar:
1
g
|
Calcium:
15
mg
|
Iron:
1
mg
Your Private Notes