A deeply satisfying biryani masala with layers of flavor. Transform a good biryani into a heady and complex dish that will be an unforgettable star of the party.
With this aromatic biryani spice powder, you will have rich and complex biryani. Wow your friends and family by spending a little extra time and effort to bring a memorable celebration dish to the table.
Use this biryani masala powder in my Easy Chicken Biryani or Spicy Chicken 65 Biryani recipes.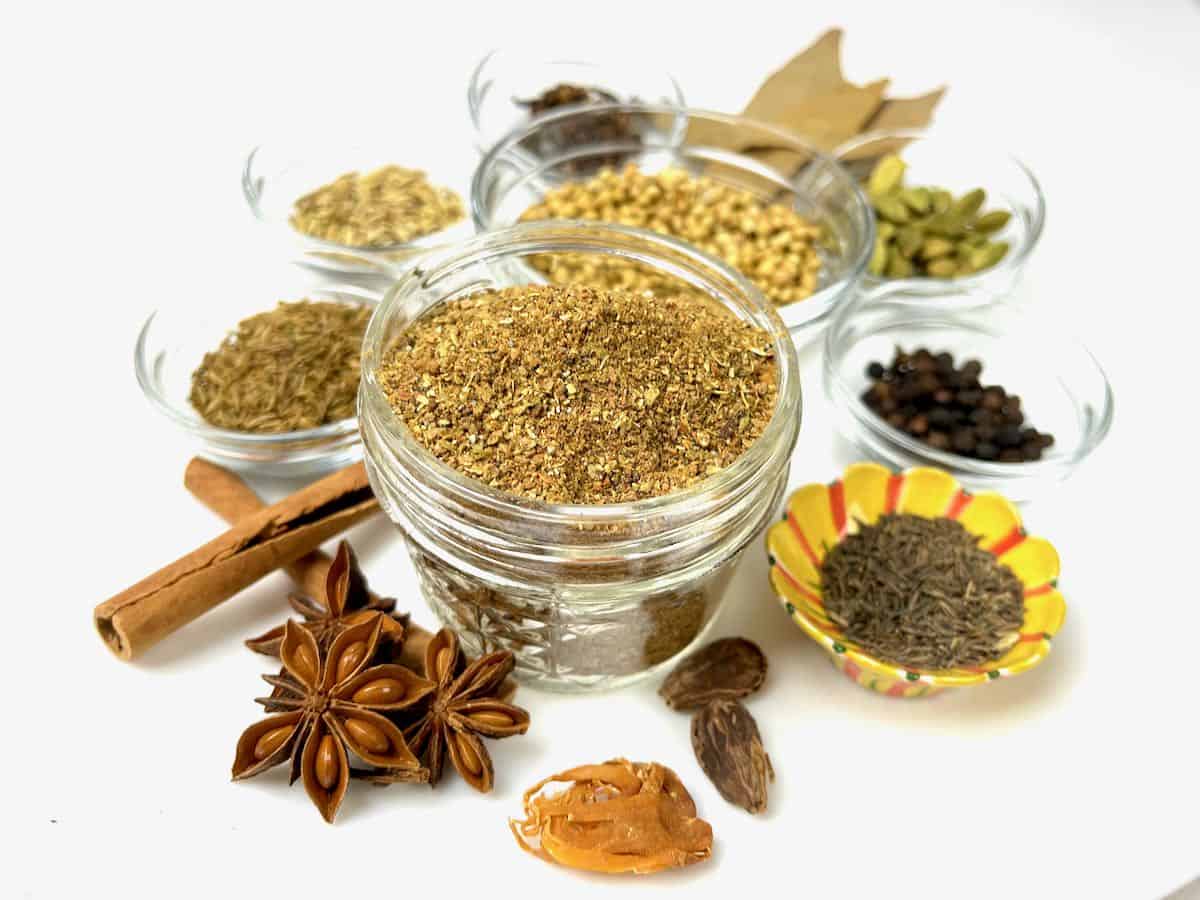 Jump to:
Why Make a Homemade Spice Mix for Biryanis
Biryani is one of my favorite Indian dishes to make. The first time I made biryani with this homemade biryani masala powder, my husband said that he thought it was the best Indian food he had ever had. Well, that is certainly saying something because he has been eating Indian food for a very long time.
The bones of the recipe were modeled after a recipe from Tarla Dalal. I've made some tweaks to the ingredients to my taste. This includes not adding any whole dried chilies so that I can manage the heat level when making each biryani.
Biryani masala powder is easy to make so take care in using good quality whole spices and carefully toasting them. If you don't make biryani often, you may want to halve the recipe. You want enough for storing at room temperature for three months at room temperature, in the freezer, or vacuum-packed for up to six months.
What I Love About this Recipe
The freshly ground masala will transform your biryanis
You can tweak your spice mix to your taste
It is perfect for any kind of biryani you want to make
There are no preservatives
The Ingredients
Biryani masala is made with whole spices, some of which are toasted and several that are not.
Whole Spices to Toast: Coriander, cumin seeds, shahi cumin (black cumin or more regular cumin), black peppercorns, cinnamon sticks, fennel, cloves, star anises, and green and black cardamom.
Spices that don't need toasting: Mace, Indian bay leaves (tej patta), and nutmeg.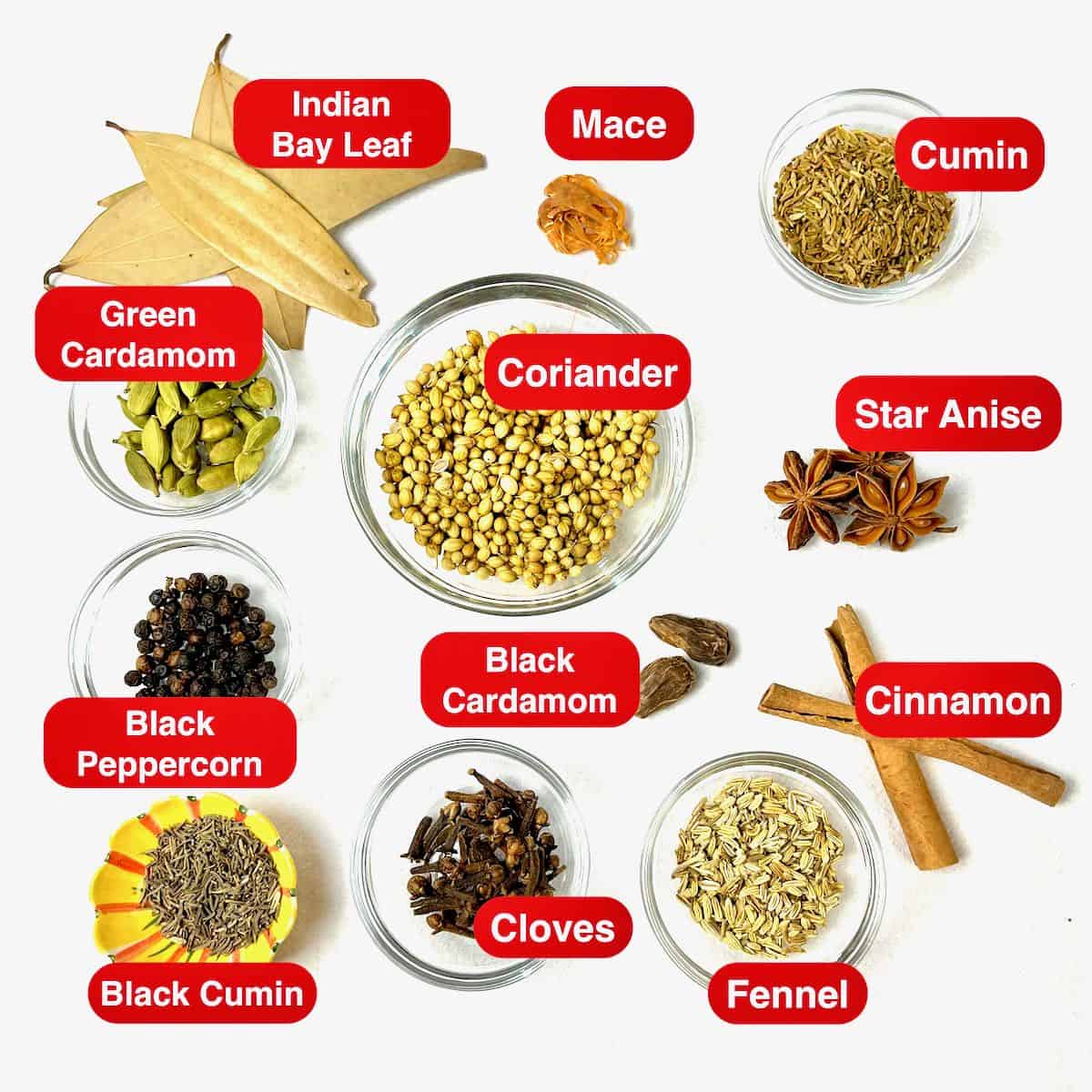 How to Make Biryani Masala
In a heavy-bottomed skillet over medium-low heat, toast your whole spices until they are fragrant. This will take about 2 minutes.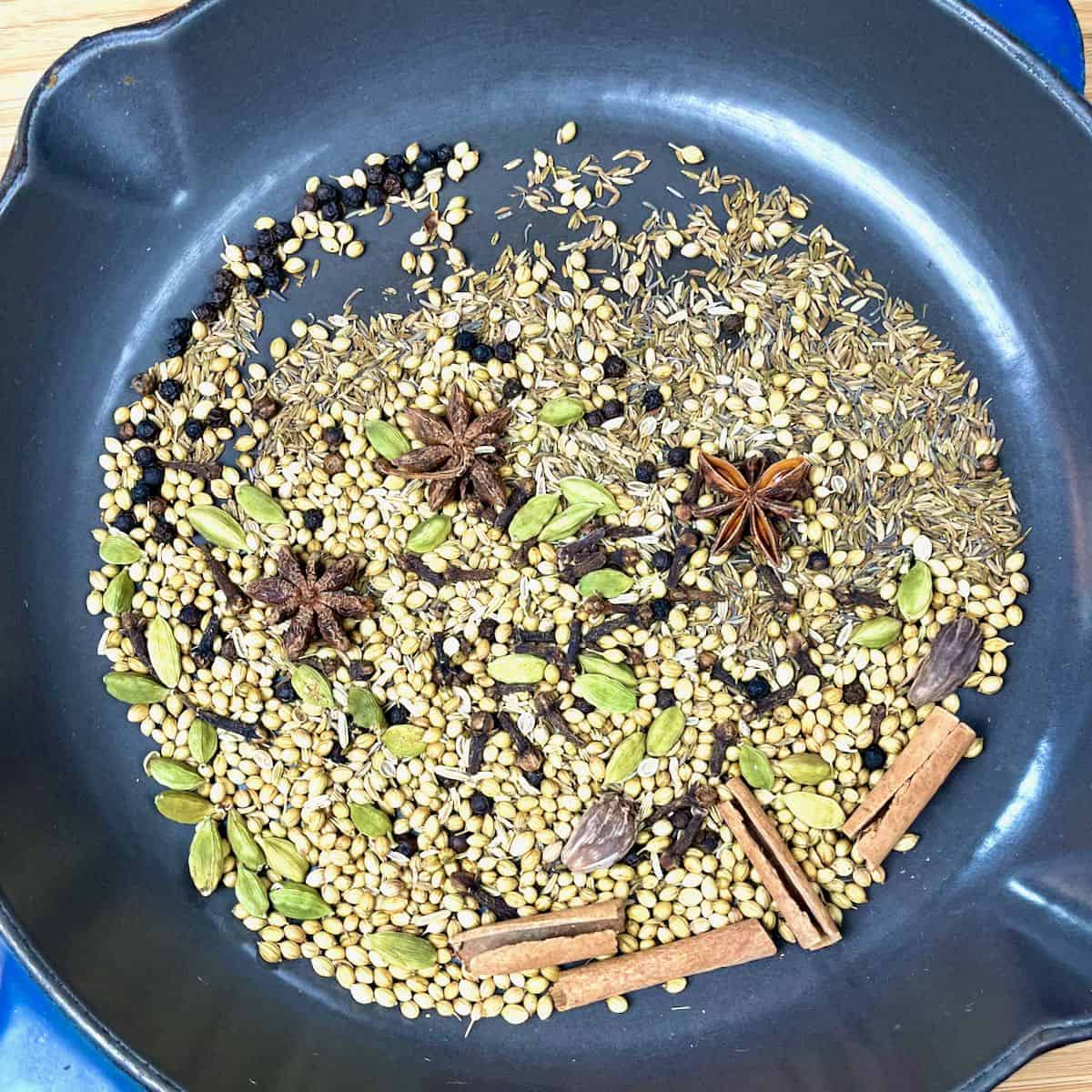 Allow the spices to cool for 10 minutes, then grind to a powder in a spice grinder.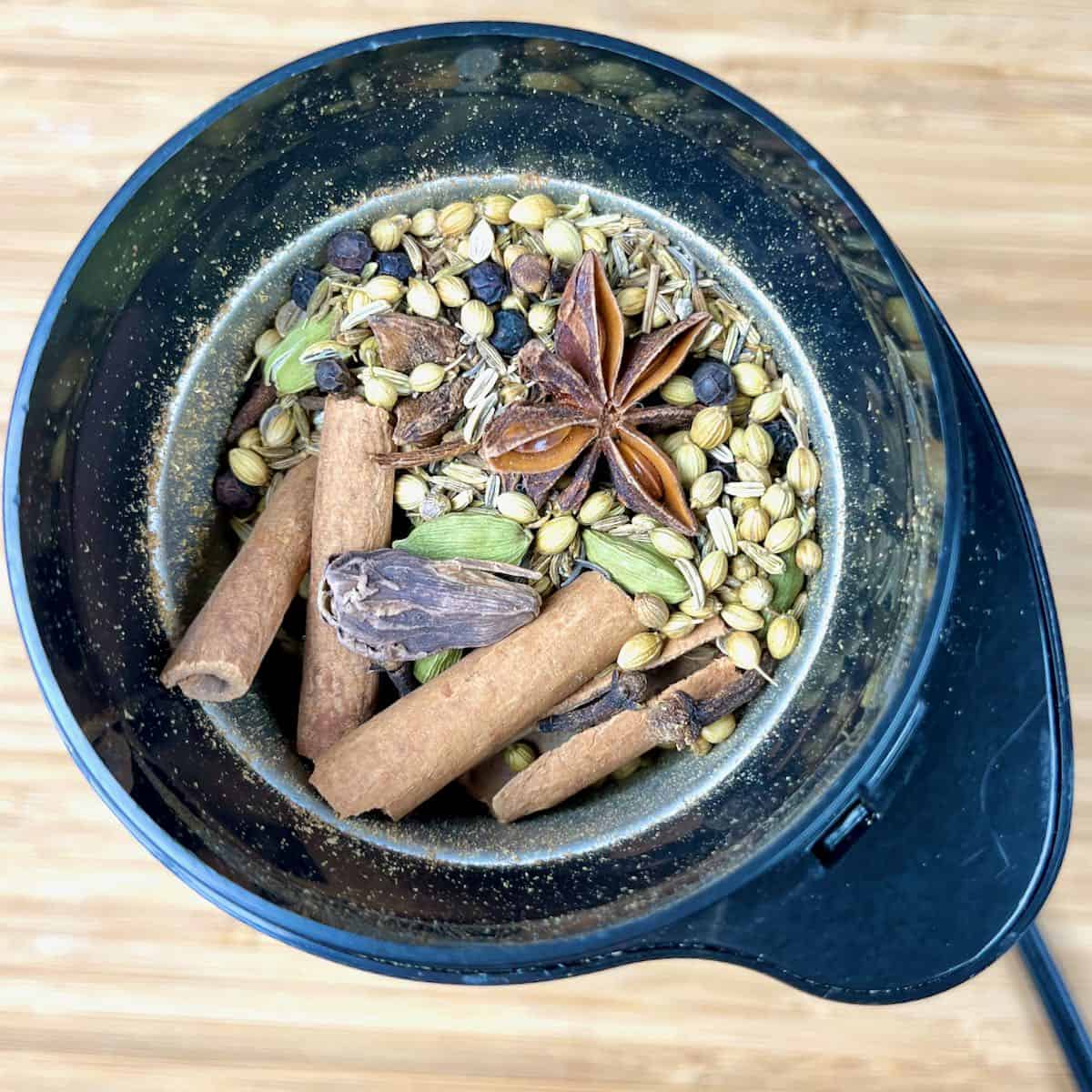 Tips on How (and Why) to Toast Spices
Dry roasting spices remove moisture, making grinding them into a fine powder easier. It also lengthens their shelf life.
Use an inexpensive coffee grinder dedicated to grinding spices. Right now, I am using a $20 Cuisinart model that works well. If a mortar and pestle is your jam, certainly use it.
Toast whole spices over medium heat for one to two minutes or until they are fragrant. Stir frequently so that the spices toast evenly.
Cool the toasted spices before grinding, which keeps them from clumping or spoiling.
Frequently Asked Questions
How to tweak the spicing if using lamb vs chicken?
Add a teaspoon of ground pomegranate seed (anardana) or mango powder (amchur) to help tenderize the meat.
What is shahi jeera and is it the same as caraway seeds?
No! Shahi jeera is also called kala jeera or black cumin. It is mistakenly called caraway in English, but these spices are not related, nor do they make good substitutes for each other. Use more cumin if you can't find shahi jeera.
What is the best substitute for biryani masala powder?
A good quality garam masala is a decent substitute, but it won't give you the same savory depth of flavor.
Is it a good idea to make a big batch of freshly ground spices and store them in the freezer?
The jury seems to be out on this question. I have seen advice against storing ground spices in the freezer because the humidity can spoil the mix. However, most sources say yes, for up to six months in an airtight container, or ideally, vacuum packed.
Using Biryani Masala vs Garam Masala
These two spice mixes are similar and mostly use the same spices but in different proportions. Biryani masala is a bit more savory and robust in flavor with the smoky undertones of black cardamom and shahi jeera (black cumin). Garam masala is fragrant from the warming spices of cinnamon, cardamom, and cloves.
Garam masala and biryani masala can be used in place of each other in savory dishes. Garam masala is often used in Indian cooking, but also it adds pizzaz to continental dishes. Try swapping in biryani masala instead of garam masala to flavor vegetables, soups, egg salad, as a spice rub for meat or chicken, etc.
And I am not a snob about shortcuts because there are times you need to buy spices for a biryani. Brands of biryani powder to look for are Shan Biryani Masala, Pride of India, and Eastern biryani masalas.
The Best Way to Store Ground Spices
Store biryani masala in an airtight glass jar away from heat and light. They will stay fresh for up to three months. You can tell if they will no longer add flavor to a dish if the spices no longer have much of a scent.
If you want to extend the shelf life of your spices you can vacuum pack them in a jar or mylar bag. Or in an airtight glass jar and store in the freezer. These methods of storage will keep the spices fresh for up to 6 months.
For more information on storing spices see The Kitchn's detailed tips.
Some Other Spice Mixes You Will Love
Did you try this recipe? I'd love to hear about it! Please rate by clicking stars ⭐️ on the recipe card and/or let me know in the comments below. Thank you! ~Alonna
Recipe Card 📖
Biryani Masala Powder
A deeply satisfying biryani masala with layers of flavor. Transform a good biryani into a heady and complex dish that will be an unforgettable star of the party.
Print
Pin
Comment
<!–– I removed icon="star-empty"from above and change Rate to Comment ––>
Servings:
8
to 10 biryanis
Ingrediants
Whole Spices to be Toasted
3

tablespoons

coriander seeds

1

tablespoon

green cardamom

~ 20 pods

2

black cardamom

1 1/2

teaspoons

black peppercorns

2

cinnamon sticks

~ 6-inches

1 1/2

teaspoons

whole cloves

2

teaspoons

fennel seeds

1

tablespoon

cumin

1 1/2

teaspoons

black cumin (shahi jeera)

~ Or more cumin. See Notes below.

3

star anise
Whole Spices Not Toasted
1

whole nutmeg

1

whole mace

4

Indian bay leaves (tej patta)

~ Skip rather than use regular bay leaves
Instructions
Toast the Whole Spices
Heat a heavy-bottomed skillet over medium heat. When the pan is hot, toast the whole spices until they are fragrant, stirring them frequently, so they toast evenly. This takes about 2 minutes. Immediately pour the spice into a spice grinder and allow them to cool for 10 minutes.

While the spices are cooling, grind the mace, Indian bay leaves, and mace into a fine powder. Then grind the cooled spices and stir all the spices together.

You will have a generous 1/2 cup of biryani masala powder or enough for eight to ten biryanis. The masala will keep for up to 3 months in a tightly sealed container away from heat and light. Or tightly packaged in the freezer for up to six months.
Notes
Shahi jeera is also called black cumin or kala jeera. It is not the same as caraway seeds which are not a good substitute.
Nutrition
Calories:
22
kcal
|
Carbohydrates:
4
g
|
Protein:
1
g
|
Fat:
1
g
|
Saturated Fat:
0.1
g
|
Polyunsaturated Fat:
0.1
g
|
Monounsaturated Fat:
0.5
g
|
Sodium:
4
mg
|
Potassium:
83
mg
|
Fiber:
2
g
|
Sugar:
0.1
g
|
Vitamin A:
20
IU
|
Vitamin C:
1
mg
|
Calcium:
48
mg
|
Iron:
1
mg
Your Private Notes