Fragrant with the flavors of Goa highlighting coriander and the heat from red chilies and black pepper, this just may become your favorite "curry powder." 
Oh masalas
Garam masala is simply a mix of spices that varies from Indian state to state and kitchen to kitchen based on favorite family recipes, background, religion, and even the dish you are cooking. Two of the most popular meat and fish recipes, xacuti and recheado, each have a specific spice mix. But the following formula is an all-purpose Goan masala that blends the favored spices of Goa and is perfect for flavoring proteins, vegetables, and legume dishes. In Goa, sambhar powder and garam masala are interchangeable terms.
I do have two other garam masalas on this website. One that is a mix of spices typically found in Northern India that I posted as garam masala powder. This spice combination is similar to one found when you buy a garam masala off the shelf. And I have a Kerala masala powder. The differences between the North Indian blend and Kerala, I described here:
"Keralan cooks use fennel seeds and nutmeg with accents of star anise and mace. For non-Indians, the garam masala we are more familiar with comes from Northern India, and the flavor builds on coriander and cumin. Both masalas share cloves, black pepper, and cinnamon, all appreciated for their distinct flavor contributions."
To chili or not to chili
So, how is the Goan spice combination different? It very similar to the Kerala garam masala as the two west coast states aren't so far apart. They use a very similar list of ingredients, except Goan cooks relegate fennel seeds and cardamom to a much more supporting role.
The Goan masala mostly relies on coriander, dried red chilies, black peppercorns, fennel, and star anise, along with small amounts of cinnamon, nutmeg, cardamom, and mace for their unique blend of flavors.
Many regional spice mixes do not usually include chilies, allowing the cook to add chilies as they wish depending on what they are cooking. But Goan cooks and eaters love their chilies.
What is authentic?
When researching this Goan masala, I came across an "authentic garam masala," which doesn't tell you much. I've come to distrust the word authentic, as food is dependent on so many factors: place, availability, family traditions, religion, and personal taste. So, let's not worry too much about authenticity. Feel free to use the following blend of spices to flavor not only Goan recipes your everyday Indian or Non-Indian cooking. I am thinking of egg salad sandwiches, roasted potatoes, turkey burgers, or any recipe that calls for garam masala (or just needs a hit of flavor). Goan garam masala could be your "authentic" house "curry powder." As always, have fun playing with your food!
Happy cooking!
~ Alonna
See the Notes below before you cook.
Here are some recipes are popular in Goa: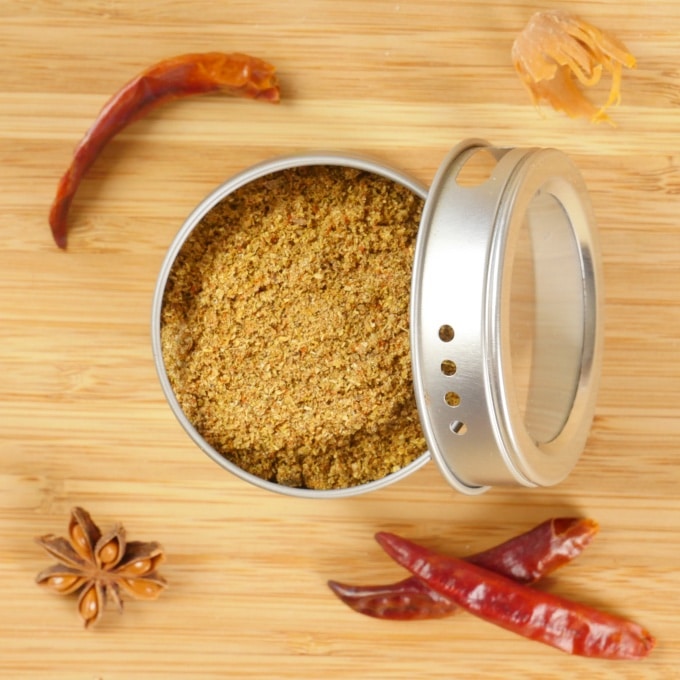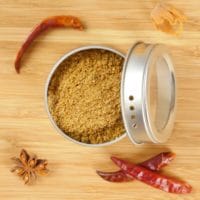 Goan garam masala
Fragrant with the flavors of Goa highlighting coriander and the heat from red chilies and black pepper, this just may become your favorite "curry powder." 
Print
Pin
Comment
<!–– I removed icon="star-empty"from above and change Rate to Comment ––>
Ingrediants
1/4

cup

whole coriander seeds

6

dry red Kashmiri chilies

~ More to taste, these chilies, see Notes below

1 1/2

teaspoon

whole black peppercorns

1 1/2

teaspoon

fennel seeds

2

star anise

3/4

teaspoon

cloves

1/2

teaspoon

cumin seeds

3

green cardamon

1

2 1/2-inches cinnamon stick

1/4

whole nutmeg

~ Or 1 teaspoon ground nutmeg

1

whole mace

~ Optional, or 1/2 teaspoon ground mace

1

teaspoon

white poppyseeds

~ Optional
Notes
After you become familiar with this Goan garam masala's flavor profile and feel adventurous, you could add mustard seeds (2 teaspoons) and black cardamom (seeds of two pods).
Kashmiri dried red chilies are not very hot, but if you are concerned about the heat level, break open the chilies and shake out the seeds.
Nutrition
Calories:
12
kcal
|
Carbohydrates:
2
g
|
Protein:
1
g
|
Fat:
1
g
|
Saturated Fat:
1
g
|
Sodium:
2
mg
|
Potassium:
46
mg
|
Fiber:
1
g
|
Sugar:
1
g
|
Vitamin C:
1
mg
|
Calcium:
24
mg
|
Iron:
1
mg