Goan pork vindaloo is an intriguingly fragrant curry, warmed by cardamom, cinnamon, cloves. Sweetened with sugar, tarted up with vinegar, and heated up with fresh and dried chilies. Truly a masala of your dreams.
Top 20 Dish! Get my free e-Cookbook: "The 20 Top Dishes in India"
Fragrant & Beguiling
A Portuguese influenced curry, Goan pork vindaloo began as an aromatic masala warmed by cardamom, cinnamon, and cloves, balanced with sugar, with a hint of heat, and a hit of acid. In Goa, the acid is coconut vinegar made from a liquor of fermented cashews called feni. Not to worry, if you are not living in Goa, we have an acceptable substitute in easily found apple cider or malt vinegar.
As Hot as You Make It
Vindaloo in the West has the image of being infused with an incendiary amount of heat from chilies. The following recipe will not blow off the top of your head with its fieriness but has a nice one-two punch from both fresh and dried chilies. Feel free to add more or less of either to your taste. See Notes below.
Great Made Ahead
The beauty of vindaloo is that it is even better if made several days in advance. This allows you to have an easy time on the day you will be serving it. So the wait allows the vinegar and spices to marry into a meltingly delicious centerpiece for your table
Goan pork vindaloo is best made on the weekend unless you have the luxury of planning for a three to four-hour marinade during the week. But I caution against marinating the meat much longer than that. The vinegar will start to break down the meat fibers and create an unpleasant mushy texture. Vindaloo can be made with chicken or lamb too.
Happy cooking!
~Alonna
See the Notes below before you cook.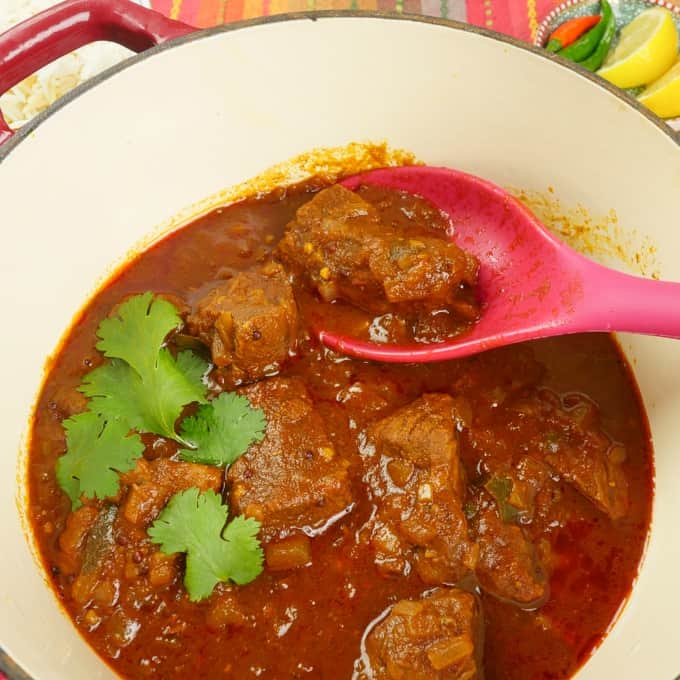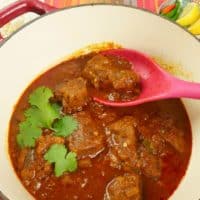 Goan Pork Vindaloo
Goan pork vindaloo is an intriguingly fragrant curry, warmed by cardamom, cinnamon, cloves. Sweetened with sugar, tarted up with vinegar, and heated up with fresh and dried chilies. Truly a masala of your dreams.
Print
Pin
Comment
<!–– I removed icon="star-empty"from above and change Rate to Comment ––>
Ingrediants
Marinade
3

whole dried Kashmiri chilies

~ Or 2 teaspoons Kashmiri chili powder, or paprika: substitutions

8

whole green cardamom pods

1

teaspoon

black peppercorns

1/2

teaspoon

whole coriander seeds

2-inch

piece

cinnamon stick

1/2

teaspoon

ground turmeric

1

teaspoon

sea or table salt

~ Substitutions
Pork or Chicken
2

pounds

pork shoulder

~ Or chicken thighs; cut into 2-inch cubes

1/3

cup

cider or malt vinegar
Curry (Masala)
1/4

cup

ghee

~ Or coconut oil, or oil of your choice

1

teaspoon

whole black or brown mustard seeds

~ Yellow mustard seeds will also work

1

teaspoon

cumin seeds

3

cups

onions

~ Finely chopped

2

tablespoons

ginger garlic paste

~ Buy or make

1 to 4

small Indian green chilies

~ Finely minced and amount to your taste; substitutions

14.5

ounce

can of tomato purée

~ Or 4 tomatoes chopped (1 1/2 cups), or canned crushed tomatoes, substitutes

10

curry leaves

~ Optional, about

2

teaspoons

jaggery

~ Or brown sugar

1

tablespoon

tamarind paste

~ Or equal amount of lemon juice

1/2

teaspoon

sea or table salt

~ To your taste

1/4

cup

cilantro

~ Coarsely chopped
Instructions
Marinade
Toast all the marinade ingredients, except the turmeric and salt, in a dry skillet over medium-high heat until fragrant, and a small change in color; about 2 minutes. Add the turmeric and salt and stir for 30 seconds. Let cool for a few minutes.

Using a spice grinder (a coffee grinder set aside for spices), or a mortar and pestle, grind the spices. Dump into a small bowl and mix in the vinegar. If you didn't use whole chilies, add the ground chilies now.
Curry (Masala)
Heat the ghee or oil in a wide, lidded pan over a medium-high flame, and sauté the mustard and cumin seeds until they sizzle; about 1 to 2 minutes. Add the onions and cook until soft and golden at the edges. Stir frequently, adding a splash of water if needed to keep the onions from sticking to the bottom of the pan. Lower the heat to medium if the onions are browning too quickly before softening up. Don't hurry this phase because you are building flavor. This step can take anywhere from 10 to 16 minutes, or more if necessary.

Add the garlic and ginger paste and the minced green chilies into the onions and cook, stirring, for another 3 minutes.

Add the puréed tomatoes and curry leaves (if using), and cook until you have a thick paste; about 8 to 10 minutes. If using crushed or fresh tomatoes, it will take 3 to 4 minutes longer.

Add the pork or chicken and marinade to the pan and turn the heat up to medium-high. Stir well and add the sugar, tamarind, and salt. Bring to a simmer, cover tightly, turn the heat to low and cook on the stovetop for an hour. Or if you prefer and are using pork, you can cover and cook in a preheated oven at 350F° (180°C), also for an hour. Check for liquid levels at least twice during the cooking time, and if it is dry (the meat should be almost covered), add a 1/4 cup of water. If you are cooking chicken, this step will only take 10 minutes or so.

For pork: Remove the lid and cook for another 30 minutes, until the meat is very tender and the sauce has thickened. For chicken: Remove the lid and cook for another 5 minutes over low heat to reduce the sauce and mellow out the flavors.
Notes
Kashmiri chilies are not particularly hot and are used to add flavor and color to the dish. If you wish to have a hotter dish, you can use dried guajillo peppers, or for even more heat, chile de arbol. I suggest that you start with a modest hit of chilies, and you can always add cayenne or hot sauce at the end. If you aren't near an Indian grocery, Thai green chilies are the best fresh chili substitution or one serrano for every 2 smaller chilies.
Pork: Any cut of pork can be used for Goan pork vindaloo. If using pork shoulder, cut following the muscle of the meat, and remove most of the silver skin and fat as you go. My preference is to have the meat in large chunks, roughly 2-inches by 2-inches, so that you can taste the meat as well as the sauce. Traditionally, the meat is cut into small 1/4-inch cubes. The size you cut your meat will affect how long it will take to cook.
If using chicken legs/thighs on the bone reduce the marinating time to 2 hours, or one hour if using boneless skinless thighs. And your cook time will be much shorter than if using pork. Make vindaloo with chicken breast at your peril; it will probably be dry.
I prefer to braise pork in the oven because the heat is more evenly distributed, but cooking on the stovetop on low heat works well too.
Vindaloo is tasty the day it is made, but if you have the time, it is even better the next day or even the next!
Nutrition
Calories:
251
kcal
|
Carbohydrates:
11
g
|
Protein:
19
g
|
Fat:
14
g
|
Saturated Fat:
7
g
|
Cholesterol:
81
mg
|
Sodium:
77
mg
|
Potassium:
464
mg
|
Fiber:
2
g
|
Sugar:
5
g
|
Vitamin A:
45
IU
|
Vitamin C:
7
mg
|
Calcium:
51
mg
|
Iron:
2
mg
Your Private Notes