This biryani tastes so good you will not begrudge it the extra steps it takes to produce this utterly delicious dish. The rice is so fluffy and aromatic, run through with herbs and spices, and the chicken gloriously tender.
Top 20 Dish! Get my free e-Cookbook: "The Top 20 Indian Recipes"
Chicken Biryani, a Classic
One of the most loved dishes throughout India, biryani means abundance, generosity, and celebrations. Chicken biryani is yet another Persian gift to Indian cuisine. Like Spain's paella and Italy's risotto, Indians are justifiably proud of this iconic dish. The fancier the occasion, the more elaborate the biryani.
A biryani is alternate layers of long-grain fluffy basmati rice, vegetables, egg or meat, cooked together and delicately scented with ghee and spices. It is the ultimate one-dish meal. Only needing some plain full-fat yogurt, a pickle, and pappadum or naan to round the offerings.
Everyone Has Their Own!
As with other Indian favorites, recipes for biryani are hotly contested, and each high profile city or region declares their variation, "the only authentic biryani!" The great secret is the marriage of basmati rice, spices, caramelized onions, and meat or vegetables, all layered together. The result is pretty spectacular and worthy of some weekend puttering at your stove. This is one sure way to demonstrate your love for friends and family.
You Too Can Make Biryani
Are you feeling daunted? Don't be. The steps are simple, and I include tips and tricks to help you as you go along so you can make this show stopper party dish. While this is not weeknight cooking from start to finish, I have ideas on how you can make chicken biryani in three steps. This can be done during the week by parboiling the rice, partially cooking the chicken, freezing them separately, and then defrosting them when you are ready to do the final cooking.
Commit yourself to the steps, and you will be rewarded with a special occasion centerpiece that you will be asked to serve over and over again.
Happy cooking!
~ Alonna
Here are other memorable rice dishes to try: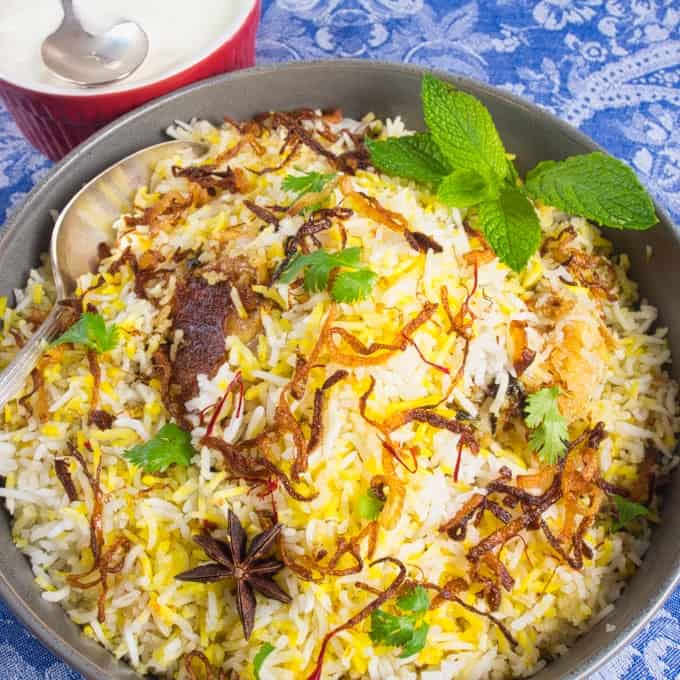 Easy, Enticing Chicken Biryani
This biryani tastes so good you will not begrudge it the extra steps it takes to produce this utterly delicious dish. The rice is so fluffy and aromatic, run through with herbs and spices, and the chicken gloriously tender.
Print
Pin
Comment
<!–– I removed icon="star-empty"from above and change Rate to Comment ––>
Ingrediants
Brown Onions
2

cups

onions

~ Sliced very thin and evenly. See 1st Note

1/2

cup

oil for frying

~ Example: avocado, peanut, or canola, enough cover the onions
Marinade Chicken
1 1/2

pounds

chicken thighs

~ With bonein and skin on or skinless, depending on your preference. See Notes 2 and 3

3/4

cup

thick yogurt

~Buy or make.

1

tablespoon

ginger garlic paste

~ Buy or make. Or 1 1/2 teaspoons each puréed/grated ginger and garlic

1 1/4

teaspoon

Kashmiri ground red chili

~ Or 1/2 teaspoon cayenne; substitutions

1/2

teaspoon

ground turmeric

1/4

teaspoon

cinnamon

1/2

teaspoon

ground cardamon

1 1/2

teaspoon

cumin

1 1/2

teaspoons

garam masala

~ Buy or make

2

tablespoons

browned onions

1 1/2

teaspoons

sea or table salt

~ Substitutions
Saffron
2

tablespoons

hot milk

1

teaspoon

saffron threads

~ Loosely packed, see 5th Note for substitutions
Parboiled Rice (70% Cooked)
2 1/4

cups

basmati rice

~ See 3rd Note

6

cups

water

1

tablespoon

sea or table salt

~ Or 2 tablespoons Diamond Crystal salt, see 6th Note. Substitutions

1

star anise

5

cloves

5

cardamon pods
Other Biryani Ingredients
2

tablespoons

oil

1

cup

fresh mint

~ Chopped

1

cup

cilantro

~ Chopped

2

tablespoons

ghee

~ Or melted butter. Buy or make
Garnishes
browned onions (birista)

2

tablespoons

cilantro and/or mint

~ Chopped
Instructions
Notes
Shortcut: the browning of the onions step can be skipped if you prefer to buy store-bought fried onions or shallots. Most grocery stores carry this product and it makes an excellent short cut. If you would like more details on cooking onions, in general, and the crispy onions called for in this recipe, please see my post on cooking onions.
For chicken biryani, I always prefer chicken thighs, but you can use drumsticks here as well. If you are determined to use chicken breast, understand that you risk having dry meat.
I know this may seem heretical and I blame the idea on the lovely Nagi of the essential food blog RecipeTinEats, but keeping the skin on chicken thighs is genius. The thighs cook skin side down and protect the meat from overcooking, if in case (oops) one has allowed them the cook too long.
You could substitute another long-grain rice for basmati, but you won't get the fluffy, aromatic flavors that basmati rice brings to the table.
If you don't have saffron or don't want to go to the expense of buying it, ground saffron is a good substitute. Or you can use 1/4 teaspoon turmeric mixed with 1/2 paprika (not smoked). Add both of these substitutions the way saffron threads are used in this recipe.
Yes, you do need 2 tablespoons of salt to season the rice water. Most of it gets poured off before you continue with the recipe. Remain calm.
Chicken biryani can be made ahead in parts. Marinate the chicken 2 days before serving, the next day cook the chicken until the point that the rice is added, and parboil the rice. On day three, simply finish the final cooking step. If you are needing to do your cooking farther in advance, parboil the rice, and cook the chicken through Step 1, under Biryani, and freeze separately. Ideally, defrost in the fridge a day or two in advance.
Chicken biryani is one of the Top 20 Dishes in India, enjoy!
Nutrition
Calories:
647
kcal
|
Carbohydrates:
66
g
|
Protein:
27
g
|
Fat:
30
g
|
Saturated Fat:
9
g
|
Cholesterol:
126
mg
|
Sodium:
500
mg
|
Potassium:
516
mg
|
Fiber:
3
g
|
Sugar:
4
g
|
Vitamin A:
606
IU
|
Vitamin C:
9
mg
|
Calcium:
112
mg
|
Iron:
3
mg
Your Private Notes