Sweet juicy shrimp, fluffy rice, and Indian spices make for a delicious, and celebratory meal in the Instant Pot. It's a quicker, and easier biryani, and a great way to begin your biryani adventure.  So good!
Besides this quick and delicious Instant Pot biryani,  I also have recipes for other great biryanis: Tandoori chicken tikka biryani or Chicken Tikka Masala biryani. And make quick 4-ingredient raita to go alongside!
Biryani on a Weeknight?
With is roots firmly set in Persia, and with its modern place in our hearts, biryani is a celebratory dish. If there is no particular party, this shrimp biryani is cause for one. Having never made this rice dish with prawns before, and especially with an Instant Pot, I must confess I was a bit dubious. Shrimp and prawns can be overcooked in a minute. As everyone knows who has had the disappointment of stepping away from the stove to let the dog out and then coming back to rubbery, inedible seafood. I hope you are as pleased with this one-pot biryani as I am. The shrimp are sweet and juicy burrowed into tender, spiced rice.
Shrimp biryani is especially popular in Kerala where they use a variety of rice called jeerakasala or Wayanadan kaima. This is a delicate short-grained rice grown in the Wayanadan district of Kerala. The other ingredient unique to a Keralan seafood biryani is adding tomatoes to the masala or sauce. If you are lucky enough to find jeerakasala rice there is no need to soak it before adding it to the pot.
Shrimp Biryani in an Instant Pot!
I am happy to report that while this is not your usual weeknight meal, it IS doable in about 40 minutes. And even less if your shrimp do not need cleaning. There is no overnight marination required, and while the rice soaks you brighten up the shrimp with a bit of lemon juice and a few spices. Then quickly sauté the garnishes, and cook the onions with spices and tomato, all in the Instant Pot. By the time you are finished, the rice is ready. Stir it into the sauce, plop the shrimp on top, and it is pressure time. You have eight minutes to pressurize, 5 minutes on low-pressure, and a quick release to finish the cooking time. Allow the shrimp and rice to steam gently for 5 minutes, and it is gilding the lily time.
Happy cooking!
~Alonna
Here are other memorable biryanis to try:
Recipe Card 📖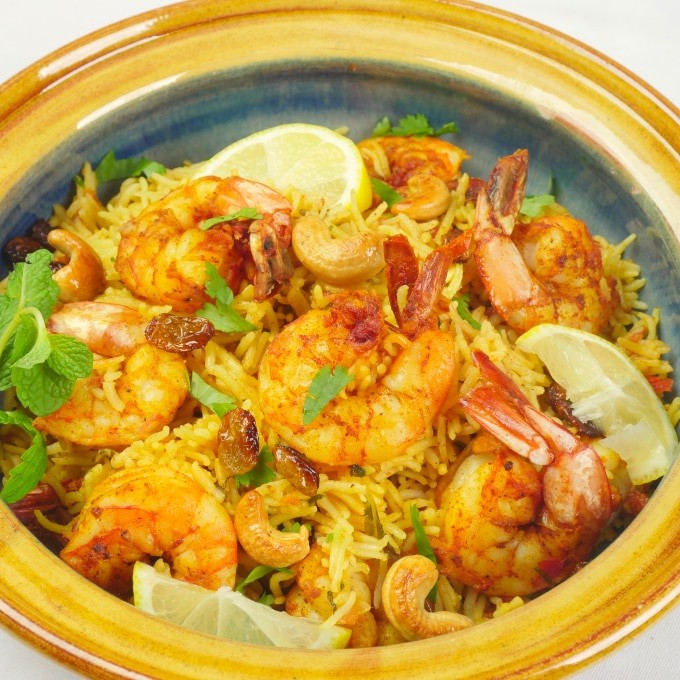 Instant Pot Shrimp Biryani (Kerala-Style)
Sweet juicy shrimp, fluffy rice, and Indian spices make for a delicious, and celebratory meal in the Instant Pot. It's a quicker, and easier biryani, and a great way to begin your biryani adventure.  So good!
Print
Pin
Comment
<!–– I removed icon="star-empty"from above and change Rate to Comment ––>
Ingrediants
Instructions
Marinading and Soaking
Gather the shrimp marinade ingredients

Mix together all the shrimp marinade ingredients and let the shrimp sit until you are ready to cook.

Gently rinse the rice in a bowl filled with water to cover it. Rinse until the water is clear enough to see your hand.
Make the Masala (Sauce)
Gather the rest of the ingredients.

While the rice is soaking, heat an Instant Pot on the sauté setting, add 2 tablespoons of ghee or coconut oil. When it is hot, cook 1 tablespoon of whole cashews. Stir for a minute or two until the cashews are getting a few brown spots. Add the raisins and sauté another couple of minutes until the raisins have plumped up and the nuts are golden brown. Remove and set aside. 

Add the onions to the Instant Pot and the whole spices and cook frequently stirring for about 5 to 10 minutes until the onions are golden brown.  

Stir in the ginger garlic paste and cook for a minute or two until the paste no longer smells raw. Stir in the green chili, diced tomatoes, and ground spices. Sauté the tomatoes about 3 minutes until they become mushy. 

Drain the rice and add to the Instant Pot. Stir in the lemon juice, cilantro, and mint. Add 3/4 cup of water or more, if needed, to almost submerge all the rice. See Notes about the amount of water required. Place the shrimp on top of the rice. 

Secure the Instant Pot lid, close the pressure valve, and cook for 5 minutes on low pressure. See Notes below if you don't have a low-pressure option. 

Carefully quick-release the pressure. When it is safe, open the lid and drizzle the biryani with a tablespoon of ghee if using. Keep the lid on but opened slightly so the steam is able to continue to escape. Rest the biryani for 5 minutes, then using a fork gently combine the shrimp and rice.

Garnish with the reserved cashews, raisins, and a sprinkling of chopped mint and cilantro.
Notes
SHORTCUT:

 Buy or have your fishmonger shell and clean the shrimp. It is not necessary to defrost the shrimp unless you need to clean and devein.

It is essential to use large shrimp so they don't overcook.

There is no need to defrost the shrimp

 if they are already shelled and deveined.

If you don't have a low-pressure function on your pressure cooker, use the high-pressure mode for 4 minutes.

 Cooking on high pressure requires more liquid to pressurize, so use a full cup of water. Refer to your manual when using a different brand of pressure cooker for the liquid requirements. Pressure release naturally for 10 minutes, then open the pressure valve to let the remaining pressure escape. This will allow the rice to finish cooking. Follow the rest of the instructions as listed above, beginning with opening the lid and adding the optional ghee.

To make extra special shrimp biryani, find some premium aged basmati rice

. It cooks up into long beautiful fluffy grains. Or even the traditional rice from Kerala called Jeerakasala or Wayanadan kaima. No need to soak it, though.

If cooking on low pressure, you only need to use enough water so that the rice is just about submerged.

 Using too much water will result in a mushy mess. I find that on low-pressure 3/4 of a cup of water is enough. You also have lemon juice, juicy tomatoes, and some residual water from the rice that brings the liquid up to the required 1 cup for the Instant Pot. If you are using another brand of a pressure cooker, use their guide for the amount of water needed. Keep in mind that there are about 3 to 4 tablespoons of liquid in those ingredients. Cooking on high-pressure will require more liquid than low-pressure.
Nutrition
Calories:
432
kcal
|
Carbohydrates:
52
g
|
Protein:
29
g
|
Fat:
12
g
|
Saturated Fat:
5
g
|
Cholesterol:
305
mg
|
Sodium:
1995
mg
|
Potassium:
381
mg
|
Fiber:
5
g
|
Sugar:
4
g
|
Vitamin A:
669
IU
|
Vitamin C:
58
mg
|
Calcium:
225
mg
|
Iron:
4
mg
Your Private Notes