This tempting pickle is so quick and easy that even a pickle first-timer will have a captivating side to brighten up any meal. This recipe works even if you can't find a green mango!
Just 15 minute of prep and some patience, this is recipe for mango pickle that you will make over and over again. This mango pickle is healthy with just enough salt and oil to give a good cure.
Pickles and more pickles
One of the many delicious things about Indian cuisine is all the many pickles served with each meal. Pickles rarely showed up on our table when I was growing up. And if they did, it was a half-hearted dill pickle spear. The only fermented food eaten with enthusiasm was the pork and sauerkraut my mother served several times a year. Contrast that with the vast pickle choices that are often homemade and considered essential in an Indian home.
Mango pickle is one of the most popular pickles, and each region uses it's own spice masala to put their stamp on it. However, almost anything can and is pickled: bamboo shoots from the Northern state of Sikkim, ghost chilies in Assam, Madhya Pradesh pickles fiddlehead ferns, curry leaves are a favorite in South India, and Goans like to pickle okra—to name just a few. And not only fruits and vegetables are pickled, but shrimp, chicken, and even pork pickle are also popular, especially in Southern India.
My tweaks
I have gone out on a limb and tried an easy instant mango pickle inspired by the recipe published on the Indian blog Big Fat Tummy. In Goa, this pickle is called miskut, and it is often made by stuffing mangoes with spices and allowing them to ferment. My version of this pickle is certainly not authentic, but I've used Goan spices. And they are so soulful and complex you won't miss the 3-week fermentation time. Another departure I've made is to use very firm mangoes with flesh that turned from light green to pale orange.
Traditionally, this pickle is made with very unripe mangoes with light green flesh. Since I couldn't find mangoes this green (called raw mangoes in Indian recipes), I opted for the least ripe mango I could find. All these tweaks result in a pickle that, while not traditional, is surprisingly complex and delicious all the same. If you can get your hands on green mangoes, definitely use them in this recipe.
Give it a go!
Regardless of the mangoes you wind up using, make sure the skin is smooth and unblemished. And while asafetida is optional, please try to get your hands on this flavoring. It adds a savoriness that it is hard to beat. To learn more about asafoetida, see Nisha Mahulika's explanation. Since this is a quick pickle, it won't last as long as the long-fermented version. If you are not going to be eating your instant mango pickle within several weeks, but want to keep it longer, heat an additional 1/4 cup of oil to the smoking point and pour it over the mango to cover the pieces.
I hope you will try this recipe. Note that Indian cooks make a much larger quantity of pickle at a time. But if you are new to making pickles, I think a smaller batch is wise. This allows you to play with the spicing and salt to create your favorite mango pickle.
Happy cooking!
~ Alonna
See the Notes below before you cook.
Recipe Card 📖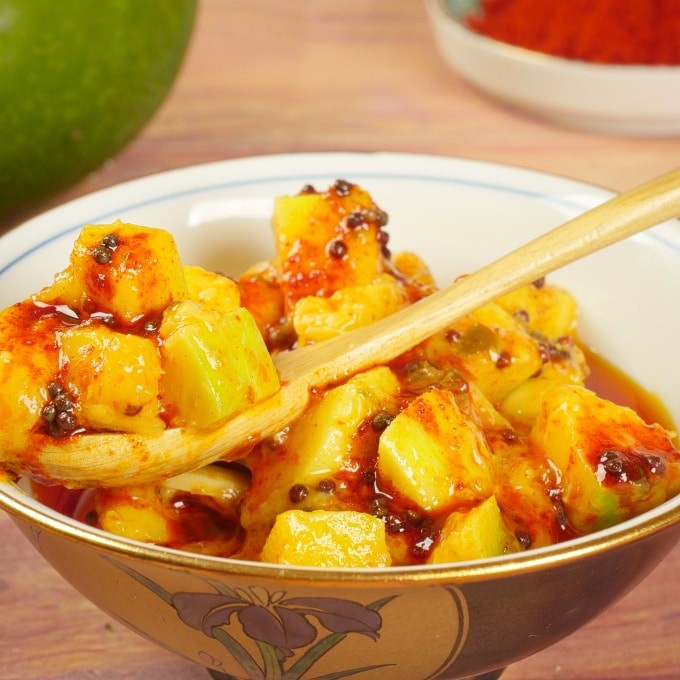 Instant Mango Pickle (Miskut)
This tempting pickle is so quick and easy that even a pickle first-timer will have a captivating side to brighten up any meal. This recipe works even if you can't find a green mango!
Print
Pin
Comment
<!–– I removed icon="star-empty"from above and change Rate to Comment ––>
Ingrediants
1

large unripe mango

~ Or two small ones, see Notes below

3/4

teaspoon

sea or table salt

~ See Notes below

1/2

teaspoon

fenugreek seeds

1/4

cup

sesame oil

~ Or neutral oil of your choice, see Notes below

1 1/2

teaspoon

black mustard seeds

~ Yellow seeds work fine

10

small curry leaves

~ Optional, see Notes below

4

garlic cloves

~ Cut into slivers

2

green chili peppers

~ 2 teaspoons, chopped, more to taste

1

tablespoon

coarsely ground dried red chilies

~ See Notes below

1/2

teaspoon

Kashmiri ground red chili

~ Use a hotter red chili powder if you wish

1/4

teaspoon

ground asafetida (hing)

~ Optional, but highly recommended
Instructions
Wash the mango and dry thoroughly because water contributes to the pickle spoiling. I chose to peel my mango, but you can leave the peel on if you prefer. Cut the mango in to 1/2-inch (1.27cm) pieces and salt with 1/2 teaspoon of sea salt. If using Diamond Crystal kosher salt, use 1 teaspoon. Set aside the mango for two to three hours, then discard any liquid that pools in the bottom of the bowl.

While the mango is resting, toast the fenugreek seeds in a small pan over medium-high heat. This will take a couple of minutes, or just until fragrant. Grind into a coarse powder either in a spice grinder or mortar and pestle. Sliver the garlic cloves and chop the green chilies, removing the seeds if you want to reduce the heat level.

Add the oil to a medium-sized sauté pan or wok over medium-high heat. When the oil is hot, turn the heat down to medium and add the mustard seeds. As soon as they start to sizzle and pop add the garlic and chopped green chili. Sauté for 2 minutes and down off the heat.  

Mix in the asafetida (hing), the ground fenugreek, coarsely ground red chili, the remaining 1/4 teaspoon sea salt, and 1/2 teaspoon Kashmiri chili powder. Add the drained mango and mix together well. Taste and adjust for more salt and ground chili and spoon into a sterilized jar.
Notes
SMALL BATCH: If you are new to pickling, or even if new to this recipe, I recommend that you start with a relatively small batch so you have the flexibility to make some changes on your next batches.
GREEN MANGOES: I wasn't able to find the green mangoes this pickle is typically made with. However, I was able to find hard mangoes that were just beginning to change color. We found we liked the bit of sweetness the mango offered mixed with the spices and chilies, so we were quite happy with the final result. A truly green mango will add a good sour note to the mix, so find them if you can.
SALT: If using kosher salt 1 1/2 teaspoons kosher salt, to taste. If you like the sulfurous funk of rock salt (kala namak), use it instead. For some good information on this salt head on over to Bianca's blog elephantastic vegan.
OIL: To preserve your instant mango pickle beyond two weeks, take another 1/4 cup of oil and heat on high until the oil shimmers. Pour over the pickle to cover all the mango pieces and store in the refrigerator.
CHILIES: I did not have coarsely ground red chilies so I took my whole Kashmiri chiles, and broke them in half to remove the seeds. Then gave them a whirl in the spice grinder. Use the dried red chilies you have. I think Korean chili flakes (gochugaru) would work well here too.
CURRY LEAVES: If you love (and have) curry leaves, add 10 small, or 5 large chopped leaves, to the hot oil along with the garlic and green chilies.
Nutrition
Calories:
44
kcal
|
Carbohydrates:
3
g
|
Protein:
1
g
|
Fat:
4
g
|
Saturated Fat:
1
g
|
Sodium:
111
mg
|
Potassium:
42
mg
|
Fiber:
1
g
|
Sugar:
2
g
|
Vitamin A:
408
IU
|
Vitamin C:
18
mg
|
Calcium:
6
mg
|
Iron:
1
mg
Your Private Notes