Comforting, healthy, and full of your favorite vegetables, you will wonder where this sambar recipe has been all your life. Eat it with anything, or as a light meal with salad and good bread.
Tangy & Comforting
Sambar is a tangy, healthy, comforting soup beloved throughout India, changing from state to state, region to region, and stove to stove. In South India, it is a favorite breakfast eaten with dosas and idlis. Sambar is also very satisfying as a light meal with some hearty bread and a salad. Made from a mix of lentils and vegetables, this soup is a perfect cold weather and holiday eating recovery food. Your body and taste buds will thank you.
My goal for this dish was to create a lentil soup with Kerala's tantalizing flavors: coconut, mustard seeds, and curry leaves. Make this recipe your own by choosing the vegetables you want to use, depending on what you like and have on hand. Decide how thick you like your soup, and after making it once or twice, you may even change up the balance of lentils to vegetables.
Sambar Spice Powder
I've used a store-bought sambar masala for this recipe, but you could make a homemade spice mix. If you are looking for a recipe, Swasthi Shrekkanth of Swasthi's Recipes has a good recipe for sambar powder. Or you can buy packaged sambar masala from your local Indian grocery or online. My favorite brand of sambar powder is MTR.
Sambar is an easy soup to make, but I've gone outside the box when cooking the vegetables. Being a big fan of high heat roasting, I suggest that you roast the vegetables rather than boil them. Roasting adds sweetness, better texture, and each vegetable tastes more like the best version of themselves. If you prefer to skip the roasting step, add the vegetables to the onion and spice mixture when it is finished cooking. Add water as needed for the vegetables to cook properly and let them simmer until the vegetables are done to your liking.
Make it Your Own!
Most sambar recipes have you finish the dish with a final flourish of tadka/choonk. Tadka is taking ghee or oil and tempering spices, whole chilis, and possibly curry leaves. I wanted to simplify this soup as much as possible without sacrificing taste. I find that tempering the spices in the beginning as a foundation for the sambar works well. As usual, feel free to add more heat. A slit green chili or two added when the onions are almost finished cooking will do the trick.
Please do not be frightened of all the notes included below. They add guidance depending on what vegetables you want to use and other pointers to help you along. If you are using softer vegetables like okra or eggplant, you will want to cook them separately for a shorter amount of time. Hard squash or root vegetables (carrots or potatoes) will take much longer to cook. If you are a no-onion, no-garlic cook, double the asafetida, and skip the alliums.
Happy cooking!
~ Alonna
See the Notes below before you cook.
Recipe Card 📖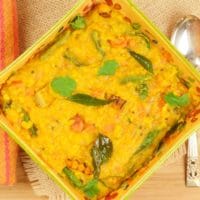 Sambar Recipe (Kerala)
Comforting, healthy, and full of your favorite vegetables, you will wonder where this sambar recipe has been all your life. Eat it with anything, or as a light meal with salad and good bread.
Print
Pin
Comment
<!–– I removed icon="star-empty"from above and change Rate to Comment ––>
Ingrediants
Cook the Dal (lentils)
1/2

cup

toor dal

~ Also called pigeon peas. See Notes below.

1/2

teaspoon

turmeric

1

teaspoon

sea salt

~ Double the amount of kosher salt; about.

1 1/2

cups

water
Roast the Vegetables = 2 Cups Total
1/2

cup

carrots

~ Cut into bit sized pieces. See Notes below.

1/2

cup

potatoes

~ Cubed

1/2

cup

butternut squash

~ Cubed or buy pre-cut

1/2

cup

string beans

~ Cut in 1-inch pieces

1

tablespoon

coconut oil

~ Or grapeseed, canola, or avocado oils.
The Sambar (Soup)
1

tablespoon

ghee

~ Or oil

1/2

teaspoon

black mustard seeds

~ Or yellow mustard

10

fresh curry leaves

~ Optional

1/4

teaspoon

asafetida (hing)

~ Optional, but highly recommended

1

cup

onions

~ Finely dices

1/2

teaspoon

sea or table salt

~ Double to amount of kosher salt; about.

1/2

cup

desiccated coconut

~ Or 3/4 cup fresh grated coconut

1/2

teaspoon

Kashmiri ground red chili

~ More to taste and other choices

2

teaspoons

lemon juice

~ Or equal amount of tamarind paste

1

teaspoon

sugar

~ If needed

1

tablespoon

cilantro

~ Chopped for garnishing
Instructions
Cook the Dal
Rinse the dal in several changes of water.

If cooking in the Instant Pot, add turmeric, 1 teaspoon salt, dal and 1 1/2 cups of water. Close the pressure valve, secure the lid and using high pressure, cook for 7 minutes. Release pressure using natural release for 15 minutes, then release the remaining pressure.

If cooking the dal on the stove-top, using a medium-sized pan on medium-high heat add the dal, 3 cups water, salt, and turmeric and bring to a boil. Lower the heat to simmer, cover, and allow the dal to cook for 30 minutes. Stir several times and test for tenderness.
Roast the Vegetables
Make the Sambar
While the vegetables are roasting make the sambar masala. Add the ghee or oil to a heavy-bottomed pan over medium-high heat. When the ghee is hot add the mustard seeds. Test with a few seeds to see if the fat is hot enough. You want to have almost immediate spluttering. Add the asafetida and curry leaves, if using, and cook for a minute. Stir in the onions, and 1/2 teaspoon of salt.

Cook the onions until they start turning golden around the edges. This will take about 4 to 5 minutes. Stir in the coconut, sambar powder, and the Kashmiri chili; stir frequently to toast for a minute or two. If there is any sticking add water in 1 tablespoon increments as needed.

Add the toor dal, its cooking liquid, the roasted vegetables, and lemon juice. Cook over medium heat for 5 minutes. Taste for seasonings: salt, acid, sugar, enough heat, and additional sambar powder. Added water if you want and thinner soup.
Notes
If you prefer a thicker soup, replace with some of the toor dal with masoor dal (red lentils).
I'

ve picked one example of a mix of vegetables

. Here is a list of some other ideas, keeping in mind you need 2 cups total:

cauliflower
tomatoes
sweet potatoes
okra (can be found frozen if not in season)
eggplant (aubergines/brinjal)
delicata squash
drumsticks (moringa)
pearl onions
bottle gourd
mushrooms
When roasting the vegetables, you may want to give the root vegetables and hard winter squash an 8-minute head start

. After stirring them, add is the softer vegetables.

If you prefer to cook the vegetables in the same pot as the rest of the ingredients,

 add them after the onions are finished cooking. Add water as needed.

It is important not to overcook the vegetables.

 They should be cooked through but not mushy.

My sambar recipe is slightly less acidic than a typical sambar.

 If you wish, add another teaspoon lemon juice or tamarind paste. If you want to balance out the acid, add a teaspoon or more of sugar.

If you include eggplant

, you may want to soak it in salted water after chopping it up into bite-sized pieces. This helps to reduce the bitterness.

Sambar is often made with okra

, but since that is not a favorite vegetable of mine, this recipe is okra free.

Sometimes the dal needs to cook a bit longer than 30 minutes.

 So adjust the cooking time accordingly. I prefer the dal to cook very well so that it's easy to mash.

This soup will thicken as it sits

, so feel free to add water to give it the preferred consistency. If you are cooking it in advance, be sure to adjust the seasonings as needed.
Nutrition
Calories:
162
kcal
|
Carbohydrates:
17
g
|
Protein:
4
g
|
Fat:
10
g
|
Saturated Fat:
8
g
|
Cholesterol:
6
mg
|
Sodium:
608
mg
|
Potassium:
200
mg
|
Fiber:
5
g
|
Sugar:
4
g
|
Vitamin A:
3148
IU
|
Vitamin C:
41
mg
|
Calcium:
36
mg
|
Iron:
1
mg
Your Private Notes