Hearty and soul-satisfying, coconut chickpea curry is perfect as a centerpiece to a light meal, or happy to play second fiddle to a more showy dinner star.
Top 20 Dish! Get my free e-Cookbook: "The 20 Top Dishes in India"
Loved & Versatile
Chickpeas are especially loved throughout southeast Asia, the middle east, and Italy. From spreads to soups, fillings to dumplings, roasted and in salads, this hearty, satisfying blank canvass can be many things. Chickpea curry is one of those restaurant standards that most people are familiar with. Like many popular foods in India, each region has their favorite way of building flavor. This coconut chickpea curry recipe is my favorite way.
In southern India, mustard oil and coconut are often the direction this dish takes. The standard-bearer is Punjabi style, where many of our Indian restaurant recipes hail from. It features garam masala, ginger, garlic, and chilies, along with a tomato base. Another north Indian version is infused with tea, pomegranate seeds, tamarind, and black cardamom, for a tour de force of a dish that will knock your socks off.
Good for You!
Besides being lovely to eat, this curry is vegan-friendly, high in protein, and gluten-free. Versatility is its middle name. You can make it ahead and freeze, but when pressed for time, you can open a can of chickpeas (I hear gasping!). But yes, make sure you drain off the liquid and rinse the chickpeas well. If you are a pressure cooker or Instant Pot person, pressure cooking the chickpeas works beautifully. In the ideal world, you will soak your chickpeas overnight, as they take longer to cook than other lentils.
Coconut Chickpea Curry
I would like to present you with a lip-smacking Keralan (billed as "God's own country") curry called "Kerala kadala," starring chickpeas, star anise, fennel, cinnamon, and curry leaves. I could eat this every day. The flavors of South India seem to beckon me at every turn. My thanks to Ramya of Cooking From Heart, for posting this recipe on her blog, and who shares my love of food from Kerala. I've made my tweaks as usual, because I can't stop my opinionated self. So make this and let me know how you like it. Yes, it has a long list of ingredients, but you can measure things, and then follow the recipe. It is simple when you get into the rhythm and steps of Indian cooking.
Happy Cooking!
~ Alonna
See the Notes below before you cook.
Recipe Card 📖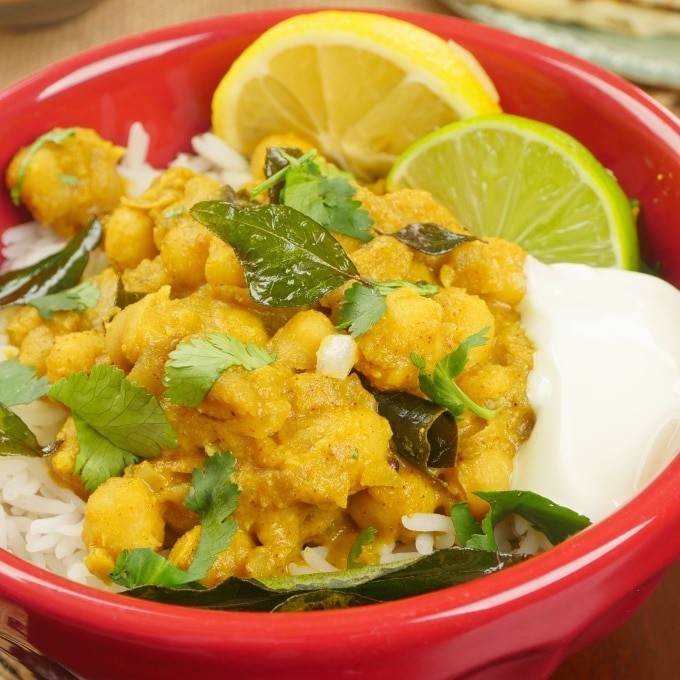 Comforting Coconut Chickpea Curry
Hearty and soul-satisfying, coconut chickpea curry is perfect as a centerpiece to a light meal, or happy to play second fiddle to a more showy dinner star.
Print
Pin
Comment
<!–– I removed icon="star-empty"from above and change Rate to Comment ––>
Ingrediants
Spice Mix
1

tablespoon

whole coriander

3

whole cloves

2

inches

whole cinnamon

1

star anise

1

teaspoon

fennel seeds

2

green cardamom

1/2

teaspoon

black peppercorns

1/2

cup

desiccated coconut

~ Substitutions
Sauce
1

cup

black or white dry chickpeas (chana kala/kabuli chana)

2

tablespoons

coconut oil

~ Or oil of your choice

1/2

teaspoon

mustard seeds

~ Brown, if you have them

10

curry leaves

~ Chopped coarsely. Or see notes below. About & buy.

1

cup

onion

~ Finely minced

1

green chili

~ 1/2 tsp, or more to your taste. More!

1/2

teaspoon

ground turmeric

1/2

teaspoon

Kashmiri ground red chili

~ More to your taste, Substitutions

1/2

teaspoon

fine sea or table salt

~ Substitutions

2

teaspoons

lemon juice
Instructions
Wash chickpeas and soak overnight in 6 cups of water at room temperature. If your kitchen is hot, store in the refrigerator. Drain and discard water. 

Cook chickpeas until tender in an Instant Pot, other pressure cooker, or on the stove top, depending on the method you prefer.

If cooking on the stovetop, place chickpeas in a heavy-bottomed Dutch oven, or saucepan.  Add 6 cups of water and bring to boil over high heat. Reduce to a simmer, cover the pan with a slight crack and cook until tender. This will take about 2 hours. Check periodically and add more water if need be making sure the chickpeas are covered

While the chickpeas are cooking, in a medium-sized heavy pan over medium-high heat, add the spices through to the black peppercorns. Sauté for a minute or two until fragrant. Let cool.

Grind the cooled spices and place in a small bowl. Grind the coconut into a powder and add to the spices. Set aside.

In a heavy pan, over medium-high heat, add the coconut oil, and when the oil is hot add the mustard seeds and stir for a minute or two until the seeds crackle.  Add the curry leaves and stir for 30 seconds. 

Add the finely chopped onions and cook until they are translucent. This will take about 5 minutes. Add a little water if the onions are sticking to the bottom of the pan.

Add the green chili, turmeric, and Kashmiri chili powder. Cook for 2 minutes.

Add the cooked chickpeas to the onion mixture along with the water used to cook them in. Add 1/2 teaspoon salt, ground spices, coconut, and lemon juice. 
Notes
The cook time does not include cooking the chickpeas.
You are looking at the chickpeas to be melt in your mouth soft.
A tip for softer chickpeas is to add a teaspoon of baking soda while soaking; drain and add more water for the cooking step.
It is traditional to use black chickpeas, but if you don't have them, use what you have.

 

If you are using canned chickpeas for this coconut chickpea curry, you may still need to simmer them up to 20 minutes, or until they are soft.
Curry leaves add herbaceous, anise, and citrus notes to a dish. curry. If you can't find them, you can add 1/2 teaspoon of lime rind. The result won't be the same but the zest can add some of the citrus notes you get with the real thing. Buy unwaxed fruit. 
Coconut chickpea curry is one of the Top 20 Dishes in India, enjoy!
Nutrition
Calories:
165
kcal
|
Carbohydrates:
10
g
|
Protein:
2
g
|
Fat:
15
g
|
Saturated Fat:
12
g
|
Sodium:
45
mg
|
Potassium:
143
mg
|
Fiber:
4
g
|
Sugar:
3
g
|
Vitamin A:
95
IU
|
Vitamin C:
56
mg
|
Calcium:
41
mg
|
Iron:
1
mg
Your Private Notes