A simple, mild, and perfect side to many dishes, Indian or not, Goan spiced rice can be made on the stovetop, rice cooker, or the Instant Pot. Instructions for all included!
This lovely rice dish isn't just for your Indian meals. It makes a great side dish for a weeknight meal too! For South Indian curry to serve alongside, see my Easy Lamb Vindaloo.
Pulao, pilau, or pilaf
Goan-style mildly spiced rice is a pulao, defined by Wikipedia as a "rice dish . . . cooked in stock, adding spices, and other ingredients." Interestingly, In the U.S., we call a pulao a pilaf, and in Britain, it is called a pilau. Regardless of what is called, this Goan comfort food is often found served at home or as a welcome side dish at all celebrations. It is not the star, but would surely be noticed if this pulao was missing.
Your veggies
Certainly, a recipe to make your own, you can keep it simple with stock and a few spices. Or add a vegetable or two, depending on what you have handy, and what you are in the mood to cook. I like the combination of peas and rice. The peas add a welcome pop of color and flavor so they are what I usually reach for. I always have a bag of peas in the freezer and all I need to do is stir them in during the last 10 minutes. The peas are brought up to temperature perfectly with this short cooking time. If you are using a vegetable that takes longer to cook, carrots or beets, for example, chop them in small enough pieces so that they are finished when the rice is done. I would and stir them in with the rice.
The rice
Since rice is the star of the show, be sure to use good basmati. I am partial to the Aahu Barah Basmati Sela Rice. It is expensive on Amazon, but my local Indian grocery carries it at a much more reasonable price. For everyday cooking, I use less expensive basmati. Be sure to use a flavorful stock as well, since it gives this simple dish much of its flavor!
I've given instructions on making this pulao on the stovetop, in an Instant Pot, and in the rice cooker. My inspiration for this recipe is from Chrisan's blog, Chrizz Grub Scene, and her recipe for Goan rice pulao. I hope you will give my recipe a try, regardless of how you like to cook your rice, and tell me how you like it.
This recipe is one of the 10 dishes I make over and over!
Recipe Card 📖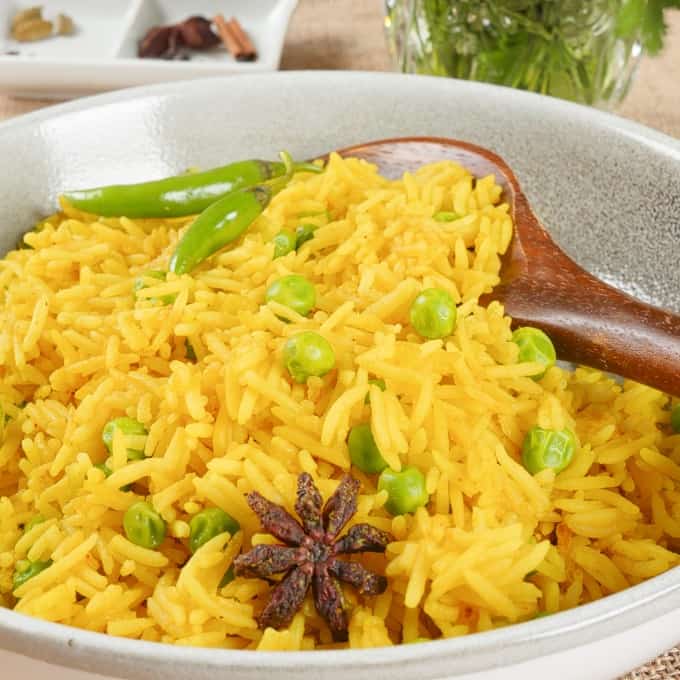 Spiced Rice (Goa)
A simple, mild, and perfect side to many dishes, Indian or not, Goan spiced rice can be made on the stovetop, rice cooker, or the Instant Pot. Instructions for all included!
Print
Pin
Comment
<!–– I removed icon="star-empty"from above and change Rate to Comment ––>
Ingrediants
1

cup

basmati rice

1

tablespoon

ghee

~ Or oil

5

whole cloves

~ SEE NOTES for a shortcut to these 6 whole spices!

6

whole black peppercorns

1

inch

cinomon stick

3

cardamom

1

star anise

~ Optional

1

black cardamom

~ Optional

1

cup

onion

~ Chopped

2

small Indian green chilies

~ To taste. See Notes below

1/2

teaspoon

tumeric

1

teaspoon

sea or table salt

~ To taste, see Substitutions

1 3/4

cups

chicken broth

~ Bouillion cube or any broth. PLEASE NOTE: The stock needed changes for each method!

1/2

cup

green (English) peas

~ Optional, see Notes below
Instructions
Gently rinse the rice in 3 to 4 changes of water until you can see your hand in the water. Optional but recommended: Soak the rice in cool water for 15 to 30 minutes while you measure out the spices. See my Notes below on soaking rice.

In a saucepan over medium heat, when the pan is hot add the ghee. Add the whole spices and sauté until they are fragrant, stirring frequently they don't burn. This takes about 3 to 4 minutes. Add the onions and the chilies and cook until the onions start to brown on the edges. This will take 5 to 6 minutes.
Finishing on the Stovetop—1 3/4 cups broth—Cooking time listed above.
Turn the heat to high bring the rice to a hard boil. Turn the heat down to medium or whatever temperature you need to to keep the rice at a low boil cooking uncovered. Simmer until there are craters on the surface and the water has started to evaporate. About 5 to 9 minutes.

Stir, redistributing the rice throughout the pan, cover with a tight-fitting lid, and reduce the heat to the lowest setting. Cook for 5 minutes, then turn off the heat.
Instant Pot—1 1/4 cups broth—Prep time: 15 mins, IP time: 26 mins
See Notes below! You can use the stovetop for cooking the spices and onions, or, using the Sauté function of the Instant Pot, following the steps above. Turn the Instant Pot to High Pressure for 6 minutes, and then Natural Pressure Release for 10 minutes. When it is safe to do so, add the peas if using. The Instant Pot time of 26 minutes includes the 10 minute resting time at the end. See the Notes below on a couple of IP rice cooking tips.
Rice Cooker—1 1/2 cups broth—Prep time: 15 mins, Cook: 10 - 15 mins, Rest: 10 mins
Follow the stovetop instructions through to the addition of the stock, salt, and turmeric. Pour everything into your rice cooker and use the white rice setting. After the cooking time is completed, allow the rice to steam quietly for 10 minutes. To ensure separate, fluffy grains of rice, it will help if you soak the rice for 15-minute before you start cooking.
Notes
SHORTCUT: Instead of the 6 whole spices, use 1 1/2 teaspoon of Goan Garam Masala. Either use my Goan Spice Mix or buy a prepared powder like Spicy World  Garam Masala. Instead of toasting the whole spices in the beginning, add the garam masala with the onions just as they are beginning to brown.
Chilies: If you want the flavor of chilies without any of the heat, make a 1-inch slit down either side of the chili. Looking for more heat? Deseed and mince the chilies. Even more heat? Leave the seeds! And, of course, add more chilies.

I have found that with thorough rinsing, I can skip the soaking step

, though seasoned rice cooks will be appalled at the idea. Soaking rice for at least 15 minutes (ideally 30) before cooking preserves the lovely aromas and ensures that your rice will be fluffy and less likely to be mushy. This step is up to you!

TROUBLESHOOTING:

If it seems you need softer rice in the Instant Pot, increase the liquid amount rather than cooking time, starting with 2 more tablespoons of water. If you add water in increments, you can find your sweet spot without going directly to the mushy stage.
If the rice in the Instant Pot is finished cooking, but you think it needs more time, turn on the warm setting, put the lid on, and allow the rice to sit for another 10 minutes.
For stovetop cooking, use a heavy pot with a tight-fitting lid

. If you have a loose-fitting lid, cover the pot with aluminum foil before covering it with the lid.

If you are having problems with sticky rice after resting, leave the lid ajar and allow the steam to escape for another 15 to 20 minutes.

Finally, 

be sure to

 

leave time for the rice

to rest covered and undisturbed after it is finished cooking for at least 10 minutes. This will ensure the rice is uniformly cooked and fluffy. 
Nutrition
Calories:
238
kcal
|
Carbohydrates:
45
g
|
Protein:
5
g
|
Fat:
5
g
|
Saturated Fat:
2
g
|
Cholesterol:
10
mg
|
Sodium:
1038
mg
|
Potassium:
211
mg
|
Fiber:
3
g
|
Sugar:
3
g
|
Vitamin C:
13
mg
|
Calcium:
34
mg
|
Iron:
1
mg
Your Private Notes
[/et_pb_code][/et_pb_column][/et_pb_row][/et_pb_section]