Sweet and nutty from coconut, these easy green beans are a tasty change from the usual veggie game. Use frozen beans and this dish is done in 20 minutes start to finish!
A Goan side
This light and tasty vegetable side dish is a common way of treating all sorts of vegetables in Goa. Here the term foogath (fugad in Portuguese) is used for the coconut and mustard seed pairing. It works well with cauliflower, peas, cabbage, and even leafy greens. During the summer, I like to cut off the corn of one cob and mix it in for some sweet pops of flavor. Sauté the vegetables to your preferred doneness, and when using frozen green beans as I do in this dish, you have a quick subtlety spiced accompaniment to whatever else you have going.
Besides using frozen string beans, I keep frozen freshly grated coconut in the freezer so that I always have this shortcut as well. If you don't have this coconut, I give instructions on subbing it out with desiccated (dry) coconut. Besides Indian groceries, well-stocked supermarkets, Walmart, and even Amazon sell frozen coconut, which certainly makes meal prep easier. Since it is mildly spiced, these healthy green beans are a good choice when needing to keep both kids and adults happy.
Use leftovers!
This recipe also works well with leftover vegetables. Simply scale the spices to the amount that you are working with. Exact measurements are certainly not needed. A little extra coconut or mustards is never a bad thing. I want to try this recipe with roasted vegetables. I think the caramelization from the high heat paired with the coconut and mustard seeds would take vegetables to the next level. Coconut green beans make a comforting side to any curry and wouldn't go amiss with your weeknight chicken dinner either.
​Happy cooking!
~ Alonna
P.S. Also see my article that covers all things coconut.
See the Notes below before you cook.
Recipe Card 📖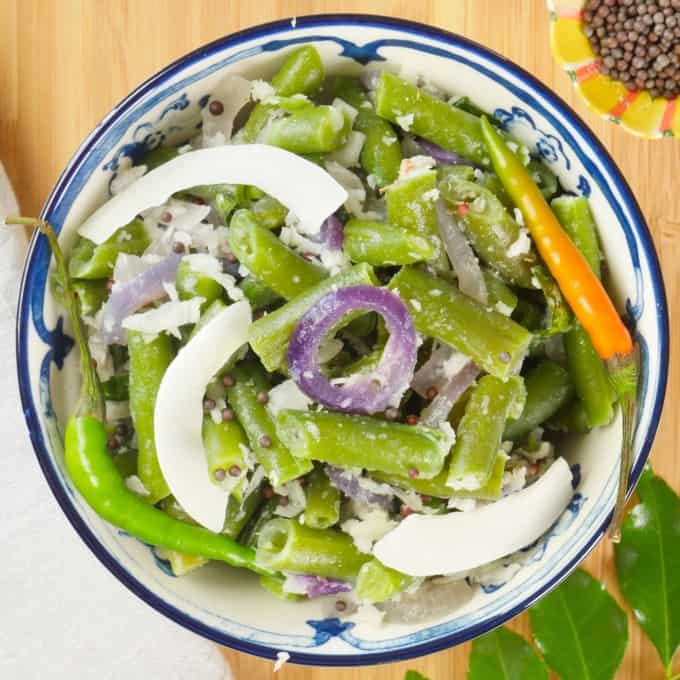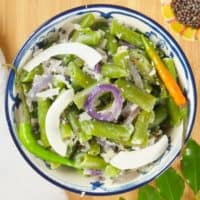 Easy Coconut Green Beans
Sweet and nutty from coconut, these easy green beans are a tasty change from the usual veggie game. Use frozen beans and this dish is done in 20 minutes start to finish!
Print
Pin
Comment
<!–– I removed icon="star-empty"from above and change Rate to Comment ––>
Ingrediants
1

pound

green beans

~ (French beans) cleaned and cut into pieces, see Notes below 

2

tablespoons

coconut oil

~ Or oil of your choice

1

teaspoons

black mustard seeds

~ Yellow or brown

1/2

cup

shallots

~ Sliced, or onion

10

small curry leaves

~ Or 5 large (1 to 1 1/2-inch) torn or chopped

2

small Indian green chilies

~ Or a jalapeño chili, minced, see Notes

1/4

teaspoon

asafetida (hing)

~ Optional but desirable

1/4

cup

fresh coconut

~ Grated, see Notes

1/2

teaspoon

sea or table salt

~ To taste, and substitutions

cilantro

~ Optional garnish if not using curry leaves

large coconut chips

~ Optional garnish
Instructions
In a large skillet or a wok, heat the oil over medium-high heat and add the mustard seeds. If your pan is hot enough the mustard seeds should start to pop in about a minute. If you have a splatter screen use it to keep the seeds from popping out of the pan. Otherwise, stand back.

Add the onion and turn down the heat if they are browning too quickly. Cook the onions until translucent, about 4 to 6 minutes. Add the curry leaves, green chilies, and asafetida (hing) if using, and saute for a minute or two.

Add the coconut and the green beans. If they are fresh, stir fry for 5 minutes stirring occasionally. If you are using frozen green beans, test at this point to see if they are tender enough to your taste. 

Some people like a bit of crunch left in their beans. If you feel they need more cooking or you've used fresh beans, turn the heat to medium-low, add 2 tablespoons of water. Cover and cook the beans for 5 to 10 minutes until they are almost done to your taste. Add another tablespoon of water if they seem to be getting dry.
Notes
SHORTCUT: Use frozen green beans either left whole or cut into bite-size pieces.
BESIDES GREENS BEANS: This recipe works well with cabbage, brussels sprouts, broccoli, cauliflower, or even leafy green beans. I like to add corn to the green beans in the summer for sweet pops texture and flavor.
CHILIES: As always, use as much or as little of the fresh chilies as you wish. If you want the flavor without too much heat, slit the chili down the middle starting just below the stem end, remove the seeds, and use the chili intact otherwise. You can always fish it out at the end of the cooking time.
COCONUT: I get my frozen coconut in an Indian grocery. You can also find frozen coconut in well-stock grocery stores, or use desiccated (dry) unsweetened coconut. If using this ingredient, to equal 1/4 cup fresh coconut, use 6 tablespoons dry or desiccated coconut. Pour warm to hot (but not boiling) water to cover and briefly rub the coconut with your fingers to speed up the water absorption. Allow to hydrate for 10 minutes or up to an hour. Drain well and use it as fresh coconut in this recipe.
Nutrition
Calories:
73
kcal
|
Carbohydrates:
8
g
|
Protein:
2
g
|
Fat:
5
g
|
Saturated Fat:
4
g
|
Sodium:
189
mg
|
Potassium:
178
mg
|
Fiber:
3
g
|
Sugar:
4
g
|
Vitamin A:
438
IU
|
Vitamin C:
34
mg
|
Calcium:
32
mg
|
Iron:
1
mg
Your Private Notes