Dinner to the rescue with these addictive fish patties (or burger-size them) using canned or frozen seafood. Crispy and full of flavor; make these with your favorite seafood!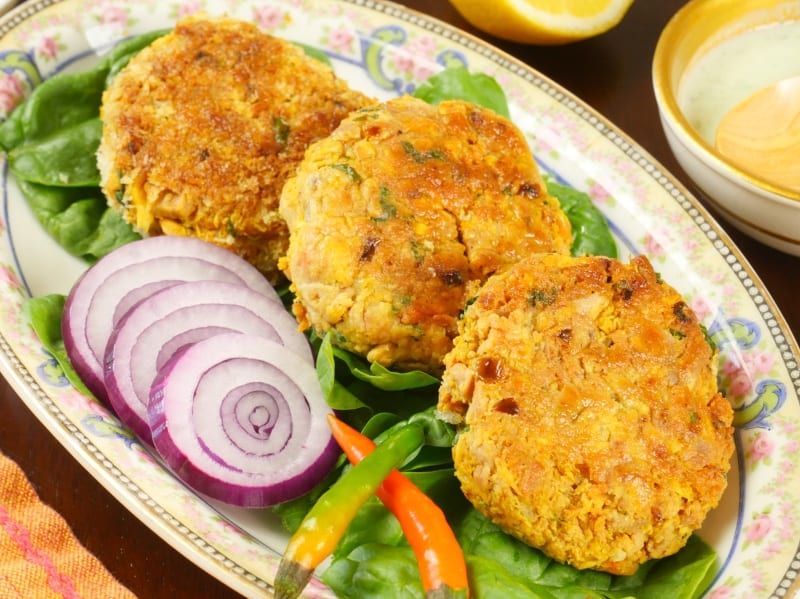 Little crispy bites
Especially craved in India during monsoon weather, Chef Sanjay Thumma behind the popular cooking Vlog Vahchef sings a little song to pakoras to welcome the rain. Small fritters are popular in many parts of the world. There is the French croquette, the croquetas de jamón from Spain, Indonesia's pisang goreng, kuku are savored in Iran, Japan has korokke, and on and on. India probably has as many names for these irresistible bites as the rest of the world combined.
This dish started with the Portuguese rissóis and was introduced to Goa, where cooks made tweaks to please the Indian palate. Called dangar by locals, which means cutlets, these fish patties are a part of the snack and appetizers cannon. Depending on the language and where in India you are, you will find patties, pattice, chops, pakora, pakoda, bhajia/bajji, tikki, or bonda. I am sure there are others, but you can see how popular little fried bites are. They are essential during India's monsoon season and are eaten with a cup of hot chai.
What fish?
A cutlet or patty is made using a mixture of lentils, vegetables, and sometimes a protein that is bound with chickpea flour (besan) and spices. It is a simple little bite or two that makes spirits soar. I typically have canned fish on hand, so that is what I use in this recipe. Canned salmon works well, and there is no need to pick out the bones. Tuna is also a good choice, but since it is a drier fish, you may need to use more binding. It is also helpful to break down the fish into small flakes to help the cakes stay together. Play around with the kind of fish you prefer. Adding in a small can of smoked trout or even mackerel would add a nice depth of flavor.
To bind
There are a number of ways to bind these fish patties. Many cooks soak bread in water, squeeze it dry and then incorporate it into the fish mixture along with some chickpea flour. Rice flour and almond flour works as well. If you use eggs, they also help hold everything together. Another common choice for binding is mashed potatoes. And since I try to go gluten-free, I used an egg, chickpea flour, and a bit of mashed potato.
If you have the time and patience, a 30-minute rest in the refrigerator is a good move. This helps keep the fish patties from crumbling. I always seem to be in a hurry and do take the risk of sautéing them immediately after shaping, which leads to the fish patties being a bit fragile. If you don't eat eggs, add more chickpea flour. Start with one to two tablespoons, just until the mixture holds together. However, be careful not to add too much flour, or you will have a doughy patty. Adding more mashed potato is also a very good option.
Bite-sized or burger-size
Make your fish cutlets small two-bite affairs or scale up depending on how you are eating them. Burger-size them and serve with a slaw either stuffed into buns or on the side. They freeze well, so make extra and tuck them in the freezer for the "what is for dinner" moment. Even though the patties are shallow fried in oil, this is still a healthy recipe. If your oil is at the proper temperature, very little fat is absorbed. Served on or with a small salad, these fish patties make a perfect light lunch or dinner. Using canned fish streamlines the whole process, and you can have a satisfying snack or meal in 30 minutes of active prep time.
Fish patties Goan-style is a good back-pocket recipe to have on hand because it works beautifully with your favorite seafood, whether canned, frozen, or fresh. I hope you give them a go!
Happy cooking!
~ Alonna
See the Notes below before you cook.
Recipe Card 📖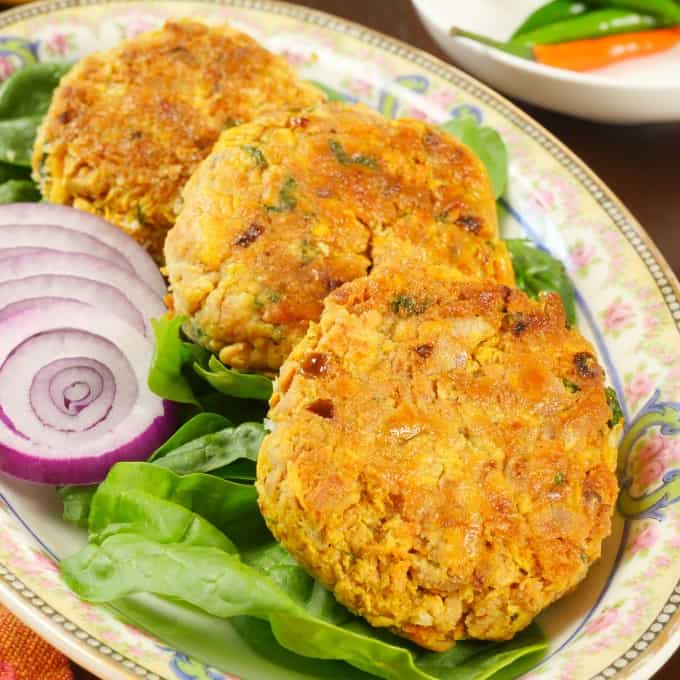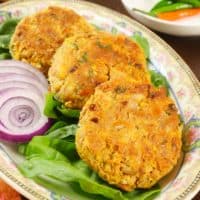 Indian Fish Cakes Goan-Style
Dinner to the rescue with these addictive fish patties (or burger-size them) using canned or frozen seafood. Crispy and full of flavor; make these with your favorite seafood!
Print
Pin
Comment
<!–– I removed icon="star-empty"from above and change Rate to Comment ––>
Ingrediants
18

ounces

canned salmon

~ 3 (5 to 6-ounce)cans, drained well; see Notes below

1/2

cup

onion

~ Or scallions finely diced

1

tablespoon

garlic paste

2

teaspoons

ginger paste

2

teaspoons

green chili

~ Equals about 4 small Indian or Thai chilis, or 1 poblano finely chopped

1/4

cup

fresh coconut

~ Grated (I buy frozen) or 6 tablespoons dried coconut soaked and drained

1

teaspoon

Kashmiri red chili powder

~ Or 1/2 teaspoon cayenne, to taste

1/2

teaspoon

turmeric

1

teaspoon

garam masala

~ See Notes below

1

teaspoon

tamarind paste

~ Equal amount lemon or lime juice

1/4

cup

cilantro

~ Chopped

1/4

cup

chickpea flour

~ Besan, you may need a bit more, see Notes

6

ounces

potato

~ Peeled and cut into 1-inch pieces, see Notes

sea or table salt

~ I start with 3/4 teaspoon

1

egg

~ Optional, for the crumbing step, see Notes

1/2

cup

panko breadcrumbs

~ Or 1/2 cup all-purpose flour or semolina (rava)

2

tablespoons

neutral oil
Instructions
If using potato to bind your fish patties, place medium potato cut into one-inch pieces in cold, salted water to cover over high heat. Bring to boil, then turn to medium-low and cook for about 15 minutes until tender but not mushy. Allow to cool for 5 minutes or until you can handle and roughly mash them.

Shape the patties into 6 to 12 equal balls depending on whether you are using them as appetizers or an main dish. Flatten them to approximately 1/2-inch thick. See Notes if you are having trouble with the fish patties holding together. This is an optional step but the patties will hold together better if they are chilled for 30 minutes in the refrigerator or overnight if you are making them ahead.

Bread the patties with your preferred wet medium and crumbs or flour. Heat the oil in a large frying pan and add the patties.

Saute until golden brown of each side. This will take about 4 minutes on each side.
Notes
After draining the salmon you will be left with a little over 13 ounces (368g) of fish. Instead of salmon, you can use tuna, mackerel, or one pound of cooked seafood. Raw shrimp are the traditional choice. If using shrimp, coarsely chop half of them very finely, then coarsely chop the rest.
Garam masala: if you can get make or buy the following spice mixes, here are my suggestions in order of preference:
Instead of chickpea flour, you can use 5 tablespoons almond or rice flour.
Instead of potatoes, you can use 2 slices of bread soaked and squeezed dry. Tear into small pieces before mixing well into the fish patties.
About binding: if your cakes are not hanging together, add another tablespoon of the flour you are using (chickpea, rice, or almond flour). Just be careful not to add too much or your fish cake will be unpleasantly doughy. A couple more tablespoons of potato is a good addition.
If you prefer not to use egg in this recipe, make a thin wheat flour or chickpea batter to coat. This will be approximately 1/4 cup flour and 5 tablespoons water. I sometimes skip both the battering and breading step and, while they tend to stick a bit more to the pan, but they make a perfect for a faster weeknight dinner.
If you want a gluten-free fish patty bread with gluten-free bread crumbs or skip breading altogether. This works well except they do tend to stick a bit more. Before moving the fish cakes let them cook until a dark golden brown and they will release from the pan better.
Nutrition
Calories:
225
kcal
|
Carbohydrates:
15
g
|
Protein:
18
g
|
Fat:
10
g
|
Saturated Fat:
2
g
|
Cholesterol:
78
mg
|
Sodium:
300
mg
|
Potassium:
435
mg
|
Fiber:
2
g
|
Sugar:
3
g
|
Vitamin A:
125
IU
|
Vitamin C:
8
mg
|
Calcium:
200
mg
|
Iron:
2
mg
Your Private Notes