Shrimp with a quick, luscious creamy sauce, and a hit of mustard. A must weeknight main meal that you can whip up at a moments notice using shrimp you have tucked up in the freezer.
Top 20 Dish! Get my free e-Cookbook: "The 20 Top Dishes in India"
Beloved Shrimp Curry
Nothing gets between a Bengali and their seafood. West Bengal is a coastal city, home to many beloved seafood curries. One of the most popular is called "chingri posto," whose distinctive ingredients are mustard oil, white poppy seeds, and onion seeds (kalonji). This flavor marriage is a heavenly, enticing flavor bomb and mild on the heat scale.
No Special Ingredients
You can also make this dish without a trip to an Indian grocery. I have made Bengali prawn curry with my favorite oil, cashews, and sesame seeds and loved every bite. If you are feeling adventurous, use the more traditional ingredients. You will be delighted with the new flavors and how quickly it comes together. White poppy seeds, cashews, or skinless almonds are ground to a fine powder to create a lovely thick sauce. Flavored with onion, a hit of mustard, and a bit of green chili, this masala will transform your weeknight cooking rotation.
About Mustard Oil
Mustard oil is used frequently in Bengali cooking. This pungent, flavorful oil has created controversy in the West due to its erucic acid content. Thus leading to the labeling in the U.S. market "for external use only." However, there are purportedly many health benefits from consuming mustard oil, and Indian cooks have been using it for centuries to no ill effect. Even American chefs have fallen in love with this piquant oil. For an interesting article on the subject, read Indrani Sen's New York Times's article called "American Chefs Discover Mustard Oil."
Happy Cooking!
~ Alonna
See the Notes below before you cook.
Recipe Card 📖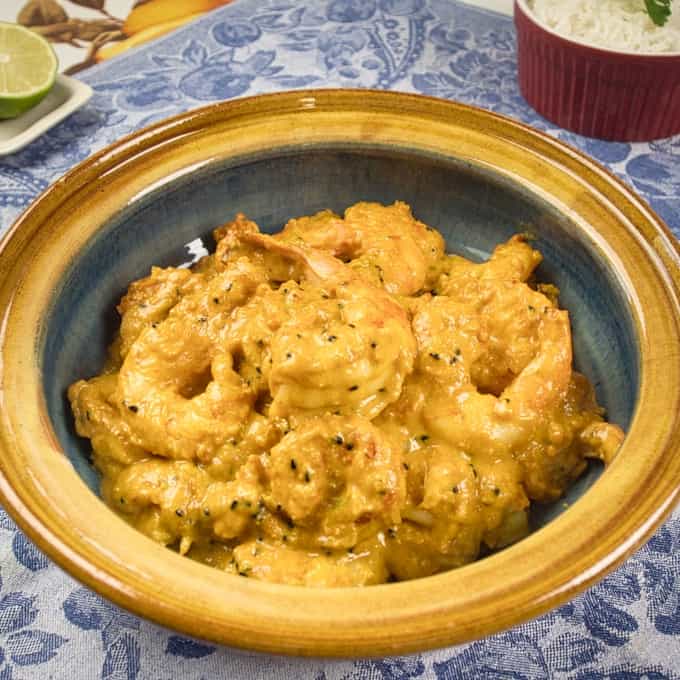 Bengali Prawn Curry (Chingri Posto)
Shrimp with a quick, luscious creamy sauce, and a hit of mustard. A must weeknight main meal that you can whip up at a moments notice using shrimp you have tucked up in the freezer.
Print
Pin
Comment
<!–– I removed icon="star-empty"from above and change Rate to Comment ––>
Ingrediants
1 1/2

pounds

medium to large shrimp

~ Or prawns, with tails on, if you like the look

1

teaspoon

sea or table salt

~ Substitutions

1

teaspoon

Kashmiri ground red chili

~ Or 1/2 teaspoon cayenne, to your taste

1/2

teaspoon

turmeric

1/4

teaspoon

baking soda, optional

~ See 2nd Note

1/2

cup

raw cashews

~ Or white poppy seeds, or skinless almonds. See 3rd Note.

2

tablespoons

mustard oil

~ Or oil of your choice

3/4

teaspoon

Dijon mustard

~ Only if you did not use mustard oil

3/4

cup

onions

~ Finely minced

1

teaspoon

onion seeds (kalonji seeds)

~ Or sesame seeds

2

small

green chilies

~ 1 teaspoon, or to your taste

1/2

cup

water

1/2

teaspoon

sugar

~ Only if using white poppy seeds

1

teaspoon

mustard oil

~ Optional, for a final drizzle
Instructions
If you haven't purchased cleaned shrimp, clean and remove the heads. Leave the tails on, if you wish.


In a bowl large enough to hold the shrimp, mix the salt, 1/2 teaspoon of Kashmiri ground red chili pepper, turmeric, and baking soda (if using, see note 2). Add the shrimp and mix well to coat. Place in the refrigerator for 15 minutes, up to an hour.

Using a spice grinder, or mortar and pestle, grind the cashews (poppy seeds or almonds) to a fine powder. Strain through a sieve to remove any larger pieces to run through the grinder again and sieve.

In a large pan over medium-high heat, add 1 tablespoon of oil and heat the oil before adding the shrimp. Cook for 2 to 3 minutes (depending on the size of your shrimp), or just until they start to turn pink. Do not overcook because they will be simmered in the masala before serving. Remove from the pan and set aside.

Turn the heat down to medium and add another tablespoon of oil and the onion seeds or sesame seeds, if using. Let them crackle for a few seconds, then immediately add the onions.  Cook for about 6 to 8 minutes, or until they have turned translucent and golden around the edges. Add a tablespoon or two of water if the onions begin to stick.

Add the minced green chilies, ground cashews (white poppy seeds or almonds), and 1/4 cup water. If you are not using mustard oil, add Dijon mustard now.

Sauté for 5 to 8 minutes to cook the spices, until the paste turns a golden brown and the oil begins to separate. IMPORTANT: If using cashew paste this step will only take 2 to 3 minutes!

Add 1/2 cup water, and sugar (if you used poppy seeds). Bring to a boil and add the shrimp and any juices that have been released. Stir gently but thoroughly. 

Cover and simmer on very low heat for 5 minutes to allow the flavors to come together, the shrimp to finish cooking, and the sauce to thicken. This is a dry curry, with the sauce clinging to the shrimp, however, add additional water now, depending on how saucy you want your masala.
Notes
Leave the tails on the shrimp for a nice look, if you prefer.
Using a bit of baking soda in the shrimp marinade helps give a snappier, more pleasant texture, but this is completely optional.
Chingri posto normally uses white poppy seeds to thicken the sauce. They are harder to find and I like the flavor of the sauce better with ground cashews. If you want to try cooking with poppy seeds, you must use the white variety; the more easily found blue variety tastes different and does not make a good substitution for the white ones. Besides cashews, another good option is skinless almonds.
This dish often includes fried cubes of potatoes, which I have omitted to streamline the recipe.
Bengali prawn curry is a dry curry. For my version, I've added slightly more water so that the dish has a bit of creamy sauce. You get to choose how saucy you want your shrimp masala.
Bengali Prawn Curry (Chingri Posto) is one of the Top 20 Dishes in India, enjoy!
Nutrition
Calories:
182
kcal
|
Carbohydrates:
10
g
|
Protein:
3
g
|
Fat:
15
g
|
Saturated Fat:
2
g
|
Sodium:
80
mg
|
Potassium:
150
mg
|
Fiber:
2
g
|
Sugar:
3
g
|
Vitamin C:
5
mg
|
Calcium:
13
mg
|
Iron:
1
mg
Your Private Notes