Kerala fish curry is cooked with little fuss and energy. Slow baked in the oven in a mildly spiced coconut bath, yielding moist fish that is comforting, delicious AND healthy.
Weeknight Ease
Influenced by the flavors of the Indian state of Kerala, this coconut curry typically is made with kingfish. Since I can't get my hands on kingfish here, I have used one of my favorite fish, salmon. It is rich in flavor and easy to find. Like mackerel, it is also harder to overcook than other seafood because they are both oiler.
Since I live in a landlocked state, impeccably fresh fish is hard to come by. And the frozen fish that I've found here have had some serious texture issues. But we do have a small specialty store nearby that carries good quality wild-caught salmon. They keep me in quick meal options.
Please feel free to use another kind of fish, if you prefer. Good alternatives include pomfret, mackerel, tilapia, mahi-mahi, sea bass, and rainbow trout. If you want to be sure your seafood buying choices are environmentally conscious, Seafood Watch is a good place for this information.
Kerala Fish Curry in the Oven
I've been looking for a seafood recipe that can be prepared with little fuss and energy but with lots of flavor. Kerala fish curry gets popped into a low oven to cook slowly in a mildly spiced coconut bath. This method gives you a moist and flakey fish dinner that is comforting and healthy without requiring much attention.
A word about the sauce: it is so good. Make it mild for the chili-averse or mince up a green chili or two if you want a little more heat. I love that the coconut milk not only keeps the salmon moist as it bakes, but it concentrates and turns into a creamy, ready-made sauce. Serve over rice, quinoa, or even cooked lentils. If you are going carb-free, cauliflower rice is the perfect foundation for Kerala fish curry.
If you prefer to make a coconut fish curry on the stovetop, please take a look at my fish molee recipe.
Happy cooking!
~ Alonna
See the Notes below before you cook.
Recipe Card 📖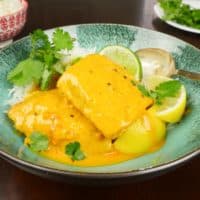 Kerala Fish Curry Slow Baked
Kerala fish curry is cooked with little fuss and energy. Slow baked in the oven in a mildly spiced coconut bath, yielding moist fish that is comforting, delicious AND healthy.
Print
Pin
Comment
<!–– I removed icon="star-empty"from above and change Rate to Comment ––>
Ingrediants
Instructions
Marinade
Gather your marinade spices.

In a bowl large enough for the salmon pieces, add the marinade ingredients. Combine, then add the fish and coat well. Set aside while the masala cooks.
Masala (Sauce)
Gather all your sauce ingredients and turn the oven to 300°F (150°C).

In a dutch oven or saute pan over medium-high heat, add the coconut oil. When the oil is hot, test with a couple of mustard seeds. When they are sizzling, add the rest of the mustard seeds. As soon as they are crackling, add the onions and cook for about 5 minutes; just until translucent.

Add the ginger garlic paste and stir for about a minute or two until the paste smells cooked. Turn the heat down to medium if the pan is too hot.

Add the Kashmiri ground chili and the ground coriander. Stir for several minutes to cook the spices.

Add the coconut milk and lemon juice. Remove from the heat. Taste for salt and more lemon juice.

Place the fish in a baking dish and cover with the coconut sauce. Bake uncovered for 25 to 30 minutes, or until the fish flakes easily. Start checking for doneness at the 20-minute mark. How long it takes to cook will depend on your oven and the thickness of the fish.

OPTIONAL: If the sauce is not as thick as you would like it, remove the cooked fish from the dish and cover with foil. Return the coconut sauce to the pan used to cook the sauce. Over medium-high heat, boil the sauce for about 5 minutes, or until it reaches the consistancy you are looking for. You can choose to pour through a sieve for a slightly fancier final dish

Taste for acid, heat (ground chili), and salt. I typically find I want a couple more squeezes of lemon. Serve with rice or quinoa and your favorite raita. Plain yogurt also works for a fuss-free accompaniement.
Notes
Feel free to swap in your favorite fish for the salmon in this Kerala fish curry.
Ideally get center cut steaks so that the fish has a more even thickness.
If you would like a thicker sauce, after baking the fish, remove it from the coconut mixture and cover with foil. Add the sauce back into the dutch oven or pan you cooked the masala in. Over medium-high heat, cook the sauce for about 5 minutes or until it is at the consistency you would like. Strain it if you want a smooth sauce, but this step is not necessary.
Ground coriander losses it's flavor reasonably quickly. Either freshly grind some coriander seeds, or make sure your powder is still flavorful.
Nutrition
Calories:
488
kcal
|
Carbohydrates:
8
g
|
Protein:
36
g
|
Fat:
35
g
|
Saturated Fat:
23
g
|
Cholesterol:
94
mg
|
Sodium:
672
mg
|
Potassium:
1115
mg
|
Fiber:
1
g
|
Sugar:
2
g
|
Vitamin A:
99
IU
|
Vitamin C:
8
mg
|
Calcium:
50
mg
|
Iron:
5
mg
Your Private Notes