Vibrant, fresh, and captivating, Indian fish curry has a green sauce that deliciously solves weeknight dinner doldrums. Use your favorite seafood and double the marinade so you can freeze extras for a rainy day!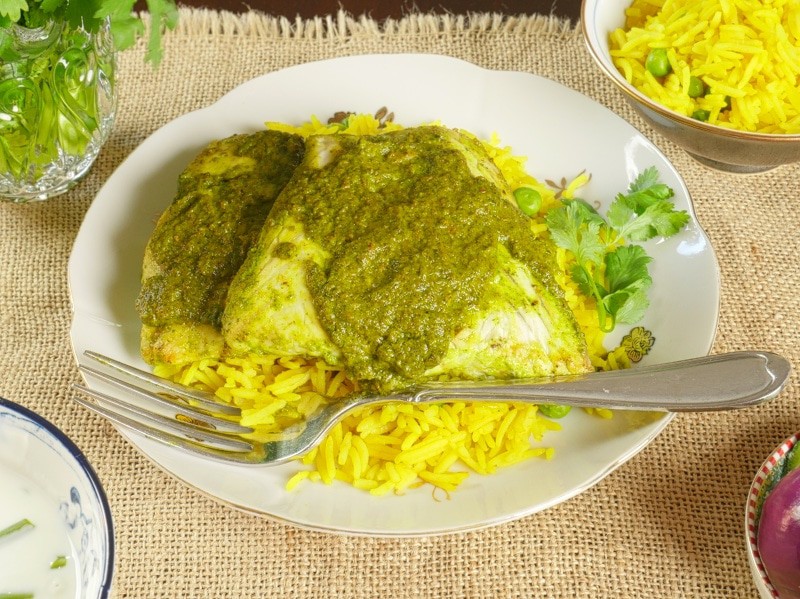 Red or Green
West coast Goans love their seafood, and this recipe is inspired by recheado, fish curry made with red chilies, or a green masala. I love green sauces or dressings of all kinds, so I went for green. It reminds me of one of the typical questions you get at a New Mexican restaurant—my new home state— red, green, or Christmas? This question is about the type of salsa you prefer; Christmas means you want both red and green salsa. Green is always my goto choice, but it is not necessarily the milder choice, depending on the chilies' heat level that day. When I think of green sauces, there is salsa verde (Mexico), chimichurri (Argentina), ginger-scallion sauce (China), sauce chien (Guadeloupe), you get the idea. And they all add a vibrant brightness to any food that needs it.
Recheado is stuffed
Recheado is the Portuguese word for stuffed. In Goa, a fish recheado is a dish where a 6 to 8-inch whole fish is stuffed with either red or green recheado paste. My choice for a green masala is not only a personal preference, but it also allows the fish to shine through. Since I don't often use whole fish, I tested various white fish steaks. Marinate them for an hour or so to allow the flavors to penetrate the flesh. When you see vinegar as an ingredient, you can almost be sure it is a Goan dish. So there is a good dose of vinegar in recheado along with a moderating sprinkle of sugar. I needed to reduce the vinegar to suit my taste, so my recipe is not "authentic." But it is still a wonderfully tangy, flavorful, and easy recipe for weeknight dinners.
Make your tweaks
My other tweak is that I sometimes double the sauce to fish ratio. I found that quickly simmering the leftover marinade into a thickened sauce made an excellent drizzle just before serving. If you like this sauce, you can preserve a quantity of it by cooking it in oil. It keeps in the freezer for a last-minute dinner option for any protein that needs a partner. If you would like instructions, follow the method shown in this Fatimas Cuisine video. I've made this marinade for halibut, barramundi, and shrimp, and can confidently say that it works well with pretty much any seafood.
Meat or vegetables would also be a happy marriage with this green masala. And be sure to adjust the vinegar, salt, and heat levels to your preference. I always call for the lowest spice levels so you can add or subtract to your taste. If you are as fond of green sauces as I am, one of my favorite bloggers, Romain of Glebe Kitchen, just posted an Indian chicken in a green sauce called Hariyali chicken curry. Well, not so green in the end, but full of green ingredients!
Happy cooking!
~ Alonna
See the Notes below before you cook.
Recipe Card 📖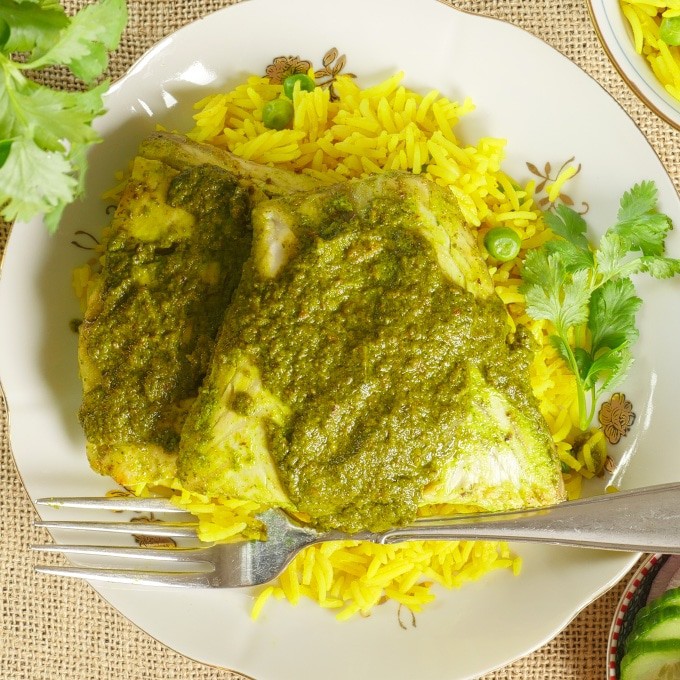 Indian Fish Curry (Recheado)
Vibrant, fresh, and captivating, Indian fish curry has a green sauce that deliciously solves weeknight dinner doldrums. Use your favorite seafood and double the marinade so you can freeze extras for a rainy day!
Print
Pin
Comment
<!–– I removed icon="star-empty"from above and change Rate to Comment ––>
Ingrediants
Marinade
1/4

cup

onion

~ Sliced

1

teaspoon

oil

1

cup

cilantro

~ Packed, leaves and tender stems

2 to 4

small Indian green chilies

~ See Notes below

1/2

teaspoon

cumin seed

4

whole peppercorns

3

whole cloves

1/2

inch

cinnamon stick

2

tablespoon

garlic

~ Minced, about 6 cloves

2

teaspoon

ginger

~ Mince, about 1/4-inch ginger

1/4

teaspoon

turmeric

2

tablespoons

vinegar

~ Cider, malt or white

1/4

teaspoon

sea or table salt

~ See substitutions
Fish
2

tablespoons

oil

1 1/2

pounds

fish

1/2 to 1

teaspoon

sugar

~ Optional
Notes
Seafood: I have made this dish with 6-ounce halibut and barramundi filets, and shrimp. If using fish with skin, remove it.
More sauce? If you like the idea of having ample sauce to drizzle over the fish before serving, 1 1/2 or double the marinade ingredients. Simmer for 3 to 5 minutes over medium-high heat until slightly thickened. Drizzle away.
Chilies: I use small Indian chilies. When seeded and chopped they measure 1/2 teaspoon. Use a hotter chili, and/or keep the seeds in. Use as many chilies to your taste.
Coating: If you like to coat or bread your fish, use semolina or panko crumbs and coat the seafood before sautéing.
Nutrition
Calories:
257
kcal
|
Carbohydrates:
5
g
|
Protein:
35
g
|
Fat:
11
g
|
Saturated Fat:
2
g
|
Cholesterol:
85
mg
|
Sodium:
313
mg
|
Potassium:
565
mg
|
Fiber:
1
g
|
Sugar:
2
g
|
Vitamin A:
270
IU
|
Vitamin C:
6
mg
|
Calcium:
27
mg
|
Iron:
1
mg
Your Private Notes