Show your family and friends how much you love them with this fragrant and generously spiced rogan josh curry. Use lamb, beef, or chicken as you wish.
Top 20 Dish! Get my free e-Cookbook: "The 20 Top Dishes in India"
A Standard for a Reason!
Rogan josh curry is a popular choice on most Indian restaurant menus here in the United States. This masala is traditionally made with lamb, and since we love lamb, that is what I typically use. But feel free to make organ josh with chicken or beef because they will work beautifully as well. However, you may want to use chicken thighs, as you will be less likely to have dry, tough meat.
Origins
Introduced to India by the royal Mughal kitchens, the Mughals spent summers in the cooler valleys of Kashmir, thus influencing the cooking of this region. Rogan means butter in Persian, and aromatic with cinnamon, green and black cardamom, cloves, fennel, and black pepper, this rich sauce is truly fit for a king. Josh means hot or passionate in Hindu, referring to cooking over high heat, or the heat from red chilies, depending on whom you believe.
A Dish for Weekend Puttering
Rogan josh done right is not exactly weeknight cooking, though it is not hard to make. And the time invested will pay off in oohs and aahs you will hear around the table. Make this on the weekend, when you have leisure time in the kitchen, and you can putter about, peeking at a simmering braise. Happily, you won't need to do overnight marination, but I do highly suggest making it a day ahead, so the final result will be even more flavorful.
Pandit Style
Favored by Kashmiri Pandits (Brahmin), this recipe is "Pandit Style," meaning no onion or no garlic. And trust me, you won't miss them either. I've patterned my dish after Hari Ghotra's version of this curry, though I've added mace and fresh ginger paste to the party. If you haven't found her YouTube channel Hari Ghotra, I suggest you look her up. She does a good job of walking you through recipes and explaining the why's of the more unusual ingredients and cooking steps. She also sells curry pastes that I would love to try for a weeknight shortcut, but unfortunately, she does not yet have a U.S. distributor (She is U.K. based).
Let's get cooking!
~ Alonna
See Notes below before you cook.
Recipe Card 📖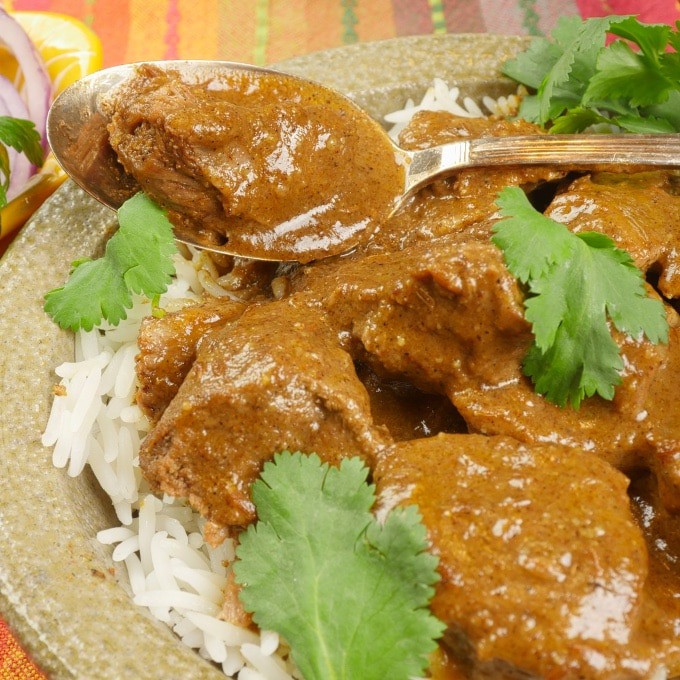 Fragrant Rogan Josh Curry
Show your family and friends how much you love them with this fragrant and generously spiced rogan josh curry. Use lamb, beef, or chicken as you wish.
Print
Pin
Comment
<!–– I removed icon="star-empty"from above and change Rate to Comment ––>
Ingrediants
2

pounds

lamb shoulder

~ Cut into 2-inch cubes, smaller if you prefer. See Notes below

2

tablespoons

ghee or oil

~ Buy or make ghee

2

whole

dried Kashmiri red chilies

~ Or 2 teaspoons ground Kashmiri red chili; substitutions

1

3-inch

whole cinnamon

~ Broken into pieces

3

whole

cloves

4

whole

black cardamom pods

~ Crushed, seeds removed

4

whole

green cardamom pods

1 1/2

teaspoons

fennel seeds

3

blades

mace

~ Or 1 1/2 teaspoons ground mace, optional

1

teaspoon

ground ginger

1

pinch

asafetida (hing)

~ Optional

1

teaspoon

cumin seeds

3/4

teaspoon

salt

~ Substitutions

1/2

cup

yogurt

~ Buy or make

water as needed
Instructions
Smash the black cardamom pods, and remove the seeds. Place in a small bowl with the cinnamon, cloves, whole chilies (if using), whole green cardamom, fennel seeds, and whole mace. If using ground chilies or ground mace, omit here because you will add them a little later.

In a spice grinder, grind these whole spices to a coarse powder. Using a sieve, separate the larger pieces and run them through the grinder again. Return to the same bowl and if you didn't use the whole chilies and mace earlier, stir them in now along with the ground ginger and salt. 

In a large sauté pan or dutch oven, heat 2 tablespoons ghee over medium heat and add a pinch of asafetida, if using. Stir for one minute. Add the cumin seeds and sauté for a minute or two until aromatic and the cumin seeds turn a slightly darker shade. Stir in the ground spices and sauté for 2 to 3 minutes to toast them until aromatic. Stir frequently so that the spices don't burn. Add a splash of water if the spices stick or are too thick.

Add the meat and yogurt and stir to combine; add water to just cover the meat. Cover the pan and simmer over low heat. The curry should only be slightly bubbling.

Take peek at the masala every 15 minutes or so to check on the liquid level, and stir to prevent burning. Add water as needed and cook until the meat is tender. This will take about an hour for lamb or beef, depending on the size of your cubes of meat. Also, adjust the cook time depending on the protein you are using. Chicken will probably take 15 to 20 minutes.

When the meat is cooked, check for seasoning. You are looking for a thick sauce, but not a dry one. Add a little water if your curry has cooked down completely. If your meat is tender but the sauce is watery, remove the meat and cook the sauce down over medium-hight heat until it reaches the consistancy you are looking for. Taste for seasonings; add additional chili powder, salt, or additional yogurt to mellow the spicing, to your taste.
Notes
Traditional recipes call for ratanjot, a hard to find herb that lends a vibrant red color to food. I've left it out because apparently it is used not so much for flavor, but for its color.

 

If you are not a fan of lamb, rogan josh can be made with beef, pork, turkey, or boneless chicken thighs as well. Chicken breasts tend to dry out, but use them if you prefer, being careful not to overcook the meat.
Cooking meat on the bone is more traditional, and if you would like to do that and you are using lamb, have your butcher cut lamb shanks into 4 or 5 pieces, then proceed with the recipe.
Shortcut: buy meat cut into the size you want to cook with.
Use coconut cream or milk instead of yogurt if you are cooking dairy-free.
Rogan josh curry is a great make-ahead dish and it will taste even better the next day, as will most curries.
Rogan josh curry is one of the Top 20 Dishes in India, enjoy!
Nutrition
Calories:
150
kcal
|
Carbohydrates:
3
g
|
Protein:
20
g
|
Fat:
6
g
|
Saturated Fat:
2
g
|
Cholesterol:
64
mg
|
Sodium:
369
mg
|
Potassium:
334
mg
|
Fiber:
1
g
|
Sugar:
1
g
|
Vitamin A:
20
IU
|
Vitamin C:
1
mg
|
Calcium:
53
mg
|
Iron:
2
mg
Your Private Notes