One of India's classic masalas for a reason, chicken korma is creamy, aromatic from a heady mix of cinnamon, cloves, cardamom, and fennel. This is a perfect weekend cook to share with some lucky family and friends.
Top 20 Dish! Get my free e-Cookbook: "The Top 20 Indian Recipes"
A Classic Braise
Korma is one of the classic sauces of India, and it means to braise. Play until your heart's content with what you would like to feature in this sauce. Indian chicken korma is a favorite North Indian dish served at celebrations. It can be rich with cream, butter, and pureed nuts, or light, and aromatic. Also, you decide whether to make a mild korma or add heat with a generous dose of chilies, all depending on your taste. Korma's exotic flavor comes from fenugreek seeds, star anise, cinnamon, cloves, cardamom, or fennel, depending on the region and the cook. South Indians add grated coconut or coconut milk to this curry.
Make it Vegetarian
The most common vegetarian kormas are made with potatoes or paneer. Navratan korma is a popular vegetarian version of this masala containing nine different vegetables. And chicken and mutton (goat in India, but lamb in the West) are favorite non-vegetarian options. For this recipe, I decided to go full out and present a weekend project dish, though it only requires a 1-hour pause for marination. So you can prepare this korma from start to finish in one cooking session if you wish.
Onions Take Time
The most time-consuming aspect of this recipe is the 35 to 45 minute cooking of the onions until they become deeply caramelized. As with most curries, you can break the cooking steps up to fit around your schedule. By doing short chunks of the preparation over several days, you will make an even more flavorful Indian chicken korma in the process.
Indian Chicken Korma
The outline of my chicken korma comes from a 2012 Saveur magazine article, written by a chef from Tulsi, a much loved Indian restaurant in New York City. Murgh (chicken) korma was included in the 150 classic recipes of their 150th issue. As usual, I have made some tweaks. I've reduced the 3/4 cup canola oil to 3 tablespoons of ghee or oil. And because I prefer a relatively mild curry, I pulled back on some of the heat from chilis. The black pepper called for in Saveur's recipe was replaced by my favorite red Kashmiri chili powder instead.
Cashews Make Cream
I have heard of using cashews to make "cream," but since I am not vegan, I've never tried it. Wow! I love how smooth and rich this sauce is from the ground cashews, and I will definitely use this trick with other dishes,​ whether Indian or not. If you want an instant pot recipe for korma, see my Instant Pot chicken korma recipe.
Happy Cooking!
~ Alonna
Oh, and by the way—This recipe is one of the top 20 Indian favorite dishes. Take a look!
See the Notes before you cook.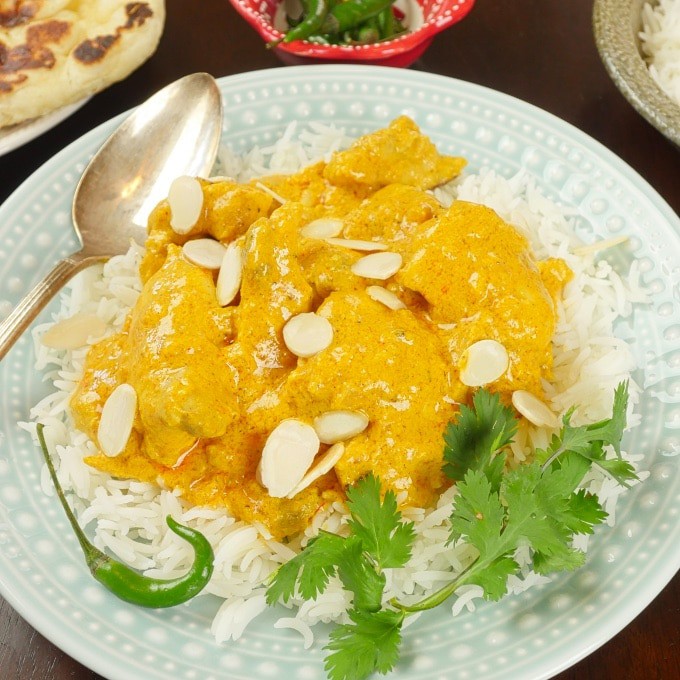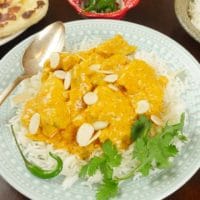 Indian Chicken Korma (Shahi Korma)
One of India's classic masalas for a reason, chicken korma is creamy, aromatic from a heady mix of cinnamon, cloves, cardamom, and fennel. This is a perfect weekend cook to share with some lucky family and friends.
Print
Pin
Comment
<!–– I removed icon="star-empty"from above and change Rate to Comment ––>
Ingrediants
Marinade
2

pounds

boneless skinless chicken thighs

~ Cut in quarters, see first Note below

1

tablespoon

ginger garlic paste

~ Or 1 1/2 teaspoon each garlic & ginger, finely minced, buy or make

1

tablespoon

lemon juice

~ Lime juice

3/4

teaspoon

sea or table salt

~ Or 1 1/2 teaspoons of kosher salt. About substitutions
Masala:
1/2

cup

raw cashews

1

tablespoon

Indian white poppy seeds

~ Optional; see second Note below

3

tablespoons

ghee or a neutral oil

~ Buy ghee or make

2

teaspoons

whole fennel seeds

3

green cardamom pods

2

whole cloves

1

bay leaf

1

2-inch piece of cinnamon

~ Broken into pieces

1

teaspoon

Kashmiri ground red chili

~ Substitutes

2-inch fresh ginger

~ Peeled & sliced OR 2 tablespoons ginger garlic paste

3

garlic cloves

~ Thinly sliced OR skip if using the paste above

2

cups

yellow or white onions

~ Thinly sliced

1/2

teaspoon

table or sea salt

1

small Indian chili

~ Seeded and minced (1/2 teaspoon) OR substitutions; more to taste

1/2

teaspoon

ground turmeric

1

teaspoon

paprika

~ Not smoked

1

cup

plain full-fat yogurt

~ Buy or make

1

teaspoon

lemon juice

~ Or lime juice

1/4

cup

heavy cream, optional

~ I usually don't add, but you decide if the dish needs it! Or coconut milk.
Garnishing Options
1/4

cup

cilantro

~ Coarsely chopped

toasted almonds or cashews

~ Whole or chopped

1

tablespoon

heavy cream or yogurt

~ To drizzle
Instructions
Marination
Place 1 tablespoon of the ginger garlic paste in a bowl with lemon juice and salt. Mix and add chicken pieces; mix to coat thoroughly. Marinate in the refrigerator for 1 hour.
Masala (Sauce)
While the chicken is marinating continue with the sauce. Puree cashews, poppy seeds (if using), and 1/3 cup of water in a blender (see last Note). Set aside.

In a small skillet over medium heat add fennel seeds, cardamom, cloves, bay leaf, and cinnamon stick. Toast for a minute or two, until fragrant. Be sure not to over toast. Let cool for several minutes.

Using a spice grinder, blend to a fine powder. Pass the powder through a sieve, grinding any larger pieces again. Sieve again and discard the small amount of coarse spice left behind.

Heat 2 tablespoons of ghee or oil in a heavy saucepan over medium heat and add sliced ginger, sliced garlic, onions and salt. (If using ginger garlic paste, add after the onions have been cooked.) Cook until deeply caramelized; 25 minutes. Stir every couple of minutes and add a tablespoon of water, or more as needed, if the onions begin sticking on the bottom of the pan. Also, lower the heat if necessary, to avoid burning. Add the 1 tablespoon of ginger garlic paste now, if using instead of the sliced ginger and garlic, and cook for 1 minute.

Add the ground spices and the ground red chili to the onions, and stir for 1 minute to cook through and the paste no longer smells raw.

Puree mixture with 1/3 cup water and set aside.

Add remaining 1 tablespoons of ghee or oil to the pot, over medium heat. Add onion paste, the last tablespoon of the ginger garlic paste, and the green chili. Cook until the oil separates. About 5 to 6 minutes.

Add turmeric and paprika. Cook for 1 minute.

Turn the heat up to medium-high and add the marinated chicken. Cook for 4 minutes. Pour in 1 cup water and bring to a boil. Reduce heat to low and cook at a very gentle simmer, covered for about 12 minutes (8 minutes if using white meat), or until done.

Stir in the ground nuts, yogurt, and lemon juice. Cook about 3 minutes, until the sauce comes together.

Stir in 4 tablespoons of cream, if using. Taste for salt, acid, and heat. Add more lemon juice if needed.

Garnish as you wish with the above ideas.
Notes
I don't typically recommend chicken breast in Indian chicken korma because it tends to dry out. This is one dish that you can get away with using white meat if you are careful not to overcook it. Lamb would be delicious too.
Indian poppy seeds are white and if you can't find them, leave them out. You are going for a light-colored masala for this dish.
To create the magic of this curry, do not hasten the browning of the onions. Put on an audiobook, listen to a podcast, or better yet, have some engaging company in the kitchen, with a glass of something fun while you enjoy this step.
If you want a vegetarian meal, substitute paneer, or cubed potatoes instead of chicken.
If you want a dairy-free dish, substitute coconut yogurt for regular yogurt.
If you are having trouble getting a smooth paste for your nut and poppy seed puree, here are some solutions:

If you have a Vitamix or Indian grinder/mixie, both are perfect for getting a smooth consistency.
Also, a personal blender like a Bullet or Tribest works very well. 
I have found that my Ninja blender failed, given the small volume of ingredients that you need to blend for this recipe. 
Another option is to grind the cashews and poppy seeds (if using) in a spice grinder, then proceed with the recipe as written. Use a strainer to remove the larger pieces, if you find it is necessary.
Lastly, giving the nuts a soak for 15 minutes or more will help them break down

If you want an instant pot recipe for korma, see my Instant Pot chicken korma recipe.
Indian chicken korma is one of the Top 20 Dishes in India, enjoy!
Nutrition
Calories:
274
kcal
|
Carbohydrates:
7
g
|
Protein:
33
g
|
Fat:
12
g
|
Saturated Fat:
3
g
|
Cholesterol:
149
mg
|
Sodium:
351
mg
|
Potassium:
529
mg
|
Fiber:
1
g
|
Sugar:
3
g
|
Vitamin A:
286
IU
|
Vitamin C:
2
mg
|
Calcium:
74
mg
|
Iron:
2
mg