Change up your chicken dinner routine with this healthy, rich, and creamy chicken saag recipe. Even your pickiest eaters will love it, and it is a delicious way to feed veggies to your family.
This dish is a delicious addition to the world of chicken curries. A rich, creamy, tasty, and healthy chicken recipe is not easy to find, but this is IT! Try my Hot or Mild Madras Chicken Curry too.
Jump to:
A Green Chicken Curry
Every Indian recipe collection needs a chicken saag as it is a U.S. Indian restaurant favorite and a much loved North Indian dish. This recipe goes by many names, depending on where you are from and the greens you use. Technically this is chicken palak because I've only used spinach.
Palak means spinach, and saag is a Punjabi term for any leafy green. So feel free to swap out all or part of the spinach with the greens of your choice. Mustard greens, collards, fresh fenugreek leaves, and swiss chard come to mind. Try a great recipe for Palak Paneer!
Shortcuts
My chicken saag recipe is very good with just a one-hour marinade. However, it is even better if you allow the chicken to soak in its marinade for 3 hours, and even up to 8 hours. So before cooking, decide how long you want to give this step and allow the time needed.
Another way to shorten the cooking time is to use frozen spinach, which cuts out the blanching step. And if you are serving your family and don't need a smooth puree, you can buy finely chopped frozen spinach or give it a knife chop on your cutting board. When using fresh spinach, and you don't care about how bright green your final masala is, you can skip the blanching step here too.
Substitutions
My inspiration for this recipe is from Ruchi's Kitchen, where Ruchi has written her mother's "heirloom saag wala." Her genius suggestion for an extra creamy palak chicken is to swap out the cream with cashew cream or yogurt. Cashew cream lends a rich, velvety texture to the sauce.
There are no unusual ingredients in this chicken saag recipe except black cardamom—which you can substitute with green cardamom—and optional kasoori methi. So give this rich, comforting, and healthy curry a try. I am sure it will become a family favorite.
Some Other Yummy Chicken Curries to Try
Recipe Card 📖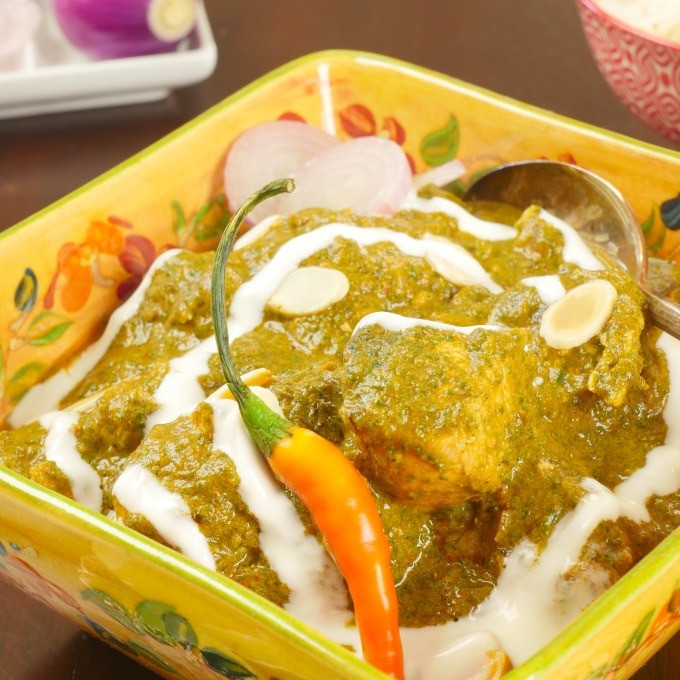 Comforting Chicken Saag Recipe
Change up your chicken dinner routine with this healthy, rich, and creamy chicken saag recipe. Even your pickiest eaters will love it, and it is a delicious way to feed veggies to your family.
Print
Pin
Comment
<!–– I removed icon="star-empty"from above and change Rate to Comment ––>
Ingrediants
Marinade Ingredients
1 1/2

pounds

skinless boneless chicken

~ Thighs or breast, see Notes below

5

tablespoons

plain yogurt

1 to 2

small Indian green chilies

~ Minced. See Notes below.

1/2

teaspoon

Kashmiri ground red chili

~ Or 1/4 teaspoon deggi mirch or cayenne. To taste!

1/2

teaspoon

garam masala

~ Buy or make your own

1/2

teaspoon

sea or table salt

~ Or 1 teaspoon Diamond Crystal Kosher

1

tablespoon

lemon juice

~ Or lime
Blanch the Spinach
8

ounces

fresh baby spinach

~ Or frozen, see Notes below

1/4

cup

milk

~ Water for processing
Sauce
2

tablespoons

ghee

~ Mustard oil or oil of your choice

3

whole black cardamoms

~ See Notes below for substitutions

2

bay leaves

~ Indian tej patta if you have them

1/2

teaspoon

cumin seeds

1 1/2

cups

onion

~ Finely chopped

1 1/2

tablespoon

ginger garlic paste

~ Or 2 teaspoons each ginger and garlic purée

3/4

cup

tomato purée

~ Or 3 medium tomatoes grated or finely chopped

1/2

teaspoon

Kashmiri ground red chili

~ Or 1/4 teaspoon deggi mirch or cayenne. To taste!

3/4

teaspoon

garam masala

2

teaspoon

ground coriander

1

teaspoon

ground cumin

1/2

teaspoon

sea or table salt

~ Or 1 teaspoon Diamond Crystal Kosher

2

teaspoons

dried fenugreek leaves (kasoori methi)

~ Optional but recommended

1/4

cup

milk

~ Coconut, yogurt, etc.
Optional final enrichment
1 to 2

tablespoons

heavy cream

~ Optional, or yogurt, or coconut milk

1 to 2

tablespoons

ghee

~ Optional,or butter
Optional garnishes
1

tablespoon

sliced almonds

1

tablespoon

yogurt

~ For drizzling
Instructions
Marinade
If using chicken thighs, cut into 3 pieces; and chicken breast (halves) into 4.
Prepare the spinach ~ See Notes below; Optional
If using fresh spinach, and you want to preserve the bright green color, blanch it briefly. Clean the spinach thoroughly if not pre-washed, removing tough stems if it is not baby spinach. Frozen spinach has already been cleaned and blanched.

Blanching: In a large pot of boiling water, blanch the spinach for one minute if using baby spinach, and 2 minutes if using regular spinach. Immediately spoon it into a sieve or colander and run it under cold water to stop the cooking. Drain the spinach of excess water.
Cook the sauce and assemble
Over medium-high, heat oil in a medium saucepan. When the oil is hot add the black cardamom, cumin seeds, and bay leaves to the pan. When the cumin begins to crackle and turn a shade darker reduce the heat to medium.

Add the tomato and cook for 4 to 6 minutes until the mixture thickens and the oil begins to separate on the top and along the sides of the pan.

Add the marinated chicken and turn the heat up to medium-high; stir frequently for 2 minutes.

Stir in all the spices—ground cumin, ground coriander, chili powder, garam masala, salt, kasoori methi (if using), and milk. Mix until combined and stir for another minute. Reduce heat to low, cover, and cook until the chicken is cooked through. This will take about 6 to 10 minutes, depending on the size of your chicken pieces. Uncover and stir in the spinach. Cook gently for 2 minutes to allow the flavors to meld.

Final adjustments: Add the optional butter, ghee, heavy cream, yogurt, or coconut milk to enrich and mellow the flavors. Taste for salt, acid (lemon juice), and heat (ground red or black pepper). Serve hot with warm rotis, naan, or white rice.

Keeping: Chicken saag keeps well in the refrigerator for 3 to 4 days so it is a perfect make-ahead dish. It also freezes well. After you have made it to your satisfaction, double the recipe next time so that you can freeze half for some dinner insurance. To freeze, transfer the cooled chicken to an airtight container and freeze for two to three months.
Notes
Protein choices: I find chicken breast dry no matter how carefully I cook it, but I do prefer it in the dish. Bone-in chicken is also good if that is how you roll. You can use lamb in this recipe but it will take at least twice as long to cook. If you want a vegan or vegetarian dish, use firm tofu cut into cubes and sautéed to add texture. The tofu won't take as much time to cook.
Chilies: I use small Indian chilies. When seeded and chopped they measure 1/2 teaspoon each. If you want the flavor of chilies without any of the heat, make a 1-inch slit down either side of the chili and use whole. Looking for more heat? Deseed and mince the chilies. Even more heat? Leave the seeds, use hotter chilies and, of course, add more!
Spinach amount: Many recipes of this type use up to a pound (16 ounces) of spinach. I quite like the balance of flavors of 8 ounces of spinach to the tomato and onion masala in this recipe, but feel free to add more to your taste.
Fresh spinach: If your spinach is not pre-washed be sure to wash carefully to remove the inevitable sand. I use pre-washed baby spinach, but if you are using older spinach, remove the tougher stems.

 

And if you don't care if your sauce is a bright green, you can also skip blanching. Blanching is primarily done to preserve a bright green color. Some cooks also blanch spinach to reduce the amount of oxalic acid in this green.
Frozen spinach: This spinach is already blanched so there is no prep work.
Mustard oil: If you like using this flavorful oil and want to use it in this recipe it should be cooked ahead. In a small pan over medium-high heat bring the oil to the smoking point. Remove the oil from the heat and allow it to cool.
Substitutes for black cardamom: though I encourage you to get your hands on this spice, you can substitute it with 4 green cardamoms. You won't get the distinctive smoky notes, however. In this recipe, if I didn't have black cardamom I would add 3 whole green cardamoms, 1/4 teaspoon of liquid smoke, a pinch of cloves, and a pinch of cinnamon. But don't let not having black cardamom keep you from making this dish and simply subbing in green cardamom will work well.
For a richer and creamier chicken saag recipe, instead of cream make Ruchi Kitchen's vegan cashew cream.
Nutrition
Calories:
379
kcal
|
Carbohydrates:
18
g
|
Protein:
38
g
|
Fat:
17
g
|
Saturated Fat:
8
g
|
Cholesterol:
187
mg
|
Sodium:
860
mg
|
Potassium:
1154
mg
|
Fiber:
5
g
|
Sugar:
8
g
|
Vitamin A:
5682
IU
|
Vitamin C:
31
mg
|
Calcium:
176
mg
|
Iron:
5
mg
Your Private Notes