My Indian spiced turkey burgers are juicy, low-carb, and full of vibrant herbs and spices. Forget all those dry, flavorless turkey burgers you've had. They are so good!
This is the turkey (or chicken!) burger you have been looking for. This updated recipe walks you through making healthy turkey burgers on your stove. And it is quick and easy enough to throw together at the end of the day. If you are looking for other non-beef burger ideas, take a peek at my healthy Kerala-style chicken burgers.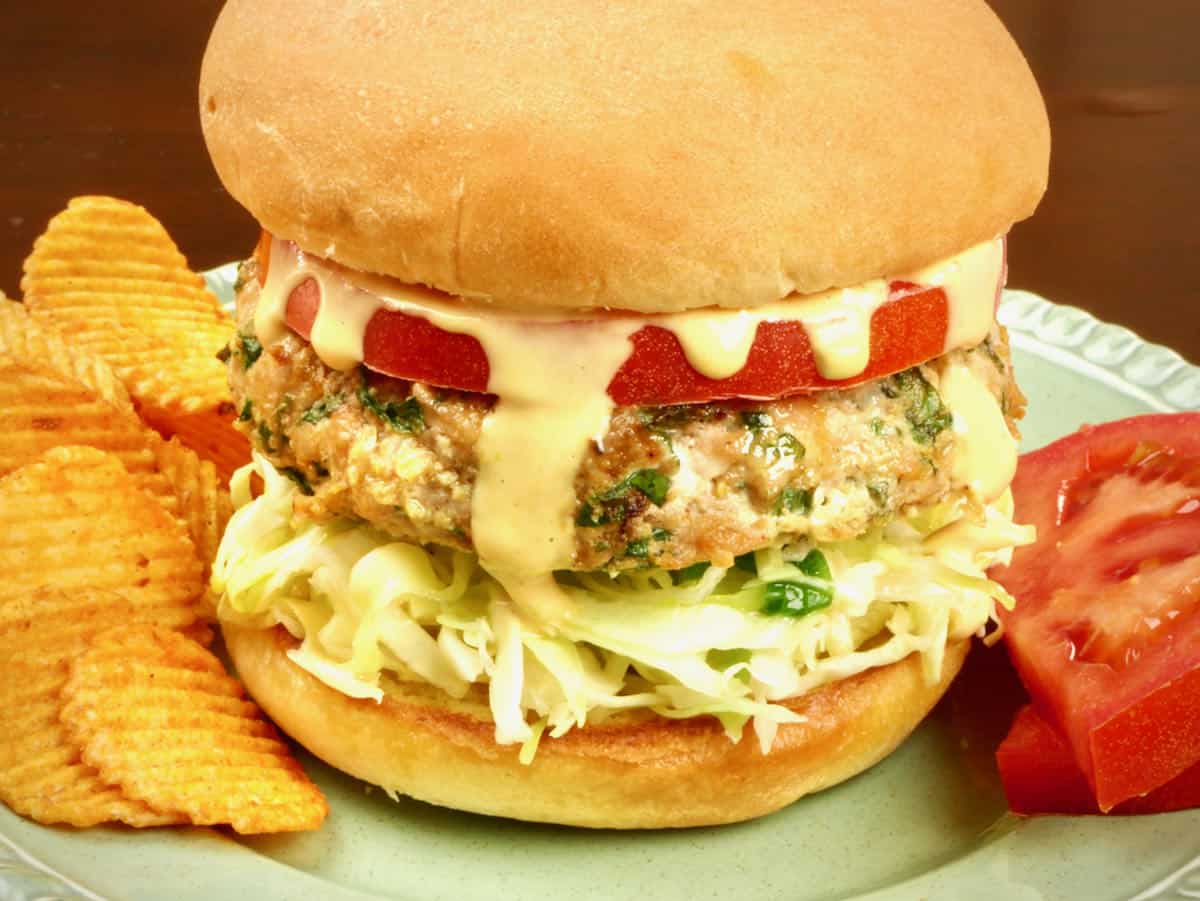 Jump to:
Kebabs/kababs/, patties, meatballs, meatloaf, and burgers are all cousins in the world of ground meat. And there are so many ways you can put your stamp on these burgers.
Between you and me, ground turkey or chicken needs help in the flavor department. These burgers are transformed by fresh herbs, aromatics, and spices that you probably normally use.
What makes these turkey burgers best?
They are moist and flavorful!
These low-carb turkey burgers skip breadcrumbs, so they are gluten-free
Mix all the ingredients together in one go
Quick and easy enough for weeknight dinners
A healthy alternative to ground beef
You get play with your favorite spice mix, toppings, and sides
Ingredients & Substitutions
Onions, ginger, garlic, fresh herbs, and a healthy fat all makes for a moist turkey burger. Here are the ingredients: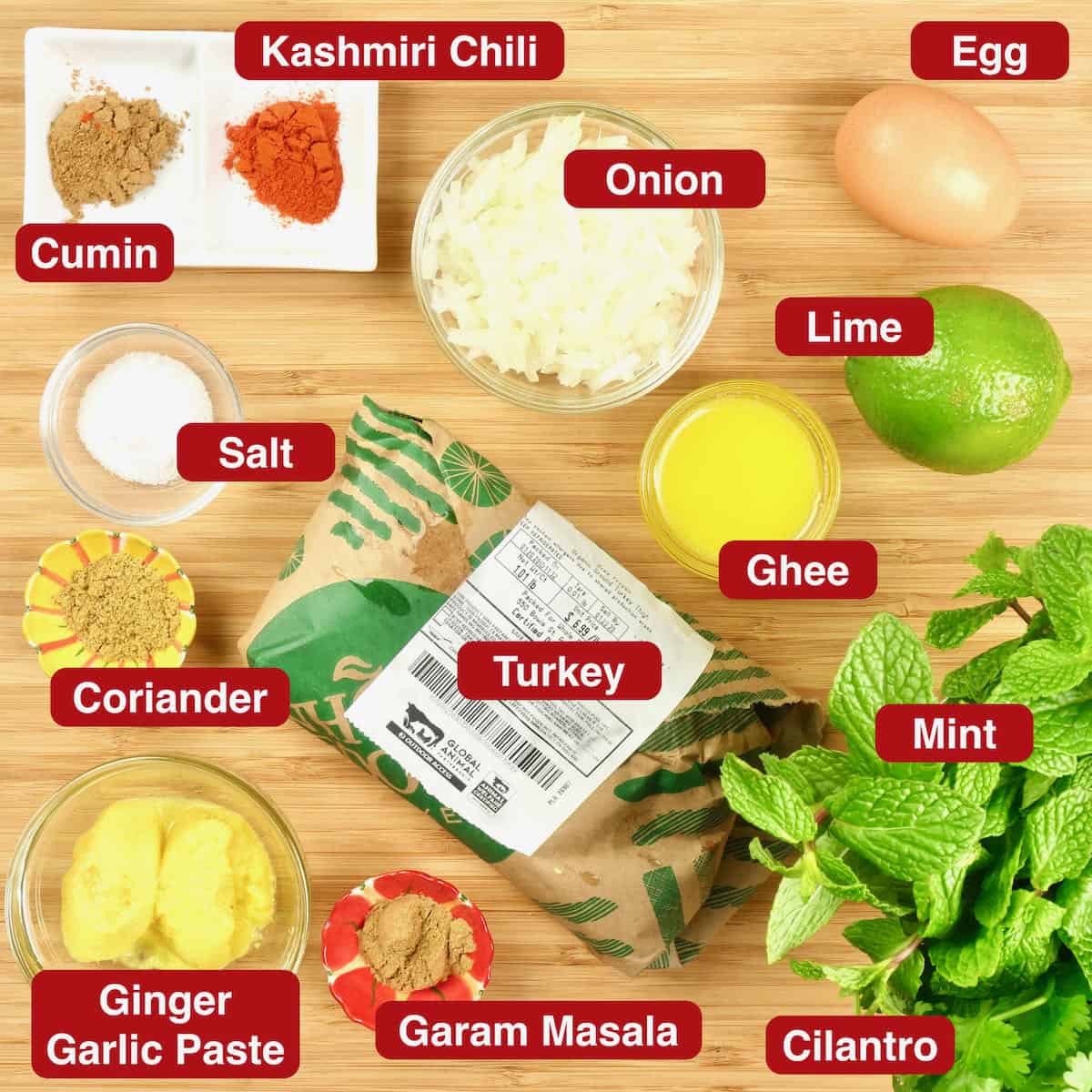 Spices: The turkey burger seasonings are ground cumin, coriander, Kashmiri chili, and garam masala. If you don't have Kashmiri chili, swap if with 1/3 the amount of cayenne. And your favorite curry powder makes a good stand-in for the garam masala.
Aromatics: The Indian kitchen workhorse of ginger garlic paste adds lots of flavor and moisture. If you don't have a ready-made paste simply grate or finely mince each in equal amounts. And you can make your own ginger garlic paste!
Onion, green chili, and fresh herbs bring layers of flavor. If you aren't a cilantro fan, Italian parsley makes a good substitute.
The protein: Really any ground meat will work here, but turkey is my preferred choice and it is easy to find. Ground dark meat turkey or chicken tends to be more flavorful and won't dry out as quickly.
Binder: One of the things I love about this burger is that is gluten-free. There are no bread crumbs or flour involved. And an egg helps pulls everything together, but some yogurt is a good replacement. I've even forgotten both and it still worked but was a bit more fragile.
Fats: I like using my ghee but your favorite oil is good too. Three tablespoons of oil--1 for sautéing and two for the mixture--adds healthy fat and keeps the burgers moist.
How to Cook
Here is how to make juicy turkey burgers that are good for you. Mix all the ingredients together.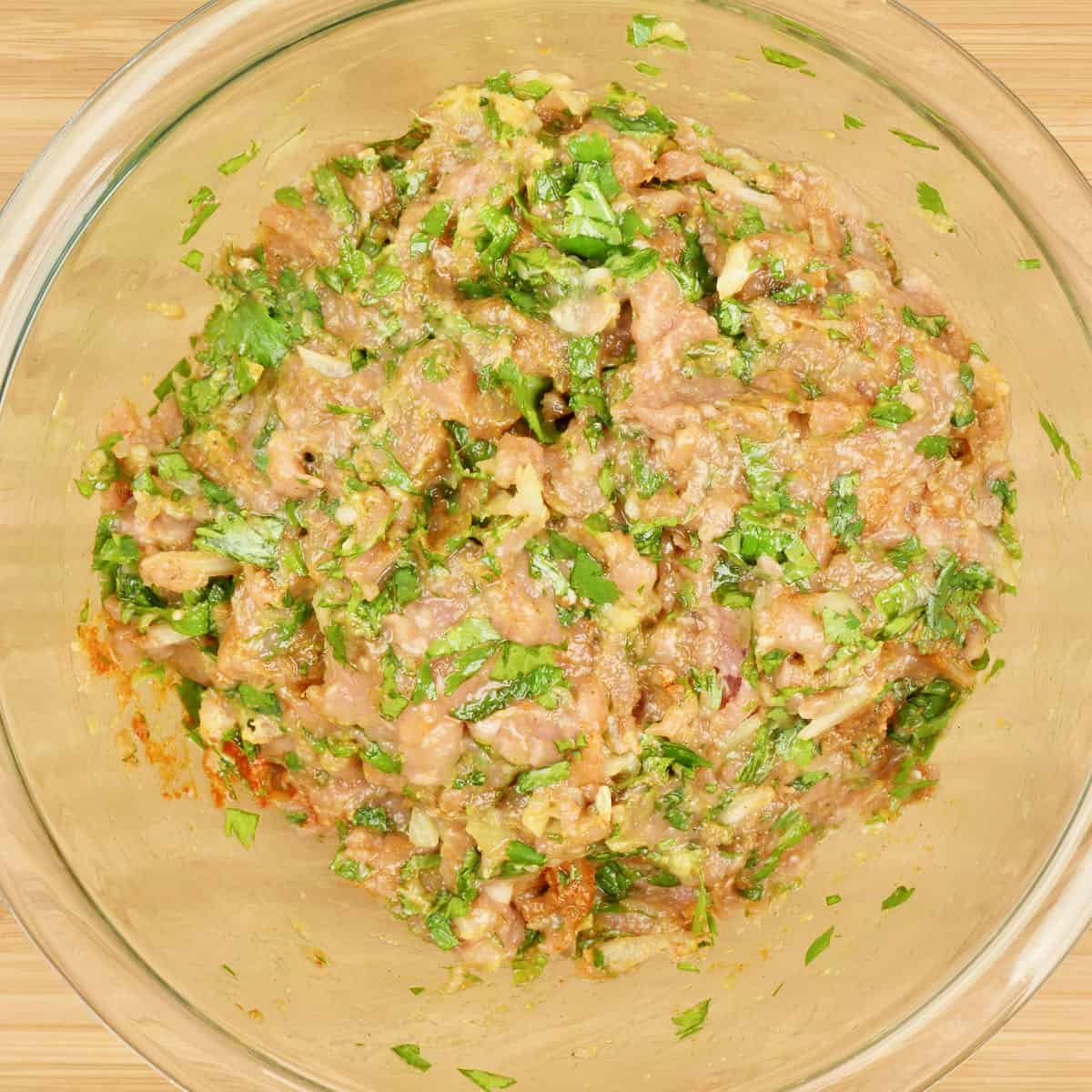 Divide the mixture into 4 portions and sauté in a large frying pan. Cook until beautifully golden brown.
While the meat is cooking, toast the buns using ghee or butter. Or, if going low carb, pop your burger on top of some greens or my simple cabbage slaw.
Tips & Tricks for Moist Turkey Burgers
Wet your hands with water or coat with oil. This will help you shape the patties.
Try to flip only once. Continually flipping will mean that the burgers will take longer to cook. And the longer they cook the more they will dry out.
Shape the patties uniformly. These burgers will cook evenly if you make them 1/2-inch thick.
Resist the temptation to press down on the burgers. All the juices will escape.
When the burgers are cooked, let them rest for 5 minutes so the juices will redistribute evenly.
Don't mix more than necessary. If you overmix ground meat it not only becomes dryer, but it also won't hold together as well.
Topping and Sides Ideas
Here are some of my favorites: a slice of cheese (sometimes), potato chips, a cabbage slaw of some sort, tomato, and caramelized onions.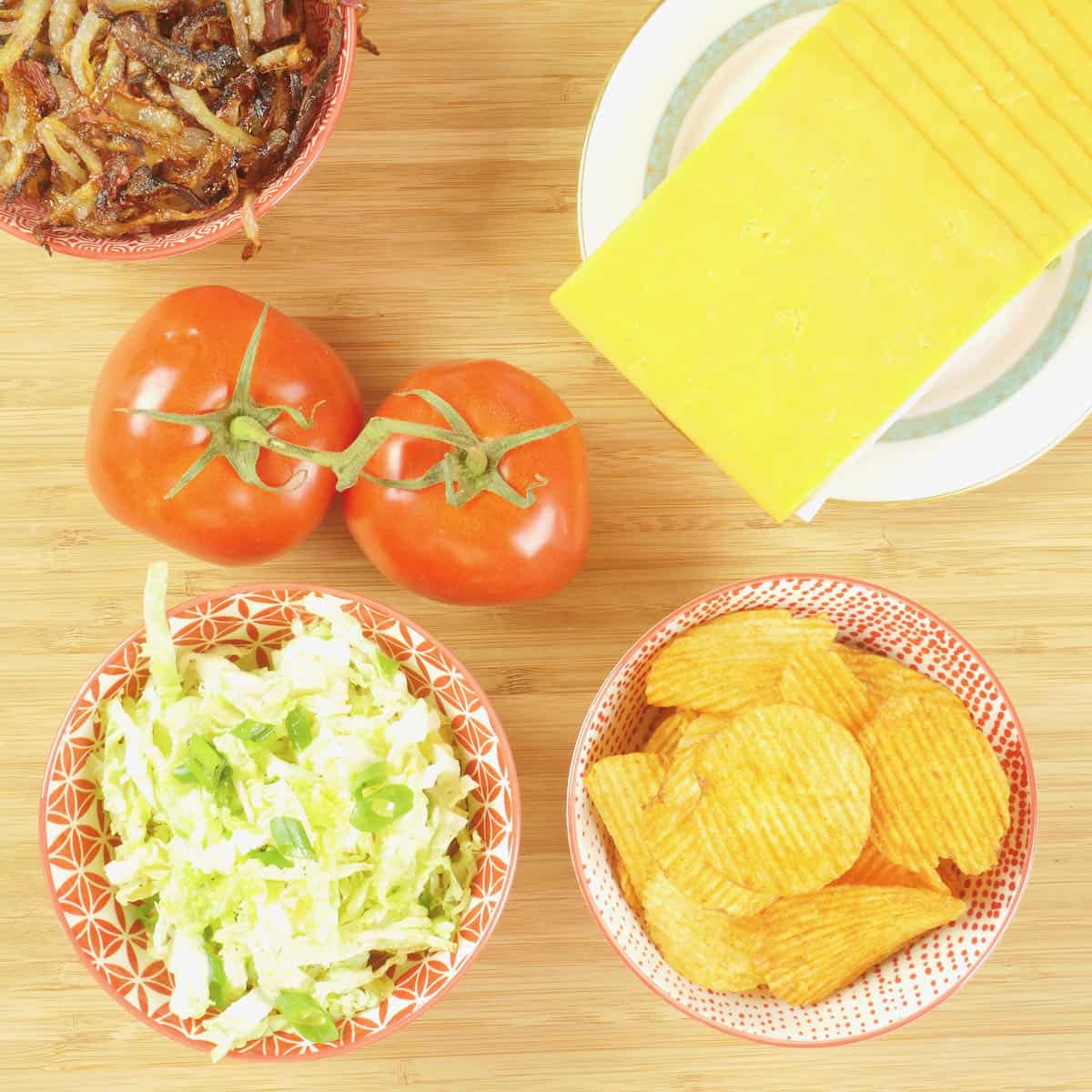 My favorite turkey burger sauce is from the vlogger Sam the Cooking Guy. I love watching him because he is fun and he knows how to make flavorful food. His simple but savory sauce is a mix of mayo (you could use thick yogurt), ketchup, yellow mustard, and chopped dill pickles. See the recipe below.
Also, my cilantro and mint chutney mixed with thick yogurt or mayo is tasty. Or purée some Indian pickle and add a little yogurt (or not) and spread on the toasted buns. My favorite store-bought pickle is Mother's Recipe Mild Lime Pickle. Or, have you thought about making a good Indian lime pickle?
See a quick slaw recipe for a healthy side and some welcome crunch. It just takes olive oil, lime juice, and salt and pepper. If you want to make a yummy cabbage slaw with coconut and mustard seeds, take a peek at my Indianish coconut cabbage salad.
Frequently Asked Questions
Are turkey burgers healthy?
While this recipe suggests that you add 2 tablespoons of oil to the mixture to keep the burgers moist, you are using a healthy fat. Even with this addition, these turkey burgers with a bun and 1 1/2 tablespoons of sauce, weigh in at just 438 calories. A beef burger has saturated fat and a much higher calorie count, even before any toppings. AND if you skip the bun you will save another 75+ calories (and carbs).
Why are turkey burgers typically so dry?
Because ground poultry is low fat and burgers made with it are often overcooked. Adding herbs, onion, and minced ginger and garlic all help up the moisture quotient.
If you don't use bread crumbs, what keeps these turkey burgers from falling apart?
A beaten egg helps hold everything together. If you don't use eggs, 2 tablespoons of thick yogurt also does the trick.
Do I need to add oil to my turkey burgers?
No, but they won't be as juicy and healthy fats are good for you.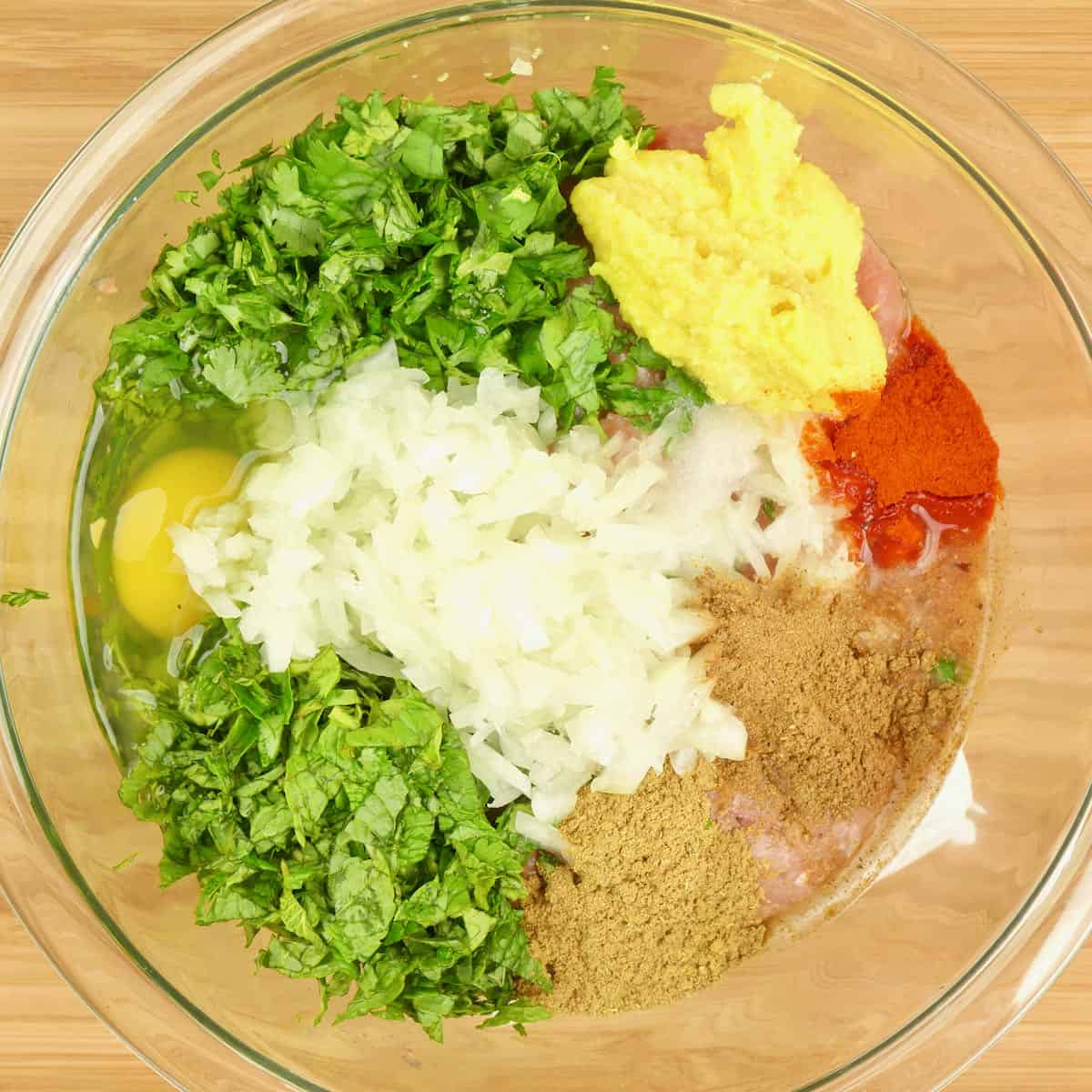 The Best Way to Store and Reheat
Storing: For any leftover burgers, wrap them tightly and store them in the refrigerator for up to 5 days.
Freezing: I have frozen uncooked burgers, but I find it easier and more convenient to cook them before freezing. Turkey burgers keep well in the freezer if tightly wrapped, for up to 3 months.
Reheat in a skillet: In a preheated skillet over medium heat, add the burgers and a teaspoon of water. Cover with a lid and reheat to 165°F (75°C).
Besides Burgers!
Besides a welcome change from your usual turkey burger, this recipe makes tender little meatballs that are great in wraps, sandwiches, stirred into pasta, or even used as a topping for your favorite store-bought pizza crust. I am confident you will enjoy this recipe and find creative ways to use it. Enjoy! Alonna
Here some more yummy ground meat recipes!
Did you try this recipe? I'd love to hear about it! Please rate by clicking stars ⭐️ on the recipe card and/or let me know in the comments below. Thank you! ~Alonna
Recipe Card 📖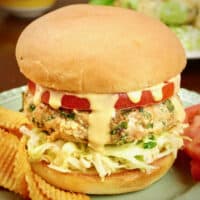 Indian Spiced Turkey Burgers on the Stove
My Indian spiced turkey burgers are juicy, low-carb, and full of vibrant herbs and spices. Forget all those dry, flavorless turkey burgers you've had. They are so good!
Print
Pin
Comment
<!–– I removed icon="star-empty"from above and change Rate to Comment ––>
Ingrediants
Burger
1

pound

ground turkey

~ Ideally dark meat, ground chicken, or pork

1/2

cup

onion

~ Grated or finely minced

1

teaspoon

ground cumin

1

teaspoon

ground coriander

1

teaspoon

garam masala

~ Or your favorite curry blend

1

teaspoon

Kashmiri ground red chili

~ Or 1/2 teaspoon cayenne; substitutions

1

tablespoon

ginger garlic paste

~ Or 1 1/2 teaspoons each garlic and ginger grated or finely minced

2 to 4

small green chilies

~ Finely chopped. See Notes below.

2

teaspoons

Worcestershire sauce

~ Or 2 teaspoons lime juice

1/2

cup

cilantro

~ Chopped

1/4

cup

fresh mint leaves

~ Chopped, more to taste

1

large egg

~ Or two tablespoons of thick plain yogurt

1

teaspoon

sea or table salt

~ Or at least 1 1/2 teaspoons of Kosher salt

3

tablespoons

ghee or oil

~ Divided, more if toasting the buns

4

burger buns

~ Optional
Simple Cabbage Slaw - Optional
3

cups

green or red cabbage

~ Thinly sliced

1

tablespoon

lime juice

1

tablespoon

olive oil

2

scallions, green part

~ Thinly sliced or 1 tablespoon red onion minced

salt and pepper

~ To taste
2

tablespoons

mayonnaise

1

tablespoon

ketchup

1

tablespoon

yellow mustard

2

tablespoons

dill pickle

~ Chopped

2

teaspoons

dill pickle liquid

salt and pepper

~ To taste

1/2

teaspoon

green chili

~ Optional, minced. See Notes below
Instructions
Gather the burger ingredients.

In a large bowl, thoroughly mix all the ingredients using 2 tablespoons of ghee or oil. If you would like to double-check the seasonings, fry a small amount of the meat to taste.

To help you shape the burgers, wet your hands with water or coat them with oil. Divide the mixture into 4 portions shape into 1/2-inch burgers.

In a large frying pan over medium-high heat add the remaining tablespoon of oil. When the oil is hot enough for a good sizzle it is time to cook the burgers. You are looking for a good medium brown crust. Turn the heat down to medium so the tender meat doesn't burn on the outside before it cooks on the inside. The cook time in the pan will be about 4 to 5 minutes. Check for doneness using an instant-read thermometer and look for 165°F (75°C).

While the meat is cooking, toast the buns using ghee or butter, if you are using. Also, see Notes below on a low-carb option.

Serve hot with chips and/or a salad. See some garnishing ideas below.
Cabbage Slaw - Optional
Mix all the ingredients together and set aside. If you are not using buns, double to this slaw recipe and use as a bed for the burger.
Mix all the ingredients together and taste for salt and pepper.
Garnish as You Wish
Here are my favorites: caramelized onions, green chutney, Sam's burger sauce, tomato, lettuce, masala potato chips, and cabbage slaw.
Notes
The calorie count: Includes the burger, a bun, and 1 1/2 tablespoons of the mayo-based sauce.
Green chili: If you want a decent amount of heat, finely mince a green chili or two and mix in. I use the small green chilies I find at my local Indian groceries, but a Serrano or jalapeño works well. Manage the heat by removing the seeds and ribs.
Toasting the buns is optional but it makes a big difference by creating buttery, crispy edges.
This healthy turkey burger mixture makes a perfect appetizer. Shape small patties and serve with your favorite chutney. You could also tuck them into little slider buns for additional cuteness. Or shape into meatballs and do anything you would typically do with meatballs!
If gluten-free, serve the turkey burger on a bed of the simple cabbage salad recipe I've included above, or any other salad situation you love.
Nutrition
Calories:
483
kcal
|
Carbohydrates:
30
g
|
Protein:
34
g
|
Fat:
25
g
|
Saturated Fat:
10
g
|
Trans Fat:
1
g
|
Cholesterol:
135
mg
|
Sodium:
1104
mg
|
Potassium:
622
mg
|
Fiber:
4
g
|
Sugar:
7
g
|
Vitamin A:
457
IU
|
Vitamin C:
27
mg
|
Calcium:
137
mg
|
Iron:
4
mg
Your Private Notes