Infused with fresh herbs, spices, and aromatics, this simple air fryer turkey burger is packed with pizzaz. The ingredients all come together in a really special way, so say goodbye to dry, dull turkey burgers!
Inspired by Indian flavors—spicy but not very hot—these juicy turkey burgers are easy to make and perfect for weeknight cooking. And the convenience of using an air-fryer will have you reaching for it anytime it is burger-time.
A bonus is that you will not heat up your kitchen in the dead of summer. If you want to make turkey burgers on the grill, head over to my Indian Spiced Turkey Burgers on the Grill recipe.
Jump to:
About these Air Fryer Turkey Burgers
Inspired by cookbook author Niloufer King's Parsi burger recipe published on the food website Food52, these patties keep their juiciness with fresh herbs, onion, ginger, and garlic.
Along with a few spices you already have in your cupboard, turn flavorless turkey burgers into a crave-able healthy dinner with a bit of ghee or olive oil, and an egg or yogurt to bind everything together.
The ground and fresh chili give a mild hum of heat, but if you want your burgers to have more punch, certainly add more!
Put your stamp on air fryer turkey burgers with your favorite sides and toppings. This meal will also feel quite special with a helping of my Quick & Easy Red Cabbage Salad or a Healthy Potato Salad with Yogurt.
Why this Recipe is Special
The air fryer doesn't heat up your kitchen and helps keep the burgers moist
The burgers are gluten-free, can be eggless, and low carb
No chill time needed
Quick and easy enough for weeknight dinners
These turkey burgers will satisfy your burger cravings
They are moist and flavorful!
Ingredients & Substitutions
Onions, ginger, garlic, fresh herbs, and healthy fat makes for a moister turkey burger. Here are the ingredients:
Spices: Turkey burger seasonings are ground cumin, coriander, Kashmiri chili (or cayenne), and garam masala.
Aromatics: The Indian kitchen workhorse of ginger garlic paste adds lots of flavor and moisture. If you don't have a ready-made paste, simply grate or finely mince each in equal amounts. And you can make your own ginger garlic paste.
Onion (shallots, scallions), green chili, and fresh herbs bring layers of flavor. If you aren't a cilantro fan, Italian parsley makes a good substitute.
The protein: Really, any ground meat will work, but turkey is my preferred choice and it is easy to find. I recommend using ground dark meat turkey or chicken because it is more flavorful than white meat and won't dry out as quickly.
Binder: Bound by an egg (or yogurt), these air fryer turkey burgers don't have any breadcrumbs or flour. Perfect for those of us who go gluten-free. Swap out the egg with yogurt for an eggless option, though the mixture will be softer and require a bit more care while shaping the burgers.
Fats: I like using ghee, but your favorite oil is good too. Two tablespoons of oil add healthy fat and keep the burgers moist.
How to Cook
Many turkey burger recipes require you to chill the patties for at least 30 minutes. While this burger mixture is softer and requires more care while shaping them, I don't find it necessary to refrigerate the burgers.
Mix all the ingredients together: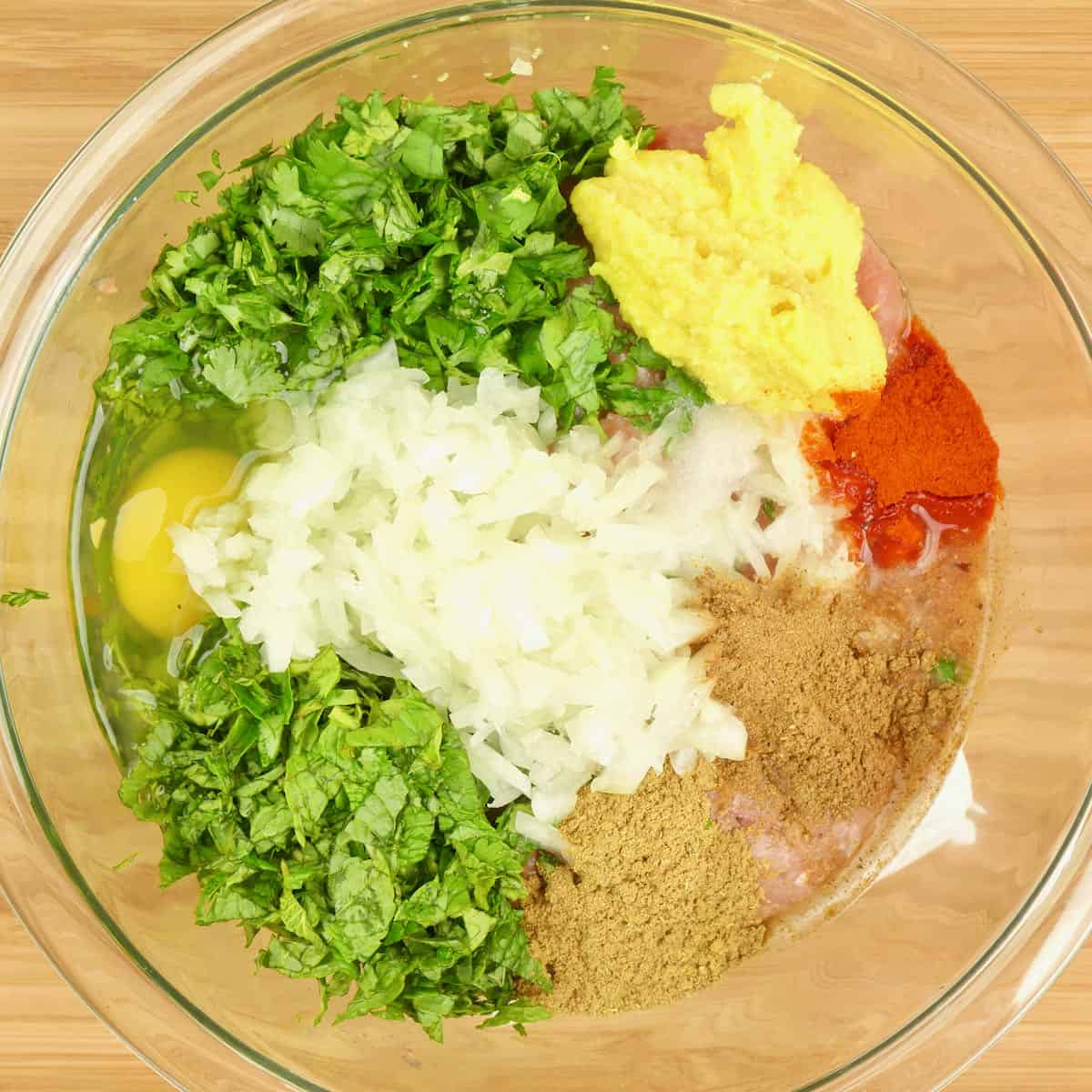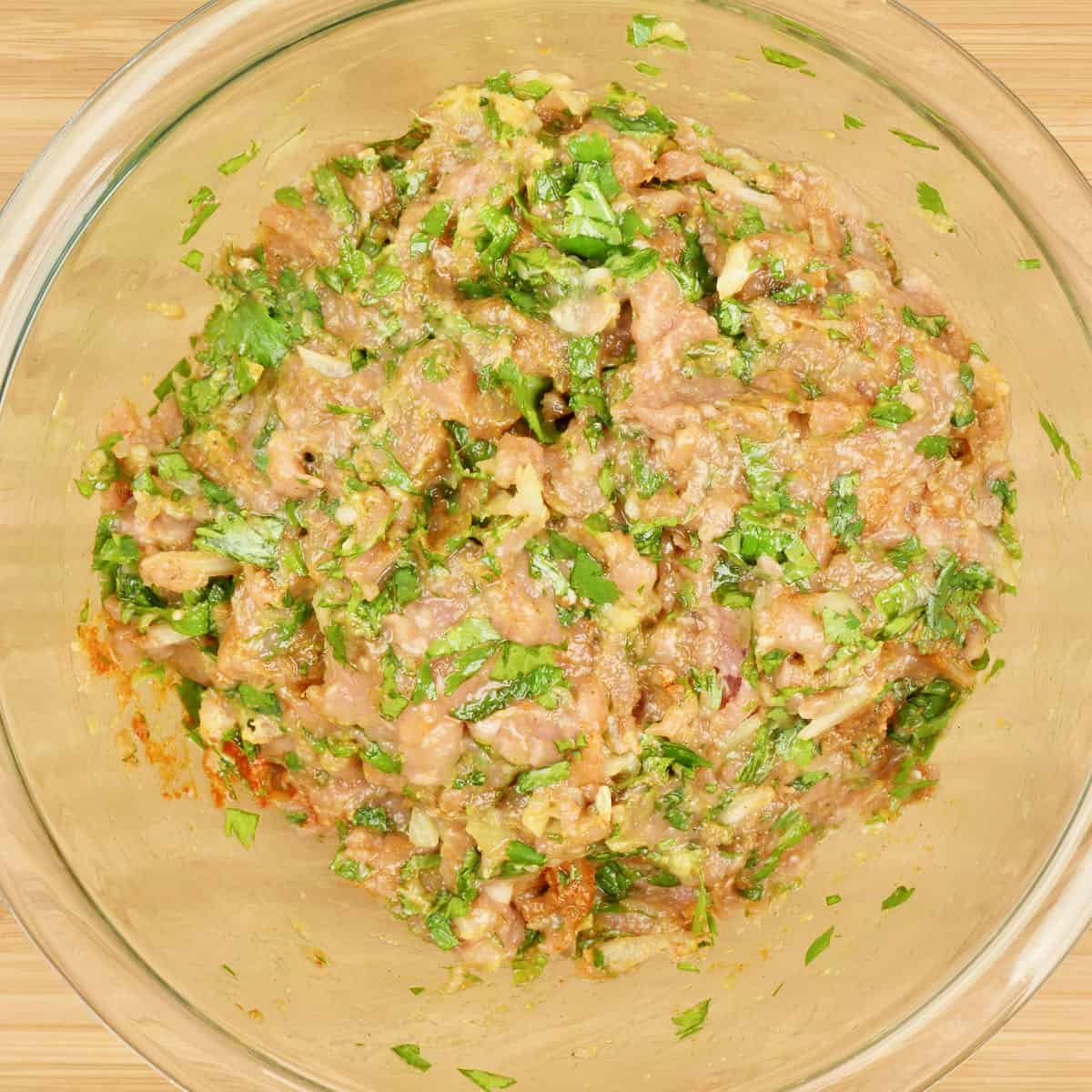 Divide the mixture into 4 portions and, using damp hands, shape the patties a 1/2-inch thick. Press a 1/4-inch-deep depression in the center of each burger to keep them from puffing up in the middle. You can make the burgers up to six hours ahead.
Place the burgers into the air fryer basket and cook them on the first side for 6 minutes. Flip and cook for another 5 minutes or until the meat measures 160°F (70°C) on an instant-read thermometer. They will continue to cook while resting.
Toast the buns on your stove while the meat is cooking, or in the air fryer after removing the patties. If you are going low-carb, pop your burger on top of some greens. Turkey burgers are best served immediately when they are extra juicy.
Tips to Make a Great Air Fryer Turkey Burger
Use ground dark meat turkey. The white meat is too dry and flavorless to make a good burger.
Press a 1/4-inch indentation in the middle of the burger before cooking. It prevents the middle of the burger from puffing up, and the meat cooks more evenly.
My biggest tip is not to overcook the burgers. They cook quickly so keep a close eye on them and start checking the doneness of your burger on the early side. You can always add a minute or two if necessary.
I used a GoWise 5.8-quart air fryer for the recipe. All the timings include a range of times to shoot for because each air fryer cooks a bit differently.
Topping Ideas
Here are some of my favorite burger accompaniments:
The Best Way to Store and Reheat
Storing: For any leftover burgers, wrap them tightly and store them in the refrigerator for up to 5 days.
Freezing: Freezing uncooked burgers for up to 3 months tightly wrapped works well. If you freeze cooked burgers, you are much more likely that they will overcook while reheating.
To cook the burgers from frozen in an air fryer: Place the burgers in a single layer and cook at 375°F (190°C) for 12 to 16 minutes. Rotate and flip them over after 7 minutes. Check them at the 4-minute mark and look for a temperature of 160°F (70°C). While you let the meat rest for 5 minutes, it will continue to cook and reach the ideal 165°F (75°C) temperature for ground poultry.
Some more yummy ground meat recipes!
Did you try this recipe? I'd love to hear about it! Please rate by clicking stars ⭐️ on the recipe card and/or let me know in the comments below. Thank you! ~Alonna
Recipe Card 📖
Air-Fryer Turkey Burger with Indian Masala
 Infused with fresh herbs, spices, and aromatics, this simple air fryer turkey burger is packed with pizzaz. The ingredients all come together in a really special way, so say goodbye to dry, dull turkey burgers!
Print
Pin
Comment
<!–– I removed icon="star-empty"from above and change Rate to Comment ––>
Ingrediants
1

pound

ground turkey

~ Ideally dark meat, ground chicken, or pork

1/2

cup

onion

~ Finely minced. Or scallions, shallots.

1

teaspoon

ground cumin

1

teaspoon

ground coriander

1

teaspoon

garam masala

~ Or your favorite curry blend

1 1/2

teaspoon

Kashmiri ground red chili

~ To taste, or 1/2 teaspoon cayenne; substitutions

1 1/2

tablespoons

ginger garlic paste

~ Or 2 teaspoons each garlic and ginger grated or finely minced

2

teaspoons

small green chili

~ Finely chopped. OR to taste; see Notes

1/2

cup

cilantro

~ Chopped. Or parsley

1

large egg

~ Or two tablespoons of thick plain yogurt

1

scant teaspoon

sea or table salt

~ To taste. Or 1 1/2 teaspoons of Kosher salt

2

tablespoons

ghee or oil

~ More if toasting the buns

2

teaspoons

Worcestershire sauce

~ Optional

4

burger buns

~ Optional
Instructions
In a large bowl, thoroughly mix all the ingredients. If you would like to double-check the seasonings, fry a small amount of the meat. The burgers can be shaped up to 24 hours in advance. See Notes about replacing egg with yogurt

The burger mixture will be soft, but don't be afraid. Divide the mixture into four equally sized portions and form into 1/2-inch burgers. To help you shape the patties, wet your hands with water or coat them with oil. With your fingertips make a 1/4-inch depression in the center of each patty. Be careful not to overwork the mixture.

Place two—or 4 if they fit (See Notes)— patties in the air fryer basket and cook them at 350°F (180°C) for 5 minutes. Rotate and turn the patties over. Cook for another 5 minutes and check that they have reached 160°F (70°C). If they aren't cooked through, cook for another minute or two. Times will vary depending on your air fryer. Repeat with the 2nd two burgers.

Rest the turkey burgers for 5 minutes under foil, and as they rest, the internal temperature will increase by about 5 degrees. Be careful not to overcook them, or they will dry out.

While the patties are cooking and if you toasting buns, you can toast them in a pan on the stove now, or in the air-fryer after the burgers have finished cooking.
Adding Cheese?
Immediately after the air fryer turkey burgers have come to temperature, top them with cheese. Close the air fryer, and wait until the cheese melts.
To Toast the Buns in the Air Fryer
While the burgers are resting, place the tops and bottoms of the buns cut side down in the air-fryer basket. Insert the basket into the air-fryer and turn the temperature to 370°F (185°C). Cook for 3 to 5 minutes or until golden brown. See Notes below for some low-carb ideas.
Garnish as You Wish
My favorite toppings: caramelized onions, sliced or diced red onions, green chutney, tomato, lettuce, masala potato chips, pickles, mayo, and cabbage slaw.
Notes
Don't crowd the burgers or they won't cook evenly. I have a 5.8-quart GoWise air fryer, and there is not quite enough room in the basket to cook 4 burgers at a time. 
Yogurt instead of egg: The mixture with yogurt will be softer and take more care to shape. And they also seem to cook much more quickly. Start checking the doneness at 7 minutes.
Green chili: If you want more heat, add more green chili. Manage the heat by removing the seeds and ribs.
Toasting the buns is optional, but it makes a big difference by creating buttery, crispy edges.
If gluten-free, serve the turkey burger on a bed of cabbage salad, or any other salad situation you love.
The calorie count: Includes the burger, not the optional bun and toppings.
Nutrition
Calories:
233
kcal
|
Carbohydrates:
3
g
|
Protein:
29
g
|
Fat:
12
g
|
Saturated Fat:
6
g
|
Polyunsaturated Fat:
1
g
|
Monounsaturated Fat:
4
g
|
Trans Fat:
0.03
g
|
Cholesterol:
122
mg
|
Sodium:
701
mg
|
Potassium:
456
mg
|
Fiber:
1
g
|
Sugar:
1
g
|
Vitamin A:
493
IU
|
Vitamin C:
7
mg
|
Calcium:
39
mg
|
Iron:
2
mg
Your Private Notes