These quick and easy Sichuan noodles will be your savior when you have no dinner plans. They are aromatic and comforting, versatile and endlessly customizable.
Weeknight Cravings Satisfied!
Noodles, noodles, noodles, who doesn't love them! There isn't a better comfort food in my book. This Sichuan noodle dish is endlessly customizable depending on your mood, what you happen to have in your cupboards, and the time you have to spend. Which often isn't much time in my house. Noodles often come into the picture as the day comes screeching to a halt, and it is time to think about dinner.
Spicy Sichuan Noodles
This recipe is more Chinese than Indian, and a blend of a Hakka or chow mein noodle dish with a more traditional Chinese Sichuan (Szechuan/Schezwan) version. You can buy Sichuan chili sauce, but if you make your own, you will have a magical oil you will want to drizzle on almost anything. Recently I sautéed some zucchini with garlic and thyme, and my homemade Sichuan chili oil was just the thing to elevate this quick vegetable side dish from the mundane.
Indo-Chinese Favorites
In India, Indo-Chinese or Sino-Indian cooking is a well-loved street food and restaurant change of pace. Think Chinese food with an Indian twist using Indian flavors and Chinese cooking methods. Chinese immigrants came to the ports of Calcutta and Madras in the 18th century to work on the docks. Today the largest groups of Chinese Indians still live in Kolkata (formerly Calcutta) and Mumbai.
Most of the Chinese in India are of Hakka origin, thus the many recipes for Hakka noodles. While very similar to chow mein, Hakka noodles in India are made with Indian spices, while chow mein is more recognizably Chinese in flavor. While the word fusion seems to generate much consternation in the professional food world, this mashup of Indian and Chinese flavors is a good example of fusion at its best.
Made to Be Modified!
The only must-have ingredient for these Sichuan noodles is Sichuan peppercorns which is the chili oil, homemade, or store-bought (see notes below for recommendations). Otherwise, feel free to make this dish with the vegetables you love. You can leave it at a single green vegetable, such as like bok choy or shreds of cabbage, or you can use green pepper (capsicum), red peppers, yellow peppers, carrots, mushrooms, some corn (baby or otherwise), and maybe a handful of beansprouts at the end for a nice crunch.
As to the protein, feel free to leave this a vegetarian meal, upping the protein content with some crumbled paneer or firm tofu, or not as it suits your fancy. Use ground or shredded meat for quick cooking, or even some leftover meat or roast chicken would be a great way to use up last night's dinner.
Quick Sichuan Noodle Inspiration
This recipe is from Marion Gasby's binge-worthy vlog, Marion's Kitchen, though I have changed up the cooking method slightly. She uses thin Chinese fresh noodles called wonton noodles. Truly, any noodle you love will work here: fresh or dried, udon, Hakka, ramen, or even rice noodles.
If you avoid gluten, I can recommend Annie Chun's mai fun. These rice noodles cook up quickly and have a nice chew. Other good options are a good quality ramen noodle or even your favorite dried spaghetti works. The most important thing you need to do for this dish is not to overcook the noodles. If you aren't using fresh noodles, make sure to cook the noodles just to al dente, with a little bite to them because you will be cooking them briefly in the sauce at the end. This will take less than a minute if using Marion's noodle of choice: thin wonton noodles.
Happy cooking!
~ Alonna
PS If you want another noodle recipe, see my cumin lamb Indo-Chinese noodles.
This recipe is one of the 10 dishes I make over and over!
Recipe Card 📖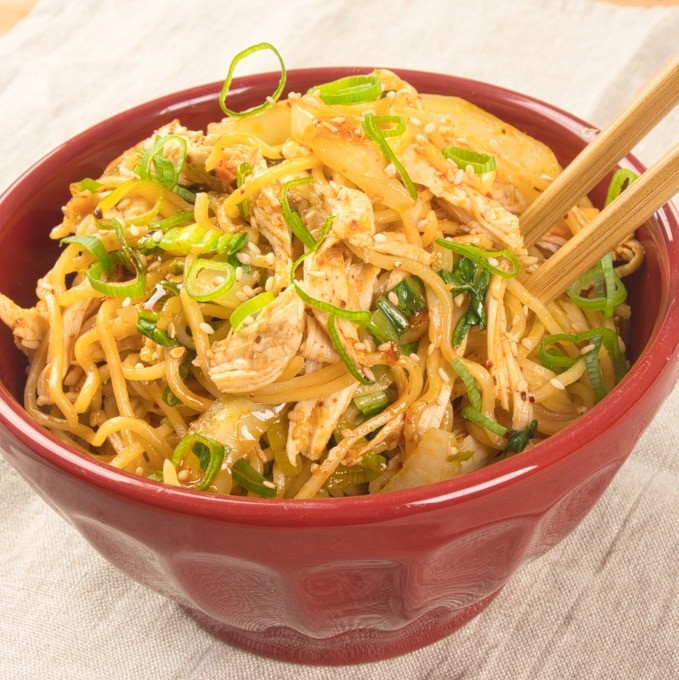 20-Minute Sichuan Noodles
These quick and easy Sichuan noodles will be your savior when you have no dinner plans. They are aromatic and comforting, versatile and endlessly customizable.
Print
Pin
Comment
<!–– I removed icon="star-empty"from above and change Rate to Comment ––>
Ingrediants
Noodles
7

ounces

fresh noodles

~ Or 6 ounces of dried noodles; see Notes below

2

cups

chicken

~ Shredded roast chicken; see Notes below

1

tablespoon

neutral oil

1/4

cup

scallion whites

~ Thinly sliced

2

cups

bok choy

~ Julienned; see Notes below
Sauce
1

tablespoon

sesame seeds

~ Extra for garnishing

1/4

cups

scallion greens

~ Reserve a tablespoon for garnishing

1

garlic clove

~ Grated or very finely minced

3

tablespoons

soy sauce

1

tablespoon

white vinegar

~ Or rice vinegar

1 to 3

tablespoons

sichuan chili oil

~ To your taste; MAKE! Substitutions in Notes

1

teaspoon

Asian toasted sesame oil

~ Optional, but highly recommended
Garnishing Ideas
1

small cucumber

~ Thinly sliced

1

tablespoon

whole toasted sesame seeds

2

tablespoons

peanuts

~ Chopped

1

tablespoons

scallion greens

~ Minced

1

teaspoon

sichuan chili oil

~ Drizzled over top
Instructions
Noodles and Sauce
Heat water to cook your noodles.

Dry toast the sesame seeds in a small frying pan over medium-high heat for 2 to 3 minutes. Stir frequently to prevent them from burning. Using a mortar and pestle or a spice grinder, grind to a coarse powder and set aside in a small bowl.

To the ground sesame seeds, add the scallions, garlic, soy sauce, vinegar, chili oil (make sure you mix the chili oil so you get both the oil and flakes) and sesame oil and mix together.

Cook the noodles. Fresh wonton noodles will take under a minute, but follow cooking instructions if you are using dried noodles. Don't overcook your noodles! Set aside.

In a large skillet or wok over medium-high heat, add the oil, and cook the scallions until translucent and turning golden along the edges; about 6 minutes. If using raw meat, add now and cook until done.

Add the vegetables you are using and cook until wilted but not mushy. How long this step will take depends on the type of vegetables.

Stir in the stir fry sauce and and the protein you are using; simmer for 1 to 2 minutes. Gently mix in the noodles to coat with the sauce and cook for another minute or 2 to heat them through.
Notes
Depending on the chili oil or Sichuan flavoring you use, you may need to balance your sauce with a little sweetness in the form of sugar or honey.
Vegetable ideas: use one kind or a mix of bok choy or other favorite greens, cabbage, red pepper (capsicum), mushrooms, corn.
Shortcut: grocery store prepared cabbage slaw
If you are using meat of some kind, any ground meat or leftovers will work here. If you are using raw meat, add to the skillet after the onions are cooked.
Noodles options: fresh Chinese egg noodles (wonton noodles), ramen noodles dried or fresh, mai fun (dried rice noodles if you want to go gluten-free). If you are using instant ramen, discard the seasoning packet(!).
Protein ideas: These Sichuan noodles work well as a vegetarian or vegan meal by swapping out paneer or firm tofu for meat. 
Sichuan chili oil options:
Nutrition
Calories:
230
kcal
|
Carbohydrates:
7
g
|
Protein:
18
g
|
Fat:
15
g
|
Saturated Fat:
3
g
|
Cholesterol:
41
mg
|
Sodium:
1597
mg
|
Potassium:
464
mg
|
Fiber:
3
g
|
Sugar:
2
g
|
Vitamin A:
3358
IU
|
Vitamin C:
36
mg
|
Calcium:
143
mg
|
Iron:
3
mg
Your Private Notes