Sichuan chili oil is numbing, tingling, and spicy all at once. This recipe is quick and easy to make, and you will find all kinds of food to put it on.
Spicy, Numbing & Tingly
The essential flavor of Sichuan Province's crave-able food comes from the numbing, tingling, spiciness of the Sichuan peppercorn. There are as many recipes for Sichuan chili oil as there are Sichuan cooks, but here I am presenting you with Marion Grasby's recipe. Marion is the captivating blogger and vlogger of Marion's Kitchen. Her recipes are easy to follow, she recommends substitutions for hard-to-find ingredients, and she is fun to watch.
Speaking of substitutions, there is no substitute for Sichuan peppercorns. Sadly, if you cannot find this spice, you won't be able to make Sichuan chili oil. I cannot often find Sichuan peppercorns in a grocery store, even Whole Foods. But if you are lucky enough to have a Penzeys Spices nearby, you are in luck. Otherwise, mail-ordering will be your friend.
Finding Sichuan Peppercorns
My favorite source for Sichuan ingredients is The Mala Market. Taylor Holliday adopted a Chinese daughter who was old enough to remember the flavors of her birthplace. So in order to feed her daughter comforting food, Ms. Holliday learned to cook Sichuan dishes. In the process, she started a blog, eventually offering high quality, essential ingredients produced in Sichuan Province. She carries not one but three Sichuan peppercorns, and I buy her Da Hong Pao Sichuan Peppercorns. Amazon is also a good source and one brand you may want to try is the Soeos Authentic Szechuan Peppercorns.
Interestingly, Sichuan peppercorns are not peppercorns at all! They are the berry of the Chinese prickly ash tree. Here is a quote from the spice expert Lior Lev Sercarz:
Sichuan pepper is not related to regular pepper (piper nigrum), nor does it carry the same heat. When you eat Sichuan pepper, you initially get a pleasant, floral, warm, and citrusy aroma. The heat surprises your taste buds a bit, later on, accompanied by a strange numbness on your tongue. It is one of the secret spices I use to deliver floral notes with a kick.

Lior Lev Sercarz, "The Spice Companion"
Versatile
You will find many uses for this Sichuan chili oil. Drizzle it on rice, finish a pizza, make magical fried rice, flavor up your morning eggs, and on and on. But the first way you will want to use it is to make my 20-Minute Sichuan Chili Noodles!
Happy cooking!
~ Alonna
See the Notes below before you cook.
Recipe Card 📖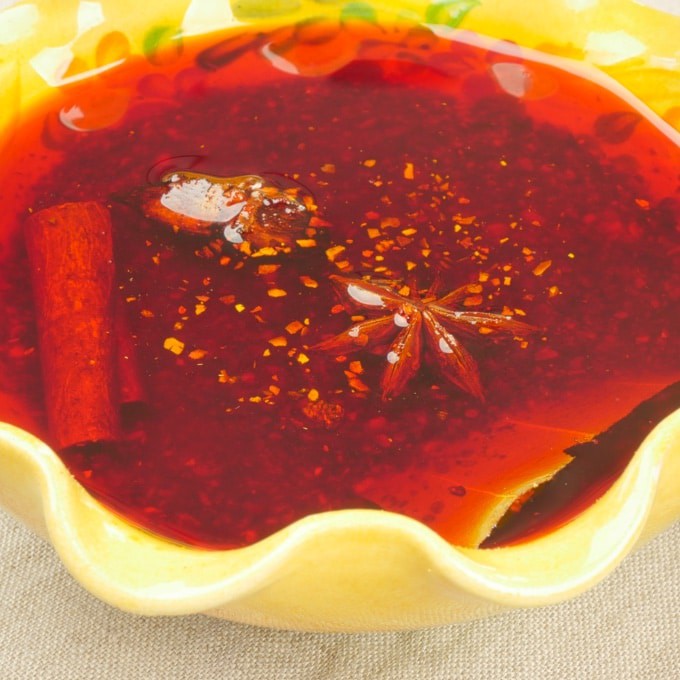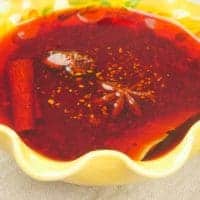 Homemade Sichuan Chili oil
Sichuan chili oil is numbing, tingling, and spicy all at once. This recipe is quick and easy to make, and you will find all kinds of food to put it on.
Print
Pin
Comment
<!–– I removed icon="star-empty"from above and change Rate to Comment ––>
Servings:
16
tablespoon portions
Ingrediants
1

cup

neutral oil

~ Grapeseed, canola, avocado, peanut, etc.

4

whole star anise

1

cinnamon stick

2

bay leaves

3

tablespoons

Sichuan peppercorns

~ See Notes below

8

green cardamom pods

1/2

cup

red chili flakes (crushed chili)

~ Korean goghugaru, or Italian crushed red pepper flake; see Notes below

2

teaspoons

sea or table salt

~ Substitutions
Instructions
In a small saucepan over low heat, add the oil.

In a small frying pan, toast the star anise, cinnamon stick, bay leaves, Sichuan peppercorns, and cardamom pods over medium heat. When the spices are toasted and fragrant (this will take 2 to 3 minutes) stir them into the warmed oil.

Turn the heat up to medium and allow the spices to gently bubble for 5 minutes. Remove from the heat and allow the mixture to cool for 5 minutes.

In a glass-lidded storage container, place the chili powder and salt. Strain the oil over the chili and salt, and add back in star anise, a bay leaf, and the cinnamon stick. Allow to cool before covering with a lid.

This oil will keep for up to 3 months in the refrigerator. Remember to use a clean spoon each time you dip into it. Yield: approximately 1 cup.
Notes
Use a chili powder that has a mix of seeds and chili flakes. This could be Indian chili powder, as pictured in my ingredients photo, or most brands of chili flakes will work for this Sichuan chili oil.
If you don't have, or can't get Sichuan peppercorns, and you have tirphal/teppal peppercorns, you might try them instead because they are related to Sichuan peppercorns. If using this substitute I would love to know how it goes!
Nutrition
Calories:
133
kcal
|
Carbohydrates:
2
g
|
Protein:
1
g
|
Fat:
14
g
|
Saturated Fat:
1
g
|
Polyunsaturated Fat:
4
g
|
Monounsaturated Fat:
9
g
|
Trans Fat:
1
g
|
Sodium:
291
mg
|
Potassium:
41
mg
|
Fiber:
1
g
|
Sugar:
1
g
|
Vitamin A:
12
IU
|
Vitamin C:
1
mg
|
Calcium:
16
mg
|
Iron:
1
mg
Your Private Notes