Heady with the combo of Sichuan peppercorns and cumin, these veggie-filled noodles are a delicious, healthy one-pot meal. You can sub out paneer or tofu crumbles for the lamb, and there is a Sichuan chili hack too!
To Hakka or Chow
In the world of Indo-Chinese noodles, there are two main themes: Hakka noodles and chow mein noodles. But first, why Indo-Chinese cuisine in the first place? Chinese immigrants to India came from the Hakka-speaking provinces of Southern China in the late 18th century, to work in the ports of Calcutta (now Kolkata) and Madras. They brought their foodways and Indians fell in love with the flavors of China. So when they cooked their favorite Chinese dishes, they put their spin on them by adding Indian spicing and cooking methods.
India has created wildly popular brands of Indo-Chinese "Schwezuan" chili sauces and beloved noodles. I used Ching's Chili Sauce for this dish, but any hot sauce you love will work. Siracha, gochujang, and Lao Gan Ma Chili Crisp too, but make sure to dig down and get some of the ground chilis lurking on the bottom. If you want to make Sichuan chili oil, my recipe is quick and easy.
Cumin & Lamb
One of the most popular Indo-Chinese dishes is Hakka noodles, made with lots of vegetables and a liberal dose of chili sauce. I admit that I was all over the place with this recipe, torn between the flavors that I love in the Chinese noodle world and the famous Indian Hakka and chow mein street food. In the end, I present a soulful blend of all three. This shows off the heady marriage of cumin and lamb inspired by dishes from Xi'an, the capital city in the northwestern Chinese province of Shaanxi. The most famous ambassador of the cuisine of Shaanxi in the U.S. is Xi'an Famous Food, a restaurant chain based in New York City chain which I've eaten in. I have loved this pairing of lamb and cumin ever since my first lunch there years ago.
To Tofu or Paneer
Tofu and paneer are satisfying substitutes for lamb if you are looking for a vegetarian or vegan recipe. I almost always have the ingredients needed on hand and am especially happy when there is corn to throw into the mix, either fresh or frozen. I love its sweet pop, and it goes with any other vegetable you are using. If you need inspiration, there a list of proteins instead of lamb. I also have a list of flavoring elements, herbs, and spices to try. These noodles are also a perfect way to use up any leftovers that need a home.
To Noodle
When it comes to noodles, the sky is the limit. Traditional Indo-Chinese choices would be either Hakka or ramen noodles. However, if you are gluten-free, rice noodles, either thick or thin, and glass noodles, which I've photographed below, are both welcome. My current favorite is japchae noodles made from sweet potato starch by Assi of Korea. They are opaque, but become clear when cooked, and have a satisfying chew.
If you would like to make a noodle dish that swings more Chinese, take a peek at my Sichuan noodle recipe. Have fun playing with your food.
Happy cooking!
~ Alonna
See the Notes below before you cook.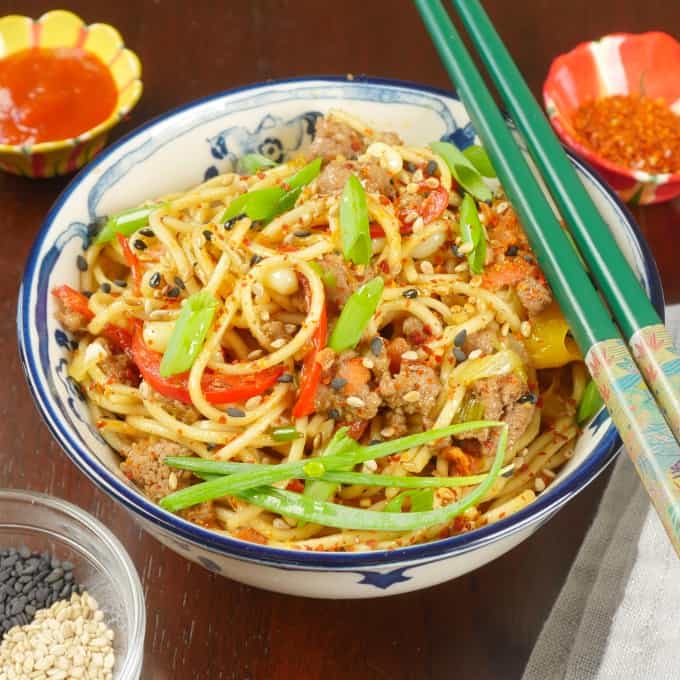 Cumin Lamb Indo-Chinese Noodles
Heady with the combo of Sichuan peppercorns and cumin, these veggie-filled noodles are a delicious, healthy one-pot meal. You can sub out paneer or tofu crumbles for the lamb, and there is a Sichuan chili hack too!
Print
Pin
Comment
<!–– I removed icon="star-empty"from above and change Rate to Comment ––>
Ingrediants
7

ounces

dried noodles

~ Or 8 ounce fresh noodles, see Notes below

1

teaspoon

toasted sesame oil

~ Or any oil you have

2

teaspoons

whole cumin seeds

1 1/2

teaspoons

whole Sichuan peppercorns

~ See Notes below if you can't find

1

tablespoon

oil

1/2

pound

ground lamb

2

teaspoons

garlic

~ Puréed, grated or finely minced

2

teaspoons

ginger

~ Puréed, grated or finely minced

2 to 4

teaspoons

chili paste

~ See Notes below

2

tablespoons

oyster sauce

~ See Notes below for subs

2

tablespoons

soy sauce

1/8

teaspoon

sea or table salt

~ You will probably need more, double for Kosher

1

teaspoon

rice vinegar

~ Or apple cider vinegar

1/4

cup

scallions

~ Finely sliced

2

cups

vegetables

~ See Notes below for ideas
Optional Garnishes
sesame seeds

~ Toasted

scallion greens

~ Chopped

cilantro

~ Chopped

chili flakes

Sichuan peppercorns

~ Coarsely ground

Sichuan chili oil

~ Drizzled
Notes
Use the noodles you love: ramen, udon, rice noodles (wide or thin), glass noodles, Hakaa noodles, etc. Spaghetti even!
Sichuan peppercorns are not hot but

give you a nice tingle.

If you can't find them:

Use 1/2 teaspoon black pepper mixed with 1/2 teaspoon whole coriander seeds
White pepper, do a mix of black and white. If using ground pepper do not toast but add directly into the sauce.
Korean chili flakes (gochugaru) or chili flakes of your choice are also good subs.

Chili sauce ideas: Sriracha or gochujang (Korean hot pepper paste), Schezwan sauce or chutney ( I used Chings Red Chilli Sauce), homemade chili oil making sure to dig down and get the chili flakes too, or buy Lao Gan Ma Chili Crisp. Or a homemade Schwezwan sauce posted by Hayley of Jagruti's Cooking OdesseyJagruti's Cooking Odessey.
Substitutes for oyster sauce:

mix together 1 tablespoon soy sauce and 1 tablespoon hoisin sauce
fish sauce 1:1
2 tablespoons soy sauce, 2 teaspoons tahini (or any seed or nut butter or purée), 1/8 teaspoon salt, and 1/4 teaspoon sugar. Soy sauce is thinner than oyster sauce and it isn't as sweet, so this little recipe gets you close.
Vegetable ideas:

cabbage
carrots
red or yellow onions thinly slivered
capsicum: red, green, yellow pepper
peas
celery
bok choy
corn: baby or grown-up
snow peas
mushrooms

If you are not a lamb person, swap out the lamb for any ground meat of your choice. 
Vegetarian or vegan: Use paneer or firm tofu crumbles to replace the lamb.
Nutrition
Calories:
547
kcal
|
Carbohydrates:
117
g
|
Protein:
13
g
|
Fat:
4
g
|
Saturated Fat:
1
g
|
Sodium:
1917
mg
|
Potassium:
586
mg
|
Fiber:
10
g
|
Sugar:
1
g
|
Vitamin A:
9392
IU
|
Vitamin C:
23
mg
|
Calcium:
117
mg
|
Iron:
5
mg
Your Private Notes