These lightly sweet, tender rice pancakes make a satisfying breakfast with some fruit or eggs, a welcome snack anytime, or eat them with a curry. Mix up the batter in 10 minutes, then give it a 2-hour rest.
Oh, so tender
Goan rice pancakes are part of a whole world of crepes, dosas, and pancakes made with rice. They are rich, spongy, and oh so tender. Eat them on their own as a satisfying breakfast served with some fresh fruit or fried eggs. Or serve them for a snack anytime, and they make a stand-in for flatbreads to eat with curry. A similar rice-based "pancake" is the appam made from dosa batter. There is the kailoreo described as a Goan dosa that uses a very similar ingredient list. And there are many other rice-based pancakes, both in India and in other Southeast Asian corners of the world. Think Indonesia's kue serabi, the Malaysian net crepes (roti gala), and the Thai kana krok.
Chittap, chitiaps, chitaps or polle!
This rice pancake recipe is modeled after the Goan chittap (chitiaps, chitaps or polle) made with rice flour, some wheat flour, coconut milk, a bit of leavening, and an egg. I've taken a page from the blog East Indian Recipes, which makes chittaps with some added wheat flour to provide some structure and body. Traditionally these pancakes are made with freshly grated coconut, local rice that has been soaked overnight and leavened with toddy, a local palm wine. This is a streamlined recipe to make rice pancakes an easy and quick cooking process.
Keep in mind is that while the rice pancakes come together in about 10 minutes, the batter needs to sit on the counter to ferment for at least 2 hours. If you want them to be tangier, you can mix the batter up at the end of the day and then make them for breakfast the next morning. Or switch to a morning preparation for a perfect evening curry meal accompaniment.
Leavening and gluten-free options
I've seen these pancakes leavened with yeast, baking soda, and toddy (a coconut vinegar). If you can get your hands on toddy, that is what I would use, but I don't think you can find that vinegar in the U.S. My baking soda trials were not a great success. While the final result was certainly edible, these rice pancakes did not have the yeast-made ones' light, airy texture.
If you prefer to go gluten-free, instead of the all-purpose flour, use your favorite gluten-free flour or even a mix of flours. I have played with a combination of buckwheat, Bob's Red Mill Gluten-Free 1 for 1 flour, and some spelt, which came out beautifully. Chittaps are endlessly customizable and a nice change from your usual breakfast pancakes. This batter is supposed to be quite thin and pourable so that you can swirl it into an even thinner circle. You could also make a thicker pancake similar to the American version if you prefer. The light batter cooks up into a tender, spongy pancake. Simply don't use all the water called for in the recipe.
Change up your pancake routine
I encourage you to experiment with the thickness of the pancake, the flours you use, and how you serve them. Give your family and friends a delightful new pancake or flatbread routine and I'd love to hear about how it goes for you.
Happy cooking!
~ Alonna
See the Notes below before you cook.
Recipe Card 📖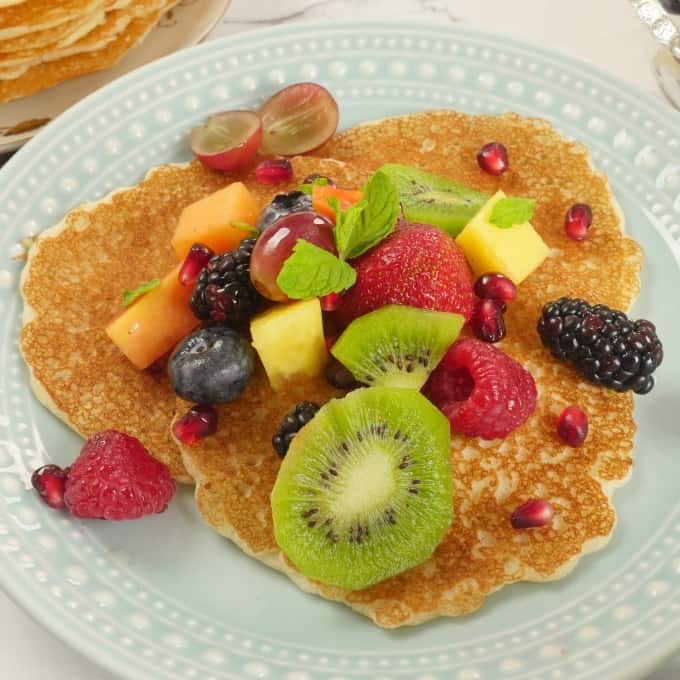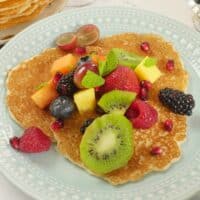 Rice Pancakes (Indian-style)
These lightly sweet, tender rice pancakes make a satisfying breakfast with some fruit or eggs, a welcome snack anytime, or eat them with a curry. Mix up the batter in 10 minutes, then give it a 2-hour rest.
Print
Pin
Comment
<!–– I removed icon="star-empty"from above and change Rate to Comment ––>
Ingrediants
1

cup

coconut milk

2

teaspoons

sugar

1

teaspoon

active dry yeast

~ Or instant yeast, see Notes below

1

large egg

1

cup

white rice flour

1/2

cup

all-purpose flour

~ See Notes below

1/2

teaspoon

sea or table salt

~ Or 1 teaspoon Diamond Crystal Kosher salt

1/3 to 1/2

cup

water

2

tablespoons

ghee

~ Or oil for cooking
Notes
Use dried coconut instead of coconut milk: To make coconut milk go to my coconut facts post.
Flours to use: If you want to make a gluten-free pancake, feel free to use your favorite gluten-free flour, buckwheat flour, or a mixture of flours.
Yeast vs. baking soda: I make rice pancakes with baking soda because some cooks use this leavening option. Compared with yeast, the batter wasn't near as light and bubbly. The pancakes were still good but I prefer using yeast.
Nutrition
Calories:
207
kcal
|
Carbohydrates:
24
g
|
Protein:
4
g
|
Fat:
11
g
|
Saturated Fat:
8
g
|
Cholesterol:
30
mg
|
Sodium:
158
mg
|
Potassium:
108
mg
|
Fiber:
1
g
|
Sugar:
1
g
|
Vitamin A:
30
IU
|
Vitamin C:
1
mg
|
Calcium:
10
mg
|
Iron:
1
mg
Your Private Notes